Once in a while, there comes a moment when you feel the need to change a few things in your home.
Sometimes you want to change the entire design of the place.
At times, however, a more in-depth renovation of a specific area is needed for the convenience of that room.
The bathroom is used very often in an average home – it's probably the second most used room after the kitchen.
The frequency of use may mean frequent maintenance and renovation as well.
Nine Manufactured Home Bathroom Renovation Planning Tips
Renovating your bathroom will be as challenging as kitchen renovation (depending on which you attempted first). That's why we've listed these bathroom remodel tips to make it a bit easy for you:
1. Know What Your Bathroom Remodel Project Will Cost
Budgeting should come first before contacting your contractor.
How much money are willing to commit to the bathroom renovation project?
Prepare a budget in consideration of the size of your bathroom, the type and quality of materials you need, and all "hidden costs."
According to HomeAdvisor, an average bathroom renovation project costs $10,522.
It is possible to complete a comprehensive bathroom renovation with a budget between $3,500 and $7,000. In fact, most homeowners that were sampled by HomeAdvisor spent between $6,000 and 15,000 updating their small to medium-sized bathrooms.
Labor can average 50% of the entire cost of the project (that would be about $65 for every 1 hour of labor).
The pricing may vary regionally with up to 20% especially if you consider the fact that labor costs vary between regions.
Consider the cost of such items as fixtures (sinks, toilets), showers, bathroom vanity, lighting, countertop cost, bathroom fan cost, lighting, flooring,  medicine cabinet, window and entry door cost, painting cost, flooring, faucets, and plumbing, etc.
2. Estimate the duration
It is easy to think that, because you are renovating a small bathroom, the entire would take just a few days – probably 2 or 3 weekdays.
That would only be the case if you are changing a few minor things.
A full bathroom renovation should take upwards of 1 week, but, again, it depends on the extent of the work.
Depending on the number of items you wish to change, your contractor will need a few hours or even a day to evaluate the project.
Your planning should take into account the time taken to evaluate and plan for the project plus the time spent to buy and sort the materials.
A full bathroom renovation will entail "full gut" work that gets rid of every tiny flaw in your bathroom.
You should be already aware of the flaws of your bathroom. If you feel like it, you can take a tour inside to inspect it in detail and identify every minor issue that needs to be solved.
Depending on the condition and age of your manufactured home, the biggest hidden issue you may identify is water seepage to the wrong places.
Some structural flaws in the ceiling, floor (such as chipping tiles), improperly vented plumbing, non-waterproof tiles, and old or corroded plumbing may have reached the point of rendering your bathroom dysfunctional.
4. Take the measurements
What is the size of the bathroom? You will need to have the exact size of the general size of the bathroom as well as the size of such items as the bathtub (if you wish to replace it with another bathtub) and sinks.
There are three major limitations which make the size matter:
The location of electrical wirings and plumbing in your current bathroom
The overall size of the bathroom
The standard measurements of the bathroom's fixtures
Therefore, ensure that you are armed with the right specifications and measurements when heading to the bathroom supplies store.
More frustrating than shopping without correct measurements is ending up with supplies that don't fit.
5. Consider leaving your vintage finishes intact
The whole point of renovating your bathroom is to give it a fresh look from the floor up to the ceiling.
But there some aspects you would rather leave as they are.
The reason may be that replacing them could bloat your budget or it would be straight unnecessary to pull them down.
For example, in old homes where bathroom wall tiles are still in good condition, you are better off leaving them intact and proceeding with renovating the rest of the bathroom.
If you consider the difficulty of peeling the cement coating on the tiles and repeating the whole process around the entire bath, you might want to consider skipping them entirely.
6. Plan a bath lighting scheme
Maybe your current bath is poorly lit and that was probably one of the factors that made you initiate the whole project.
Also, do not focus too much on the rest of the bathroom without looking up to the ceiling.
The styling of the bath's lights can depend on your taste, but there are a few things we can agree on unanimously. The best approach to functional bath lighting is to incorporate some layers of accent, decorative, and ambient lighting.
You can begin with the ceiling and vanity lights, then proceed your way down.
Recessed or ceiling-mounted lighting should provide maximum illumination for the bathroom.
In the vanity area, install the best task lighting you can lay your hands on.
These lights can be sconces on each side of the space or above positioned above the mirror.
7. Create a wish list
You evaluated your bathroom earlier.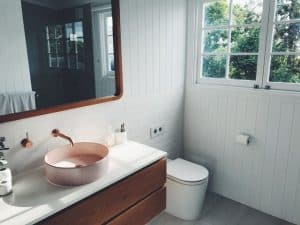 What are the things you wish you could add? What do you wish to change?
Create a list of features you have always wished you could incorporate.
Group them neatly in groups of nice-to-have and must-haves then number them down by their importance.
Just so you make good decisions, consider scanning a few bath design magazines, visit showrooms, and tour model homes.
Here are 10 features that may feature on your wish list:
Double sinks
Today's families are always busy getting ready for work/school early in the morning. It only makes sense to have two sinks to avoid delaying other family members
Under-mount sinks
These sinks let you take a quick wipe and leave the bathroom. Instead of coming with a raised rim, they attach to the underside of your countertop. They have no lip to accumulate some grime, so the cleanup will be easier
Single handle faucet
If you wish to avoid germs by all costs, the single single-hand faucet lets you adjust the water without the need of adjusting more than one knobs.
Inbuilt soap dispenser
Filling your soap dispenser frequently can be a daunting routine. You might be thinking of adding a pump that  automates everything by sucking the soap from the bottle and directing it into the dispenser.
Related: Fifteen Must Have Manufactured Bathroom Hardware and Accessories
Open shower
You are sick of water spots and soap scum forming on the shower glass. So, you're probably thinking of getting rid of the glass and opting for the open shower plan.
The opposite can work for you in some cases – if you have mobility problems, it would be a good idea to add the shower glass.
Wall-mounted toilet
This kind of toilets tend to look too industrial, but they are known to take less space. They also use much less water because they don't need to full a large time every time you flush it.
Heated floors
You've probably noticed you have a problem bathing during chilly mornings. Winter baths can be uncomfortable too. Heated floors make bathing a good experience even during the coldest seasons.
Bath fan and ventilation
To get rid of those bad odors and moisture, you might think of adding a bath fan or an extra window high up on the wall.
Steam shower
Steam showers are a favorite amenity to many homeowners. They are a trend. You may be planning to have one too.
Radical styling
You may be up to some radical bath styling. Maybe you admired Japanese style tricked-out toilet design for so long that it's time to implement one.
8. Choose quality materials
Not only do you want materials that will work but also quality materials that will guarantee a quality bathroom.
Now that you have a list of the items you need and their prices, you can send ask your contractor to come with them or go out to shop yourself.
Note that some styles will require specific items. You will also need to make a decision based on the price tags on the materials.
When deciding on countertops, for example, you may end up being divided between a solid surface and granite/marble surfaces. Both options come with similar prices, but solid surfaces are low maintenance and resistant to scratches.
Consider 3 factors when choosing high-quality materials:
Budget
Yes, you want top-quality materials, but can your budget cater to all of them?
Related: What Are the Pros and Cons of Using a Credit Card for Home Improvements?
Functionality
High-end quality materials will guarantee a highly functional bathroom compared to if you would have used low-quality materials.
After all, you want your bathroom to be the second (after the kitchen) if not the most functional room in your home.
Aesthetics
High-end quality materials can transform an ordinary bath into a jewel of a bathroom. If you are planning to add a spa, you would want materials that brings the best out of your spa.
Choosing quality materials can also be a great way of reducing your bathroom's vulnerability to such elements as mold and mildew.
9. Make smart choices regarding the design and other things
If you are planning to sell the home and would like to add a few dollars on the value of the home by renovating the bathroom, you will need to make smart design choices.
You still need the best bathroom you could afford anyway, whether you are selling the home or not.
So, you need to make smart choices regardless of the intention.
The 3-Smart-Strategies Rule works all the time:
Stick to the plan
Before even ripping the first tile, think hard if it's necessary. And once you rip it, stick to the set schedule to avoid delaying the whole project
Keep the same footprint
Italian tiles on a square bath would be a bad choice just as it would be if you tried to install them on Japanese style toilets. When making choices, ensure the choices creates a single footprint in the entire bathroom
Think storage
Bath storage is a major. For that reason, you need to make smart choices.
Some homeowners are tempted to install kitchen cabinets in the bathroom in an effort to create a storage space for towels and toiletries.
Sometimes, however, all you need slid out trays below the counter or small vanity cabinets above the toilet – your imaginations are the limit.
You need to find hidden storage spaces. Think vertically, think utility, and think moveable.
The Do's and Don'ts When Renovating your Bathroom
Considering the nerve-wracking factor in bathroom renovation, you are more likely to make mistakes. Here are things you should do and those you should avoid at all costs:
DO's
DO: Find a design that works for your bathroom first
Because you are renovating your bathroom, maybe it is a good time to give it a new style. Every bath renovation project begins with a plan and an inspiration. Visit freshome.com  to find an inspiration.
DO: Keep your high-end material neutral
Because the project itself is a high-budget affair, it is advisable that you go slow on the high-end items.
Keep your high-end items as neutral as you can. In particular, we are talking about such things as shower design and flooring.
Allowing these elements to be as simple as a blank canvas makes it easier to alter them in the future if the trends change.
Leaving out the poshest of these elements doesn't necessarily mean your bath will be boring.
DO: Splurge lavishly on your shower
Yes, you are allowed to spend highly on a shower, as lavishly as you can.
The bathroom needs to possess a focal point just like any other room in your home.
The oven may be the focal point of your kitchen. The bed is the focal point of your bedroom.
When it comes to the bathroom, the shower is the focal point. For that reason, you want to install a shower that catches the attention of the eye.
According to the research that was conducted at Market Watch  luxurious showers are some of the things on which many homeowners don't hesitate to spend huge sums.
Interestingly, the same research found that soaking tubs – a bathware long thought to be a darling of high spenders – have since fallen out of most homeowners' favor.
DON'TS
DON'T: Try to go beyond your budget
Ensure that your budget puts into account all other hidden costs such as labor costs and transportation of the materials.
Consider everything at stake to avoid looking for more additional.
Once you have set the budget, you should resist the urge to increase it a bit to accommodate newly arising costs.
More often than not, the budget tends to double or even triple when you start overspending beyond what you initially set.
DON'T: Go ahead without considering storage
Storage doesn't get enough attention during bathroom remodeling.
This omission is understandable most of the time because some homeowners can't figure out what they will store in the bathroom other than the toilet paper and a few extra bottles of hand sanitizers.
The worst thing you could do, however, it to go without storage. At some point in the future, you will need a space to store your kid's and other house occupant's towels, shampoo, and other items.
If you have plenty of free room in your bathroom, there is no good reason why you shouldn't add a few cabinets somewhere on the walls.
Consider installing storage units with aesthetic value and those that match your bath's style.
DON'T: Compromise In Vanity
The bath vanity is another great way of making a statement.
Consider such things as large mirrors, plenty of inbuilt storage spaces, double sinks, and trendy glass separating your bath from the rest of the toilet area.
If your budget allows it, consider a luxe top made from such pricey materials as marble and granite. The vanity of your bathroom attracts the visual interest of the user.
Conclusion
Any home-based renovation project is never easy, whether you're doing DIY or hiring a professional.
Bath renovation, however, can be stress free if you apply the above manufactured home bathroom renovation tips appropriately.
The best way to get started is to set the budget for the whole project. Make a list of the items you need and their prices.
Also consider the hidden costs of such things as taxes, fees, labor, transportation, and labor.
Most contractors will advise you against moving plumbing fixtures because it costs more to move them than leaving them alone. You are allowed to splurge on luxurious bath items but strategically.
Choosing quality materials means the finished product will be functional and up to the standards you wished for.
Creating a wish list and a shopping list can help you choose the right items when shopping for renovation materials.
Remember to involve your contractor when creating planning and creating the project's schedule.