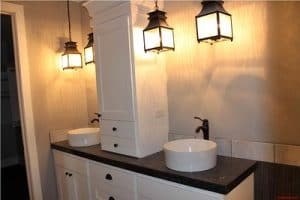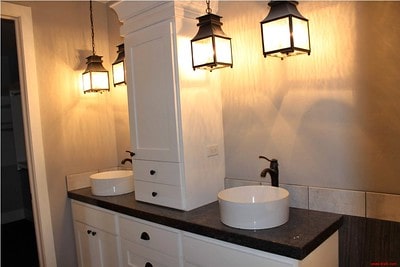 From minimal to opulent, you can get creative with your bathroom. There are around 9  types of mobile home bathroom lighting, with many options in-between them, that you can add to your bathroom for various purposes. In most cases, however, it all boils down to functionality.
Manufactured Home Bathroom Light Fixtures – What Are Your Choices?
Lights are probably the most diverse fixtures you can ever install in any home – there are about 9 types of lighting options for manufactured home  bathrooms.
Sconces
Pendants
Vanity lights
Flush mount/ Semi-flush mount lighting
Chandeliers
Recessed lighting
Picture wall lights
Night lights
LED-Lit Mirrors
1. Sconce lights
Sconces are any light fixtures that are fixed to the wall of your bathroom. They are usually, though not always, installed to face upwards and outwards, instead of downwards.
A sconce can be anything really – gas light, candle, modern electric lights, etc. They just need to be fixed on the wall.
Sconce lights are the best option for bathrooms because you can install them on the sides of your mirror.
Some of the great sconce lights best for your bathroom are:
The stylish clear glass on these lights will complement your bathroom décor and light up the mirror area just as perfectly as any vanity lights.
This traditional styled sconce is some of the best to ever come out of the Evelyn Collection. The bronze construction comes in two finishes: white and bronze gray.
2. Vanity lighting
Vanity lighting can be defined as any light fixture installed alongside or above a mirror. Basically, vanity lights are never installed far from the mirror.
Many homeowners prefer the warm color temperature to cooler options (most vanity options come in the form of incandescent lights, so that's understandable), but there are plenty of other options.
Halogen and incandescent light sources make the best vanity lights because they have a CRI of about 100, which means they render lights more accurately. When choosing vanity lights for your bathroom, never settle for anything below 90 CRI (more on this later).
These stylish and simply designed lights come with a circular holder that supports the clean rods of vanity. The conical clear glass shades and antique brass finish gives it a classic design. It comes with 2 60-Watt bulbs.
This etched glass shade is one of the best LED vanity lights you can think of adding above your bathroom mirror. The linear details and smooth forms are attached to a pleasingly elegant frame. Four finishes are available: antique bronze, polished nickel, brushed nickel, and textured black. It is made up of 4 medium base bulbs.
3. Pendants
Pendants lights describe any lone lighting fixture hanging directly from the ceiling usually on a chain, metal rod, or suspended. This type of lighting is good for any room in your home, but those meant for the bathroom should be positioned very far from sources of moisture such as the shower, sink, and bath.
Here are some of the best pendants good for your bathroom:
If the ceiling of your bathroom is low or there is any other circumstance that requires your pendant lights to be close to the shower or any other source of water, consider fitting the lights with an "ingress protection" or an IP rated fitting.
Most pendant lights made for the bathroom avoid the fancy designs and immaculate demeanor we see in those meant for the dining room, that's probably because you don't want to show off in the bathroom.
There are about seven types of pendant lights each of which can go well with your bathroom's décor if you choose carefully:
Farmhouse pendants
Industrial pendants
Modern pendants
Rustic pendants
Cottage pendants
Classic pendants
Coastal pendants
The simple design of this sleek industrial mini pendant and white finish makes it great for the bathroom. It goes with a 40-Watt medium base bulb that must be bought separately. It is compatible with both CFL, LED, and incandescent options.
The polished chrome design of this pendant light can match a wide range of bathroom décor. They also come with a dimmable feature that lets you adjust precise light levels. The hanging cord too can be adjusted.
4. Flush mount and semi-flush mount lights
Flush-mount lights are dome-shaped light fixtures that are mounted flush (means they are installed on top of the face of the surface – the ceiling, in this case – meaning that if you ran a hand along the surface, it would bump into something that was mounted) to the ceiling.
Semi-flush lights are a decorative type of flush lights. Instead of installing directly on the surface of the ceiling, they slightly extend down on a short cord.
Both flush and semi-flush lighting options are good for a bathroom with a low ceiling height that doesn't permit the installation of pendant lights.
Your choices will mainly be based on finishes – chrome, oil-rubbed bronze, brass, black, white, nickel, etc. – because the styling seldom goes beyond the six mount shapes: circle, bell, empire, cluster, drum, and square.
Sizes of flush mount fixtures vary widely:
| Light Fixture Type | Area |
| --- | --- |
| Mini | Less than 13" diameter |
| Small | between 13" and 22" diameter |
| Medium | between 22" and 30" diameter |
| Large | between 30″ more in diameter (not great for a bathroom in a manufactured home) |
a. Best Flush Mount Options
This medium-sized flush light fixture comes with a shade that measures 16″ at its widest point. The flat design of the shade permits uniform light distribution. The brushed nickel finish could supplement your bathrooms décor. It is dimmable with a standard dimmer.
This fancily designed flush light looks big from a distance but measures just 15″ in diameter. The LEDs are made to look like tiny glass beads. If you are looking for a gem of lights to add in your bathroom, consider this option.
b. Best Semi-Flush Options
This semi-flush light features a hand-blown glass shade and a brushed nickel finish. The diffuser is made from tempered etched glass. The best thing is that it has been certified by ETL for use in damp environments. It is dimmable to match your specific lighting levels.
5. Chandeliers
Chandeliers have a lot in common with flush and semi-flush lights – they are both installed flush or semi-flush on the ceiling. Chandeliers, however, tend to be well decorated and large enough to sufficiently light up huge rooms.
Chandeliers designed for bathrooms are normally small compared to their living room or hallway counterparts because bathrooms require minimal lighting. For a better experience, the ceiling of your bathroom should be vaulted or high enough to accommodate the fancy designs that come with most chandelier options.
The chain that supports this cute chandelier measures 39″ but can be adjusted to meet your bathroom's ceiling height. The strands of intertwining dazzling crystals mixed with chrome hardware bring the elegance you want in your luxury bathroom.
If you are shopping for luxury chandeliers on a budget and you really love K9 crystals hanging over your head, you will likely consider this chandelier. This option comes with three lights that flood their beams in a sea of K9 crystals to engulf your bathroom with lively light.
If you are a fan of industrial vintage chandeliers, this is one of the best options worth buying. The gorgeous design makes it look like a bowl of steel bars hanging on your head. Note that you will buy the lights that accompany this fixture separately.
6. Recessed Lighting
Recessed lighting, sometimes referred to as downlights or can/canister lights, consists of light fixtures installed into matching hollow openings in the ceiling.
This type of light is the perfect option for bathrooms because it creates an environment good for unwinding and relaxing.
The biggest advantage these lights have over the ceiling or wall-mounted lights is that they can be installed directly in shower stalls and over tub areas.
7. LED-Lit Mirrors
It is hard to figure out a modern bathroom without an LED mirror – they are a trend. LED mirrors are a specific type of mirrors with inbuilt LED lights.
Their purpose is not to light up the bathroom but provide ambient backlighting or strong shine that lets you see even the tiniest blemish on your face.
Whether you love applying makeup in front of the mirror or you put practicality above everything, this is a must-have mirror in your bathroom. LED mirrors go perfectly with recessed lights.
There are different types of LED mirrors although the distinction is mainly based on whether the option is anti-fog or not. Anti-fog mirrors don't let steam and moisture adhere to them, so you can use them immediately when you step out of your bathtub.
The type of borderline as well as the level of convenience can be used to create a distinction between types of LED mirrors.
LED mirrors don't come cheap. A decent 36 in. W x 30 in. H frameless LED mirror costs upward of $400.
Bathrooms in manufactured homes are usually small, so it wouldn't for the extra-large options. The ideal size of an LED mirror for an average-sized bathroom is 24″ W x 32″ H, but, of course, homeowners have different tastes.
Here are some of the best LED mirrors in the market:
a). Anti-Fog Options
The silvery copper-free construction of this mirror reduces corrosion. It is an energy saver and comes with anti-fogging technology. The switch touch sensor lets you adjust the brightness of the LEDs easily.
b). Small (24" W x 30" H x 1.75" T and smaller)
You can choose vertical or horizontal mounting options, but it comes dimmable LEDs you can adjust to fit your lighting preferences. The mirror used in the setup came from Farrah collections. It's still one of the smallest and cheapest yet practical LED mirrors for a small bathroom.
One of the cheapest options out there. The LEDs provide brilliant illumination for the face areas or makeup application area without taking tall on your household energy consumption.
c). Medium and Large (between 25" W and 35" W)
This gold-rimmed mirror from Dreamwerks is waterproof and comes with a 3-year limited warranty. It is one of the cheapest large size options available.
Think of a digital clock, dimmer, auto-defogger, and touch screen buttons all wrapped in one LED mirror – That's Aguadom Daytona 30" x 32" mirror.
8. Picture wall lights
As the name suggests, these are used to highlight whichever picture or painting you installed did in your bathroom. They are not the focal point in the room, rather they highlight an object you want to see every time you walk into the bathroom.
9. Night lights
Night lights in small low-power lights left shining in the bathroom at night for safety and comfort. They are bright enough to let you see the basic outline of bathwares but dim enough not to disturb your sleep.
If you have kids or adults who are afraid of going to the bathroom in the dark, you'd want to install this type of bathroom lights.
How To Select Best Mobile Home Lighting Fixtures
Buying the best lighting fixtures is one thing and getting the best out of them a whole different thing.
To set up a well-lit bathroom, you need to accompany lights that meet your needs and a good lighting plan. To assist you to choose the best lighting for your bathroom, here are just a few suggestions:
1. Layer your lighting fixtures
The best combination to use in your bathroom is ambient (or fill-in) and task lights. This combination helps you achieve the right for daily soaking in brief self-care or grooming tasks.
Ceiling flush-mount lights, mini chandelier, or even decorative vent fans accompanied by your lights are excellent for general lighting in the entire bathroom.
Bathroom vanity lighting is a versatile option for both task and general lighting.
A rule of thumb dictates that vanity lights need to be mounted not less than 78″ from your floor and centered directly with your vanity cabinet.
Because vanity lights come in bunches, you will need to make a decision on the number of bulbs you need per bunch – 2-bulb unit, 3-bulb unit, and 4-bulb unit option. There are LED options with inbuilt bulbs with a lifespan as long as 45 years.
Vertical fixtures and stylish sconces mounted on the left, right, or top of the mirror will be better positioned to cast an even beam of light across your face so that you can apply your makeup, shave, or simply clean your face.
Pendant lights are also great for a design-forward bathroom. You don't really need dimmers unless you wish to set an ambiance of your liking or create mood in your bathroom, two cases for which dimmers are highly recommended.
2. Be knowledgeable about your light bulbs
Choose bulbs that produce crisp, white light that render your face, body, and skin tone accurately in the mirror.
LED or CFL bulbs somewhere between 2700K and 3000K produce the ideal color temperatures for your bathroom lighting.
3. What's the damp rating of the light fixture?
A bathroom is a damp place that often experiences moisture buildup. For this reason, your choices should be limited to damp rated light fixtures only – lights designed to operate in moist environments without malfunctioning.
Note that damp rated lights can only withstand environmental moisture; direct with water will cause damage to the fixture.
4. The price factor
You want light fixtures that are within the margins of your budget. High-end options in each category of lights will be costlier than their low end or basic alternatives. LED mirror lights are generally expensive.
Conclusion
The type of bathroom lights you choose and how you install them impacts your general experience.
When choosing the lighting fixtures, consider their damp rating i.e. their ability to withstand the moist environment. The cost is a factor worth considering as well.