You need a medicine cabinet to safely store your medications somewhere in the bathroom or bedroom away from the curious kids and destructive elements.
Manufactured homes are typically not large enough to accommodate large cabinets with 4 tier or more inner shelves.
For that reason, we will be looking at manufactured home medicine cabinets with small dimensions throughout this guide.
What Are the 3 Types of Bathroom Medicine Cabinets?
There are 11 types of medicine cabinets, all of which fall in one of the following three categories:
1. Types based on the installation method
2. Types based on style
3. Types based on the materials of construction
Category #1: Types based on the installation method
This category consists of two types of medicine cabinets:
1. Surface Mounted Medicine Cabinets
These cabinets are screwed or glued on the surface of the wall. They project a bigger presence in your room than their recessed counterparts.
2. Recessed Mounted Medicine Cabinets
These cabinets are anchored inside the wall to a rectangular frame. They require a lot of planning because you need to avoid the plumbing and outside walls.
Category #2: Types based on style
This category consists of five types of medicine cabinets:
1. Mirrored Medicine Cabinets
Mainly recessed cabinets with a mirror on the door so that you can apply makeup on your face while standing in front of your safely stored medications.
2. Framed Medicine Cabinets
They too tend to be mostly recessed but comes with a gigantic look, thanks to the conspicuous frames that are normally added around the doors.
3. Frameless Medicine Cabinets
Frameless cabinets have a sleek appearance because the edges don't have a frame. They are easy to clean because the frames that normally accumulate dust are absent.
4. Vintage Medicine Cabinets
They feature antique styling prominently including large knobs, retro-looking finish, and dull surfaces.
5. Custom Designed Medicine Cabinets
These cabinets lack a specific style. Instead, the homeowner gives the maker all the dimensions, style, colors, and all the necessary details which are used to make a medicine cabinet that suits the personal taste of the client.
Category #3: Types based on the materials of construction
This category consists of four types of medicine cabinets:
1. Aluminum medicine cabinets
These cabinets are made from the ever-rustproof Aluminum which may be finished with an oxidized compound to gives it a bright whitish look
2. Wooden medicine cabinets
These cabinets are either entirely made from wood or come with large wooden frames on a thin stainless-steel or plastic body.
3. Plastic medicine cabinets
Plastic cabinets aren't as commonplace as stainless steel, wooden, or aluminum cabinets, but they are often made from the most lightweight and rigid plastic the maker can get. Recessed plastic cabinets are easier to install and to work with.
4. Stainless Steel medicine cabinet
They are made from stainless steel and offers better protection from bacteria, germs, and pests.
They look shiny and attractive when polished.
When it comes to durability, they are better than most other cabinets including wooden, plastic, and aluminum-based types.
Nine Mobile Home Medicine Cabinet Recommendations
Decorate your manufactured home with functional and elegant furnishings like Zenith M1215 Frameless medicine cabinet. The body is made from rigid and durable Steel-Tech stainless steel. A swinging door made from a beveled mirror gives you easy and fast access to your medication.
Whether you wish to install it in the bedroom or bathroom, the stainless steel body will provide keep off germs, bacterial, and rust. Inside the 16″ W x 26″ H x 4.5″ D body are 2 adjustable shelves capable of holding most of the commonly used sizes and shapes of medication containers.
Both the interior and the exterior of this recessed medicine cabinet from KOHLER is coated with scratch-resistant mirrored finish. The rest of the body is made from anodized aluminum. The hinges are reversible to permit the right and left swing.
With the dimensions of 15.5 in. W x 19.5 in. H x 5 in. D, this cabinet might all your medication storage needs. In the inside are 2 spacious adjustable shelves that permit the storage of a range of container sizes and shapes.
A full-overlay mirrored door complete with beveled edges lets you access your medication easily and fast – the door opens to up to 108 degrees. The best part is that you can choose to install with right-hand or left-hand swing, whichever you prefer.
This cabinet from National Brand Alternative is yet another compact yet spacious polystyrene plastic cabinet perfect for your bathroom or anywhere you'd expect some rusting activity. The frame is made from rust-resistant polished stainless-steel.
While it measures 16″ W x 22″ H as a whole, the storage area is 14″ W x 18″ H x 2-3/4″ D which is still large enough to store a bunch of medication containers.
This mirrored cabinet comes with a single swing door that permits quick and easy access to medications within. The frame is made from stainless steel thus rust-resistant and durable.
The stainless-steel frame can also add simple elegance and complement the décor of wherever you choose to install it, preferably the bathroom.
The white recessed plastic body is rust-resistant and durable as well, meaning you will receive storage service from the cabinet for a long time before even thinking of a replacement.
The 3 adjustable shelves swallow a range of container sizes and shapes for versatile storage options. The cabinet can recess in the standard 14 in. W x 24 in. H configuration.
It's time to add a contemporary wood and glass-made medicine cabinet in your kitchen or bedroom. You might love the white finish that features on the sturdy wooden body.
The door is made from tough glass so that you can see your medications and still keep them out of reach of kids (but you'll have to install it high up on the wall away from them). You might also love its recessed paneling and crown molding although assembly will be required.
Reviewers have rated this cabinet favorably and many have expressed a liking for the chrome-finished doorknob that don't just give the cabinet some style but also to allows the user to open it easily.
Inside is a single adjustable shelf that can hold several bottles of your essential medication without looking overcrowded.
LOWE's is probably the only place you will find this medicine cabinet. I was impressed with the price tag and the fact that it is made from hardwood that can withstand the humid environment in the bathroom.
Measuring 15.75" W x 25.75" H, it is one of those compact wooden medicine cabinets you wouldn't count three to install in a mobile home.
Unlike most other wooden cabinets that come with exposed hinges, it's just commendable that the maker of this cabinet tried to hide the adjustable hinges to give it a sleek and flawless look.
The cabinet is shipped in 3 finishes: Java, Oak, and White.
This dark green amazingly designed wooden medicine cabinet is one of the most beautiful things you can ever install in your bathroom, kitchen, bedroom, and anywhere you consider accessible.
The Wainscoting-design back panel gives it a traditional look while the multipurpose design makes it great for an array of applications.
You can still use it to store both medication and a range of personal products because the two main cabinets are far apart.
The body is made from MDF and acacia wood. The maker ships it with installation hardware that is easy to use when setting up the cabinet.
Because of the complex design, the two shelves measures 8.75" W x 7' H and the in-wall depth is 3.25". Home Depot offers this cabinet under two different prices solely based on color – green, black, and white.
Check the black version and the white version.
This cabinet is offered in two finishes: white and espresso, but the most arresting of all its features is the glass door which is emblazoned with a Burberry check-like decorative design.
The espresso colored wood on the body would improve the aesthetics of your wall.
Whether you intend to install it in the bathroom, bedroom, or kitchen, kids will have a hard time going past the reinforced glass door even if you install it a reachable height.
The doors are made from Satin Nickel doorknobs. The 6.5″L x 20″W x 24.13″H MDF and hardwood body is sturdily constructed.
The 3 compartments are spacious enough to hold all sorts of medication bottles, but only one of them is adjustable.
This unorthodoxly designed yet stylish medicine cabinet weighs just 9 lbs. It is unorthodoxly designed because the door is vented instead of a see-through glass or solid wood or metal.
The body is made from quality P2 MDF and coated by MDF and NC paint – these are some of the commonly used environmentally friendly paints out there.
The surface and edges are smoothly finished to guarantee safe cleaning and maintenance.
Inside are 2 shelves both of which can be adjusted. There are 6 height options to choose from.
Related: Should You Add Insulation Behind a Medicine Cabinet?
Seven Manufactured Medicine Cabinet Shopping Factors
Here are things to keep in mind when shopping for a medicine cabinet for your manufactured home:
1. Size of the cabinet
As mentioned earlier, manufactured homes aren't as spacious as site-built homes to accommodate large medicine cabinets. Therefore, you want a cabinet that can be installed on a wall somewhere in the home and still remain barely noticeable.
The best mobile home medicine cabinets should have dimensions in the region of 18.75-in W x 19-in H.
2. Location of installation
While most medicine cabinets you would find in most retail stores are designed for the bathroom, there are odds you will want to install your cabinet elsewhere.
Bathroom-oriented cabinets, for instance, are made from polished steel and glass doors whereas those meant for bedroom or non-moist environment are predominantly wooden.
Still, it is possible to find an excellent hardwood-based medicine cabinet for your bathroom – the manufacturer will recommend it for that specific environment.
3. Installation type – surface or recessed mount
Old school medicine cabinets were simply screwed or stuck on the wall using an adhesive – that's what was and is still referred to as the Surface-mount installation style.
Some modern cabinets still follow this installation style.
These follow the Recessive-mount style whereby a cabinet is anchored inside the wall to a rectangular frame.
The frame is often positioned in such a way that it is clear of nearby obstructions.
4. Colors, Materials, Finishes
The material of construction has a bigger say on whether the cabinet will stand in your moist bathroom longer without rusting or exposing your medications to moisture and other environmental insults.
Your options will be limited to stainless-steel, wood, plastic, and aluminum. The choice between these materials may have more to do with aesthetics than functionality.
For instance, polished stainless-steel would be great for a room that features light coloring and styling.
Wooden-cabinets look great in rooms with dark colors. Wooden recessed cabinets tend to resemble a shuttered window.
Any cabinet with smoked glass on the door would be a perfect complement to modern décor, industrial-looking fittings, and stainless steel-intensive styling. You want colors, finishes, and materials that "marry" your style.
5. Strength and locking mechanism
It just makes sense to buy a strong medicine cabinet that won't be broken easily by kids.
If you consider the dangers of kids ingesting wrong medications, you will take the strength factor more seriously.
The lock system of the cabinet should ensure maximum safety for your medication, even locking automatically with a simple push on the door.
6. Ease of installation
Some manufacturers would ship their cabinets with installation kits so that you easily install the cabinet without requiring additional tools.
Cabinets that require recessed mounting almost always come with an installation kit, but there are makers who will let you do the installation all by yourself.
You'd obviously prefer the seller who will provide the installation kit, manuals, and any other sort of guidance. However, a significant part of modern cabinets can be installed easily without the need for sophisticated tools.
7. Affordability
You only buy what you can afford. It is very much possible to come up with a comprehensive list of the features you want your medicine cabinet to possess only to realize that most cabinets with those features are way beyond your budget.
The best trick is to make the price one of the features to look in a cabinet. You can set a price range and a list of reasonable features that you think can be found in a cabinet with a price tag within the range.
Related: Should You Add Insulation Behind a Medicine Cabinet?
Conclusion
It's gross and unsafe to store medications on tables or kitchen cabinets.
You need a specialized medicine cabinet that will safely keep your medication away from kids and destruction from environmental elements.
Size is an important factor for the buyer when choosing a medicine cabinet for a manufactured home.
Of course, other factors such as the material of construction and cost are equally important.
In regards to materials of construction, your choices will be mainly limited to just three materials: stainless steel, aluminum, plastic, and wood although all these options are sometimes complemented with glass parts.
Whichever type of medicine cabinet you choose, it should augur with your indoor styling while still providing the expected functionalities.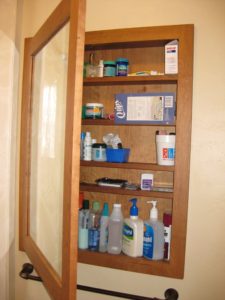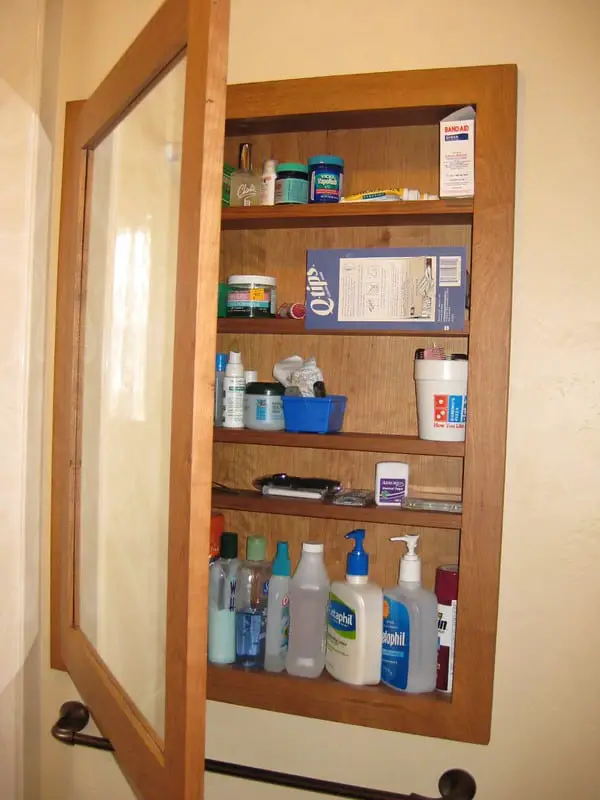 Frequently Asked Questions
Q: Can you replace the mirror on a medicine cabinet?
Yes. You can follow the following procedure in replacing the medicine cabinet.
Wear protective gear like gloves and a pair of goggles to protect your eyes and hands from a glass.
Secure your old mirror using duct tape.
In case the mirror is secured by clips, you can use a screwdriver in loosening the screws.
You can soften the glue between your cabinet door and mirror by using a heat gun.
Measure the dimensions of your medicine cabinet. You can also get pre-cut mirrors. Before you replace your new mirror, you should remove any dust or dirt.
Use mirror clips in securing your new mirror in place.
Screw your mirror to tighten it.
Q: Can you replace a door on a medicine cabinet?
Yes. Once you have decided to replace your medicine cabinet doors, you will determine the kind of doors you will install.
In this case, you can either choose ready-to-assemble, semi-custom, or custom doors.
All you have to do is to ensure that you have the right measurements.
After buying your new door, you can remove the old one by unscrewing it at the hinges.
Screw the new door, and you will be ready to use your medicine cabinet.
Q: Can you frame a medicine cabinet mirror?
Yes.
Choose the kind of frame that you are going to use. In choosing the best frame, you should consider the amount of space that you have between the side of your cabinet and the front side when you open your medicine cabinet fully.
Get correct measures of the frame by measuring your mirror.
Clean your medicine cabinet mirror before you frame it.
Secure the frame to the cabinet using clamps or tape until the glue dries up.
Q: Where can you buy medicine cabinet shelves?
You can buy medicine cabinet shelves from reputable manufacturers such as Lowe's, Walmart, Kohler, and Topekmark.
However, it is good to search online for the nearest medicine cabinet near you.
Q: Can you put a medicine cabinet on an exterior wall?
Yes, since the exterior wall is loading bearing. However, you must confirm if the floor below the fall and the floor up is loading bearing. In this case, if you notice that there is a supporting beam above the wall, you are free to install your cabinet.
Q: Can you hang a medicine cabinet without studs?
Yes. However, the process can be challenging but doable.
Screw the cabinet at the back-side into the wall. Make sure you use correct screws, most probably those of 3 inches at the top side.
Alternatively, you can drill through the wall to add some blocking so that you have something to hang your medicine cabinet. It would help if you did not worry about repairing the wall according to the required standard since the medicine cabinet will conceal it.
Notably, many of the medicine cabinets do not end up studs.
Q: Can you paint a medicine cabinet?
Yes. However, it is easier to paint wood medicine cabinets compared to other materials. The results of non-wood surfaces do not produce satisfactory results like wood.
Q: How high should a medicine cabinet be hung above the sink?
The height that you should hang your cabinet above the sink depends on the sink height, but the total height from the ground should not exceed 72 inches from the floor. However, you should install a height that every family member of the family can access without straining.
Q: What is the slot in a medicine cabinet for?
The slot that is found at the back of the medicine cabinet is for disposing of used razor blades.
Q: Which way should medicine cabinet doors open?
If your medicine cabinet has two doors, the right door should open to the right while the left one opens to the left side. But in many cases, medicine cabinet doors open to the left side.
Q: What sizes do medicine cabinets come in?
Medicine cabinets come with various sizes.
But large wall medicine cabinets have standard dimensions of 22.5 inches width by 29.25 inches height by 4 inches depth while surface mounted medicine cabinets have 15.2 5inches width by 30 inches height by 4 inches depth dimensions.
Q: Does Walmart sell medicine cabinets?
Yes. Walmart is one of the most trusted stores that sell cabinets.
Q: What are standard medicine cabinet sizes?
Typically, large wall medicine cabinets have standard dimensions of 22.5 inches width by 29.25 inches height by 4 inches depth.
Surface mounted medicine cabinets have 15.25 inches width by 30 inches height by 4 inches depth dimensions.
Q: Does the medicine cabinet have to match the vanity?
It depends on the layout of your house.
Typically, it is not a must for a medicine cabinet to match with the vanity.
Q: How do you adjust medicine cabinet doors?
Open your medicine cabinet door so that you can tighten any loose screws.
In case tightening does not solve the issue, you can loosen the screws on both hinges so that you adjust the cabinet door to your designed height.
In case your door is misaligned, you can use a horizontal adjusting screw to align it properly.
Conversely, you can use a vertically adjustable screw to align your cabinet vertically.
Q: How do you paint a rusty medicine cabinet?
Prepare the area around the cabinet by laying plastics sheets or tarps.
If your cabinet is attached to the wall, you can use masking tape and newspaper to protect the walls.
Rough the inside and outside of your cabinet using steel wool or 120-grit sandpaper.
Wipe down your cabinet using clean water and rags to remove any debris or dust particles from roughing.
Leave your cabinet to dry.
Apply metal paint by using a sponge paint roller.
Leave your cabinet to dry for at least 12 hours.
Use a sponge roller to repaint your cabinet before allowing it to dry.
Q: Can you recycle a medicine cabinet?
Yes. Medicine cabinets are 100% recyclable.
You can clean your old medicine cabinet, paint it and use it in displaying any items that you want, such as dishware.
It is also possible to cut its parts and redesign them into any structure that you might think can be useful for you.