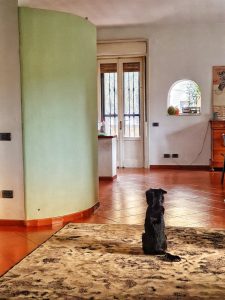 There are still folks who think tiles might be too heavy for a manufactured home. Some mobile homeowners think it would be a bad idea to change the factory flooring with a more personal and bespoke option.
The truth of the matter is that it's OK to make changes to the factory flooring that comes with the home. Also, there are tons of flooring options better than hardwood. Some of these flooring options can be installed to serve a specific purpose that the current default option was not designed to serve.
Hopefully, this guide will help clear up any untrue information you read on those DIY forums full of really angry members.
The Actual Truth About Manufactured Home Flooring
Having a quality flooring under your feet is one of the best things you can ever do to your manufactured home:
New flooring can add a fresh protection layer against weather and ground moisture
A fresh layer of new flooring could mean a new interior design of your liking
Flooring can be the fastest way of updating your home (though it isn't the easiest or the cheapest route to take)
There is a list of important things you need to bear in mind when selecting flooring options for your manufactured home:
What are your activities?
You want a flooring option that suits the lifestyle of your family. If you have a few playful pets and kids at home, it only makes sense to install a floor that is resistant to moisture from water spilled.
Such a floor should also be designed in such a way that it can withstand long stamping of playing children which often speeds up the wear and tear of flooring.
If you want a flooring option capable of withstanding stains, scratching, and sustained shocks from stamping, it would be prudent to consider choosing hardwood or tile flooring.
Subflooring
Secondly, the kind of subflooring present in your home has a big say on the type of flooring you will install. Some low-end or older homes come with subflooring made from spongy materials.
Some homes come with subfloors made from simply nothing but sawdust, pieces of nylon, and glue. These types of subfloors don't resist water well.
You might need to dismantle the subfloor and replace it with a better option or look for flooring that works well with it in the current state.
Even when considering updating the flooring in specific areas such as the bathroom, you will still need to make updates on the subflooring before adding new flooring.
What is your preferred décor?
Stop for a moment and think about how the new flooring will pair with the styling of your walls or ceiling.
What is the effect of your flooring option to the general interior design of your home?
If your living space has a classic design, for instance, it only makes sense that you use natural stone or hardwood-based flooring.
Sustainability
Many homeowners love to take the green route in every update work they carry on their homes.
Whichever eco-friendly option you chose, you need to evaluate the sustainability of the choice in the long run.
Also, pay attention to how your eco-friendly options were harvested and manufactured – did the maker use sustainable methods of production?
Natural flooring materials like cork, tile, and hardwood are often made using practices that qualify as environmentally-friendly.
Don't be squared
It is important to understand that floors in manufactured homes seldom come in perfect squares. You are not going to come across many squared walls or floors in site-built homes, either.
Manufactured homes should be re-leveled once every few years (or at least check to ensure it is level), but many homeowners are oblivious of this requirement.
Settling often takes the first 1 or 2 years after installation. If it is not fixed, the structure of your home will be forced to endure a lot of stress.
Top 5 Flooring Options Good for Your Manufactured Home
These are some of the most often used flooring options in manufactured homes:
Hardwood
Hardwood floors are common both in the pre-1976 homes and the HUD Code era more modern mobile homes. Wood retains its features longer. The best part is that wood floorings come in an array of stains and patterns that can suit your diverse styling ideas.
Pros:
Hardwoods are availed in a range of styles and textures. This means you can find just the right hardwood flooring for everything between a rustic antique theme and a more contemporary look. If your floor must withstand high traffic, hardwood would be the best flooring options.
With hardwood flooring, you can opt for any pattern you please – you can lay them in thin strips, formal parquet squares, or even wide planks.
Cherry, maple, and oak are the three most popular hardwoods in the flooring market. They are loved for their attractive looks which are excellent for a floor that needs aesthetic value.
These three hardwoods are also famous for their durability and the ability to produce impressive grain patterns.
If you are remodeling on a tight budget, you can consider exotics woods like the Brazilian cherry, mahogany, and teak.
Another good alternative to hardwood is the engineered wood, which is basically a product of two or more hardwoods bonded together to give your floor new properties that pure hardwood couldn't provide.
Engineered wood resists humidity and dramatic temperature changes than traditional pure hardwood. Sounds like a wood flooring you'd install in laundry rooms, basements, and bathrooms, doesn't it?
Cons:
Pure hardwood is not suited for rooms that deal with pools of water, such as bathrooms and laundry rooms. Also, it isn't the most cost-effective option out there for homeowners to remodel their floors on a budget.
Laminate
Laminate flooring consists of layers of fused melamine materials (members of the extended plastics family). One of the four layers is a high-resolution surface the laminate needs to mimic. This design helps your laminate flooring to mimic an array of visual options including tile, hardwood of any stain and grain, tile, etc.
Pros:
The most likable thing about laminate flooring is the durability – it beats most other flooring materials in longevity.
Also, there is the right type of laminate material for every floor in your home, ranging from the humidity prone bathroom to the high traffic living room floor that needs to withstand excited kids and home dancers.
The fact that it can mimic a wide range of textures, stains, and pretty any imaginable aspect of flooring means you can style your home in any way you want. If you are looking for a flooring option that's easier to clean with a simple sweep or vacuuming, you might try out the laminate option.
Cons:
The biggest flaw of laminate flooring is their tendency to produce those annoying hollow sounds when walked on.
To reduce the extent of this issue, you will need to use a specialized underlayment during the installation process. The underlayment goes a long way not just to cut the noise but also to reduce moisture penetration.
Because you can't resurface or sand it, small localized damages can only be corrected by removing and replacing the whole flooring.
Vinyl
Vinyl floorings are a darling of many homeowners because of their cost-effective pricing, ease of maintenance, and durability. They are some of the preferred flooring options for rooms with a lot of moisture and those that require a flooring option capable of withstanding large traffic.
Unlike the old school vinyl, a good number of today's vinyl options you will find in the store are capable of visually mimicking a range of surfaces.
Pros:
You can buy vinyl in the form of planks, sheets, or tiles. This means you can have multiple visual options while maintaining the installation requirements low enough to make it cost-effective than other options.
A variety of shades of gloss and matte finishes are available to support more design options. When compared to hardwood, tile, and laminate, Vinyl is the best way of acoustically softening any room in your home.
Vinyl floors feel softer under the foot. This makes them excellent for the kitchen floor on which you spend a long time standing.
What makes vinyl floors to be even a more attractive option for kitchen environments is that glassware won't break when they fall on it.
It is probably the most adaptable flooring option because it can be easily installed on any level surface.
Modern vinyl doesn't require waxing. It is easier to clean and can be installed in high moisture areas such as bathrooms and humid basements.
Cons:
However hard the manufacturers try, Vinyl always fails to perfectly mimic some of the commonly used materials that you would desperately want to fake. Therefore, excellent flooring mimicry remains to be a preserve of the Laminate option.
Vinyl floors exposed to direct sunlight for moderate periods tend to fade quite faster. Just like Laminate flooring, small damaged sections will require the whole structure to be dismantled and replaced.
Tile
Tiles have gained popularity over the years as a durable flooring option not only suited for the bathroom and patios but also as an option that can be installed in the living room and the rest of the home. If you are looking for a durable flooring option, forget about hardwood, laminate, and vinyl – choose tiles. They are also a better option for high traffic as well as humid rooms.
Pros:
Tiles offer more visual design options. They are primarily available in porcelain, natural, and ceramic – the three most durable and fire-resistant surfaces you can ever add on your floor. You can choose between high texture rustic surfaces and smooth options with plenty of variations in-between.
Although most of the tiles you'll find in the store are in the form of squared slabs, you can order custom tiles measuring exactly as you want them to be.
Tiles are great for virtually any surface: high traffic surfaces, rooms prone to humidity, surfaces that should be easy to clean, etc.
Cons:
The biggest flaw of tiles is in their grouts – grout lines tend to accumulate dirt and stains with time to a point of becoming unsightly and hard to clean. You need to install them properly.
If you leave some air spaces under them, they become prone to cracking under sufficient weight, say, the leg of a safe set, or heavy table (or aquarium, piano, treadmill, etc).
A broken tile isn't easy to remove either, you will need to get rid of the whole piece and replace it with another. Because they don't absorb sound particularly well like hardwood, for example, they will make household conversations and noises sound louder than they actually are.
This acoustic problem makes it uncomfortable to stay indoors for long periods. They are the worst flooring option for the kitchen area – glassware will break instantly when they fall on it; stainless steel plates will be dented.
During cold seasons, tile flooring can get considerably cold, making it harder to stand on them for a long time.
Carpeting
With a wide range of colors, weave styles, and patterns, it is no surprise that carpets are still among the most preferred flooring options for manufactured homes. They feel great on the soles when you walk on them with bare feet especially if you choose to install the fluffy variety. If you are looking for the best flooring option that will insulate your floor and still feel nice on the skin, you might want to try out carpets.
Pros:
Carpets are either made from natural fibers or synthetic varieties with properties similar to those of natural fibers (sometimes enhanced to perform better than natural fibers). The most often used natural fiber is wool which is both hypoallergenic and luxurious.
Those made from synthetic fibers last longer than those made from natural fibers. Three commonly used synthetic fibers are nylon, polypropylene/olefin, and polyester.
Cons:
Carpets can be a real nightmare when it comes to cleaning. Unlike plain tiles, laminate, or vinyl that you would simply mop or sweep, carpets may require a long time of vacuuming or steam cleaning or both.
Some manufacturers still make carpets that contain VOCs (volatile organic compounds). VOCs may escape into the during, installation, steam cleaning, or natural aging and end up inducing allergies in the household.
An alternative to carpeting is rugs.
4 Common Yet Costly Manufactured Home Flooring Errors To Avoid At All Costs
You will be surprised how easy it can be to make some mistakes when installing new flooring in your manufactured home. You should know them in advance to avoid incurring huge costs doing some corrective procedures:
Mistake 1: Ignoring Leveling
A bumpy floor is a product of trying to install a new flooring option without leveling the subfloor. Changes in the height should never exceed 1.2 mm over 0.25 mm or 3 mm over 2 mm.
There are two ways of leveling the surface:
either you do some radical changes on the subfloor or
simply pour a leveling material on top of the floor to achieve and even the surface without altering the subfloor.
Mistake 2: Never checking the level of moisture
Too much moisture, or total lack of moisture, in the subfloor, is a top cause flooding problems, especially in wood-based flooring. Because wood is a very sensitive flooring material that readily absorbs water from the environment, you will need to carefully assess the moisture content in the subfloor before installing any wood-based flooring.
Mistake 3: Never acclimating your wood flooring
If you have ever installed hardwood flooring only to notice a series of wells and shrinks within months of installation you probably already did this mistake.
To acclimate your wood is to lay the planks in the room so that they can adjust to the environment before installation.
The recommended acclimation period is two weeks.
It is also recommended that you let the heating or the A/C run at their optimal levels during the whole process.
Humidity should be set at 30 – 50 percent.
Mistake 4: Not using the correct laying method
Buying the correct flooring option is one thing and laying it correctly is another. It may seem straightforward to use a locking system or put enough fasteners, but installing a floor, especially the wooden sort, requires more than that.
That's why you will need to hire an experienced contractor to do the job for you instead of taking the DIY route.
Conclusion
Whether you are renovating your manufactured home or just feel the need to change the floor to meet your likings, a quality flooring option is always a worthy investment.
Your choices will be limited to five options: hardwood, laminate, vinyl, tile, and carpet. Each of these flooring options has pros and cons.
Opting for tiles, for instance, means you are after durability and ease of maintenance.
However, tiles tend to get very cold even in moderately cold conditions. Whichever option you choose, remember to use the correct installation techniques. Otherwise, you will end up with a badly done job.
Also, consider leveling the subfloor first before embarking on the project. It is prudent to check the level of moisture in the subfloor as well.