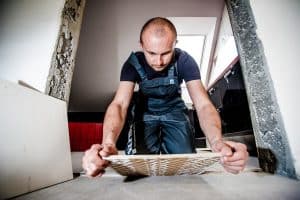 Ceramic tiles are normally made of a mixture of clay and an array of silicates such as quartz and sand and just the correct amount of water. Today, ceramic floors are almost becoming a universal flooring option for most homes, offices, and commercial spaces.
That's partly because of their excellent insulating properties and ease of cleaning. You might be contemplating adding them to your manufactured home for the same reasons.
In the last decade (2009 – 2019), 2.9 billion sq. m. of ceramic tiles were installed in the United States  with slightly over a third of them ending in manufactured homes.
However, at the end of the decade (2019), the demand for ceramic tiles had slumped to just 84 million sq. m. from 288 million sq. m. in 2018  although imports had risen to 288 million sq. m. (about +5%) mainly from Brazil, China, and Spain.
But, can you really put ceramic tiles in a manufactured home? Absolutely yes. They look good and serve the intended purposes in mobile homes just as perfectly as they do on site-built homes. It's hard to imagine a bathroom, laundry room, or kitchen without ceramic tiles in them. However, you have plenty of subflooring to do because the floor in mobile homes is a bit different from that in site-built homes.
Still on whether you can install ceramic tiles in home, you must ensure the floor is sturdy regardless of the non-sawdust subflooring option you choose.
If you choose to install your ceramic tiles on a wood substrate, the standards say the floor should never deflect greater than length/360; so, in a 16-inch span between the joists, the deflection cannot be greater than 3/66 inches.
For natural stone, the deflection would have been less than L/720 for 3/128-inch in 16 inches. Glazed porcelain ceramic tiles are the best and most durable tiles for a manufactured home, provided there isn't excess deflection on your floor.
Things to Consider When Planning to Install Ceramic Tiles On Your Manufactured Home
Before you even select ceramic tiles of your liking, consider the following factors:
1. Movement accommodation joints
As the CTEF says, "all ceramic tiles will move with humidity and temperature variations."
To accommodate this contraction and expansion activity, the TCNA Handbook for Glass, Stone, and Ceramic Tile Installation (method EJ171) advises builders to use expansion joints in all tile work.
The Handbook continues to state that, "The design engineer and professional shall show the particular details and locations of movement joints in the project's drawing."
Ensure that all the parties involved in the installation of ceramic tiles in your home understand the critical placement and use of expansion joints.
2. Premium materials used for the installation of ceramic tile
The quality of materials used can have a huge influence on the success of the tiling project. It is prudent to only work with top quality premium materials. Also, all tiles aren't installed exactly the same way.
The way you would install stone-based tiles is remarkably different from that of ceramic tiles. Again, the manufacturer might recommend unique materials and methods of installation for their ceramic tiles.
And because you're installing them on a manufactured home whose floor is not permanent as that in a site-built home, you will need to follow the directions of the manufacturer to the letter.
3. Subflooring
As earlier mentioned, you will need to get your subflooring right before installing ceramic tiles. Most of the older and low-end manufactured homes come with subflooring made from sawdust-based products and glue which don't perform well against water.
So, if you want to upgrade to ceramic tiles or if you're installing them for the first time, you need to upgrade the subflooring first.
Another reason why you should put the subflooring in order is that it has a big influence on the kind of ceramic tiles you'll choose to install.
The best subfloor material for a mobile home's subfloor is 5/8″ plywood. OSB (Oriented Strand Board) is a better alternative to plywood although it's heavier than plywood and stays wet longer. But OSB's surfaces are always flat, and knot-free, and more consistent than plywood.
The most preferred subflooring solution is CDX Plywood which comes with veneer grade "C" on one side and veneer grade "D" on the other.
When the two sides are bonded together with a construction glue, they can withstand a great deal of moisture.
The laundry, kitchen, and bath area should sit on the most water-resistant marine plywood you can ever lay your hands on.
If you must replace the subfloor, you will need to hire a qualified professional because of the intricate nature of the whole process. There is a DIY guide at Mobile Home Living.
4. The rigidity of the installation surface
According to CTEF, "All types of ceramic tiles require a stiff and rigid surface. In some cases, the installation may need additional subflooring, bracing, or wall studs."
For comparison reasons, you should realize that ceramic tiles, just like their porcelain cousins, require a surface about half as rigid as that you would use for stone-based tiles.
Tile contractors and installers should always adhere to the applicable recommendations given by TCNA Handbook for Ceramic and Glass Tile Installations, the manufacturer's recommendations as well as the ANSI's (American National Specification for the Installations of Ceramic Tiles) recommendations.
5. Minimum mortar coverage
Industry standards recommend the following minimum coverages:
Dry surfaces – 80% mortar
Wet surface – 95% mortar
Remember, these means both the back of the ceramic tile and the surface of the floor.
6. Confirm that the surface is flat
If you began by correcting the subfloor, you should go back to confirm the new subfloor is in "marriage" with the floor as far as flatness is concerned.
If the floor isn't flat enough, you should consider addressing the issue by leveling it prior to installing your ceramic tiles. Otherwise, the finished work will be regrettable.
7. Crack isolation membranes
If your old subfloor is exposing cracks but you still want to proceed with the project regardless, consider adding crack isolation membranes.
These crack isolation membranes serve to prevent the cracks from extending further.
You may combine these membranes with noise suppression membranes to ensure that the installation is both quiet and safe at the same time.
Allow enough cure time
Allow your installed ceramic tiles to cure sufficiently according to the recommendations of the manufacturer before exposing it to moisture or traffic.
Of course, the cure time will also depend on the specific material used and the conditions of the site.
When NOT to Install Tiles in A Manufactured Home – 4 Reasons
While it is perfectly OK to add tiles on the floor of a manufactured home, there are a few situations when you would rather opt for other options. Here are some of those situations:
1. When you don't want the extra weight
Adding tiles on every deserving surface of your home – the hallway, all floors, and the walls of the bathroom – will sure add considerable weight to your home.
That's the point you should stop at and think hard whether the whole project is worthy or not.
If you remember that your manufactured home might be moved to a different location someday or you are aware of the strain the added weight will put on the floor and the rest of the structure, you may leave the idea of tiles out of the cards completely.
2. When Adding To Walls
It isn't particularly advisable to install tiles on the walls of a manufactured home.
These walls are made of assembled parts and a topping of materials such as drywall panels (which are made from gypsum plaster), artificial wood paneling, and similar materials.
Unless you are ABSOLUTELY SURE  ceramic tiles will work harmoniously with the type of wall used to make you home, you shouldn't add them.
3. If you can't stand more cold
Ceramic can be unforgiving when it comes to temperature management. Ceramic tiles feel colder to the skin than other surfaces. Things can be worse in the winter.
And because they tend to be dense, they take longer to warm up.
They also take longer to cool in the searing heat of the summer. You are better off with non-ceramic tiles if you don't want any of this erratic behavior.
4. When permanent is not an option
Trends change, especially manufactured home trends. This means you are more likely to reconsider your flooring in the future and even think of replacing it with a better trend.
The problem, however, is that ceramic tiles aren't easy to remove once they are installed.
So, if you ever get to have second thoughts in the future, you will either be forced to put up with them or embark on a daunting and often expensive process of dismantling them.
Conclusion
You can install ceramic tiles with the same purposes in mind as you would with a site-built home.
Because the floor of the most manufactured homes is not permanent, you will need to make some changes by adding a subfloor.
Some of the factors to bear in mind when installing ceramic tiles on the floor of a manufactured home,  is the type of subfloor you have in place and the quality of the materials.
The condition of the floor and the time required for curing should be considered as well.
Do not install ceramic tiles on your home if you want to keep up with future trends. That's because ceramic tiles are used as a permanent flooring solution.