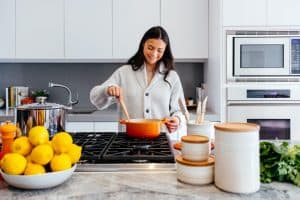 The kitchen is probably the most popular space in any home. It is equally popular when it comes to renovation – most of the remodeling projects at home involve the kitchen.
Renovating a manufactured home's kitchen can be a big project, both in scale and cost. For this reason, there are important manufactured home kitchen renovation planning tips to keep in mind before hiring a contractor and starting to tear down the walls.
Eight Manufactured Home Kitchen Remodel Planning Tips
1. Set a budget
How much money do you plan to commit to the project?
You need to be realistic. It is just obvious that large renovation projects will always take more resources than what you planned. So, it makes sense to commit resources that are slightly more than what was projected in the budget.
A rule of thumb that an experienced homeowner would adhere to is to add another 10% or 20% of unplanned expenses. The bigger the financial cushion you set, the better. Otherwise, your project risks grinding to halt along the way, unfinished.
According to HomeAdvisor, an average kitchen remodeling project can cost between $13,260 to $37,441 in 2020.
You stand to spend $150 per sq. ft. That's about $25.172 for an averagely sized kitchen. Most homeowners in the United States spend upwards of $13,260, sometimes as high as $37,441.
That's an equivalent of $75 to $250 for every square foot. The cost varies quite widely depending on the quality of materials you select, whether you change the entire layout and the overall size of the kitchen.
A smaller remodeling project may cost between $10,000 and $15,000.
2. Conduct your research – a lot of it
There will always be a few things you won't know until you go out to find. Doing sufficient research before embarking on a kitchen remodeling project can bring a lot of useful ideas that may improve your plans.
Take a visit to home stores and kitchen showrooms and see what they got. A visit to these places lets you figure out the current cost of kitchenware and other items you'll need in the project. You will also figure out what you really need and what you can comfortably pay for.
Better yet, you can attend your neighborhood's home tours and connect with homeowners and have a look at their renovation projects and kitchen styles. Use the ideas you collected in your research to plan for the project.
It is easy to forget factoring in the costs of non-core materials and labor.
Such things as taxes and the cost of shipping the materials to your home may add up to a considerable amount of money.
For that reason, it is important to consider these hidden costs when creating your budget.
Also bear in mind that there are a few tasks you can do yourself instead of hiring a "professional."
For example, if your car has enough space at the back, it won't hurt to transport the materials yourself. Even taking on a few tasks can chop off a few dollars from the hidden costs.
4. Prioritize on quality
It just goes unsaid that quality materials will guarantee quality work.
It is always a good thing to go for the highest quality materials that can be paid for with your budget.
After all, you want your kitchen to be equipped with functional and long-lasting products.
Remember that you might want to sell some of the products or remodel the kitchen again in the future. If the items are of high quality, they will survive the test of time and remain in good working conditions for long.
5. Distinguish Needs from Wants
What do you really need at the moment?
What are the items that can wait a little longer?
Be practical and avoid buying stuff you don't need. Some homeowners would be tempted to buy all types of fancy appliances and gadgets only to learn later that those items can't fit in the new kitchen.
Also, keep in mind that every extra appliance you buy adds a load on your household power demands.
In the long run, it could mean slightly higher utility bills.
Furthermore, extra appliances increase your upkeep responsibilities which may end up straining your finances and time.
Considering that there are several types of kitchens – entertainment kitchens, gourmet kitchens, and family kitchens – assess your needs and wants by asking yourself these questions:
Who often cooks? How frequent?
What type of kitchen equipment do you need?
Do you need a larger counter space? Where?
How easily reachable are the storage spaces?
What do you like most about your current kitchen?
What other activities take place in your kitchen other than cooking?
So, what changes would you make to your current kitchen?
Do you have fresh ideas about your kitchen's layout?
What colors and styles would you include in the kitchen?
Which features do you think are missing in your current space?
What do you dislike most about the current style of your kitchen?
It is worth it to be thorough. The clearer you are with your needs and wants, the easier your kitchen contractor and designer will follow your vision.
6. Plan the kitchen layout
The kitchen needs to be more functional and practical than any other room in your home. To plan the layout better, think about the experience you are having in your current kitchen.
What works best? What doesn't work? Revisit the current layout of the kitchen and assess what needs to be improved.
If you can't get your planning right, or you feel you've fallen short of the essentials, consider using the classic yet effective work triangle.
Arrange your sink, stove, and refrigerator (the 3 most often used features in an ordinary kitchen) in a triangle.
This is probably the most convenient setup you can ever make because it saves you a lot of unnecessary steps.
Another thing you should think about is how people normally work in your kitchen area at the same time. If most of the cooking is done by more than one cook, you might need to incorporate multiple workstations.
Sometimes, placing a tiny island in the middle of the kitchen or buying a small wheeled that can move around the kitchen can go a long way to support more than one cook.
The remodeling contractor will help you in making proper planning about the general safety of your kitchen. When it comes to convenience, however, you will decide everything by yourself. Remember these things when mapping out space in your kitchen:
Counters
Depending on the size of your kitchen, plan to have about 36" of counter space for preparation and food, with at least 24" on the sink's side and 18" on the other. If you can accommodate more, go ahead and do so.
Kitchen appliances
Leave enough floor space in front of your appliances to permit easy opening and closing of the doors and so you can easily move around and use the appliances without hindrance.
For a kitchen in a manufactured home, you will need at least 30" to 48."
Also, put into consideration the direction and even the depth of the appliances' doors – especially the refrigerator. If you intend to install your fridge close to the close, position it in such a way that the door swings opposite the wall.
Walkways
Leave a space about 42" between the kitchen island and the counters to permit easy movement of people.
7. Go shopping for the materials
Shopping for kitchen remodeling materials is a big deal. Homeowners often forget the time they spent on the aisle of the plumbing store looking for the same set of faucets. If you don't really know what you need, you risk settling for anything.
Unless you hire an experienced interior designer or contractor, you will be making most of the buying decisions by yourself. Whether you are doing the shopping yourself or you passed the shopping list to your interior designer or contractor, these items should never be absent from your list:
Lighting
Sinks and faucets
Appliances
Within each category, there is a lot to learn about materials, different brands, installation methods, costs, warranties, care and maintenance requirements, and more.
Consider keeping track of the list of you chose in a spreadsheet.
Be open-minded. Go shopping anywhere – online and offline.
Read product catalogs, check out your neighborhood's specialty stores.
Visit trade shows and showrooms.
At the end of it all, you will have a rough understanding of how much some items, upgrades, and features cost.
8. Set Goals for Your Remodeling Project
Now that you know your needs and wants, you are in a better position to list down the goals of the kitchen remodeling project. Your goals may look like this:
A convenient charging station for my electronics
A station for my wine and coffee (even both)
A sleek modern kitchen with a lot of gray and white
More countertop spaces close to cooktops
New more emergency efficient kitchenware and appliances
An open layout style to increase the space
Storage units that are easier to access (pots, pans, bins, cabinets, drawers, etc.)
An increase in the value of the home because it needs to be sold soon
Related: Can You Insulate A Manufactured Home Kitchen?
7 Common Mistakes to Avoid When Remodeling Your Kitchen
These mistakes can cause you frustration and stress that might want to start a new remodeling all over again. We've listed them here so that you avoid them beforehand.
1. Overdesigning
It is easy to give in to the temptation of incorporating hordes of ideas into your remodeling plans. Remember that the final model will look at the ideas you had at the start. If you try to pack too much in a tiny kitchen area, you might end up with an eyesore of a kitchen.
Bear in mind that the design of your kitchen will have an influence on the final product's:
Comfort
Functionality
Accessibility
This is why you should involve your interior designer when making kitchen remodeling decisions.
2. Choosing appliances last
Don't be carried away by the general look and style of the kitchen to the point of forgetting the appliances. It is not entirely bad to emphasize the color schemes and the finish on the countertops, but consider factoring in how different appliances will look and work on these surfaces.
So, avoid thinking about the appliances lastly after deciding everything else.
Putting into account the needs of each appliance will let you plan the layout in such a way that such appliances as pressure cookers fit snugly in cabinets.
Basically, putting into account the appliances lets you remodel your kitchen according to the size and positioning of the appliances.
3. Indecisiveness
Don't give your interior designer and contractor the greenlight until you're pleased and happy with their remodeling plans.
Also, don't give them total control over the entire project. Remember that you are remodeling your kitchen to suit your family's needs.
If you change your mind in the middle of the project, you are likely to cause delays. Avoid this by placing yourself at the center of the decision-making structure regarding your remodeling project while, of course, consulting all the relevant professionals.
4. Overlooking storage details
Do not skip the seemingly small storage features such as cabinet expansions (lazy Susans, pantry pullouts, etc.), additional drawer dividers, and some space behind your door.
These minor storage details can increase the efficiency of your kitchen and even save a lot of money because they tend to be costlier if you choose to install them after the conclusion of the project
5. Forgetting everything about the workflow
Remember that your kitchen is the busiest space in your home.
Even inside, there are busy spaces such as the sink, the refrigerator, the stove, and so on. If these spaces and appliances are not positioned inefficient location, the workflow will be hampered.
The easiest way of workflow mistake is by applying the "work triangle".
6. Settling for less counter space
The general space covered the counter is one of the elements that defines the perfect project. The more expansive your counter is, the more space you have cutting things and placing utensils as you cook your food. Therefore, don't settle for less counter space.
7. Failing to position the appliances and other items appropriately
Nothing sucks like completing a costly kitchen remodeling project only to realize that one or two appliances are positioned wrongly.
Range Hood
A perfectly installed range hood should be between 20" and 40" above the cooking surface.
Over a gas range, the distance should be 20" to 30", unless the manufacturer specifies otherwise.
Refrigerator
The fridge is often installed far away from sources of heat.
Consider installing your fridge long distances from the microwave, ovens, and other sources of heat.
The summer sun may interfere with the proper function of the fridge, so consider installing it away from windows.
Microwave
If your microwave can't be placed on the counter, position it on the drawer, lower or upper shelf, or over the range.
You can remodel your kitchen and include a trim kit that will contain the microwave and make it look like it's in-built.
Dishwasher
Dishwashers are always placed next if not close to the sink – either left- or right-hand side – as well as being positioned close to the kitchen's storage units.
Ensure your dishwasher's placement does not interfere with smooth movement in your kitchen.
Kitchen cabinets
Cabinet knobs are traditionally placed opposite the door hinges.
Wall cabinets come with their knobs placed approximately 2-1/2″ and 3" from the door's bottom corner.
Base cabinets are typically installed in such a way that the knobs are 2-1/2″ to 3" from the door's upper corner.
If the drawer is wider than 24", you will need to add a second knob.
Related: How To Find Replacement Cabinet Doors
Place your recessed downlight 12" apart from another downlight – repeat this patter with all other downlights in your kitchen area.
Relative to other installation, recessed downlights should be between 12" and 18" away from cabinets so that they can adequately illuminate the counter.
However, you will need to consider the size of your kitchen when making decisions on lighting.
The pantry
The pantry is normally placed close to the point where the items in this unit are first used. This means you should place the pantry close to the food preparation area.
If you intend to have a baking area in your remodeled kitchen, you will need to install a separate "baking pantry" close to it.
Shelves
Shelves look great on the wall immediately above the countertop. However, it isn't entirely unorthodox to place your shelves directly below the upper cabinets.
Hang a floating shelf close to the upper cabinets to make it look like it's part of your cabinetry.

Conclusion
Kitchen remodeling is probably the second biggest project you will ever undertake – second only to the day you had your manufactured home up and running. Before even hiring the contractor to start the work, prepare for the project by setting a reasonable budget.
There is a lot of research to do. Seek the advice of your kitchen designer and contractor when making every decision. Keeping the above manufactured home kitchen renovation planning tips in mind increases the likelihood of a successful kitchen remodel.