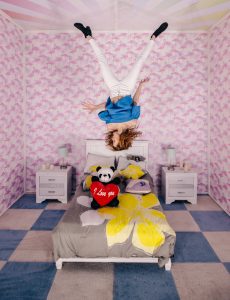 Whether you are planning to remodel or add the ceiling of your dream for the first time, there are odds you are mixed up with so many options available on the market today.
In this guide, we will list some of the popular manufactured home ceiling options  plus their pros and cons.
Likewise, if you installed a ceiling and didn't like the results, or it has gotten older and would like to try something new, I suggest you replace it with these options:
Seven Mobile Home Ceiling Material Options
1. Beadboard
Beadboards come in form of flat planks of wood with a single or two "beads" – semicircular, raised ridges – vertically milled into the board's face.
It appears like three or two narrow boards laid side by side when installed.
Beadboards were originally used on walls before finding acceptance on ceilings.
So, if your walls are in a bad state, you are within the rules of aesthetics to put it both on the walls and the ceiling – it goes a long way to create uniformity as well.
The biggest advantage of beadboards is the wide range of options available to the homeowner.
You can buy groove and tongue planks, panels in multiple thickness and width, or simple full metal plank kits.
The downside, however, is their cost per square foot – the cost of a square foot lies somewhere between $2.50 and $4.50. Even the 4' by 8' panel is in the region of $4.09/sqr ft.
Beadboard Installation Tip
Groove and tongue beadboards are popular because they can be easily screwed into the trusses or furring strips. Better yet, you can choose to use metal furring strip systems to attach them to the ceiling.
There is a comprehensive instruction manual from Armstrong  for dropped/suspended paneling.
2. Wood planks
If you're a simplistic homeowner, you'd probably consider a simple ceiling with nothing but simple wooden planks. Also, that's the option you could choose if you love the country and rustic styles.
Either way, you will benefit greatly from the wood's ability to add warmth in almost any kind of home.
The major advantage of wood planks is their cost.
If you had a master bedroom and needed to improve the ceiling, the whole space would cost about $200, which is impressive. Their weight, however, may come into the way.
It is prudent that you select thinner planks to offset the effect of weight.
Again, they shouldn't be too thin, otherwise, the ceiling will begin to sag within months of installation.
Furthermore, you will need to have a parallel and level attachment in place ready for installation, whether that be metal tracks, reinforced trusses, or furring strips.
Wood Plank Installation Tip
Begin by installing the metal tracks. Arrange the planks on the ceiling by clipping them on the metal racks.
Tip: While Pine is the most preferred type of wood for Wood Plank-based ceilings, there are plenty of softwood alternatives your installer could offer. Non-wood alternatives such as PVC and composites that resemble wood are quite popular.
3. Drop, mounted, & Suspended Ceiling Tiles
Ceiling tiles are the most popular ceiling solution around for mobile homeowners. They come in many different sizes and styles.
Lowe's alone has at least twelve options on offer.
The most popular option for manufactured homes and pretty any mobile home is the surface and ceiling option although the mounted variety is just as popular.
The market also offers specialty tiles and includes ceramic, patterned, fissured, and faux pin.
Tiles are impressively lightweight. That, and the fact you can choose from a range of sizes and shapes, makes them an attractive ceiling solution for many homeowners.
On the downside, however, suspended and drop ceilings are considerably cumbersome – think of all the wired grid and track work that must be done!
Then there is the issue of the state of the ceiling – you can't install them on just any ceiling; the ceiling needs to be in good condition or at least have a bonding surface.
Ceiling Tile Installation Tip
If you opt for surface mounted tiles, consider preparing a flat and level surface on which you'll glue your tiles.
This may mean you're gluing the tiles on an existing ceiling. Alternatively, install furring strips on which you'll screw or staple the tiles (of course, it will depend on the ceiling's condition).
4. Metal ceilings
Corrugated and tin sheet metals have served as ceilings since the mid-1800s. The classic decorative pressed-metal ceiling panels haven't gone away yet and can easily be found in specialty stores near you.
In addition to their renowned durability, corrugated sheet metals are very easy to install. There will be no need to cover the ceiling's seams if there are any – just slide the edges of the manufactured home ceiling panels under or over each other and you're done.
Galvanized and aluminum panels are remarkably affordable if you compare them to wood-based options.
Probably the biggest setback about metallic ceilings is the sound – sound waves and light bounces back more than they should, and they can build up into a considerable nuisance.
That's because metallic surfaces are dense. You will need to fix this problem by adding rugs, carpets, and curtains even if you don't like them.
Metal Installation Tip
Some metal panels will come already drilled, giving you an easy time to simply overlap the panels with each other at edges and nailing or screwing them into the roof. Specially designed ring-type nails are used.
You must not remove your old ceiling to install the metal panels, but if you want a fresh beginning then you may get rid of it and give your home a new metallic beginning. Just screw the panels into the trusses and you'll be done.
5. Drywall
Drywall is often referred to as a gypsum board but should not be confused with real gypsum panels that are common in mobile homes.
The Drywall is one of the most preferred ceiling replacement options for mobile homes, but it's hard to install. The results, however, are always great when installed correctly.
The most advantageous thing about Drywall is its versatility – it works perfectly in virtually any space. Installing, however, can be a real pain in your neck.
MobileHomeLiving has some additional information concerning mobile home gypsum ceiling panels.
Drywall Installation Tip
If you consider the complexity of installing the Drywall, it only makes sense to hire an experienced roofing and ceiling expert to do it for you.
6. Plain wood paneling
Plain wood paneling is a better alternative to homeowners who don't rank wooden planks and beadboards highly.
Unlike wooden planks that clearly show their outline through rows of planks, plain wood paneling is hard to notice.
It often consists of just three or less closely fitted wooden boards that cover the entire ceiling. As such, their uniformity creates a plain and beautiful ceiling great for relaxing the eye.
Birth paneling has been around for a long time. They are easier to install compared to beadboard. Finding the right battens for them, however, can be tricky.
Wood Panel Installation Tip
If you don't attach the panels every 12", you will be exposing your ceiling to sag. But that depends on the thickness of your panels.
The trick is to avoid using very thin panels – medium thickness would be good. It is recommended that you with a 12" furring. Also, be sure to nail or glue it tightly, otherwise, it will sag.
A major headache that strikes when working with plain wood panels is the tendency of the edges to get serrated when cutting with just anything sharp.
To avoid this, consider using an 80-tooth table-mounted saw blade or, better yet, the carbide-tipped circular plywood saw.
If you don't use these blades, the paneling will splinter.
7. Pallets and shiplap
Pallets and shiplap can be cute on the ceiling when installed in the right way.
However, there are a few concerns about them, including the fact that their makers tend to soak them in chemicals to add some qualities to the wood.
The advantageous part of this type of ceiling is the cost-effectiveness of plain wood panels – you could get them for free if you don't buy them at a throwaway price.
The drawback, however, is that their thickness and weight are highly critical.
Heavy panels on a large ceiling don't last long without the need for frequent readjustment.
Pallets are sometimes soaked in chemicals, and that sounds like something you would be careful with when adding it on the ceiling of your home. Furthermore, pallets are more prone to inconsistencies, so you will need the assistance of a planer.
Pallet & Shiplap Installation Tip
The trick to the flawless installation of pallets and shiplap is planning and patience.
That's what you would need when installing any straight-edged board-based ceiling. You can test multiple boards to discover the right design and piece.
Choosing the best texture or finish for the ceiling is challenging not because it's hard to do, but because there are numerous options to go select from.
Whether to add a finish on your manufactured home's ceiling or not is a hard decision in itself. If you weight the options, texturing the ceiling is cheaper than adding, say, a beadboard, but it's not easy either.
Related: Should You Paint The Walls And Ceiling The Same Color?
Five Of The Best Textures to Accompany Your Favorite Ceiling
If you have been thinking of texturing your ceiling but run short of ideas, this guide will lead you through an array of impressive options that will look great on your manufactured home. Note that these textures are great for non-wood and non-metal roofs.
1. Sheetrock Ceiling Texture
With this texture in place, one could think you tried to glue a sheet of finely crumpled paper on your ceiling. Sheetrock Ceiling Texture has been around since 1917, looking artistic on millions of ceilings.
The best part about this texture is no special brushes are needed, just simple hand techniques are enough. Plus, the spray paint is unnecessary. Even better yet, it goes pretty well with virtually any style – whether modern or those farmhouse-like classics – and any elegant wallpaper you may have.
2. Crows Foot
You want your ceiling to look like a flock of crows walked on it? Add the Crow's Foot texture.
Interior designers have a bunch of names for this texture: slap brush, stipple brush, stomp brush…but the characteristic fan-like sunburst effect is unmistakable no matter what you choose to call it.
For it to come up perfectly, fanned-out bristles need to be used. It's normally a two-man job – one person will create the stipple brush textures while the other works on the mud. As you can tell, it's a messy project and you'll need to cover parts of your room with plastic.
3. Stipple brush texture
This is one of the most complicated textures out there, and consequently one of the hardest to install.
Once installed, your ceiling will look like you've been dipping a wet cloth on a muddy surface the whole day.
And because it is not a particularly smooth texture, you will need to hire a sufficiently competent skill. What you would normally need to install is a slap brush or a roller.
If your ceiling looks unsightly due to holes and similar imperfections, this is the perfect texture to use in shifting the attention of visitors to something cute. Again, we insist that you hire the best skilled contractor to install it because it's considerably thick, otherwise you'll end up with a mess.
4. Swirl texture
Swirl texture fills your ceiling with several widely spaced swirls – like you've been wiping dirt on glass in circles. You actually can install the basic swirl yourself with a piece of a towel!
Swirl textures, however, require great patience and their final appearance depends a lot on the tool you used. A roller and a sprayer are the two commonly used tools.
The most challenging part of the installation is that the fine pattern must be created before the mud even starts to show the signs of drying. That's a big challenge if you have a large ceiling to work on.
5. Orange peel texture
Orange peel texture closely resembles a freshly peeled orange peel. The ridges look bumpy yet soft. To achieve it, get the drywall compound and spray it on the ceiling. The end result will be a splatter-like texture that transforms into fine bumps as the drying progresses.
The reason why this texture is common in many modern homes is that it's subtler than knockdown.
Another place you almost won't miss it are business premises where it is adored for the same reason.
There aren't many easy-to-clean textures like it. And if you are a huge fan of drywall textures, you would most likely choose it over many close alternatives.
Related: How To Repair Ceiling Cracks
Six Things To Consider When Choosing A Ceiling For Your Manufactured Home
1. The Size Of Your Rooms
Rooms, obviously, don't have the same dimensions throughout the house. Some rooms will be longer than they are wide. Narrow hallways may make the home appear cramped.
The style of the ceiling can be influenced by the size of your rooms. If you consider the aspects, you will understand the value of consulting the ceiling expert first before choosing the ceiling.
2. The Cost Of The Ceiling
This goes without saying – costly ceilings may not be a priority for you, especially when there are better and cheaper alternatives.
The best way to analyze the cost-effectiveness of your ceiling option is to calculate the cost per square foot, and then multiply by the number of square feet you need to complete the ceiling area. The cost of hiring an expert to install it should be factored in as well.
3. Type Of The Ceiling
What are the advantage and disadvantages of the ceiling of each type of your ceiling in your consideration?
For instance, metallic ceilings tend to last longer than wood, but also tend to reflect sound and light.
Some types of wooden are prone to sagging than others.
4. Ease of installation
The process of installing the ceiling can prove to be a real hustle. The drywall ceiling, for example, is too intricate to install all by yourself. Of course, you want a ceiling that's easier to install so that you don't incur extra costs hiring an experienced expert.
5. Upgradability
How easy it is to upgrade the choices you have?
Do they even support upgradability?
Some of the easiest types of ceilings to upgrade are
drop
mounted and 
suspended ceiling tiles.
Because these ceilings consist of several square tiles, you can dismantle and replace them easily with a new type of tiles with removing the railing or mesh systems.
6. Ceiling Material
The make-up material can influence various aspects of the ceiling, including its longevity, cost, effectiveness, and even its healthiness.
Pallets, for instance, are made of wood but often come with infused chemicals.
Maybe you don't love wooden ceilings at all, leave alone wood with chemicals in it. Being cash strapped would mean you're going for a material that's cheaper than what you planned.
Conclusion
Not just any type of ceiling will look great.
The best mobile home ceiling replacement ideas are wood-based and include beadboard, wood planks, plain wood, and pallets, and shiplap. Metallic options are impressive as well.
Some cases may require a combination of a quality ceiling and an outstanding style.
Ceiling styles depend on the material used to make the ceiling. Regardless of the type of ceiling you choose, specific factors need to be put into consideration.
The size and shape of your room are as important as your budget for the ceiling project.
Other factors to consider are the upgradability of the ceiling and ease of installation.
If you want to know where to find mobile home ceiling panels for sale check out such online retailers as Amazon, Home Depot and Lowes.
Frequently Asked Questions
Q: How do you know if your ceiling is going to collapse?
The following are the warning signs that will assist you to know that your ceiling is on the verge of collapsing:
A dropping or sagging of the plasterboard sheeting or cornice.
If you hear a loud cracking sound in your ceiling.
If you notice visual cracks on the ceiling.
Q: Can ceiling tiles get mold?
Yes. Ceiling tiles, especially those made of acoustical material, tend to be porous and readily absorb dirt and moisture. As the moisture accumulates, mold ends up growing on the inside part of the ceiling tiles.
Q: Can you recycle ceiling tiles?
Yes. Ceiling tiles, mostly fiberglass acoustical and mineral fiber, can be recycled into new ceiling tile products.
Q: Can a manufactured home ceiling be raised?
Yes. However, it will depend on how high you wish to raise your mobile home. For instance, if you wish to raise it to level the ceiling, you can do this yourself.
Q: Can a leaking ceiling collapse?
If your ceiling is leaking or swollen, there are high chances it was caused by water.
If water continues to put heavy pleasure on your ceiling, it can finally collapse if you do not take early action.
Q: Should ceilings be painted white? Flat? Satin? Eggshell? Semi-gloss?
When it comes to the ceiling paint, eggshell, satin or flat are the best options, although it will depend on the ceiling surface you have.
The ceiling paint you choose should be durable enough not to crack and peel off.
The semi-gloss is the best for woodwork or trim.
It is also possible to paint your ceiling white.
One of the benefits of painting your ceiling white is that it will reflect light into the room, making it more spacious and brighter.
Q: Can old ceiling tiles have asbestos?
If you have old ceiling tiles, there is a high probability that they can contain asbestos.
Although certain kinds of ceiling tiles have a high likelihood of containing asbestos, it isn't easy to know if your tiles contain asbestos by looking at them.
Q: Can ceiling tiles be cleaned?
Yes. You can clean your ceiling tiles using a light duster or a static cleaning tile tool that uses static electricity to attract dust and remove it.
Q: Are ceiling cracks normal?
Spiderweb cracks are normal.
But if you notice a ceiling crack which is more than 1/16 inches wide, you should contact a professional.
Typically ceiling cracks are caused by moisture.
Q: Can ceiling tiles be put over a popcorn ceiling?
Yes. You can follow the steps below in putting the ceiling tiles over the popcorn ceiling.
Turn off the power fixture.
Cleaning the ceiling surface.
Measure the length of the wall of the worm and mark the midpoint on the ceiling.
Apply adhesive to the back of the tiles.
Apply the tiles onto the edges.
Run a clear silicone caulking between the joints to fill any gaps.
Reinstall any lighting fixtures that you removed before placing your ceiling tiles.
Q: Can you cut ceiling tiles with a table saw?
It is not recommended to cut the ceiling tiles with a table saw, but it is possible. It is best to cut the drywall suspended ceiling tiles with a drywall saw or utility knife.
Q: Can a ceiling tile be replaced with a sprinkler head?
Yes. You can cut your tile large enough to allow the sprinkler head to go through. After installing the Sprinkler head, you can seal any gaps between the ceiling tiles and the head.
Q: How heavy are ceiling tiles?
The majority of the ceiling tiles have a standard weight ranging between 3.6 to 7.8 kg/m square.
Q: Can manufactured homes have ceiling medallions?
Yes. The ceiling medallion is an ornamental decorative feature with a round shape that you can use to dress up your ceiling.
Q: Are ceiling tiles good for soundproofing?
Yes. Ceiling tiles, especially those made from melamine acoustic foam, tend to offer excellent soundproofing and sound-absorbing features with high CAC and NRC ratings.
Q: Are ceiling tiles waterproof?
Yes. Some ceiling tiles are moisture-resistant, enabling them to remain flat.
Q: Are ceiling tiles fire rated? Fire-resistant?
Yes. Some ceilings can stop or slow the spread of fire in your house.
Q: Should the ceiling drywall be staggered? Glued?
It is unnecessary to stagger seams on your drywall ceiling.
But since these joints tend to be noticeable in the finished product and are challenging to finish, it is good to stagger the drywall to make the joints less visible.
On the other hand, you can glue the drywall. But your drywall must be screwed or nailed in place while the glue is drying.
Q: Should ceiling texture match wall texture?
Matching the texture of your ceiling with the walls offers a monochromatic and uniform look. Being creative in the texture is also one of the unique ways you can showcase your style.
Q: What would cause ceiling paint to bubble?
Paint bubbles can occur when the ceiling is not prepared correctly or is exposed to moisture or heat during drying.
Q: What would cause the ceiling to sag?
Poor construction and earthquakes can cause the ceiling to sag when the damage is drastic.
Q: Why would the popcorn ceiling fall off?
If you install your popcorn ceiling in the bathroom, they may start to fall off due to humidity.
Q: Do manufactured home ceilings have studs?
Yes. Manufactured homes have studs that hold the exterior insulation in place and offer support for the roof, windows, and drywall.
Q: Do you drywall ceiling or walls first?
Yes. You can install drywall on the ceiling before you start with the wall due to reasons such as:
The drywall pieces are faster and easier to work with from the top.
It will enable you easily to create well fitted and tight corners.
The drywall on the wall will support the ceiling.
Q: Do ceiling tiles have an R-value?
Yes. Ceiling tiles have an R-value rating, which provides energy saving.
Q: Does the bathroom ceiling need a green board?
Yes. Green board drywall can resist moisture.
Q: Does the ceiling need two coats of paint?
In case you are applying a new color that is close to the ceiling's existing color, you will need one coat, even if it is a darker color. However, if you are painting over a white color or creating a substantial color change, you will need coats to prevent the underlying ceiling color from peeling off.