Manufactured home kitchen cabinets (aka carcasses) are one of the most important kitchen furnishings. Some are constructed from cheap and low-quality materials such as paper and held together using stables.
Some manufacturers include extra materials based on the décor needs.
It's a good time to shop for replacements if
your current ones are old and out dated
you're looking to increase the property value of your home
you seek to make better use of the available kitchen space
Kitchen cabinets are a crucial consideration for all contemporary kitchens, whether you are just redecorating your new mobile home or constructing a whole new kitchen.
Manufactured home kitchen cabinetry is available in an wide range of materials, style and finishes. It can set the aesthetic tone of the whole kitchen.
Although wooden cabinets done with clear vanish can give you an organic mood, some custom-made stainless steel options will offer a contemporary and sophisticated vibe.
However, it is important to choose wisely since cabinetry can eat up a lot of your remodeling budget.
Before shopping for some new kitchen cupboards for sale, familiarize yourself with the different available types and what each has to offer.
Related: How To Find Replacement Cabinet Doors
Eight Mobile Home Kitchen Cabinet Styles
1. Shaker

Shaker cabinets are the most popular types in the market place. They consist of five pieces of flat-panel, with a four-piece frame and a single flat center panel as the fifth piece.
This design is quite simple and classic, which makes it one of the trendiest in the drawers and cabinet market. Besides, it is available in both a traditional and contemporary design, which suits it to a different group of users.
Typically, these cabinets have multiple trademark characteristics such as sturdy construction, utilitarian design, quality woo, and flat paneled doors.
Most of its manufacturers also use high-quality American wood and especially those sourced from Northeastern US, to build this kitchen cabinet style.
The wood typically used is maple, hickory, cherry and quarter sawn oak.
2. Flat Panel
Flat Panel is also commonly referred to as slab.
This type is quite simple, stylish, and offers minimalist details, hard lines, and has cheaper detail, unlike most cabinets.
Its sturdy appearance makes it a fit for contemporary manufactured home kitchens.
Slab kitchen cabinets can be built in many ways. But the distinct feature with them is that their doors don't have frames. Instead, they are made as solid slabs hence their name.
3. Louvered
Louvered kitchen cabinets are quite expensive. They have a characteristic horizontal wooden slat.
These cabinets incorporate a design that is popular in windows, interior doors, and furniture pieces.
Overall, this design is unique, lightweight, stylish, and will add some décor to your kitchen.
If your kitchen space requires some ventilation, then go for the louvered cabinet as it features spaces between the slats.
4. Inset
As the name suggests, this type possesses an inset door inside the cabinet frame (and not the exterior).
Each inset cabinet door is built by adhering to precise measurements. This allows for the wood to sit inside the frame well and to open & close accurately.
Due to this, inset kitchen cabinets come with a hefty price tag, but they are more durable and will last longer.
Besides, it's easier to customize these custom kitchen cabinets with beaded and non-beaded inserts.
Note: the inset kitchen cabinet style usually keeps the hinges exposed and not concealed like most types of manufactured kitchen cabinet styles.
This increases the total cost for this item as you have to buy two hinges for each door for the design of the cabinet.
This is unlike the concealed hinge type kitchen cabinets, which comes with everything you need for the setup without additional costs.
5. Beadboard
These usually consists of vertical planks rows with ridges or indentations (referred to as "beads") between each plank.
This cabinet style is more dynamic than others. Besides, its beautiful beads give the cabinet a perfect texture and make your kitchen appear like a country farmhouse or a cottage.
6. Distressed
You will probably need a distressed kitchen cabinet if you're into a vintage decor. It is made by most cabinet manufacturers, and they're available in many styles complete with rubbed-off corners and other distressing techniques.
If you buy this type of kitchen cabinet, then expect a 15-20% price increase for the tradesman to apply some distressing techniques on this kitchen cabinetry.
7. Thermofoil
Thermofoil manufactured home kitchen cabinets are made from medium-density fiberboard (MDF). The door is then wrapped in some plastic coating before being baked under intense heat to seal it.
This process leads to durable and affordable kitchen cabinetry. It's mass produced from imitation wood and is available in many solid colors.
Pros
They're high quality & require less maintenance
Cons
They have poor heat and low moisture resistance
Note: you are advised against installing them closer to sources of heat, such as ovens. If you do so, then laminate could come loose from its veneer cover.
Custom
You can also just order a custom cabinet for your manufactured home. Just contact a craftsperson and go from there.
Note: There are also cabinets specifically design to safeguard liquor from minors.
Kitchen Cabinet Pre-Installation Tips
Though installing kitchen cabinets in your manufactured home may appear challenging, it's not as such.
You should install the cabinets tightly to the wall studs for them to receive adequate support for holding the items you will store in them.
Besides, if the cabinets don't sit well on the wall, then it'll be hard to open or close the door.
Also, remember to label each cabinet before the installation to safeguard you from installing them in the wrong location
You should also remove the cabinet doors to prevent any damage during the installation.
Related: How Can You Protect Countertops and Cabinets from Dishwasher Steam?
Cabinet Installation Game Plan
Before you buy some kitchen cabinets for your home, it's essential to have a plan.
Check the number of the cabinets you require as well as the available space.
Also, check the width and length of space to find out how it will affect the overall kitchen space
1. Get Rid Of The Old Cabinets
During the installation, you will have to demolish at some stages to pave the way for the kitchen cabinets.
Demolish in stages and wear safety clothing, including safety goggles and dust masks during this process.
Now, remove the doors, drawers, and lower & upper cabinets if they're present.
2. Measurements
Once you ensure each wall is exposed, you can begin the process of installing the kitchen cabinets.
First, measure the spaces for the new cabinets using a tape measure and identify the locations you'll fix them too.
3. Mounting Upper Cabinets
You will begin with the installation of the upper cabinet first.
Typically, these upper cabinets are secured to studs in your manufactured home.
Studs keep them firmly in place, preventing them from falling once you place dishes to its maximum load capacity.
Also, ensure they are level with the help of a carpenter's level.
4. Mounting the Lower Cabinets
After you install the upper cabinets, the next task is to install the lower cabinets.
Here, you will follow the installation steps for the lower cabinets.
The shims are useful for leveling.
And when you want to install long cabinets, take care as most floors and ceilings are not parallel.
5. Structural Considerations
When installing cabinets, it's essential to know your entire structure and the whole process.
Your remodeling requirements are dependent on your manufactured home's structure.
As you probably know, manufactured homes have unique structural requirements compared to homes build in-site.
6. Keeping the Walls and Floors Intact
The final step in the installation is to ensure that these kitchen cabinets does not in any way affect the walls or floors in your manufactured home.
In case there are any openings on the walls, fill or repair them. This helps in improving the safety and outlook of your home.
Finally It's Time For Installation (DIY)
Note that installing kitchen cabinets is a tedious process, but you can DIY it.
While you might want to hire an expert to install your new manufactured kitchen cabinets for you, it is good to know that they are very easy to install and you can actually do it yourself.
Tools
Here are the tools you will need if you decide to DIY:
Screws
Screw driver/drill
Gloves
Tape measure
Marker
Installation Steps
Take out the cabinet drawers and doors marking them as you go. This lightens the cabinets for an easier installation.
Find and mark all studs.
Measure and plan the available space carefully.
Draw a layout of the cabinet plan. This layout does not need to be complicated, it should just give you an idea of how all cabinets will fit and line up together.
Insert the screws for the first cabinets.
Level the line and screw a ledger board on it.
Then lift the first cabinet into place. If you have a helper, you can have them hold it for you.
Screw in two screws into every stud behind the cabinet; one at the top and another at the bottom. This will ensure that the cabinet has been secured properly.
If you have a sink cabinet, first measure your plumbing area and mark the spots where holes need to be drilled.
Cut along these marks and lift the cabinet carefully into place.
Adjust this cabinet to meet flush with all other cabinets using shims and a level.
You can use clamps to secure them.
Finally, it is time to secure the other cabinets.
Pre-drill holes on the spots where the cabinets are supposed to be attached together.
Put shims in the spaces between the sink cabinet and the wall.
Drill in some screws into the wall through these shims securing the cabinet into the wall. If there are gaps where the will meets the cabinets, preserve them.
Four Manufactured Home Kitchen Cabinet Makeover Options
Instead of purchasing new cabinets, it might be easier and more cost effective to update your existing ones.
1. Paint
Paint is the cheapest and easiest way of updating your home kitchen. You will only need a gallon of beautiful paint to transform your kitchen into a masterpiece in terms of décor and attractiveness.
Note: It's important to clean the cabinets before painting. There could be small particles that could stick to the surface and lower the quality of the painting.
And since painting requires a true bond to the applied surface, paint applied to dirty surfaces usually peel and bubble faster. Therefore, you'll have to clean the surface well if you intend to get the desired results.
You should use TSP for cleaning your kitchen cabinet though Dawn dishwashing liquid is as good and effective as well on this surface.
2. New Hardware
You will be surprised at how fast you can update the kitchen cabinets with some new hardware.
You could install some new hinges, new knobs or pulls.
3. Updating the Primitive Style
If you are using a primitive style in your kitchen cabinet, then we have some ideas that'll help you update the kitchen cabinets.
First, you should find some old cabinet doors with broken glass at Craigslist or local resale shops. Ensure these doors have good frames.
You can also decide to cut your cabinets. Once you remove the middle, staple the chicken wire to the back of this frame.
This will bring in a new primitive country farmhouse appearance to your kitchen.
4. Add Beadboard Wallpaper
Well, one of the best options for improving your cupboards is to add some beadboard wallpaper to the cabinet's center section.
Glue the beadboard paper to the cabinet doors and then attach trim around the edges.
5. Cabinet Doors
If you have a small kitchen, then you may choose to replace the doors instead of repairing then. This option may the most affordable.
Related: Should You Get A Pantry Cabinet For The Kitchen?
In Closing…..
When looking for new manufactured home kitchen cabinets, it's important to consider different factors to get something that matches your budget, uses, and décor.
In addition to the décor and other preferences, ensure the cabinets are sturdy, durable, and long-lasting, so you won't have to contend with costly replacements.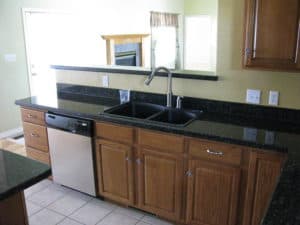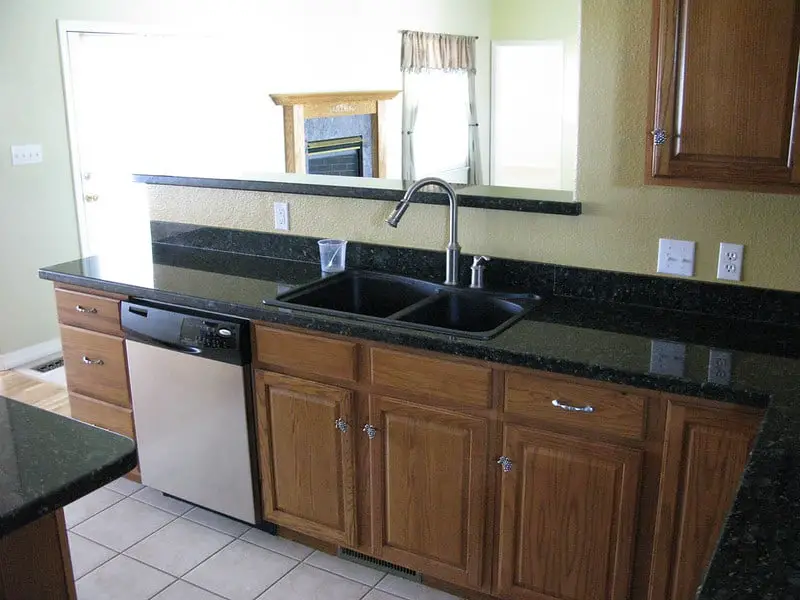 Frequently Asked Questions
Q: Does replacing kitchen cabinets require a permit?
In case you are refinishing your kitchen cabinets, you will not require a permit. Additionally, if you are replacing or removing cabinetry in the same location, you will not require a permit. You will need a permit if you add or move mechanical, electrical, or plumbing within your house.
Q: Do you tip kitchen cabinet installers?
Yes. Kitchen cabinet installers can be appreciated by a tip, especially when they do their work well or complete the project under budget or early.
Q: What are the best kitchen cabinet manufacturers?
Some of the best kitchen cabinet manufacturers include Fieldstone, Starmaker, MasterBrand, Norcraft, and Mid Continent.
Q: How much does a kitchen cabinet weigh?
The weight of kitchen cabinets varies depending on the materials used to make them and their sizes. However, the standard weight of a kitchen cabinet ranges between 250 to 300 pounds.
Q: How much weight can kitchen cabinet shelves hold?
Many manufacturers decide the standard weights that their cabinets can hold. Typically a significant number of cabinets can hold a maximum weight of 500 pounds.
Q: What are some standard kitchen cabinet dimensions?
Base kitchen cabinets come with a standard dimension of 24 inches depth by 9 to 42 inches width by 24 to 34.5 inches height.
Wall kitchen cabinets come with a standard dimension of 12 or 24 inches depth by 12 to 36 inches width by 30, 36, or 42 inches height.
Tall kitchen cabinets come with a standard dimension of 12 or 24 inches depth by 18 or 24 or 36 inches width by 84, 90, or 96 inches height.
Q: How much are kitchen cabinets per linear foot?
The cost of stock cabinets ranges between $60 to $200, custom cabinets between $500 to $1200, and semi-custom kitchen cabinets costs between $100 to $650 per linear foot.
Q: Are kitchen cabinets considered furniture?
Yes. Kitchen cabinets are in-built furniture that is installed in the kitchen to store food and other kitchen essentials.
Q: Do kitchen cabinets need to acclimate?
Yes. It is good to allow your new kitchen cabinet to acclimate itself between 30 to 60 days. Acclimation enables the cabinets to adapt to the living conditions of your home.
Q: Are kitchen cabinets paintable?
Yes. All kitchen cabinets are paintable regardless of the material they are made of. All you have to do is to sand it lightly to remove any gloss. After that, you can roughen the surface using 120 to 220 grit sandpaper.
You can apply the appropriate paint.
Q: Should kitchen cabinets be painted the same color as the walls?
No.
It is not a must for you to match the kitchen cabinet with the walls of your house
However, having a contrasting color will look great.
But the colors that you choose will depend on the kind of look that you wish to achieve.
Q: Can kitchen cabinets be removed and reused?
Yes.
To remove the kitchen cabinet, you will be required to unscrew it.
After removing the old kitchen cabinet, you should not throw it away.
You can reuse it in making things such as a kitchen table, bedroom dresser, banquette seating, storing bathroom essentials, and building a desk.
Q: Can you use kitchen cabinets as bathroom vanities?
Yes. Bathroom sink cabinets and kitchen cabinets can be interchanges if done correctly since they are not mutually exclusive.
Moreover, you can select from the vanity tops so that you transform your kitchen cabinets into a bathroom vanity.
Q: Can you cut a kitchen cabinet in half?
Yes, you can. You need to have the right tools and measure your kitchen cabinet correctly.
Draw a line using a pen and a center of the cabinet before cutting it using a table saw.
Q: Are kitchen cabinets glued to the wall?
Kitchen cabinets can either be nailed or glued onto the wall. The option depends on the kind of wall mounting that the customer will choose.
Q: Are white kitchen cabinets easy to keep clean?
No. White kitchen cabinets do not hide any smudges, stains and require a lot of maintenance. As a result, you must have plenty of handy cleaning supplies to maintain them.
Q: Do white kitchen cabinets yellow over time?
All white kitchen cabinets tend to turn yellow when exposed to a high amount of direct sunlight over an extended period.
Q: Are kitchen cabinet hinges universal?
Yes. As a result, you can easily swap the hinges. All that you must do is to get the correct overlay and ace frame mount. In this case, the overlay shows how the door overlaps the cabinet frame when once the door is closed.
Q: What is a kitchen cabinet toe kick?
The toe kick is a long strip of flat covering positioned in the unfinished recess to offer a continuous finished look to kitchen cabinetry.
Q: Can kitchen cabinets go up to the ceiling?
Kitchen cabinets cannot go into the ceiling since it will be hard for you to access any items you can store at the top shelves.
Q: Can kitchen cabinets be refaced more than once?
Yes. You can reface your kitchen cabinets again when your design tastes or times have changed.
Q: Should kitchen cabinets match window trim?
Kitchen cabinets should match window trims. But it is not a must for you to match them.
Q: Should kitchen cabinets match hardwood floors?
No. It is not a must for you to match the kitchen cabinet with your hardwood floor. However, having a contrasting color will look great. But the colors that you choose will depend on the kind of look that you wish to achieve.
Q: Should kitchen cabinets be satin or semi-gloss?
The paint will be more durable when the gloss is higher.
Although satin paints are stain-resistant and scrubbable, semi-gloss paint can withstand more abuse and wipes.
Moreover, since semi-gloss is easy to maintain, it is the best choice, especially for the kitchen used regularly.
Q: Do kitchen cabinets need to be symmetrical?
Yes. Symmetry can assist the kitchen cabinet in creating a sense of calm and harmony.
But it is not a must for your space to have a mirror image for it to balance.
Q: Does painting kitchen cabinets decrease value?
No. Painted kitchen cabinets have a high impact on the resale value of your home.
Q: Do kitchen cabinets sit on the subfloor?
Typically, kitchen cabinets are installed before the floor covering.
Q: How high should kitchen cabinets be from the countertop?
Traditional kitchen cabinets are installed about 18 inches from the countertop.
However, currently, many people leave a space of about 20 inches from the countertop.
Q: What is the space between kitchen cabinets and ceiling?
A significant number of modern houses have kitchen cabinets that are between 32 to 36 inches high.
As a result, they leave a space of about one to two inches between the cabinet and ceiling.
Q: What is a kitchen cabinet valance?
Kitchen cabinet valance is a universal way to accessorize any unique cabinet design or cabinetry arrangement.
Q: What is the best kitchen cabinet cleaner?
Vinegar is the best natural cleaners that can be mixed with warm water to clean kitchen cabinets. You can also use baking soda.