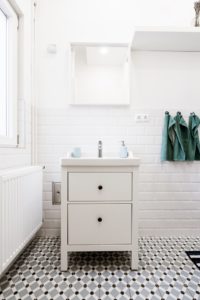 Bathroom hardware makes the bathroom. Every bathroom functions as a system of different fixtures that help you complete any task possible in this space.
As such, you want to choose the right kind of manufactured home bathroom hardware and one that will give you the desired experience.
Of course, you need to bear in mind your needs while selecting each accessory.
15 Manufactured Home Bathroom Hardware and Accessories That Can Simplify Your Life
These are some of the must-have accessories for an average bathroom:
Towel Bars
Shower Rods
Grab Bars
Toilet Paper Holders
Shelves
Shaving Mirrors
Shower Curtains
Body Jets
Soap Dish
Soap Dispensers
Toilet Seats
Laundry Baskets
Robe Hook
Flush Plates
Shower Lights
Here is how to shop for each of these essentials:
1. Towel Bars
The towel bar serves the important role of holding your towels conveniently on the wall until next time you'll use them.
Buy a towel with these factors in mind:
Length
Towel bars are often sold in three popular lengths –
An 18 in. a towel bar is perfect for small or cramped spaces and can fit a one standard bath towel when folded in half.
A 24 in. towel bar can fit one oversized bath towel when folded in half. In spacious bathrooms, a 30 in. towel bar is perfect for holding two typically sized bath towels when folded in thirds.
Better yet, you can go for a 24 in. double towel bar instead of the 30 in. option – both of them can hold two towels quite comfortably.
Finish
Of course, you want an eye-pleasing towel bar. Most of the options you will find are finished with gold, chrome, or polished nickel. Choose one that suits your desires.
Related: Should You Consider A Towel Warmer?
2. Shower Rods
Also referred to as curtain rods, they are used to hold the curtain – your shower curtain will roll on them when opening and closing it.
To buy the best shower rod, consider these factors:
Type
There are three types –
straight
double straight
curved (D-shaped) type.
Straight is one rod.
Double straight are two rods attaching to the two edges of the entrance to the shower unit. The curved option is exactly what the name suggests – it is bent slightly.
Curved rods break the monotony of straight rods and make the shower unit appear bigger.
Material & Finish
First, choose a rod that won't rust easily – choose stainless steel, or anything coated with Chrome, Nickel, Brass, or any other common finish that improves the appearance and protects the rod from corrosion.
3. Grab Bars
If your bathroom is often used by a senior or a person with mobility problems, it only makes sure that you add the best grab bar you can find. Grab bars reduce the risk of falling as they provide support and stability to users.
Here are the factors to consider when buying one:
ADA Compliance
A gab bar is a safety fixture, so be sure to get one that has passed the standards of ADA (Americans with Disability Act).
Material & Finish
The material used to make grab rails should be tough and one that doesn't show signs of bending even under a stronger pull.
Most of the options you will find are made from stainless steel and finished with brushed Nickel, Matte Black, Chrome, or Oil Rubbed Bronze.
4. Toilet Paper Holders
A toilet paper holder, as the name suggests, is tasked with keeping the toilet paper conveniently close to the toilet seat for you to roll it out more easily.
Size
A typical toilet paper holder measures 5.9 in. x 3.9 in. (WxH) and weighs about 8.5 ounces.
The size of toilet papers can vary, so consider buying one that fits the size of your most often used size of toilet paper.
Material
You don't want your TP holder to get rusty in the moist environment of your bathroom.
So, go for one made from stainless steel or coated with anti-rust yet eye-pleasing finishes such as brushed Nickel, Matte Black, Chrome, or Oil Rubbed Bronze.
Design
A TP holder can look like a hook, a bent knob, door handle, etc.
They come in all imaginable designs. Choose one that pleases you.
5. Shelves
Bathroom shelves give you a place to keep your bathroom chemicals, soaps, shampoos, extra toilet paper, and similar items.
They can be used in place of a bathroom vanity cabinet or medicine cabinet.
Consider these factors when buying one.
Material
Glass shelves tend to be sleek and elegant and look great on walls of any kind. In fact, most of the best bathroom shelves you will find are made from glass.
However, there exist options made from stainless steel, aluminum, or hardened plastic. Choose a material that is both tough, durable, and aesthetically pleasing.
Mounting Type
Most of the products you will find in the store are wall-mounted but there are freestanding options. Some of them can be installed in the corner of your bathroom, like this product from Gricol:
Related: Manufactured Home Freestanding Linen Cabinets
6. Shaving Mirrors
The shaving mirror lets you see the progress of your shaving "exercise" or how you are applying your makeup.
Consider these factors if you want to buy the best bathroom mirror:
Type
There are 6 types of shaving mirrors:
Flat mirrors are the most common type and are loved for being simple and unobstructed (because they are not raised above the wall).
Magnifying mirrors are perfect for a farsighted shaver.
Extendable mirrors can be of any other type, but are all extendable i.e. you can switch between positions via the swiveling arm.
Freestanding mirrors will stand on the counter or any other surface except bathroom walls.
Fogless mirrors do not accumulate fog when you take a warm bath or use steamy water.
Illuminated mirrors come with lights on the perimeter to improve the level of lighting.
7. Shower Curtains
Whether you've just completed a major bathroom remodeling project or you are planning to make a few changes to your shower unit, you need a new shower curtain.
Consider these factors when choosing one:
Dimensions
What's the size of the opening to your shower unit?
Take measurements of the opening and choose a shower curtain that fits it.
The standard curtain size for the average shower unit is 72 in. X 72 in., which permits the length of the curtain to extend down to the bathroom's floor and even cover the bathtub.
Material
The material used to make the shower curtain can determine its resistance to water, appearance, and even its durability.
They are mainly made from synthetic fabrics (polyester, canvas, and plastics such as PVC) which are waterproof or natural fabrics (cotton, silk, satin, etc.) which offer less resistance to moisture.
Weights
It is easy to overlook the weights factor when shopping for a shower curtain yet it is one of the most definitive aspects and one that has a profound influence on your experience while using the curtain.
So, bear in mind the need for weights and magnet. If the pressure of water is very high, for example, it will certainly cause the curtain to fly up and down while you are in the middle of a shower.
To remove this annoyance, consider investing in a curtain that can accommodate magnets and/or weights to help it stay in an upright posture. You will find many weighted curtains to meet your needs online or in any department store.

8. Body Jets
Body jets are a must-have in any luxurious bathroom.
They produce jets of water from the wall which can be used to relax or soothe your muscles.
To choose the right kind of this fixture, bear in mind these factors:
Type of plumbing
Most of the body jets you will find in the store can work with any type of plumbing, but there are a select few that are plumbing-specific.
Understand your public and choose between those that support all sorts of plumbing and those that are plumbing-specific.
Fixed v/s Rotating
Most body jets will project water jets from a fixed position while others come with a rotating head whose angle can be adjusted to send jets in different directions.
Type of Nozzle
Just like showerhead nozzles, body jet nozzles can be prone to blockage or accumulation of limescale depending on the material.
Silicone and plastic nozzles can aid in preventing the accumulation of limescale.
9. Soap Dish
The soap dish serves the important purposes of keeping your hands, sinks, or floorless soapy by taking the job of holding the soap instead.
Most soap dishes come with dimensions in the region of 5.1" x 3.7" x 1.1" (WxHxD).
Safety Non/Toxicity
Soap dishes are mainly made from plastic, so there's a risk of buying one with VOCs (volatile organic compounds) which are known to cause allergies.
Lid v/s Lidless
These dishes can be divided into two types –
The lidless comes with no lid and gives you easy access to your soap without having to struggle with any slippery part.
Those with lids, however, will cover your soap and prevent it from losing moisture and getting hard and brittle.
Material
Well, most soap dishes are plastic (they are the cheapest, by the way) but you can choose aluminum or stainless for durability reasons.
10. Soap Dispensers
A dispenser will let out soap in tiny quantities so that you don't waste it and, more importantly, you don't involve your hands in the whole process.
Consider these factors when shopping for one:
Manual v/s Automatic
Soap dispensers are actually divided into two groups,
manual dispensers that let you squeeze or use a pump to get the soap out of the bottle, and
automatic type that permits hands-free operation.
Manual dispensers are disposable while the automatic option will keep serving you until they can't anymore.
Capacity
How much soap can the dispenser hold at a time?
There are cartridges and refills starting from 23.6 oz. To 152.2 oz.
Some dispensers are designed to hold bulk soap by the gallon.
Liquid v/s Foaming Soap
There are two types of soap – liquid and foaming soap.
Most dispensers are designed for liquid soaps but there are those that function well with foaming soaps and those that can dispense both.
11. Toilet Seats
There are several factors to keep in mind when you are choosing a toilet seat or its replacement.
Shape, material, style, and mounting options are the main factors to consider.
Whether you choose oval, wooden, plastic, round, or ceramic, your toilet seat needs to complement the décor in your bathroom.
Material
Lightweight plastic toilet seats are affordable, resistant to peeling and chipping, and easy to clean.
The durable thermoplastic options are easy to clean, heavyweight, durable, and resistant to chipping and peeling.
The wooden options are heavier than plastic seats and come with a higher aesthetic value.
Toilet Seat Features
Toilet seats often come with so many optional features.
You need to choose one that has the features you really want.
Some of these features are
soft closing toilet seats
quick release t seats (for fast removal and installation)
raised height
double flap
hinged seats
junior seats, and
child training toilet options.
12. Laundry Baskets
You need a laundry basket to keep your dirty linens until the wash day.
These baskets will cut on bacterial growth in the toilet or laundry room and can also be used to add a decorative attribute to your space.
Consider these factors when buying one:
Material
Plastic laundry baskets are available in a variety of colors. They can blend in together with virtually any existing decor in your bathroom. Also, they are easy to maintain and clean.
Steel laundry baskets are usually equipped with lids and allow you to hide your washing discreetly to void unpleasant odors. Their sleek design can bring a modern twist to the bathroom.
Fabric baskets are often collapsible to be practical in cramped spaces. They are often combined with a wood-based supporting structure. The main advantage of fabric laundry baskets is that they are lightweight.
Wicker or bamboo laundry baskets are resistant to moisture penetration hence well suited for bathrooms.
Capacity
Most models come with a capacity of about 50 liters.
Such baskets are perfect for a 2-3-person household. There are models with larger or smaller capacities – choose one according to your needs.
Compartments
You may need a compartmentalized laundry basket so that you can sort your laundry into groups.
Fortunately, some baskets do come with separate compartments for the job: one can cater to whites while another compartment can be used for colored clothes.
Some even come with a third compartment dedicated to the most delicate fabrics you may have.
Portability
The portability comes to mind when you think about how you move the basket out of the bathroom.
An easily portable product makes your job of moving the basket to the laundry room or machine a bit easier.
Some baskets come fitted with wheels while others have strong arms or handle to facilitate to ease the movement.
13. Robe Hook
Role hooks hang your robe until you leave the bathtub or shower unit.
Material
The rule of thumb used to select the right type of ring is to choose a product that matches the décor and the hues on the walls of your bathroom.
Metallic hooks are the most commonly used type of robe hooks.
Metal curtain hooks have a classier look compared to their plastic counterparts. Therefore, if you are one of those homeowners who are style-conscious, or if you are attempting to give your bathroom a regal look, you may want the best steel or chrome robe hooks.
Stainless steel happens to be the most popular metal, followed by brass but virtually all of them are accompanied by decorative finish, such as chrome or brushed nickel.

14. Flush Plates
Flushing plates makes the process of flushing your toilet much easier.
They can be mechanical or electrically but all you need to do is press them and the flushing water will rush down the toilet with all that stuff.
Size of The Plate
Flush plates need to be measured in width, length, width, and thickness (they need to correspond to the frame's or casing's depth).
If you don't much about the toilet frame, such as brand and type, you can use the obtained dimensions to search for the correct flush plate.
Flush mechanism
Flush plates made for wall-hung toilets come with single or dual flushing buttons.
Again, in case you don't know much about the model of your toilet, you can go for a dual or adjustable/universal single-button plate.
15. Shower Lights
The bathroom is prone to moist conditions and will require light fixtures that are slightly different from those used in the rest of the home. Consider these factors when choosing shower lights:
IP Ratings
IP Ratings, or "Ingress Protection" shows how the extent of resistance the shower lights have to water.
The higher the IP rating, the more resistant the lighting fixture is to moisture-induced destruction.
The IP rating is normally denoted as IPXX – the first X is the degree of protection against particulate matter while the second X is the degree of protection against moisture.
So, a shower lighting fixture rated as IP20 has no protection against moisture because the rating is 0.