Freestanding linen cabinets are an integral part of your manufactured home bathroom.
They normally serve two purposes –
they add a unique style to your space and
provide a spacious area to store all your bathroom linens.
A freestanding linen cabinet is just the right furniture you need in your mobile home's bathroom. The fact that you can move them around the bathroom means you can keep shifting their positions in the space to suit your needs at any time.
Also, they can serve as space-saver in a crowded bathroom especially if you are prone to leaving your bathing role, towels, other fabrics all over the place.
Choosing the best linen cabinet can be an easy and daunting task depending on the features you want your cabinet to have.
If you are looking for a starter cabinet, for example, you are more likely to not pay too much attention to detail – just a simple cabinet would do for you.
6 Things To Look For In Freestanding Linen Cabinets For Mobile Homes
Things can be a bit different if you are too particular with what you want. If you did put your needs into consideration, and you want nothing but the best cabinet the market has to offer, such minor things as the type of hinges will be major factors.
Here are the factors to consider when buying a linen cabinet.
Cost v/s Budget
Brand
Size and Dimensions
Number of Shelves
Cabinet Doors, Accessories & Hardware
Number of Doors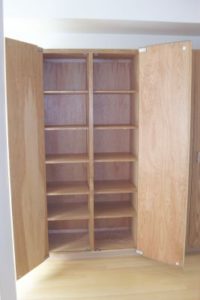 1. Cost v/s Budget
Understanding the price range of linen cabinets can help you set a more realistic budget.
The cost of transporting the cabinet to your home (if you choose to buy in your local big-box store like Home Depot) can depend on where you are in the country.
Some companies may offer to deliver the cabinet to your home. If you choose to buy it online, however, everything will be handled by the store provided you make all the necessary payments.
If you would like to know the cost of acquiring a linen cabinet in your area, use this calculator at Homewyse by feeding your zip code and checking the necessary boxes.
Most of the linen cabinet options you will find at Lowes, Home Depot, and Amazon have their price tags somewhere between $5 and $200.
That doesn't mean cabinets with $900 price tags are not commonplace, even though they tend to be the high-end types. This means you will be looking for a cabinet in the price range of $200 and $2,000 if you want an option that borders between moderately high quality and something close to being an outright luxury.
An average cabinet in the United States will cost you $196 (low) and $293 (High), the cost of installation is between $140 and $230, while the cost of related materials can be in the range of $3 and $5. In total, the cost can be somewhere between $390.00 and $610.00.
If you wish to go the DIY route, it would be prudent if you considered these factors when preparing your budget:
The non-discounted retail price of sides, Veneer plywood base, sides, Metal drawer guides, shelves, and bottom. Plywood drawer box. Solid wood doors with adjustable hinges etc.
Cost of all the related materials such as connectors, fasteners, finishing materials, surface preparation, etc.
Cost of supplemental labor i.e. if you must hire a person to scribe exposed panel edges, fabricate the plumbing cutouts, installing the drawers, etc.
2. Brand
The brand that makes your cabinet or cabinet parts says a lot about the quality of the product you get.
Just so you understand why the type of brand is important, imagine discovering that the cabinet you bought has some serious flaws, but you can't return it because the supplier labeled it as unreturnable!
Brands love to price their products differently as well. It just depends on how established the brand is in the market. Although high prices sometimes tend to mean the brand deals in quality products, you might buy an overpriced cabinet thinking it's the best the brand has to offer.
In fact, you might be surprised by the amount of money you will save on a decent high-quality cabinet by opting to buy from a relatively unknown brand that prices its products lowly.
Just a few brands would include the words "linen cabinet" in their collections.
Most prefer creating a family of this type of cabinet with contrasting features. IKEA, for example, is the budget furniture supplier of choice for many homeowners in Europe and North America.
You would look for something like "Dykan Cabinet" to see the best linen cabinets in their catalog.
Here are some of the top linen cabinet brands in North America:
Home Decorators Collection
This is an exclusive brand of The Home Depot.
They supply some of the best linen cabinets in the American market. A big part of their products are found in The Home Depot store, but some can be obtained from Wayfair.
Here are two of their bestselling linen cabinets:
Fresca
Fresca is yet another renowned maker of bathroom vanity in the North American market.
The best thing about Fresca is, unlike Home Decorators Collection list its products almost exclusively at Home Depot, you will find Fresca's cabinets on all major stores: Amazon, Wayfair, Lowes, Home Depot, etc.
Here are some of their  best-selling linen cabinets:
Wyndham Collection
This brand deals with everything from cabinets, and their freestanding linen cabinets are some of the best out there.
They are the brand to go to if you are looking for sophistication and innovation.
Virtually all their freestanding cabinets come with clear glass windows on the top three shelves.
Here are some of their top sellers:
3. Number of Shelves
What are your storage needs?
Are you looking for a linen cabinet that can swallow all the family's towels and every fabric you need in the bathroom?
What's the size of your family?
The size of your family and your individual storage needs are some of the factors you need to bear in mind when deciding the number of shelves you want in a cabinet.
Of course, the bigger the family, the more space you need to meet everyone's storage needs. You may even need to buy two cabinets of the same type to meet the family's storage needs if it is big.
An average linen cabinet comes with 5 shelves.
The first shelf is usually high up from the floor, about 18" and 20" from the floor.
Most of the options you will find in the store have their bottommost shelf being the biggest and the above 3 or 4 shelves being smaller and equal.
The number of shelves can depend on the style of the cabinet. Shelves meant for towels should be between 12" and 16" wide.
The larger shelf which may be at the top or bottom and meant for seasonal items should be 18" wide.
4. Size and Dimensions
Take a number of different perspectives as well as known measurements when choosing the size and dimensions and size.
Width
The width of the typical linen cabinet is between 12" and 24".
Of course, the design of the cabinet may vary, some options come with dual doors side by side. This type of cabinets has a bigger width, between 30" and 36" wide.
Height
The height of a typical linen cabinet can be anywhere between 32" and 68".
Depth
The depth of your cabinet is probably the most important part of the all-dimensional considerations. Linen cabinets are normally too deep because they don't need to store a lot of things. Most of the cabinet options you will find in stores come with a depth somewhere between 15" and 24".
Depth within this bracket is capable of storing even the biggest towels you have and still have more space left for a few other items. The problem with greater depth, such as 24" or more, would be the difficulty experienced by short users in an attempt to reach for items at the deepest part.
Most of the items you will put in the cabinet measure just 12" wide or less. Placing these items closer to the edge of the door would be a better strategy in avoiding the struggle of having to reach your hand deep inside.
5. Cabinet Doors, Accessories & Hardware
Doors
The style of the doors and decorative enhancements can determine the look of the cabinet. Doors may be installed flush or slightly elevated. Inset central panels may be arched, squared, or rounded. From modern to craftsman, there exists a range of door options at all price points.
Accessories & Hardware
An array of decorative accessories like pilasters, wainscoting, and posts can be used to customize the cabinet even further.
Doors and drawers look great when they are artistically coordinated or identical. This applies to all accessories connected to them, such as hinges, pulls, and knobs.
It is important that you consider each of these items thoroughly before you commit to a cabinet.
Consider accessories in the light of the ease of use and appearance – you have a freestanding cabinet that is both easy to use and aesthetically fabulous.
High-end cabinetry offers an abundance and styles and features like pull-out drawers for hair complete with electrical outlets fitted inside the doors.
6. Glass Doors v/s Solid Doors
A glass door can be a stylish addition to any freestanding cabinet.
Solid doors can't be taken for granted either – if finished properly, they can turn the freestanding cabinet into a bathroom beauty.
The choice between these two types of doors can depend on your individual choices as well as a list of some general considerations.
The best part about having glass doors on your cabinets is the high level of brightness involved. Because glass reflects light more readily, a glass door cabinet will help light up the rest of the bathroom.
They also create an illusion of depth, more so if they are backed with a high reflective mirror. If you have a few beautiful souvenirs or other items you would want to see through the windows as you move around in the bathroom, a glass cabinet door would be the right choice.
If you have ever used solid door cabinets and glass door cabinets in the same home, you may have noticed that glass-doored cabinets broke the monotony of using solid door alternatives.
The same applies to freestanding cabinets – you are less likely to get bored using a glass-doored freestanding cabinet compared to the solid door counterparts.
Another thing is that glass doors are easily changeable and customizable – if you no longer need clear glass, you can easily replace it with glazed or decorated glass options.
On the downside, the mist from hot showers tends to find its way to mirrors and anything glass in the bathroom, requiring frequent wiping and sometimes leaving some ugly blots on the surface.
When it comes to maintenance, solid wood doors are a better alternative to glass. With solid wood doors, you don't need to pay attention to how things are arranged behind the door.
4 Common Mistakes to Avoid When Choosing a Freestanding Cabinet
What if you get it all wrong?
There are some mistakes you may find hard to correct once they are done, like failing to check if the supplier has a return policy and if it can work in your favor.
Here are some of the commonly made mistakes and how to avoid them:
1. Wrong measurements
Taking the wrong measurements or failing to take them entirely can give rise to many problems.
First, you won't know the size of the cabinet that would be appropriate for your bathroom.
Secondly, you may not know the right size of the cabinet perfect for your storage needs.
For these reasons, it only makes sense that you measure the location you intend to position the freestanding cabinet.
2. Opting for particleboard
This is one of the most dreadful mistakes many homeowners make when purchasing freestanding cabinets.
Cabinets are made from all manner of woods – MDF, Solid Wood, HDF, Particle Boards, etc – most of these woods are just fine to use in cabinets except particle boards.
Cabinets made from this type of wood are quite common, but there are several reasons why you should avoid them.
Firstly, particle boards are some of the weakest woods you could find out there – it is made from simple sawdust pressed together and glued with wood adhesive.
This construction leaves them vulnerable to moisture absorption and swelling.
Because the bathroom area tends to accumulate a lot of moisture and sometimes on the floor, a particle board freestanding cabinet is the last option you want to install there.
3. Rushing things
Slow down, there are a ton of things to put into consideration and lay straight.
The worst thing you can ever do is to try to speed up your renovation project – you would be opening room for mistakes and a badly finished project.
Take your time and complete all the planning. It will take a good number of hours to discuss the finer details of everything with your contractor or interior designer if you ever require one.
4. Settling for the low quality of inferior hardware
It is easy to overlook smaller accessories such as
drawer dividers
soft-close runners
and hinges.
Yet these items have a bigger say on the durability and usability of the cabinet.
You need to consider the longevity of these accessories and only select the best you could find.
Ask the store attendant about all the available options and peruse through to select the highest quality options you can find.
Conclusion
If you don't consider the six golden factors of selecting the best freestanding linen cabinet, you will likely end up with a disappointing product.
These factors are:
cost v/s budget,
brand
size and dimensions
 number of shelves
 cabinet doors,  accessories & hardware,
and number of doors.