Manufactured home bathroom fans are installed to draw odors and moisture from the bathroom and improve the quality of the air.
There are two reasons why you need to install one.
The first reason is that you need it to keep your bathroom fresh.
The second reason is that many building codes nowadays require it for a remodeled bathroom or new construction.
Three Mobile Home Bathroom Exhaust Fan Types
There are three main types of bath fans
Ceiling-mounted fans
Wall-mounted fans
Inline fans
1. Ceiling mounted fans
These are the most often used bath fans in residential settings.
They are installed into ceilings in such a way that the sucked moisture and odor are vented to the outside through the roof's ductwork.
They are perfect for warm water bathrooms because the moisture will automatically escape into the vents with very little assistance.
2. Wall mounted fans
These fans are installed in the bathroom's exterior walls. They pull the moisture and odors directly outside.
Because they expel the air directly to the outside, they don't require you to install the ductwork. Thus, they are the cheapest bath fans to install.
3. Inline fans
These fans can be installed in the wall or the ceiling – wherever you see fit. However, a motor must be placed in the ducts to remotely pull the bad air from the outside.
The motor is normally installed a long distance from the bathroom's vents. Because of the fan's long distance from the bath's roof, very minimal noise can be heard in the bathroom.
This type of bath fans is perfect for bathrooms with very limited space. They are a better alternative to a high CFM bath fan if you don't have a lot of money.
Guide to Choosing the Best Bath Vent Fan for A Manufactured Home – 5 Questions
The bathrooms that come with manufactured homes tend to be a bit smaller than the average bathroom size of a site-built home.
Although there is no standard mobile home bathroom size, the average size can be in the region of 65 sq. ft.
It is important to know the size of the bathroom because the CFM of the bath fan is designed for a specific size of space.
1. What Type Of Exhaust Fan Is Good For Your Needs?
Is your ceiling best suited to install the ceiling-based bath fan?
Would you rather install it on the wall?
Would inline bath fans be better than the other types of bath fans?
For example, you should consider a ceiling-based bath fan if you prefer a warm bath. But that's going to mean you don't need the bath fan with the highest CFM because much of the warm moisture will escape into the vents on its own.
There are a lot of factors to consider. You will need to conduct a lot of research on the appropriateness of each type of bath fan to your bathroom.
2. "No Cut" Easy Installation?
If you opt for a ceiling-based bath fan, do you need to make adjustments on your ceiling by cutting off large sections to fit the bath fan?
There are bath fans that will require a large section – a slot bigger than the existing pre-cut one – to be cut in the ceiling to permit accommodation.
It can only be a problem if you badly need this kind of bath fans. Most of the bath fans you will find in the market, however, can fit perfectly into the existing precut opening from the roomside.
These bath fans are often labeled as "No Cut."
The reason why you should look for the "No Cut" label on the bath fan is that it has a big say on whether you are going to need to have attic access to install them or not.
Bath fans labeled "No Cut" can be installed from the roomside and will fit perfectly into the pre-cut opening.
Those without this label will require to be installed from the attic, not the room side.
3. What's the noise level?
Bath fans produce noise during operation. If you would like to be left alone in a quiet and peaceful bathroom, it would be prudent if you chose a bath fan with 1.5 Sones or less – like a whisper, it's barely audible.
The moderate noise range is between 1.5 and 3.0 Sones – this hissing sound in this range is closer to the sound of a running stream.
If you don't mind the loud hissing sound, you can choose a bath fan louder than 3.0 Sones which sounds very much like a normal conversation in a room.
4. What's the CFM rating?
The bigger your bathroom is, the more air a bath fan needs to clean, hence the higher the CFM rating. Basically, your CFM (Cubic Feet per Minute) rating is related to the bathroom's square coverage.
To choose the correct CFM for your bathroom, calculate: 1 CFM = 1 sq. ft.
A bath fan with the 40 – 70 CFM would be appropriate for an average mobile home bath.
5. What's the efficiency of the bath fan?
Just like any other electrical appliance you'd install in your home, the bath fan should be energy efficient.
Fortunately, you don't even need to look hard for this aspect because virtually all of the modern bath fans are energy efficient.
An average bath fan today consumes between 50 to 60% less power. An efficient bath fan will come with an Energy Star on it.
We are going to group the best bathroom fans for a manufactured home based on some of the aspects mentioned above just to give you an easy time making the right decision.
The Best Bathroom Fans for A Manufactured Home Per Scenario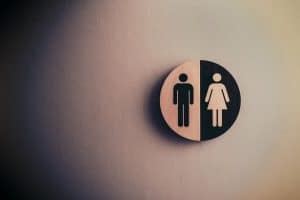 Scenario #1: Quietest Bath Fans – Under 1.5 Sones (That's The Volume Equivalent to A Whisper)
This is the quietest bath fans to choose if you value silent bathing more than anything else:
This bath fan operates at 1.0 sone – it's barely audible. You don't need to have access to the attic to install it – the compact "no-cut design" allows it to fit in the same hole as most other builder-grade fans.
The manufacturer will still ship it to you with all the mounting hardware you need. With 50 CFM airflow, it is the best bath fan to provide maximum ventilation in small baths.
The reason why the ENERGY STAR logo is emblazoned on it is that it uses 65% less energy.
The best part is that the plug-in motor is permanently lubricated yet removable. The motor comes with an inbuilt soft-start function that adds a few years of service to its lifespan.
With 110 CFM, the level of ventilation provided by this fan is insanely satisfying. With such CFM, your room (including the bathroom area) should be about 140 sq. ft. to make maximum utilization of this fan.
The installation process is easy – you will benefit from the ShapFit Flange Kit, Foldaway mounting ears, and EzDuct connector which makes the process as easy as winking.
If you compare this fan with most standard ventilation fans, you will discover that it guarantees 30% more airtight installed performance.
Better yet, the TrueSeal damper technology cuts the amount of leaked air by up to 50%, one of the tightest anti-backdraft seals out there. The fan unit will fit perfectly in a 2 in. W x 6 in. L ceiling slot.
It's worth mentioning that the manufacturer offers a 3-year limited warranty.
Another barely audible bath fan – it operates at an impressive 0.7 sones.
But the most commendable thing about this fan is that it was designed for continuous running.
If your bathroom has a low-profile ceiling that doesn't give access to the attic, this is one of the best bath fans you could install.
It is rated 11.0 CFM/Watt energy efficiency which instant bad compared to many other bath fans in its class (1.5 sones class).
Another commendable thing is that it comes with a 13-Watt LED light (that's equivalent to a 60-W incandescent bulb, right?).
The LED is dimmable and although the dimming switch will have to be bought separately (that's a thumbs down). It's still one of the quietest bath fans with the largest CFM out there.
Scenario #2: Moderate Bath Fans – between 1.5 and 3.0 Sones (sounds like a running stream)
Some of us would want to hear the hiss of the fan not just to confirm whether it is running but also because this sound is refreshing when taking a warm bath.
That's why I'd recommend this group of fans that are as loud as a snaking stream but still excellent for most small baths found in mobile homes.
Note that this class of bath fans is suitable for a bathroom with a maximum size of 79 sq. Ft.
There are two things I find commendable about this bath fan.
Firstly, it was designed to be installed either on the wall or ceiling.
This means you might quickly opt to install it on the wall if your ceiling isn't feasible enough – you probably have a few things already installed there or you just don't want to ruin it with holes.
Secondly, the attractive grill may be overlooked easily but goes a long way to give your bathroom a fresh look.
It extracts air at 70 CFM making it perfect for a bathroom in the region of 70 sq. ft.
The galvanized steel construction is rust-resistant. An indicator light is beneath the grille to assure you that the fan is running smoothly as expected.
Perhaps the only reason why this bath fan is priced higher is the 1,300-W heater that warms some areas of the bathroom to prevent the growth of mildew.
This feature makes it a 2-in-1 bath fan (a ventilation fan and a heater in one unit).
The fan side boasts 2.5 sones – loud enough to know it's working but low enough to not turn into a nuisance.
I find the rugged galvanized steel housing to be pleasing to the eye, but also goes a long way to stand up to moisture.
The 50 CFM is enough to eliminate the bad odors and provide the necessary ventilation you need.
Bath fans that conceal themselves into something totally different aren't common in the market.
That's why I was impressed by this bath on my first glance at it.
Instead of the traditional grille, the bottom part if this fan consists of a white frosted glass globe. As such, it can coordinate beautifully with the surface of your bathroom.
The 80 CFM is powerful to keep mold, mildew, horrible stench, and dampening moisture at bay.
It comes with an EzDuct connector that lets you install it from the room side. Still, you don't need attic access to install it.
The foldable mounting ears make it possible to install the fan in both room-side replacement and new construction applications.
The onboard TrueSeal damper technology reduces backdrafts.
NuTone produces has several of these concealed bath fans including the Nutone InVent Decorative Satin Nickel 100 CFM Ceiling Install Bathroom Exhaust Fan with Light and Globe, ENERGY STAR*  and NuTone InVent Decorative Polished Steel Finish 70 CFM Ceiling Installation Bathroom Exhaust Fan with Light.
Scenario #3: Loud Baths – Over 3.0 Sones (as loud as typical room conversation)
These are the loudest bath fans you can find in the market.
They are great for bathers who want to hear the full hiss.
Note that these fans are still excellent for a space measuring less than 79 sq. ft. Here are just two of them:
The manufacturer specifies that this fan was designed for bathrooms measuring up to 65 sq. ft. With 70 CFM rating, this size is space size is justifiable.
If you are DIY'er, you will find this fan incredibly easy to replace or install.
It comes with a 6″ flexible aluminum duct that will save you the money you'd have used to find your duct.
The Louvered white polymeric exterior wall cap integrates well with pretty every commonly used bathroom décor.
This exhaust fan comes with a 1300-W heat that complements the ventilation by killing the stubborn mildew or mold that might resist the powerful suction.
This too is great for 65 sq. ft bathroom. It can be compared to Broan Model 658.
The rugged galvanized steel house is probably the most arresting feature of this fan.
This housing is designed so to suck as much moisture as possible and lead it to the outside. It is the loudest fan in this group – 4.0 audible Sones.
Three Common Mistakes To Avoid When Choosing And Installing An Exhaust Fan
Remember to avoid these unforgivable gaffes:
Mistake #1: Opting for the lowest CFM
Contractors tend to pay too much attention on the CFM rating of the bath fan.
They almost always choose the lowest CFM rating possible because, you know, the bathroom area is too small and we don't need to consider the rest of the toilet area.
It is important to note that there are other bigger factors to consider in addition to the CFM rating.
Mistake #2: Installing the bath fan in the inappropriate location
It just goes unsaid that the ceiling fan should be centrally installed in line with the head of the shower.
Place it close to the edge of the ceiling and you'll end up with foggy mirrors. Event the wall-mounted fans should be centrally installed.
Mistake #3: Bloating your energy bills with multiple fans
There is absolutely no reason why you should install more than one bath fan – it doesn't matter how big the bathroom is.
The right thing to do would be to choose one bath fan with a higher CFM.
Otherwise, you will end up with really huge energy bills to pay.
Conclusion
A bath fan is important bathroom equipment used to eliminate the bad odors and moisture from the bathroom.
Bath fans can be grouped into 3 groups: wall-mounted fans, ceiling-mounted fans, and inline fans.
Whichever type is good for your home, you should consider the device's CFM, emergency efficiency, cost, and future upgradability.
Another important factor to consider is the noise level produced by the fan.
Never install a bath fan far away from the middle of the ceiling.

Frequently Asked Questions
Q: Are bathroom exhaust fans required by code?
Some building codes do not need bathroom exhaust fans. Every state has its requirements.
As a result, in some states, it is optional to have an exhaust fan.
Q: Do any states require bathroom exhaust fans?
Many state building codes usually require bathroom exhaust fans.
Moreover, bathroom exhaust fans are usually standard in a significant number of new buildings, although some states have exceptions, especially for bathrooms that have windows.
Q: Do electricians install bathroom exhaust fans?
Many electricians can do both venting and wiring, but some homeowners opt to hire an HVAC professional to install bathroom exhaust fans.
Moreover, when it comes to a new building, an electrician does electrical wiring, and exhaust fan install is done by professional HVAC.
Q: Are bathroom exhaust fans interchangeable?
Yes. If the fans are identical, you can interchange them.
Q: How long does the bathroom exhaust fan last?
The average lifespan of a bathroom exhaust fan is around ten years.
Q: How often should a bathroom exhaust fan be cleaned?
You should clean your bathroom exhaust fan at least after every six months.
Q: How can you tell if a bathroom exhaust fan is working properly?
One of the best ways to determine if the bathroom exhaust fan is working is by testing its suction.
In this case, you can take a toilet paper, place it at the vent as the exhaust fan is running. In case the exhaust fan holds up the paper, it is working well.
Q: Does the bathroom exhaust fan need a dedicated circuit?
In case the bathroom exhaust fan has an in-built heater, then it should have a dedicated circuit of about 20-amps.
Q: Do bathroom exhaust fans use a lot of electricity?
The power usage of bathroom exhaust fans is related to their energy efficiency and the airflow that they measure in cubic feet per minute.
Large capacity fans with heaters and lights will need more power compared to a fan that is only used for venting.
Q: Can a bathroom exhaust fan BE TOO big OR TOO powerful?
Bathroom exhaust fans are rated according to the amount of air they can move.
The measurement is calculated in cubic feet per minute. As a result, a big fan can be too big for your small bathroom.
Q: Can a bathroom exhaust fan cause a fire?
Yes. If the bathroom exhaust fan is not cleaned and maintained properly, lint can build up.
As a result, the motor can overheat, ignite any nearby combustible components like plastic fan blades and lint.
Q: How long can the bathroom exhaust fan duct be?
The average length of the bathroom exhaust fan is between 10 to 12 feet.
Q: Should bathroom exhaust fan duct be insulated?
Yes. Bathroom fan ducts should be insulated to reduce condensation that can occur when moist air passes through the duct.
Q: Why does a bathroom exhaust fan drip?
When condensation occurs inside the fan duct, it can cause dripping.
The process occurs mainly during winter when warm moist air in the bathroom hits cold air outdoors, making it to condense.
Q: Does a bathroom exhaust fan have to be vented to the outside?
Yes. It is good to have your bathroom exhaust fan vented outside.
Notably, the main reason for having a fan is to remove moisture from the bathroom and deposit it outside and not to another room.
Q: Does a bathroom exhaust fan remove heat?
Yes. The leading function of a bathroom exhaust fan is to draw humid or warm air during hot water and can also remove heat during the summer season.
Q: Can you lubricate the bathroom exhaust fan?
Yes. Lubrication can enable bathroom exhaust fans not to produce a lot of noise, especially when they become older since dirt is likely to build up.
Q: Can a bathroom exhaust fan be covered with insulation?
Yes. It is good to cover the housing of the bathroom exhaust housing insulation. Moist air can easily condense inside the fan if no insulation is applied.
Q: How much does a bathroom exhaust fan cost to install?
The average cost of installing a bathroom exhaust fan ranges between $15 to $300.
However, there are other additional charges such as labor which can range between $60 to $500.
Q: Do bathroom exhaust fans have dampers?
Yes. Bathroom exhaust fans have backdraft dampers that allow air to flow efficiently through the ducts to the outside.
They allow preventing unwanted air from flowing into the house when the exhaust fan is switched off.
What makes a bathroom exhaust fan quiet?
Sone rating is the industry standard for measuring the amount of sound an exhaust fan produces.
As a result, a fan with a lower sone rating is quieter.
Q: How long can a bathroom exhaust fan continuously run?
It would help if you allowed the exhaust fan to run continuously for about 20 minutes after and during a shower or bath.
In some cases, you might leave it to run continuously for one hour.
However, you must know that if you leave the exhaust fan to run continuously for an extended period, it can be a fire hazard.
Related: Should The Bathroom Door Be Closed When The Exhaust Fan Is On?
Q: How do you replace the exhaust fan motor?
Turn off the power switch of the exhaust fan.
Unscrew the exhaust to remove the plastic cover.
Unplug and unscrew exhaust fan motor from the vent.
Turn the motor house clockwise before you pull it out from its housing.
You can take your exhaust fan to your local hardware store so that you can get the exact match.
Repeat the reserve process by first inserting the new motor into a clean housing, turn it anti-clockwise.
Screw the exhaust fan to vent before plugging it.
Cover the motor with a plastic cover and screw it.
Switch on the power source to test your new exhaust fan motor.
Q: Does bathroom exhaust fan need GFCI?
Many electrical codes do not require bathroom fans to be installed under a GFCI protected circuit.
But it is ideal for you to follow the instructions laid out by the manufacturer.
Q: Can bathroom exhaust fans be installed vertically?
Yes. Typically, you can install your bathroom exhaust fan vertically along the wall.
In many cases, a significant number of manuals do not include mounting options.
Q: Can bathroom exhaust fan get clogged?
Yes. If you do not clean your exhaust fan regularly, dirt, dust particles and other debris may clog the vent.
Q: Can you reverse exhaust fan?
Yes. You can change the direction of your exhaust fan vent manually.
Reserving is possible, especially when the fan does not have an in-built switch that you can use to reverse the direction of the fan blades.
Q: Can you paint a bathroom exhaust fan cover?
Yes. If you wish the bathroom exhaust fan cover to match the color of your ceiling, you can paint.