In some manufactured homes, you don't get a sizable bedroom for a large bed to take center stage.
You can't easily increase the size of your bedroom – it would be impractical to pull such a maneuver in a manufactured home.
Rather, you can opt for one of the many types of  space saving beds that can be installed in not-so-large rooms and still save on space without necessarily compromising your comfort.
Some of these options will provide much-needed storage solutions beneath them which you can use to supplement your cabinets and closets.
Not only are they good for individuals prone to clutter – like your teenagers, for example – but also to those of us who want to give a whole new meaning to the concept of minimalist living.
Two Features to Look for In Manufactured Home Space Saving Beds
There are several things you need to pay attention to besides the size of the bed. For instance, there is no point in choosing a bed that's too high for your kids or yourself, regardless of how compact it may be.
1. Comfort Factors – Dimensions And Mattress size
Comfort should appear on top of your list of things to consider because everyone wants to have a good sleeping experience. For beds that are sold with their mattresses, check the comfort level of the mattress as well.
What is the length of the bed?
Does it accommodate your height or whoever you're buying for?
Does it comfortably accommodate the size of the mattress of your choice without creating a depression in the middle?
2. Cost
A decent space saver bed can cost you between $300 and $1,400 depending on such factors as style, type of material of construction, and whether they come with a mattress or not. This is why you understand what you want and prepare a budget before heading to the store.
Understanding bed sizes
Choosing a bed can be troublesome, especially when you are too particular on such attributes as size and style. There are seven groups of standardized beds:
| Bed Size | Bed For For |
| --- | --- |
| Twin (38" x 75") | Perfect for kids and single adults |
| Twin XL (38" X 80") | Perfect for kids and single adult |
| Full/Double (54" x 75") | Perfect for kids, single adults, sleepers with children and pets, and couples |
| Queen (60" x 80") | perfect for kids, single adults, sleepers with children and pets, and couples |
| King (76" x 80") | Perfect for couples, couples with kids, and couples with pets |
| Split King (split into 2, 38" x 80" each) | Perfect for couples, couples with kids, and couples with pets |
| California King (72" x 84") | Perfect for couples, couples with kids, and couples with pets |
All these beds come in dimensions that are perfect for an average space-strapped bedroom often found in average manufactured homes, EXCEPT for King, Split King, and California King.
You can compromise and choose King-size if your bedroom lies between barely spacious and moderate spacious.
Also, think about it: The King-size is only wider than the Queen by 16″ but the length remains the same.
This means you can easily replace a Queen-size bed with a King-size if your bedroom is a bit wider. The last two beds come with outsize dimensions that can only fit in the most spacious site-built homes.
The smallest standardized bed you can find in the store is the Twin type and measures just 38″ x 75″.
The largest standardized bed is California King with dimensions of 72″ x 84″.
As you can tell, there are plenty of options in-between these standard beds that can be great for your manufactured homes. Then there is a non-standardized group of compact beds that have been made solely to save space.
So, there are two broad groups of compact beds:
Standardized beds with right dimensions for small rooms (Twin, Twin XL, Queen, Full/Double
Non-standardized space saver beds strictly designed to occupy less (bunk beds, sofa beds, air beds, etc.)
Related: Should You Get A Used Mattress?
Compact Standardized Beds
These are some of the commonly used standardized beds in North America.
They only come in specific sizes albeit with minor variations depending on your particular specifications.
The group consists of five beds that can be used in any manufactured home to save on space:
Twin beds
Twin XL
Full/Double
Queen
King
1. Twin beds – 38″ W x 75" L
These are the smallest standardized beds out there ideal for a manufactured home.
Twin beds are very much the same with what we refer to as "Single beds". They are perfect for children or a single adult.
For you to install one Twin bed and still have enough space for walking and accommodate another furniture such as a dresser, desk, or nightstand, your bedroom should be 7" by 10" or bigger.
While Twin beds are small, cheap, and perfect for minimalist living, they are not an attractive option for couples because of the limited sleeping space.
You will need to upgrade immediately once you start cohabiting or get married.
However, they are very common and will give you an easier time when choosing one. They are also easy to move around your room. Their length is great for taller adults and teens.
Cost
According to Sleep Advisor, a Twin mattress costs between $300 and $600.
Therefore, if the Twin bed is$400, the Full option might be as high as $600, the Queen would be $800, and the King $1,000.
Brookside offers some of the best Twin beds in the market:
The best thing about this sizable bed is that it is made from medium-density fiberboard that looks very much like regular wood but lasts longer and resists wear and tear pretty well.
It is compatible with most of the popular 38″ x 75″ mattresses available in the market.
LUCID offers some cool mattresses for Twin beds, including their LUCID 10 Inch 2020 Gel Memory Foam Mattress. This mattress fits on a standard Twin bed perfectly and can be good for if you are prone to allergies.
2. Twin XL – 38" W x 80" L
These beds measure 38" by 80" and are perfect for single sleepers with heights of 6" or taller.
If you have teens and kids that may be past 6" eventually, you may as well consider buying this bed. These beds are great for single adults and kids.
If you compare Twin XL beds to their Twin counterparts, the former comes out as remarkably expensive even with only 15" – 16" length difference between them.
The perk of this difference in length is the extra space you get to accommodate your feet.
Thus, the Twin XL bed would only be an attractive option for you if you are looking for extra leg space that you couldn't get in Twin beds.
Cost
The cost of an average wood Twin XL bed is between $200 and $500.
The cost may vary considerably depending on the material used to make the frame. Plastic frames tend to be cheaper than those made from wood while metallic frames are more expensive.
There are three mattress categories perfect for Twin XL beds: Budget, Mid-Range, and Luxury.
Budget mattresses (price range: $250 – $1,000) are normally innerspring or all-foam construction using a few basic materials.
Mid-Range options (price range $500 – $1,500) may come with hybrid all-foam and innerspring construction.
Luxury options (price range: $1,200 – $3,000) are made from high-end material.
Brookside offers some impressive Twin XL options:
The best thing about this bed is that it is available in a range of wood tones. It is primarily made from fiberboard which is better than wood when it comes to resistance to wear and tear and overall durability.
This bed includes foot rails, headboard, legs, and a 14-piece slat roll. You don't need box springs to use it. It is compatible with any mattress of its size.
ZINUS has a few excellent foam mattresses made for Twin XL beds:
This memory foam in this mattress is infused with green tea. The 2-inch conforming memory foam relieves pressure and guarantees optimum comfort.
Another is Vibe 12-Inch Gel Memory Foam Mattress | Bed in a Box, [Mattress Only], Twin XL option which is highly affordable but still offers a plausible level of luxury. It is 7-inches dense.
3. Full/Double 54" W x 75" L
These beds occupy the region between Twin XL beds and Queen beds.
They are the first large size yet compact beds perfect for a couple or any two sleepers in a small bedroom.
Note that double beds and full-size mattresses have the same 54" x 75" dimensions.
If you are a single adult, this is one of the largest space saver beds you can ever install in your small bedroom. It is also great for kids who roll around and move a lot during sleep.
However, while it is designed to accommodate two sleepers, two fully grown adults still wouldn't feel comfortable enough.
They also come with shorter lengths compared to Queen beds – tall sleepers will still have a hard time fitting on them.
4. Queen Beds – 60″ W x 80" L
Queen beds are bigger than Twin XL or Double Beds but smaller than King-size beds.
They measure 60" W x 80" L. Queen-sized beds are some of the most commonly used beds in small homes.
It is easy to confuse Queen Beds with Double Beds. The two are very different – The Queen Bed is normally 6" wider compared to the Double.
Double beds (often referred to as Full Beds) used to be the perfect option for two sleepers until the late 1960s.
They are only 15″ wider compared to single bed options, leaving just 27″ of sleeping space for each of the occupants.
These beds are hugely advantageous because they fit in almost any size of the room but can accommodate multiple sleepers – up to a maximum of two sleepers.
They are 32% popular compared to Full Bed's 21%, their closest competitors. They are better suited for a smaller master bedroom and guest room.
The main drawback of Queen-size beds, however, is that the only available space for a couple is about 30″ which is too little for everyday comfort.
Cost
The cost of a Queen bed can depend on a range of factors including the kind of panel, whether upholstered or not and the kind of material used to make the frame.
The cost of acquiring an average Queen-size bed is between $200 and $1,000.
Prices for mattresses vary as well.
Innerspring options for Queen-size beds seldom go beyond $700 but the average price can be $850.
Foam options seldom go beyond $800 and the average price can be $700.
The hybrid options price tag is in the region of $1,000 while the average price is $1,500.
There are Latex options with price tags in the region of $1,000 while the average price is $2,000.
Madison Furniture offers a few Queen-size beds worth your attention, they include:
Supported by a hardwood slat kit, you don't need a foundation to install this bed. The mattress is sold separately. This solid hardwood construction is sturdy and comes with non-toxic finish even during combustion. If you are looking for an eco-friendly Queen size bed, this would be one of the best options.
5. King Size – 76″ W x 80" L
The sheer sound of "King-size" can make you think they are big beds, but they are very much like Queen type except that they're slightly wider.
King Size beds are about 16-inches wider than Queen Size beds but have the same length. This makes King Size the largest yet compact bed you can ever install in your mobile home.
They may not fit perfectly in some bedrooms found in average mobile homes but they are the farthest you can go as far as large size is concerned.
The biggest advantage of King size beds is the generous sleeping space they provide which makes them perfect for married couples or any two sleepers.
The only problem is that you won't easily find a duvet that can go around it as perfectly as you would wish.
Cost
Innerspring mattresses for King Size beds costs $950 on average. Hybrid types can average $1,850.
Four Non-Standardized Space Saver Beds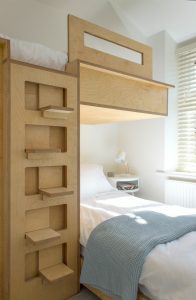 These compact beds are outside the margins of what we consider as ideal standard household beds. They can take any form, but space-saving is normally the main purpose:
Perhaps the most first and most obvious bedding solution for homes with small rooms. The beds consist of two pieces of furniture that can be combined to make a comfortable bed.
Unlike sofa beds, these beds save space by folding into the bed frame and allowing the user to tuck them away when they are not needed.
Very much folding beds, these beds can be inflated with air to rise to the level of a standard Queen size or King size bed.
Once you wake up, simply deflate, fold it up, and store it in the corner of your home. They come in a range of sizes.
These beds can be pretty big for your space, but they ensure that you have storage space in their frame to store such items such as shoes, pillows, and even clothes.
A Few Things To Know About Beds And Mattresses
Bed and mattress sizes are sometimes used interchangeably.
For instance, another way of referring to the Twin XL bed is mentioning its dimensions alongside a mattress of its size – Mattress size 38" x 80" means you're talking about Twin XL because that's the bed's measurements.
A Twin and Single are the same types of bed. Both come in the same size and accommodate one person
A Full and Double are the same type of bed. Both come in the same size and accommodate one or two people
A Queen is just a Queen with no intermediary. It accommodates two people fairly well and it is the most popular type of compact beds.
Conclusion
Having a small bedroom doesn't mean you should make changes and expand the space – that's straight impractical in most mobile homes.
You can choose to opt for a space-saving bed instead. The best thing about space saver beds is that they are available in a range of sizes and styles.
You can opt for the smallest of the standardized beds or choose to go for the purpose-made options such as air beds and bunk beds.
Remember to prepare your budget in consideration of your needs and features you want your bed to have. Consider the cost and styling of the space saver bed as well.