A microwave is a staple appliance of many kitchens regardless of the size. It is convenient for reheating and assisting with general food preparation.
There are many microwave options to choose from, ranging between the OTR (Over-the-Range ovens, which combines the elements of a microwave oven and a range hood) to simple countertop ovens.
Because kitchens in most manufactured homes are either averagely sized or smaller, the space occupied by the microwave oven is a factor to consider.
Nine Manufactured Home Microwave Oven Considerations
These are the features to look for in a microwave oven:
1. Convection cooking
Microwaves with this feature use a powerful fan to circulate streams of air on all sides of the stage or dish, producing an evenly and delightfully cooked food.
Some of these microwaves provide a browning option that lets you simulate the cooking of a broiler
2. Speed cook
This is a combination of microwave and convection cooking.
You get the speed of microwaving and even cooking of a conventional microwave oven.
3. Sensors
Sensors are important for automatically adjusting the temperature, time, and shut down/start up.
Sensors measure the temperature and amount of emitted steam to determine the optimum temperature of the food.
4. Common Task Convenience/Buttons Controls
These are shortcut keys that let the user choose the correct temperature and time through preset cycles for most commonly cooked drinks, like pizza, popcorn, and hot beverages.
Most of the modern microwaves for mobile homes allow the user to add temperature units on any given cycle without having to stop the oven.
5. Nonstick Interior
How easy will it be to clean the microwave option of your choice?
Manufacturers tend to use non stick materials for the interior so that you can have an easy time cleaning them with a damp cloth. Stainless steel is the most often used material.
6. True Power Reduction
This feature can be found in a select group of microwaves.
It allows the user to make actual power reduction instead of cycling between no power and full power during any cooking session.
It ensures true defrosting and even cooking without burnt or cooked edges
7. Turntables, Removable Racks, and Trays
These three features may be synonymous with microwave ovens, but they are not present in all products. Finding a microwave oven with both of them would be great. These three are essential in organizing the cooking space.
8. Wattage
Wattage is the measure of the power of the microwave oven.
The higher the wattage rating, the shorter the time it will take your microwave to cook food.
Most microwaves come with wattage between $500 and 1,000-W. Make sure your kitchen's wiring meets the amp requirements and wattage of the oven of your choice.
9. Ventilation features
Some microwaves can remove unwanted odors, smoke, and heat from the kitchen while cooking.
The reason why you need to consider this feature is that some kitchens are too small to install to add a hood range, so having a microwave that can do the job of a hood range and still cook is like killing two birds with one stone.
Related: Can You Put A Coffee Maker On Top Of A Microwave Oven?
Seven Factors to Consider When Buying a Microwave Oven
1. Type of Microwave
The first decision to make is the type of microwave perfect for your needs.
The decision can be influenced by the layout, design, and size of your kitchen.
Whether you are remodeling or creating a new kitchen layout from scratch, your choices will be limited to four popular types of microwaves:
Countertop Microwaves
This is the most popular type of microwave ovens.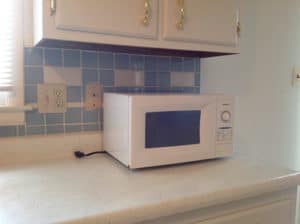 They are ideal for most small kitchens found in manufactured homes. The probable reason why they are so common is their affordability and ease of replacement and set up.
No installation is needed – just plug them in the power outlet on the wall and start cooking.
The only considerations the buyer would take into account are the size of the microwave and the space available on the countertop.
Unless you have an incredibly small countertop in your kitchen, most of the ovens you will find in the store will fit perfectly on the space you already have.
Pros
Easy to set up
Affordable to most homeowners
No installations requirements to follow – just plug and cook
Very lightweight and portable
Keep in mind:
The smaller the countertop microwave oven, the fewer the features it has
They can take a significant part of your countertop
Over-the-Counter (OTR) Microwaves
This type of ovens is installed directly over the cooking range or stovetop.
They are often installed flush among the kitchen cabinets. This lets them blend with the rest of your kitchen's layout.
They are sort of a luxury because they tend to come with features you wouldn't find in countertop ovens similar products.
The best part about this type of microwave is that they come with built-in ventilation systems that help with the removal of fumes, excess heat, and odors, just like range hoods do.
If the kitchen in your manufactured home is too small and doesn't offer enough space on countertops to accommodate countertop ovens, the OTR microwave can be the best option for you.
Benefits
Does not use any part of your counter
Provides extra lighting at the cooking area below them
Helps get rid of odors, fumes, and heat just like range hoods
Keep in mind:
Require a lengthy installation process
More expensive compared to countertop microwaves
Can be hard for kids and short adults to reach
Built-in Microwaves
These microwaves are similar to the OTR type except that they are built into your kitchen at a specific location of your choosing.
Today, you can choose to have any type of microwave built into your kitchen at a point it is traditionally known not to be – that one would still qualify as a Built-in Microwave.
If you are remodeling your kitchen and you would like a kitchen that syncs with the design and everything, this is the best type of microwave to choose from.
However, you need to bear in mind such factors as convenience and general aesthetics when installing this type of microwave in your kitchen.
Benefits
Does not use any part of your countertop
Are elegantly built in your kitchen to match all other appliances in your kitchen
Keep in mind:
They are more expensive than the OTR and countertop options
Requires a lengthy installation process
Convenience must be put into consideration when installing them
Convection microwave
These microwaves are very much like countertop microwaves in terms of size but employ an entirely different approach in cooking.
They use a combination of high temperatures and a fan to heat and circulate air around the food. The microwaves are then used for cooking the food further from inside out.
If you are looking for a versatile microwave that lets you switch between cooking modes to cook complex meals, choose this type of microwave.
They can cook meals that other microwaves won't even come close to trying, such meals as casseroles and cookies.
Better yet, you can choose between the countertop, in-built, and OTR options within this class of microwaves.
They are a bit expensive compared to most other types of microwaves, but the versatility is worth every penny.
Benefits
Versatile and convenient
More cooking options, they include: broiling, roasting, and baking
A unique cooking style that leads to better textures and flavors
Keep in Mind:
Be careful, or else you will burn your food
They cost more than most other types of microwaves
When using it is a convection oven, all the typical microwave functions will be unavailable until it cools down
Once you have made up your mind about the type of microwave you want, the next thing to put into consideration would be the cost of your prospective ovens.
Related: Can You Put A Microwave Oven On A Glass Table?
4. Cost
The average price of a countertop microwave oven on Amazon is $94.60.
However, the countertop oven happens to be the most popular type of microwave out there. Generally, the cheapest microwave of this type you could get would be in the region of $50 while the most expensive can be $100.
An average OTR microwave oven cost between $50 and $500 – but that's for those without a fan.
They, however, come with add-on installation bucket mounts on which you can place the oven. Those with a fan costs between $200 and $500.
High-end options will come with a price tag beyond $500.
The cheapest Drawer Microwave you could find on Home Depot is $950 while the costliest is $1,590 – basically, most of them fall within the margins of $900 and $2,000.
SHARP is known for its budget microwaves across different segments, including the Auto-Touch family of microwaves which includes members such as the Auto-Touch Control Panel 24 in. W 1.2 cu. ft. Built-in Microwave Drawer – Cost: $997.
A decent microwave & oven combo (which comes as a microwave and an oven as a single unit) costs between $1,500 and $3,700.
The average cost of microwaves by brand (across different types of microwaves):
There are many types of microwave ovens out there, but these five factors determine all their prices:
Wattage
The wattage of the microwave (so, remember to check the wattage rating of your prospective option). The wattage is directly proportional to the price tag of the microwave.
Brands
The more established a brand is, the more you will pay for its microwaves. That's why Samsung and LG microwaves look overpriced compared to similar products from HH Gregg.
Microwave Type
Yes, the more advanced the microwave is, the higher the cost.
Knowing the average cost of the type of microwave of your desire can help you prepare a reasonable budget which can in turn you prevent overspending.
5. Size & Location of installation
Consider the size of the microwave oven and where you intend to install it.
There is no ideal size of a kitchen for manufactured homes, neither will you hear about the "average" size.
How big or small your kitchen may depend on your personal preferences, but is more likely to be smaller than most kitchens found in average site-built homes.
As such, you will choose a microwave oven in consideration of the size of the free space you have in your kitchen.
Countertop Microwave Ovens
Countertop microwaves, as the name suggests, will occupy a portion of your countertop.
You just need to find a conducive spot on your countertop and position it there.
This type of microwave only becomes a problem if you have a small countertop. In cases where the size of the countertop is a problem, it would be prudent for you to opt for smaller models of this microwave or choose another type that can be installed elsewhere.
The external measurements of compact models of countertop microwaves are 10″ x 18″ x 13″ while larger models measure about 14″ x 24″ x 20″.
The internal capacity of most models is less than 1 ft3 (1 cubic foot) to over 2 ft3 (2 cubic feet).
OTR Microwave Ovens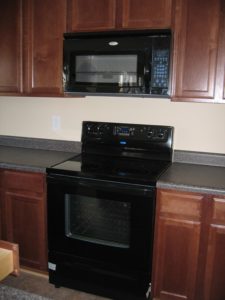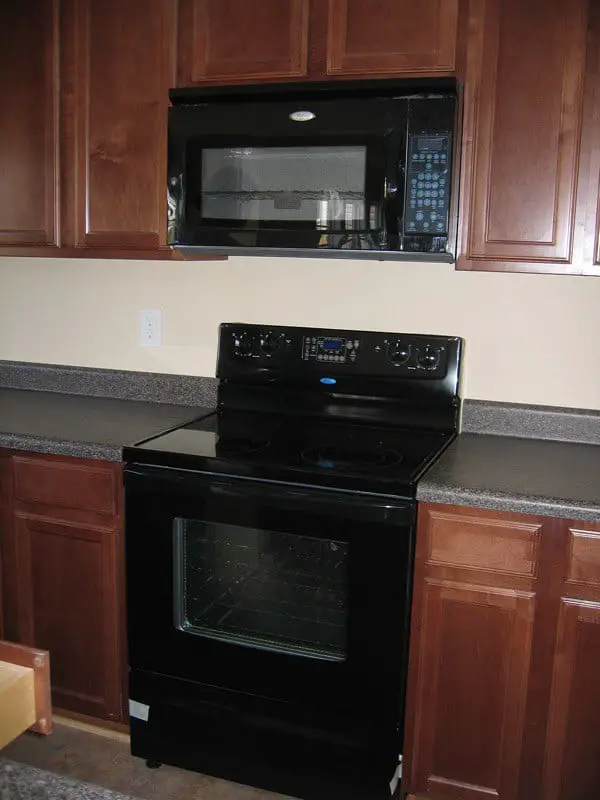 OTR microwave ovens are often installed above the range. They are some of the best space-saving microwaves. They are larger in width compared to countertop microwaves and measure about 16″ x 30″ x 15″. The internal capacity is often similar to that of countertop options, less than 1 ft3 to over 2 ft3.
Built In Microwave Ovens
Built-in microwave ovens are often installed in custom cabinets or paired with similar inbuilt full-size wall ovens. They are high-end ovens, meaning you will part for more cash.
Some models in this category are designed to look like drawers with a fully functional compartment you can pull out to add or remove food.
The size of this type of microwave can depend on the type, but the drawers tend to be deeper than any averagely sized countertop or OTR microwave oven.
The average size of this type of microwave is 15″ x 30″ x 26″. The internal capacity of most models is less than 1 ft3 (1 cubic foot) to over 2 ft3 (2 cubic feet).
Measurements
The best approach to choosing the correct size of the microwave is to begin by measuring the free space in which you intend to install it.
If you plan to place it on the counter, measure the length, width, and height permitted by the counter, then use the obtained figures to choose the correct equipment.
The external measurements of the microwave can vary widely, from about 10″ x 18″ x 14″ on the smallest end to about 14″ x 24″ x 20 on the largest end.
Most stores tend to showcase their microwaves in four commonly used sizes based on internal capacity:
Compact: 0.5 – 0.8 cubic feet
Such as Farberware Professional FMO12AHTBKE 1.2 cu. ft. 1100-W Microwave Oven – Cost: $107.00
Mid-Size: 0.8 – 1.4 cubic feet
Such as Panasonic 1.2 cu. ft. NN-SD681S Countertop/Built-in 1200-W Stainless Steel Microwave Oven  – Cost: N/A
Full-Size: 1.4 – 2.0 cubic feet
Such as Toshiba EM245A5C-SS 1.6 cu. Ft. 1250-W, Stainless Steel Microwave Oven  – Cost: N/A
Large-Size: Over 2.0 cubic feet
Such as Toshiba ML-EM45P(BS) 1.6 cu. ft. Black Stainless-Steel Countertop Microwave Oven – Cost: $145.00.
6. Reliability
How reliability is the model of your prospective microwave?
When it comes to reliability, we don't look at the ability of the oven to work perfectly every day without breaking down, but rather how long it will last.
The most durable microwaves you could find in the market come with a lifespan between 10 to 12 years beyond which they will be prone to breakdowns or become straight inefficient.
The average microwave lasts slightly less or more than 7 years.
But this can depend on how they are used.
Such activities as turning on the oven when empty, using harsh chemicals and soaps when cleaning, putting metals inside, and depriving it sample circulation of air may remove a few years from the lifespan.
7. Capacity
The larger the capacity of your oven, the bigger the external dimensions.
This is why you need to choose a microwave that meets your size cooking while still falling within your preferred dimensions.
The three popular capacities in the market are
compact (0.5 – 0.8 ft3),
mid-sized (0.8 – 1.4 ft3), and
full-size (1.4 – 2.0 ft3).
There are larger options with capacities of over 2.0 ft3.
Related: Is It OK to Put the Toaster Oven On Top of the Microwave?
Conclusion
When choosing a microwave oven for your mobile home's kitchen, the space factor becomes the most important of everything else you could consider.
If your countertop is spacious enough, you would choose countertop microwave ovens.
If you have more space elsewhere in the kitchen such as cabinets, you will likely choose built-in or OTR options.
Conventional microwaves are similar to countertop microwaves except that they employ an advanced cooking technology.
Whichever microwave you choose, consider the cost before anything.
Knowing the cost of the ovens of interest will help you prevent overspending beyond your budget.
Also, consider the affordability of your options as some products may meet your needs but cost more than you can afford. The capacity of the microwave is worth factoring in as well.
Frequently Asked Questions
Q: Can you use a new microwave right away?
No, you should not use your new microwave oven right away.
Although it might sound strange to start cleaning your microwave before you have cooked anything, most manufacturers will tell you to clean your new oven and set it at a high temp for about 30 minutes.
This process is technically known as "burn-in" and serves to eliminate nasty small as well as burn off any residues.
Q: Is it safe to plug a microwave into an extension cord?
Plugging a microwave into an extension cord is safe.
However, this is ONLY if the extension cord is rated for it.
Although it might be safe to plug your microwave into an extension cord, it is not a good idea.
Q: Is it safe to plug a microwave into a power strip or surge protector?
A microwave should not be plugged into a power strip because it is a safety hazard.
On the other hand, a microwave is completely safe when plugged in surge protectors, provided you're not daisy-chaining surge protectors.
Q: Does a microwave oven need a dedicated circuit?
Yes, but this is not always a necessity.
National Electrical Code mandates a dedicated 20-amp, 120/125 -volt dedicated circuit for microwave ovens.
Q: How can you tell if a microwave oven fuse is blown?
If it is a glass fuse, you will see scorch marks, and the filament will be melted.
For ceramic fuses, you will need a continuity tester or ohmmeter.
If your microwave oven fuse is blown, an ohmmeter will read infinite, while a continuity tester will indicate no continuity.
Q: How can you tell if the microwave oven is leaking radiation?
Although there is no scientific test, you can test if your microwave leaks radiation using your cell phone.
Place a phone inside the microwave, close the door and call the phone inside the microwave.
If the phone rings, odds are, your oven is leaking radiation.
Q: Can a microwave oven door be replaced?
Yes, you can replace your microwave door.
Just be careful when removing the defective door and reattaching the replacement.
Q: Should microwave ovens get hot on the outside?
It is perfectly normal for an oven to get fairly warm on the outside. The heat comes from the power transformer.
If the oven gets hot, something might be wrong.
Q: Is it bad if the microwave turntable doesn't spin?
Yes, but it is safe.
The turntable distributes the heat evenly, which means your food will not evenly cook if it doesn't spin unless you turn it manually.
Q: Can you wash the microwave glass turntable plate in the dishwasher?
Yes, you can wash the turntable plate in the dishwasher. Most, if not all, microwave ovens come with a glass turntable plate, which is dishwasher safe.
Q: Can microwave ovens interfere with wifi?
Yes, microwave ovens can interfere with WiFi whenever they are running.
Microwaves from your oven and radio waves from your WiFi router are all forms of electromagnetic radiation.
When the microwave rays leak, it causes radio-frequency interference, affecting your connectivity.
Q: Do microwave ovens need to be vented?
Microwave ovens need adequate ventilation. If not well vented, they may overheat and eventually fail to operate.
Q: Do microwave ovens lose power as they age?
Microwave ovens tend to lose power over time.
This is because the magnetron tube loses emissivity over burning hours like any power transmitting valve.
After all, all appliances die with time.
Q: Can you use a 50hz microwave oven in the Philippines?
No.
The power supply in the Philippines is 220V, 60Hz, which means a microwave oven rated 50Hz will not work correctly.
Q: Can a microwave and gas range be on the same circuit?
Yes, the National Electrical Code allows a microwave oven and gas range to be on the same circuit provided the combined electrical load doesn't exceed the safe capacity of the circuit.
Q: Can microwave ovens be recycled?
Microwave ovens can be recycled. However, this depends on your local regulations. Sending your old microwave back to the manufacturer or an e-waste recycler is the best bet.
Q: Is it ok to leave the microwave plugged in when not in use?
There is no harm in leaving your microwave plugged in when not in use.
Many people choose to leave their microwave ovens plugged so that the digital clock doesn't stop – your digital clock won't draw much power, provided the microwave is off.
It is also a good idea to unplug all appliances and stay safe should power surge when you're away.
Q: How much weight can you put on top of a microwave?
Microwave ovens come in different sizes. The weight you can put on an individual microwave depends on its size.
Overall, it is safe to put things on top of your microwave, provided the object's weight won't interfere with the microwave's structural integrity.
Q: Is an extended warranty on a microwave worth it?
An extended warranty can protect you in the event your microwave breaks down unexpectedly. Given the problems with appliances, including the high-end ones, an extended warranty may be worth it.
Q: How can you stop the microwave oven from rusting?
The best way to alleviate and prevent rusting in your microwave oven is by cleaning it and wiping up any spill on a regular basis.
Q: How can you stop the microwave oven from smelling?
To eradicate the nasty smell coming from your microwave, remove any debris or loose burnt pieces, then mix 1 cup of water with 1 tablespoon of vinegar or lemon juice in a microwave-safe bowl.
Microwave the solution on high for 2-5 minutes and leave the door shut for 15 minutes.
The steam will loosen the smell-causing particles, and the vinegar will absorb any odors. Wipe the interior with a clean towel or sponge.
Q: How can you stop the microwave door from squeaking?
Squeaking comes from rubbing the door and the hinges and can be stopped by applying silicone grease lubricant spray.
Ventilating your oven will prevent moisture from building up. Use the vent fan, or leave the door open for a few minutes to accelerate moisture dissipation.
Q: Should a microwave door be left open or cracked open after use?
Leaving your microwave door open accelerates evaporation, which helps prevent rust and mold from building up.
Keep the door closed if there are potential hazards that may occur.
Q: Does a microwave oven require a stabilizer?
Your microwave oven requires a voltage stabilizer to reduce voltage should the incoming voltage be more than the normal value.
Q: Can you paint inside a microwave oven?
Yes, you can paint inside your microwave oven. Just make sure to use microwave-safe paint.
Q: Is it normal to feel air blowing out from the microwave?
It is completely normal to feel air coming out from the front bottom of your microwave oven. Ovens are designed to blow cool air to cool the magnetron.
Q: How can you stop the microwave oven from sliding on the countertop?
The best way to stop microwave ovens from sliding on the countertop is by using non-slip mats.