The sink is one of the kitchenware we never give much thought about until they break. They are an essential part of the household because they are part of a list of items a day hardly passes before you use them.
That's one of the reasons why you would only want to buy the best manufactured home kitchen sinks.
Ten Manufactured Home Kitchen Sink Shopping Factors
Whether you prefer ceramic or stainless steel, there still is a list of factors you need to bear in mind if you want to choose something that's worth your money. Here are the features to look for in a sink:
1. Straight sides
Sinks with straight sides give you extra space to put dishes.
However, your kitchen needs to have an expansive countertop to accommodate such a sink.
2. Flat bottom
Have you ever realized that sinks with curved bottoms seem smaller than flat-bottomed ones?
The latter actually lets you arrange more dishes and glasses without your delicate dishes falling over.
3. Tight corners
Very similar to having flat bottom sinks, tight corners give you more room to wash upright dishes.
Tight cornered sinks are starting to be common in mobile home supplies stores.
4. Rear drains
The plumbing in rear-drained sinks doesn't extend to the front, thus there is more room for storage and the sink's large bottom. You can add an extra cabinet down there to store your essentials.
5. Offset deck
The reason why you should check for this feature is that it permits a bigger bowl on one of its sides due to the fact that the faucet will be located on the opposite of the basin/bowl.
6. Ease of cleaning
How easy is it to clean the sink of your choice?
Some sinks come with antimicrobial finishes that can assist in keeping your kitchen germ free.
Elkay is sort of an authority in this segment of the sink market, thanks to their CuVerro® Antimicrobial Copper which is found in most of their products.
7. Durability
Some of the materials used to make sinks nowadays can handle impact and great temperatures fairly well without denting.
One of the commonly used materials in sinks made for durability is BLANCO Silgranit® (which is enhanced granite, basically).
It can comfortably handle temperatures as high as 536° F – sounds like a great sink to use for washing hot pans, doesn't it?
8. Sound deadening
It's a common annoyance – some sinks resonate with loud bangs from dispensers and dishes as they hit on the walls during washing.
However, some are made from materials that readily absorb these sounds. Most stainless-steel sinks nowadays come with deadening pads on their sides. Remember to check for them before buying them.
9. Undermount
The sink should support the no-ridge approach of installation i.e. there should be no crevice left between the edge of the sink and counter – the edge of the counter should fall over the sink (with the edge of the sink under it).
This leaves no crevices for the accumulation of food particles and debris.
10. Aesthetics
They say kitchen sinks are the "bow-tie" or focal point of your kitchen. If you select a stylish and better-looking sink, the rest of your kitchen may look better.
Related: Should The Kitchen Sink Be Centered Under The Kitchen Window?
Single Bowl Sinks or Double Bowl Sinks?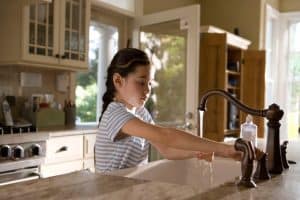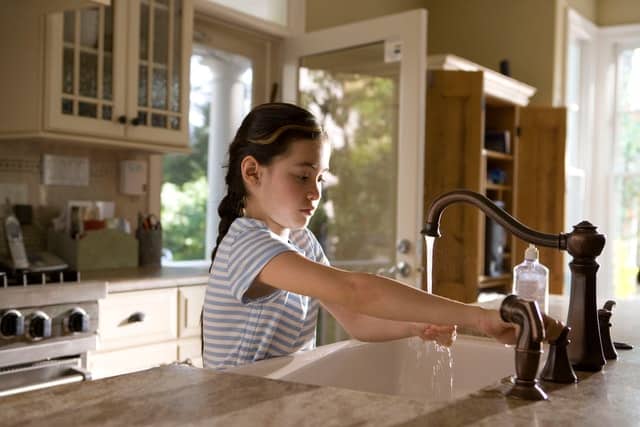 Double-bowl sinks are more common in modern homes than single-bowl sinks.
Double
A double-bowl sink unit is divided into two sides – each side has its own drain.
In terms of practicality, this is the best type of sink for hand washing your dishes – you will fill one bowl with rinsing water and the other with soapy water (by the way – NEVER WASH DISHES HERE).
Most of the manufactured homes sold today come with standardized 9″ – 12″ (depth) double-bowl stainless steel sinks.
There exists a variant of double-bowl sinks with one large bowl and a small bowl. This variant is just as practical as its equal-bowl alternative – you use the large bowl for soaking and the small one for rinsing.
Single
Lastly, there is the single-bowl that comes with just one basin.
They are often referred to as "farmhouse style sinks."
Because they come with just one bowl, they tend to be larger than their double-bowl counterparts.
If you don't have a dishwasher already installed in your home, there is no point in going for this type of sink. But for a family with a functional dishwasher, this type of sink can be the best baby bathtub.
What Is the Ideal Sink Size?
It can depend on the size of your kitchen and an array of other factors.
However, if you glean through the sinks offered by most of the manufactured home supply stores, you'll realize that most options are hardly larger than 33" x 19" x 6".
Of course, you can compromise a bit, either upward or downward, depending on the amount of space available in your kitchen.
4 Sink Types For Manufactured Homes
Any type of sink is great for a manufactured home, all you need to do is select a choice of the right size.
As aforementioned, anything in the region of 33" x 19" x 6" would do.
However, you need to understand several types of sinks and the benefits as well as drawbacks of each type.
There are about 4 main types of sinks out there:
1. Apron Front/Farmhouse sinks
These sinks come with one deep bowl that requires you to make modifications to the base cabinet so that it can accommodate the sink's broader section.
The cabinet's front face will end up shorter than the cabinet to free up enough space for the deep bottom of the sink.
Some designs of these sinks entail one large bowl divided into two but serviced with one faucet.
The defining factor, however, is the extensive cabinet modification you will need to do to accommodate the big sized bowl.
With their classic style, farmhouse/apron front sinks will definitely be the centerpiece of your kitchen. They are also easy to install and are perfect for washing large pans and pots
Cost
The cost of acquiring a farmhouse sink can vary widely depending on the material construction.
A low-end option can cost $400, on average.
High-performance materials like Fireclay can cost you upwards of $800.
But that's just the acquisition cost. According to ImproveNet, the installation cost is in the region of $395. Most homeowners spend between $248 – $386.
Materials
There are many material options to choose from – it all depends on your individual taste.
These are some of the commonly used materials:
Fireclay White Apron Front/Farmhouse Sink
Copper Apron Front/Farmhouse Sink
Stainless Steel Apron Front/Farmhouse Sink
Black Slate Apron Front/Farmhouse Sink
Granite Apron Front/Farmhouse Sink
Pros
The first benefit is that they are popular more than any other type of sink – being popular means they are available in many different finishes, materials, and many other choices.
They are deep and spacious enough to swallow many dishes and cups. They also carry an ergonomic benefit because the front part is devoid of a countertop.
Cons
If you compare them to Undermount and drop-in sinks, they are costly. They can be significantly heavy, especially if you choose the Fireclay version.
Here are a few cool Farmhouse sinks best for your mobile home:
The large bowl is divided into two, one small part and one large part but all are under the faucet like a classic farmhouse sink.
Its robust construction – industry standard 18-Gauge thickness and 304-grade stainless-steel are all you want to see in a long-lasting farmhouse sink.
This is one of the cheapest organic fine Fireclay farmhouse sinks you could get. It resists chipping, scratching, and discoloration well.
If you are looking for cast iron Farmhouse sink, you might want to consider this option – it is made KOHLER enameled cast-iron. The best part is that you can use it with garbage disposal.
2. Drop-in Sinks
Another popular type of kitchen sinks that simply drops into position from above your countertop hence the name "Drop-in".
Once it has dropped in place, all you need to do is to secure the screws and clips and it will be ready to wash the dishes.
A distinctive feature found in all Drop-in Sinks is the lip which rests on your countertop to support the rest of the fixture.
Cost
Figures from KompareIt show that the cost of acquiring a Drop-in sink is between $150 to $300 although it depends on the type of material of your choice.
Homeadvisor estimates the installation cost to be $385 including labor costs. Most homeowners pay between $212 – $561.
From the low-end options to high-end options, the cost could soar to between $100 – $1,100 or more.
Pros
Drop-in sinks are easy to install. They are also a versatile low-cost option especially if you are looking for a sink option that can work on any countertop material.
Cons
You will need a heavy countertop for your Drop-in sink to work perfectly because it needs to carry its weight as well as that of the sink. The lip will take a significant portion of the cleaning counterpart.
Here are a few Drop-in sinks worth buying for your mobile home's kitchen:
This sink comes with three faucet holes and can blend flawlessly with a wide range of kitchen styles. The two bowls are equal. It comes with SilentShield sound absorption technology to cut on the noise of clanking dishes.
This solid color Drop-in sink comes with a matte finish. It is actually from KOHLER neoroc composite capable of withstanding the level of impact you would expect in pans and ceramics.
With a durable commercial-grade 22-Gauge stainless-steel construction, straight sidewalls that give it a flat wall, and sound deadening pads to minimize vibration and sound, this is one of the best Drop-in sinks you could choose.
3. Undermount sinks
These sinks are the opposite of Drop-in sinks. Instead of dropping them into position, you will raise them into position from underneath.
Another big difference is the fact that doesn't come with lips as it's the case with Drop-in sinks.
Undermount sinks are almost always used with matching solid surface countertops.
Cost
The price tag on most Undermount sinks begins at about $75 and can go as high as $1,000.
Like any other type of sinks, the cost of Undermount sinks is heavily dependent on the quality and material of construction.
However, a big part of them is priced between $200 and $500.
Installation costs can quickly add up to between $100 and $200.
Pros
They lack lips, meaning you have an easy time cleaning them as food scraps are wiped directly into the sink.
The streamlined design found in these sinks lets you show off more sections of your countertop and even gain valuable counter space. Lack of a slip makes them look sleek.
Cons
Undermount sinks lack the versatility you would like on a sink as they don't fit on all types of countertops.
Here are a few Undermount sinks great for a mobile home:
The best thing about this sink, and one that arrests your attention almost instantly, is the non-porous glossy surface. The porcelain enamel that makes the bowl was double baked at 1500F.
The premium-grade T304 stainless steel used to make this sink is dent-resistant and durable. The Extra-Thick TRU16 real 15-Gauges constructions guarantee superb rigidity.
4. Bar sink
This type of sinks is smaller than traditional sinks found in the kitchen. Bar sinks are often installed in the home's drink preparation area.
They are mainly single-bowl fixtures and adds functionality to any entertainment-oriented space in your home. Besides serving in your home bar, you can also install them to a prep station or as a secondary kitchen sink.
Note that Bar sinks can take the style of any other type of sink – they can be Drop-in, Undermount, etc. – their only distinguishing feature is the much-reduced capacity
Cost
The national average cost of a bank sink is $400 but it depends on the material of construction.
The average range is between $200 and $1,000.
The minimum cost you can pay for a Bar sink is $100 but they can go as high as $3,000.
Pros
The specialized nature of Bar sinks reduces the number of choices you need to make in acquiring one. They don't come in many different designs and sizes like other types of sinks.
Cons
They are often too small for use away from the drink preparation area.
Here are a few cool examples of Bar Sinks worth considering:
This small and convenient sink is simple enough to complement other sinks in the kitchen island as well as your drinks preparation area. It is made from acrylic, top-mounted, and comes with a single faucet hole.
This simplistic sink is ADA compliant and comes with sound deadening pads to keep noise production to a minimum.
4 Sink Materials
Consider your needs as well as how you will be using your sink to choose the right material for the job.
Will you be using abrasive cleaners?
Does your choice of sink need to resist scratches?
Here are some of the commonly used materials in kitchen sinks:
1. Stainless-steel
The most often used material in sink construction. Stainless steel is resistant to corrosion. The higher the gauge the sink has, the thinner the stainless-steel material.
2. Copper
Some enhanced copper finishes come with antimicrobial properties. Copper looks nice and offers impressive resistance to corrosion
3. Granite
These sinks are made by blending acrylic and granite on a resin base. They are scratch-resistant, silent, and durable.
Related: Can You Use the Kitchen Sink While the Dishwasher Is Running?
4. Cast iron
Sinks made from cast iron are often coated with porcelain for protection purposes. They are heavy but silent and durable.
Conclusion
A more modern, long-lasting, and quality sink is one of the most valuable investments you can make for your kitchen. Manufactured home kitchen sinks occupy an important part of the food preparation chain.
Your choices will be mainly limited to stainless steel, granite, cast iron, and copper-based sinks although there are plenty of other materials of construction.
Most of the sinks you will find in the store falls into four categories: Drop-in, Undermount, Bar, and Farmhouse style.