After enjoying a delicious meal with your family, doing the dishes is the last thing you want to do.
Research indicate that over the previous 30 years, 80% of Americans were washing their dishes & utensils manually.
But in 2005, the percentage of those using dishwashers in the US rose to 74% based on other studies.
Related: Can You Wash Dishes In The Bathroom?
Manufactured home dishwashers are a valuable addition to any kitchen.
They are also a long-term investment and before buying one you have considered factors such as size, price, efficiency and functionality.
When choosing a manufactured home dishwasher, you can go for a permanent or portable unit that will sit on or underneath the kitchen countertop. Make sure to know the exact measurements of the available space before doing any shopping.
The Five Types Of Mobile Home Dishwashers
Dishwashers have become a critical household addition to a kitchen, as important as refrigerators.
They're convenient, highly efficient, and can fit a majority of homes.
They're also available in a different format with regards to sizes and colors.
The five types of mobile home dishwashers are 
portable
countertop
built in
drawer
slimline
1. Portable Dishwasher
A portable dishwasher is one which comes with wheels/ rollers. They are ideal for those who live in a rented place.
It's also best for those who don't want to remodel their kitchen as it requires no installation.
Therefore, unlike the in-built types, you won't have to fix a portable dishwasher to your kitchen cabinet, and you can also remove it when you need it.
Besides, you can use the portable dishwashers as extra cabinets for storing your dishes or use their top layer as a countertop.
Finally, if you feel they're a good investment, then you can convert some of them to in-built kitchen dishwashers which you can them fit to your kitchen cabinet.
One of the best portable dishwasher in the market is GE® 24″ Stainless Steel Interior Portable Dishwasher with Sanitize Cycle that can be bought at GE Applicances for for $759 (at the time of this writing – subject to change).
2. Countertop Dishwasher
Countertop dishwashers are usually small and appear on your countertop like a small microwave oven.
They're tinier than the portable types and are ideal for couples who rarely cook or who have small families.
They're cheaper than full-size dishwashers and are economical in both energy and water costs.
;
But if you have some kids or many dishes to wash, then I'll recommend a full-size dishwasher at a bit higher price. Danby DDW631SDB is one of the best countertop dishwashers in the market.
It costs $379 (at the time of this writing – subject to change) and can be purchased from Appliances Connections.
3. Built-in Dishwasher
The standard built-in manufactured home dishwasher is typically 24 inches wide and is usually fitted to your countertop.
All the plumbing and power connections are invisible, and there are more silent than dishwashers that are not in-built.
Some of the built-in dishwashers are also designed to blend with the theme of your kitchen.
The Frigidaire – 24″ Tall Tub Built-In Dishwasher is one of the best in-built dishwashers in the market; you can buy it from BestBuy and it costs $420 (at the time of this writing – subject to change).


4. Drawer Dishwasher
Drawer dishwashers are quite different from the other types of dishwashers based on its unique design.
You will have to load the drawer dishwasher from the top going bottom just like a drawer.
It comes with two drawers with one for the dishwasher.
The benefit of drawer dishwasher is you can load the drawer depending on your needs and washing requirements.

Besides, you can run two different washing cycles at the same time, separating the different types of dishes.
The Fisher Paykel DD24DCTX9 24″ Tall Double Drawer DishDrawer Dishwasher is our top drawer dishwasher choice and goes for $1199 (at the time of this writing – subject to change) on Amazon.
5. Slimline Dishwasher
The Slimline is available in in-built and portable versions.
They are usually 18-inch wide and is ideal for those who have limited spaces in their kitchen. The Miele G 4722 SC Is a versatile seamline dishwasher in the marketplace. It Goes for $1078 (at the time of this writing – subject to change) on John Lewis.
Related: Can The Washing Machine And Dishwasher Be Operated Simultaneously?
The Two Possible Manufactured Home Dishwasher Size Types
1. Standard Sizes
The industry has many standard size dishwashers for general uses. But unlike some appliances like stoves and refrigerators, they are available in one main size category.
Most dishwashers are 24-inch wide, 24-inch deep and 35-inch high.
The majority also come with adjustable height legs which enables them to fit different types of kitchen countertops and cabinets.
However, measure the length, width and height of your open space before choosing one to ensure it's a perfect fit.
2. Custom Sizes
Besides the standard sizes, you can also order a larger dishwasher such as the 30 inch or 42 inch extra-wide versions and fit them to your cabinets.
But if you have a tiny living space like in manufactured homes, then the compact 18-inches or 22-inch countertop dishwashers will do.
Portable dishwashers are usually 18-inches wide, 24-inches deep and 36-inches high.
You can also try other options like the under-sink, in-sink and some single-drawer designs with different dimensions based on your needs.
Related: Can You Run the Dishwasher and Garbage Disposal at The Same Time?
Portable vs Countertop Dishwashers
Portable and countertop dishwashers are two different things.
Though both connect to a sink faucet temporarily, the portable dishwasher comes with rollers while the countertop dishwasher rests on a countertop.
Because of the wheels, you can roll the portable one to a corner when you're not using it.
The other difference between a countertop and portable dishwasher is the number of dishes you can wash using each.
While countertop and portable types washes a few dishes at a time, a portable dishwasher can wash pots and pans which is not possible with the countertop type.
Another quality that differentiates the two dishwashers is water usage.
Portable dishwashers use around 11 liters of water while countertop dishwasher uses about 7.5 liters of water.
Hand washing, on the other hand, can take more than 100 liters of water and is, therefore, the largest consumer.
But even though the countertop model uses less water than the portable one, it washes only four place settings which makes the portable dishwasher the best choice.
Additionally, if you don't have space for storing the portable dishwasher after use, then go for the countertop one.
But countertop dishwashers are unideal for people with little counter space. They're also not worth is is the countertop model will be positioned  far away from the sink as the dishwasher requires enough water to work.
Portable dishwasher considerations
If you decide to buy a portable dishwasher, then you'll have to make some considerations, especially the settings. Most portable models have the same features as built-in types.
The most important factor is size even if it's portable as you will know whether it fits the available space in your kitchen.
Also, ensure the dishwasher is silent so that you won't have to keep up with loud noises while in your kitchen.
With considerations to sound, check the noise level of the unit. Those with lower decibel ratings are way better especially those of 55 dBA.
Countertop Dishwasher Considerations
Countertop dishwashers come with many features, but like the portable type, the top consideration is size. This is very important if you plan to move it to different counters and you will have to go for a lighter model.
In addition to the weight, you should also consider the space.
Size in countertop dishwashers is directly related to the number of place settings you'll be able to wash simultaneously. Most of the units range from 4-place setting to a 6-place setting capacity.
Besides, your manufactured home kitchen will also need a source of water. And countertop and portable dishwashers come with a hose which is temporarily attached to your kitchen sink on the faucet. For it to work, the faucet must be threaded.
Finally, when you are choosing a dishwasher for your manufactured home, consider the size, noise level, water source and where you'll install it.

Additional Manufactured Home Dishwasher Shopping Considerations
1. Price
Most consumers view price as the most vital factor when purchasing a dishwasher while some regard it as a non-issue.
So before you make a decision, check whether you have a budget and if the item falls within that range.
But also make a budget that is less restrictive so that you won't have limited options on the getting the performance and other extra features you will need in a dishwasher.
Most efficient dishwashers go for $600 and above.
But you can also go for cheaper models, especially those which costs under $300.
However, the problem with most of these dishwashers is they don't have water heaters and in-built sensors and are therefore less handy.
2. Performance
If you are not concerned with the upfront cost, then the performance will likely be your primary interest.
Other than the features like cleaning power, drying cycle and speed also plays a pivotal role in the performance of the dishwasher.
The high-performance dishwasher usually includes extra features like Delicates and Eco-wash cycles that can be valuable additions as well.
However, some performance features are less critical but generally you'll have to get something that suits your needs. Don't be tempted to buy expensive machines with features you may not need.
On the other hand, don't buy cheaper units that do include basic items like sanitation cycles, third racks or even bottle washing jets.
3. Design
Most manufactured homeowners value the essence of value, and so, they will look for units that blend with their interior décor and furniture.
The good news is you can get a variety of dishwashers in the market that'll suit your kitchen décor and furniture.
Stainless steel designs are usually the best choice, but they're quite expensive.
Besides, some units like LG's Black Diamond require you to buy an entire kitchen full suite which will mean a higher price in the end.
You can find quality home dishwashers from top brands like Samsung and Electrolux that are below $800. And if they're worth the price and have many handy features to make your kitchen operations easier.
Related: Is It Worth Having A Dishwasher In A Single Person Household?
Five Additional Manufactured Home Dishwasher Recommendations
The SPT Counter Top Dishwasher is available in white color, elegant design and is economical for medium to large families.
It was designed to save energy when cleaning your dishes and is also energy star certified.
One of the top features of this dishwasher is low space requirements as well as a minimalistic design. It is also ideal for most cabinets and countertops.
Besides, if your kitchen has a contemporary look, then you will love this sleek dishwasher as it will make your kitchen more beautiful than other designs.
Moreover, it has up to 6 wash cycles, and you only need to choose the mode you want to use to clean your dishes effectively. The interior is also made from high-quality and durable stainless steel.
In case you require a heavy-duty dishwasher that will get your cleaning tasks to handle faster, then go for this dishwasher type.
It comes with up to 3 racks enabling it to accommodate many dishes at a single washing cycle. It also comes with 16-place settings and five wash cycles.
This is one of the reasons why this Bosch model is more popular and loved among many.
It's also very silent unlike most manufactured home dishwashers, and there is a small red light indicator button that notified you when it's in use.
And don't worry because it does a good job making your dishes spotless after each washing.
The top rack can accommodate cutleries and other utensils well. And besides, it's also quite cheaper, making it a budget dishwasher as well.
The third product in our review is the Danby DDW621WDB Countertop dishwasher. From its name, it's a countertop type of dishwasher, and you need to install it under your kitchen's cabinet.
This dishwasher is energy-start certified and connects seamlessly to any kitchen tap.
It is also economical as uses a little amount of water. It also comes with a detergent and agent dispenser to enable you to clean your dishes without any hassle.
This dishwasher supports up to 6 washing cycles and has electric controls such as a LED light that notifies you whether it's in operation or not.
Also, it has 6-place settings making it large enough to accommodate a large cutlery closet. Finally, it is made of durable stainless steel and is decently priced.
This product comes in white color and has 3-wash cycles and up to 4 options.
It also features an in-built auto-soil sensor that detects if there is any soil in the dishes and alerts you. Just try the one-wash feature if you want to clean your dishes faster, and in less than an hour, your dishes will be spotlessly clean.
Another feature worth mentioning from this dishwasher is the quiet operation.
Therefore, if you want to watch TV while your dishes are in this dishwasher, then you can do it without any noise interruption.
Besides, it also comes with 12 place settings that give you maximum functionali
The EdgeStar Energy Star dishwasher can be easily integrated with your kitchen cabinet.
This device is energy-star rated, meaning it uses less energy and you won't have to worry therefore of large electric bills at the end of the month. Besides, it has an 8-place setting capacity and supports up to 6 wash cycles.
Some Dishwasher Installation Instructions – 5 Steps
Installing a dishwasher to your manufactured home may seem a daunting task at first, but if you adhere to the setup instructions, then set up will be easier.
Besides, you can DIY the task, and you don't have to call a professional as it will mean additional costs. Finally, it will serve your home for many years to come.
1. Attach the Drain Line
Remove the dishwasher from its packaging then lay it facing down to make the back visible.
Ensure all the required connections are present then remove the cap from the drain line connection in your manufactured home dishwasher.
Now, attach the drain line to the dishwasher. Thread the drain line.
Now with some pliers, crinkle the clamp near the hose to secure it then thread the drain line back to the hole located under the sink.
2. Put the Dishwasher Under the Countertop
Slide the dishwasher to under the countertop then level the countertop by adjusting the height of the legs using a wrench. Use screws to secure the dishwasher to a countertop.
3. Re-Attach the Wires
Before you try this step, ensure the power at the breaker is off. Re-attach wires of the same color, then screw some wire nuts and wrap them with electrical tape. Now, position the copper ground wire under the green-round screw and tighten them.
4. Attach the Supply Line and the 'Dishwasher 90'
Next, attach the dishwasher 90 to the dishwasher supply line and tighten them using a wrench. Usually, dishwasher 90 is not included in your new dishwashers and therefore, you have to purchase them differently from a local home improvement store.
5. Turn on the Water and Power
Turn the water found under the sink back on then attach the drain line and the plumbing system. Finally, tighten the clamp near the house and turn back on the power using the switch at the breaker.
In Closing
If you're looking for the best dishwasher for your home, then you'll love to hear that there is a wide array of options you have.
From the countertop to portable dishwashers and other options, they are also available in many colors and sizes.
Choose the manufactured home dishwasher you prefer today and enjoy having cleaner dishes without any hassles.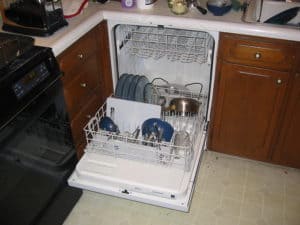 Frequently Asked Questions
Q: Can a dishwasher catch fire?
Although it seldom happens, a dishwasher can catch fire due to electrical problems, poor maintenance, improper usage, or faulty components.
Since moisture contacting wires is the primary cause of dishwasher fires, it is ideal to regularly check your washing machine to ensure that internal components do not leak.
Q: Can a dishwasher electrocute you?
Yes, a dishwasher can give you a nasty shock.
If a dishwasher electrocutes you, it could be due to an earthing fault, faulty capacitor, or suppressor.
You should immediately switch off the power socket and call in a skilled technician to address the issue.
Q: Can a dishwasher emit carbon monoxide?
Basically, washing machines do not emit any carbon monoxide or carbon dioxide; therefore, if you get any smoky smell when using your dishwasher, check if wiring or circuit boards are burning out.
Q: Is it better to hardwire or plugin a dishwasher?
A dishwasher is a larger in-home appliance; therefore, it is better when hardwired.
However, whether to hardwire or connect your dishwasher to electric plugs will depend on your preferences.
Q: Is it safe to buy a used dishwasher?
Buying a used dishwasher is not recommended because of their shorter life expectancy – 10 years.
The safest bet is to buy a brand new dishwasher, but if you must buy a used model, try to find the newest from a common brand whose parts might be easy to get at a lower price.
Q: Is it harmful to run a dishwasher without water?
Yes. Running your dishwasher without water will likely damage its parts like the heating element and pump to motor seal; if left running for longer, you might be forced to buy a new one.
Q: Is it ok to open a dishwasher while it's running?
There is no harm to open a dishwasher while it is running.
Although dishwashers have a lever that will run only when closed, opening the door while the washing machine is running is very safe and will not affect the cycle or the dishwasher.
Q: Is it ok to transport a dishwasher on its side?
Although most manufacturers say that you transport a dishwasher upright or laid on its back, it is ok to transport it on its side.
However, it may leak a bit; therefore, stuff a rag into the end of the drain hose or use floor protection.
Q: Can the dishwasher affect wifi?
Dishwashers and other electronic devices like TV and refrigerators can interfere with the WiFi strength, but their impact is minimal.
Wireless technology advancements have reduced the effect significantly.
Q: Can the dishwasher air gap be under the sink?
There is no approved air gap that can be entirely installed below the sink level.
Basically, a dishwasher air gap must extend above the countertop and drain into a sink.
Q: Which states require dishwasher air gaps?
Although a high loop is the minimum requirement in many areas, some states require dishwasher air gaps. Dishwasher air gaps are required by code in California, Washington, Texas, Nevada, Minnesota, and Hawaii.
Q: Can the dishwasher be next to the stove? Refrigerator?
A dishwasher can be installed next to a range (stove) or refrigerator provided you meet the air clearance requirements.
Basically, you will need at least 2 inches of clearance between the appliances to facilitate heat dissipation.
For a wall oven installed under the counter, you need at least 24 inches clearance or invest in insulation boards.
Q: Can the dishwasher be painted?
You can paint your dishwasher to sync with the rest of your appliances or your kitchen design.
Painting is an inexpensive way to upgrade our dishwasher, but make sure to use enamel or epoxy paint.
Q: Can a dishwasher get clogged?
Dishwashers get clogged.
However, dishwasher clogs differ significantly from typical clogs and might be realized when it is too late because it is difficult to see them when developing.
Q: Can dishwashers heat their own water?
Yes, dishwashers have a heating element that heats cold water up to around 130 to 140 degrees Fahrenheit.
However, many people prefer connecting their dishwashers to a hot water supply because it is energy efficient and inexpensive.
Q: Can a dishwasher have its own drain?
There is no reason you can't have a separate drain for your dishwasher. Ensure to connect into vents and put a trap in the line.
Q: Can an integrated dishwasher be freestanding?
At no instance you should use an integrated (built-in) dishwasher as freestanding.
Freestanding dishwashers have special hoses, cabinet, power cord, and wheel, which integrated counterparts do not have.
Q: Can dishwasher racks be replaced? Be recoated?
Dishwasher racks can be repaired/recoated.
To rerack, all you need is a bottle of vinyl paint that glues the broken tines. New racks cost about $80.
Q: Can an unlevel dishwasher leak?
An uneven dishwasher can leak. Leaks can be minor or severe.
Q: Are dishwasher cleaners necessary?
Dishwasher cleaners are very important if you are using a dishwasher.
Cleaning your dishwasher is as essential as washing your dishes.
Q: Are dishwasher heights adjustable?
All dishwashers are fitted with adjustable legs. The height adjustments allow you to level the machine.
Q: Should dishwasher be on its own circuit?
A dishwasher should have its own circuit because of it its power need. Usually, it should be installed in a dedicated 120/125V, 15-ampere circuit.
Q: Should the dishwasher drain into garbage disposal?
Dishwashers do not necessarily need to drain into a garbage disposal. Instead, you can bypass with special piping attachments and include an air gap as required by code.
Q: Should the dishwasher be on the right or left of the sink?
You can place your dishwasher either to the left or right of the sink.
Regardless of the side you opt to install your dishwasher, it is advisable you put it next to the sink.
Q: Should the dishwasher outlet be GFCI?
Circuits serving dishwashers do not need GFCI protection. However, AFCI protection may be required.
Q: Is it bad to have rust in your dishwasher?
Having rust in the dishwasher can be very dangerous.
Rust can come off the metal and clog the machine components and cause the unit to stop working.
Q: How can you tell if the dishwasher motor is bad?
A dishwasher motor will whine if it is faulty. The dishwasher can also produce nasty noise.