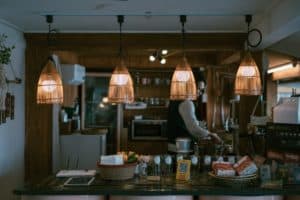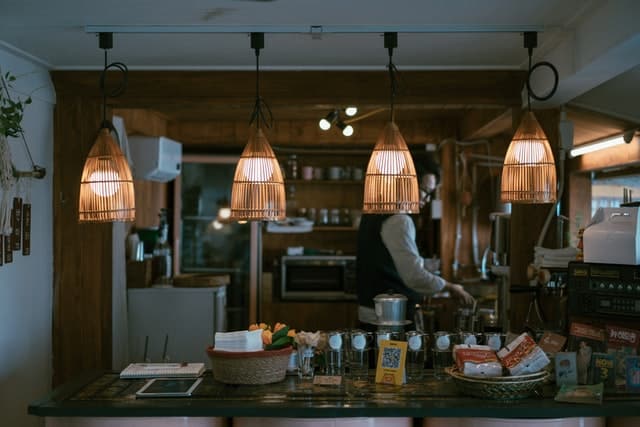 Kitchen lighting is normally an afterthought for most homeowners. There is a lot you can get caught up in during  a renovation project:
However, kitchen lighting is equally important. There are a few elements of the kitchen that may have an influence on the kind of lighting fixture you choose.
If you are going to adopt the open space concept or center your kitchen around entertainment, lighting is important. Such a kitchen will call for warm and inviting lights that match the existing event, food, and drinks.
If you want all the attractive features of the kitchen to be highlighted, you will need to choose your lights carefully. Lights in an open concept kitchen normally command their focal points rather than being utilitarian components
Above everything, you want the kitchen to be one of the safest places in your home. Remember it is a place you'll be using sharp knives and potentially dangerous utensils and tools.
Add to activities like boiling and frying and it becomes apparent that this part of your home can be dangerous if not lit properly.
At this point, you might even consider under the cabinet lights.
The 3 Categories Of Manufactured Home Kitchen Light Fixtures
As such, kitchen lighting fixtures can be split into three broad categories:
Task lighting
Ambient lighting
Accent lighting
1. Task lighting
Task lighting, as the name suggests, is positioned in "task" areas where ample light is required to properly see what you are doing.
The color and strength of these lights are very important.
Choose the wrong color or very bright lights and the resultant glare will take a toll on your eyes. A dimly lit working area isn't the best route to take either.
Just so you understand how task lighting are, picture cooking raw meat in a badly lit cooking area and being unable to determine whether it's thoroughly cooked.
2. Ambient lighting
If your kitchen doubles as a dining room, ambient lighting is the right way to go.
Having a dimmer switch at the main light source will allow you to control the mood in the kitchen, whether you are having a romantic meal together or having a few friends over a sumptuous dinner.
Pendant lights are the best if the kitchen is equipped with a kitchen island.
Few lighting fixtures bring the style and height fashion as pendant lights do. They are a good example of how you can use your lighting fixtures as the focus of the entire kitchen – more than a simple necessity.
Related: How To Choose Dining Room Lighting Fixtures
3. Accent lighting
Accent fixtures are used to highlight the most outstanding features of your kitchen. Hanging one or two of them over the breakfast bar or adding strip lighting in your cabinets can bring style to the kitchen.
Modern kitchens feature accent lights in windowed display cabinets more than anywhere else.
Let's say you have a few pricey china or glasses in your cabinet, you can spotlight them in a windowed display cabinet with accent lighting.
If your electricity bills have been bloated recently, or you just don't like wasting electricity, you can turn off the main lights in the kitchen in the evening and rely on accent lights for basic cooking.
Ambient and accent lights are normally enough to guide your pathway to the coffee machine for late-night brewing.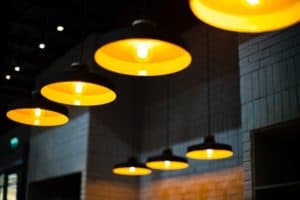 Five Factors to Consider When Buying Lighting Fixtures for Your Kitchen
If you want to choose the best lighting fixtures, bear in mind these factors:
Type and style
Flexibility
Size of the kitchen
Wattage
Brightness and Color
1. Type and Style
If you are looking for a smart way of lighting your kitchen, you first need to be specific with the type of light that will meet your lighting needs.
Your choices might be limited to just size proven kitchen lighting ideas:
Hanging lights
Indirect lighting
Pendant lights
Lights for not cooking
Hanging Lights
The kitchen and the dining room are probably the only places in any household where you are allowed to hang your lights way too low than what's reasonable.
Low hanging lighting fixtures with hues and moderate brightness are the best way of lighting your kitchen island or adjacent dining space.
Consider Edison-style LEDs which also come with a vintage look.
Alternatively, you can opt for more modern suspension lighting fixtures with a minimalistic design, like some members of the Philips' Hue family of lighting fixtures.
It is recommended that you keep at least 30 – 35 inches' distance between the tip of the fixture and the table or level of your countertop.
Indirect Lighting
If you don't want to use dimmable lighting fixtures, indirect lighting can be a better alternative.
Indirect lighting can be cabinet lights or fixtures hidden away from view, but still powerful enough to illuminate the cooking area.
You can also opt for portable motion sensors that let you walk in and out of the kitchen without switching on the lights.
Check out Philips Hue motion sensors.
Task Lighting
The area above your kitchen sink requires a special type of lights, preferably recessed, to help you to see what you are preparing.
If you installed your kitchen cabinets above the sink, you should install a Philip Hue smart LED light strip beneath the cabinets to produce evenly distributed task light down the sink.
Pendant lights
Pendants, or suspension lights, are the best type of lighting for any kitchen because they hang at a reasonable height from the center of the ceiling.
If you want to make your kitchen island to be the main food preparation area, pendant lights would be the best task lights or the job.
You can pair them with a dimmer switch so that you can have total control on brightness and setting your favorite mood.
See a collection of Philips suspension and pendant lights  that comes complete with a dimmer switch.
2. Flexibility – Are They Dimmable?
By flexibility we mean the lighting fixture should support a range of lighting needs. How?
The lights don't need to change colors or temperature to be flexible.
The secret lies in whether they can dim to alter the kitchen's character. Some typically looking lighting fixtures can support dimming when linked and controlled by a dimmer system with a dimmer switch.
Another less sung yet plausible benefit of dimmable lights is their ability to cut your energy consumption. They also allow you to set the right mood for your kitchen.
Most lighting fixtures will flawlessly work with usual dimmer switches, including incandescent and halogen lamps.
Start by determining whether your lighting fixture uses low or line voltage.
If you install rail and line-voltage track lights, you can easily use dimmer switches to adjust their brightness.
Just remember to also use a line-voltage dimmer.
Line switches don't work with lower voltage lighting fixtures.
If you are thinking LED lights for your kitchen and still want them to dim, you will need to accompany them with their special electronic dimmers. They don't dim properly using standard dimmer switches.
Example of Cabinet dimmable LEDs that can also serve as overhead lighting fixtures:
3. Size of The Kitchen
What is the size of your kitchen?
Some lighting fixtures work well with certain sizes of kitchens. For instance, if you fancy chandeliers, it would be disastrous to install a 25" chandelier in the middle of the ceiling of a 100 sq. ft. kitchen.
The average kitchen size in an average manufactured home is 151 sq. ft.
A typical Single Wide is about 71 ft. W x 15ft. W, with a total area of 1,080 sq. ft.
A kitchen the size of 103 sq. ft. is common in smaller manufactured homes, so the minimum the maximum size of a chandelier they can work with is 20".
The same applies to every other type of lighting fixture – the size of the fixture should be in line with the size of the kitchen.
Things to consider as far as size is concerned:
How high or low is your ceiling? The standard ceiling height in most manufactured homes is 8 feet. It can be higher or a bit shorter in some homes. If your ceiling feels higher, you might want to install larger lighting fixtures and vice versa.
What's the area (width x length) of the kitchen? The wider the space, the more lighting fixtures you will need to provide ample lighting
Is the cooking area far off from the central lighting that it requires its own task lighting?
4. Wattage – How Energy-Efficient Are The Fixtures?
What is the maximum wattage can your kitchen lighting fixtures use?
Fixtures are approved for application with specific wattage limits – 60, 100, 150, or higher.
How To Choose
Think about the amount of light the fixture will give at the indicated wattage limit. There is always a risk of fire or damage if you choose to use bulbs above the recommended wattage limit.
In this time and age where energy-efficient bulbs are the indicator of how committed you are to cut your carbon footprint, the wattage of a bulb is a major factor to consider.
The lower the wattage value the lighting fixture has, the more energy-efficient it is.
Remember, the wattage of a light fixture is the total amount of energy it will take to produce a given amount of light.
The higher the wattage the brighter the light fixture should be, but it also means more power will be used to produce the light however bright it may be.
If the fixture takes too much energy to produce averagely bright light, it easily qualifies as energy-inefficient.
Incandescent lights
Incandescent bulbs with a lumen range of 500 to 600 take 55-watts to produce the maximum bright light possible.
The closest fluorescent lights take just 10-Watts to produce a similar amount of light.
LED lights
LED lighting fixtures are the most energy-efficient bulbs.
If cost saving is your priority, make sure that your lighting fixture can support LED lights (even some of the simplest Chandeliers you could find in the store today can use LEDs and CFL bulbs).
CFL bulbs are the least you can go.
Note that if you had a 60-watt incandescent bulb in your kitchen, a CFL bulb would consume 15 Watts to produce the same brightness while a LED bulb would consume just 12 watts to produce the same light.
In percentages, it means a halogen bulb will consume about 25 percent less energy, CFL about 75 percent less, and LED about 80 percent less.
Therefore, whether you prefer pendant fixtures, chandeliers, flush mount lighting, or semi-flush mounting fixtures, consider the type of bulbs they can support and the energy-efficiency of those bulbs.
Lifespan
Some lighting fixtures can be really disappointing when it comes to durability.
When you start observing prolonged flickers or unexplainable dimming, that's the moment you may suspect the fixture's lifespan is over.
Few things are annoying like a bulb starting to behave this way late in the evening when you're in the middle of dinner preparation.
If you don't have a handy spare bulb somewhere in the cabinet, you will have to put with it or find a portable source of lighting.
Another thing is the frequency you have to keep replacing the lights. Three years sounds long. Once in two years sounds reasonable. But anything below one year would be preposterous.
Incandescent lights generally come with the shortest lifespan.
The average incandescent bulb lifespan is between 750 – 2,000 hours. If you consider the fact that a calendar year has about 8,700 hours, it means incandescent bulbs will need to be replaced in less than a year even with moderate or extreme use.
How to Choose Long Lasting Lighting Fixtures:
Choose LED technology
The lifespan of LED lights is in the region of 15,000 hours. LEDs are the best type of light bulbs around.
As long as you the temperature in your kitchen remains within acceptable limits – between 18 to 20°C – LEDs can last even longer.
High temperatures have been found to reduce the lifespan LED lighting fixtures.
Consider the environment
Lighting fixtures are normally designed to withstand the stresses of their intended operating environments.
Lights not designed to withstand vibrations, for instance, may end up with a lower lifespan when installed in an industrial plant. The same applies to kitchen lights.
Your kitchen produces a considerable amount of moisture, steam, and smoke. The amount of the elements spreading into the rest of your kitchen can depend on the effectiveness of your range hood.
For this reason, it won't hurt to take time and find out whether your lighting fixture will last in the conditions found in your kitchen.
Heat sinks
All bulbs, even the most energy-efficient LEDs produce heat during normal operation. In the long run, depending on how intensely you use the lights, the heat will take up to a point of reducing the lifespan.
How do you tackle this?
The secret lies in heat sinks. Heat sinks are designed in such a way that the bulb can be placed in them before fixing it on the ceiling. The job of heat sinks is simple – to absorb as much heat as possible from the bulb and dissipate it into the environment.
Some products come with their own sinks while others will work with most third party heat sinks you might buy.
5. Brightness and Color
Before the concept of energy-efficient bulbs, brightness was determined by the wattage of the bulb. The more the watts a bulb had, the brighter it would be.
However, now that we have energy-efficient LEDs that produce more light on very few Watts, the metric has moved to a more precise: Lumens.
Thankfully, almost every lighting fixture today is capable of producing a spectrum of brightness from the usual household setting (about 500 or more lumens) to a brighter backyard setting (over 1000 lumens).
As you can tell, there is really no winner as far as overall brightness is concerned. What matters here is the time the lighting fixture takes to reach maximum required brightness plus the shade of the produced light.
LEDs, incandescent, and halogen bulbs jump to their maximum brightness straight away when you switch them on, but CFLs usually delay for about 2 minutes to attain full brightness.
Additionally, halogen and LEDs are available in a range of hues, from cool blue to warm white, whereas CFLs typically come as cool blue only.
Conclusion
With so many types of lighting fixtures to evaluate and go through, plus the dynamic nature of some kitchens, the process of selecting light fixtures best for your kitchen can be daunting.
You want the kitchen to be well lit and remain to be one of the safest parts of your home. When shopping for one, consider the type of the fixture and the style of installation.
Also, think about the flexibility of the fixtures as well as the size of the kitchen, wattage, brightness, and color.