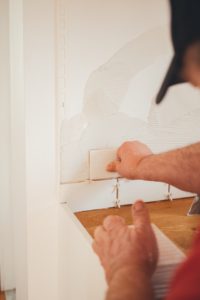 The job description of manufactured home backsplash (or "splashback") is in the name – to prevent water, oils, and food debris from splashing from the sinks and cooking area to the wall.
The target area is normally between the upper cabinets and the kitchen countertop.
However, it is standard to install a layer of backsplash on the whole length of the wall in front of the cooking area. That's probably because backsplash tiles come in a range of designs that add interesting detail on kitchen walls.
Backsplash tiles resemble tiles in appearance and materials of construction. When shopping for the best product for your kitchen, you will likely check in the tiles section of your favorite store.
The best thing about backsplash tiles is their versatility – they work perfectly with the drywall found in mobile homes as they do with concrete on site-built homes.
This means you are free to use the typical backsplash tiles meant for site-built homes for your projects in manufactured homes.
How to Choose the Best Backsplash for Your Kitchen
1. Measurements
Most suppliers sell their backsplash tiles per piece.
So, the retailer is more likely to ask for the measurements of the area you wish to cover as well as the size of a single backsplash panel you wish to buy.
The worst thing you can do is to choose random pieces of tiles without even factoring in their size. Giving an estimate of measurements you think might work for you can be disastrous as well.
Before setting out for the store, you should take the measurements of your current backsplash installation first:
Conversely, if you are remodeling your kitchen, start by measuring the size of the new surface you wish to install the backsplash.
Some kitchen remodeling projects will require you to do extra work far from simply changing the position of your appliances.
As a result, you may be forced to lengthen or shorten the backsplash to suit your new preferences.
Measure your wall and determine the exact amount of backsplash tiles you need.
If you wish to cover a single section, multiply the height and width of your wall to find the square footage.
As you can tell, the square footage will help you determine the number of tiles needed for your project.
The more accurate your measurements are, the better you will be positioned to cut the installation cost.
Include an additional 10% of the backsplash tiles tile to fill in any tiny gaps or keep as replacements for any damaged pieces.
You have about four distinct areas to measure.
Start by labeling section "A" as the space on the left, between the countertop and the base of your cabinetry.
Space "B" is the midsection on the wall, while space "C" the space on the right, between the countertop and the base of your cabinetry.
Space "D" represents the space beneath the window.
Conclude the process by multiplying the height and width of each section.
Add the sums of all the sections to get the overall total square footage of the backsplash tile required to complete the project.
Also, remember to include 10% of the sum you left aside for spare pieces. Furthermore, ensure that you have plenty of grout, mortar, and all other necessary materials.
Now take the figures you obtained to the backsplash tiles dealer.
The standard backsplash – the area beneath the cabinets but above the countertop – in a typical kitchen generally runs between 15" and 18" tall of individuals of average heights.
Most of the backsplash tiles you will find in supply stores fall somewhere between the ranges of approx. 9" x 9" (smallest) to 12" x 22" (largest).
A few options can be as large as 18" x 45" or slightly bigger.
2. Cost & Budget
According to Home Advisor, the average cost of installing a backsplash is $1,000. The low end is $600 while the high end is $1,350. The average cost can vary significantly from place to place.
Your local tile contractor is likely to charge at least $160 for labor.
This translates to $10 per sqr. ft. to your favorite material's estimate. If not, the contractor may quote about $40 to 60 for every 1 hr. of labor.
Some of the factors that may affect the price of the backsplash are:
the type of finish
the material of construction
pattern complexity
amount of tiles required, and
the difficulty level of the project.
The level of difficulty may depend on whether some electrical wires or pipes need to be bypassed.
One of the best ways to cut on expenditure is to use glazed finishes which removes the need for a sealant, a not-so-necessary item that could have cost a whopping $100.
Prices of stainless steel tend to fluctuate erratically in a year. If you know you have an impending project, consider buying your stainless steel backsplash when the price is at the lowest level possible.
Another way of saving money is to choose a backsplash with a metal veneer instead of buying a real metal backsplash.
Cost estimates are valuable in budget preparation. A budget lets you set aside the right amount of money for the project and avoid overspending.
Start by determining the minimum and maximum amount of money you are willing to spend on a backsplash project.
Once you decide what you are going to spend, it becomes easier to come up with a list of features the wastebasket must have and those that you may be willing to trade-off.
Here is the backsplash installation cost per square foot (per sqr. ft.) (Courtesy of Home Advisor):
| Type of Tile | Per Square Foot | 20 Square Feet | 30 Square Feet | 40 Square Feet |
| --- | --- | --- | --- | --- |
| Ceramic | $25 | $592 | $812 | $1,032 |
| Stone | $30 | $630 | $870 | $1,240 |
| Glass | $32 | $646 | $849 | $1,141 |
| Stainless Steel | $36 | $734 | $1,025 | $1,317 |
Here are the estimated backsplash prices (Courtesy of Home Advisor):
| Finish | Price Per Square Feet |
| --- | --- |
| Ceramic | $2 |
| Mid-Range Ceramic | $3– $5 |
| Porcelain | $3 – $6 |
| Slate | $5 |
| High-End Mable/Granite | $7 – $10 |
| Glass | $7 – $30 |
| Metal | $15 – $25 |
3. Material
When selecting ideal kitchen backsplash material of construction, it is important to consider the primary function of backsplash tiles – to protect the wall from debris splashing from the cooking area.
How is the material best suited to provide maximum protection to your kitchen walls?
What's the quality of the material?
What is maintenance going to be like?
Most of the backsplash tiles you find in the store are made from these materials:
Quartz (Engineered Stone)

Quartz is also referred to as an engineered stone.
A big part of backsplash tiles in the market today are made from quartz.
To produce quality quartz competent enough for the production of backsplash tiles, manufacturers often bind quartz particles with color pigments and polymer resin.
The reason why quartz is one of the most preferred materials of production for backsplash tiles is non-porous.
With this quality, it is near impossible for water to seep past it into the wall.
Better yet, quartz comes out as easier to clean and resistant to scratches. They come in a range of styles and colors too, meaning you can install them to turn your kitchen into an absolute gem.
Stainless steel
Very few materials synch better with more modern and industrial looks better than stainless steel.
If you would like backsplash tiles that last longer, it only makes sense to choose those made from stainless steel.
Perhaps their biggest advantage is the ease of installation.
Because stainless steel backsplash tiles come as flat sheets, it is easier to affix them on the wall.
Another impressive thing about stainless steel is that, just like quartz, it is easy to clean and heat resistant.
With that said, you should stay clear from chemical cleaning agents, more so those with harsh formulas, as they are prone to damaging steel sheets.
These backsplash tiles rely on finishes for aesthetics. The finish can be hammered, brushed, or finished.
Armstrong Ceilings produce some of the best stainless steel backsplash tiles in the market today, including:
Glass
The idea of having glass as a backsplash sounds odd, but it delivers wonderful decorations.
Glass backsplash tiles come in a range of colors and can be easily combined with any screen-printed images.
This combination can form an artistic and attractive focal point in your food preparation area.
However, glass backsplash tiles aren't as common as those made from other materials because of glass's fragile nature.
If you are looking for fine glass backsplash tiles, you got to try the Skinny Tiles™ collection of some of the best glass panels:
Granite
The beauty of granite, and the fact that it is a natural stone, have been appreciated throughout history.
The good looks of this stone can be utilized in backsplash tiles to improve the aesthetics of the kitchen's counter area as well as protect the wall from damage.
The best thing about granite is that it comes with a variety of textures and colors in its natural state.
Another thing that makes it super special is the fact that no two pieces of granite are the same.
However, the biggest flaw of granite is the high porosity signature.
Backsplash tiles undergo sealing to reduce the porosity.
Example:
Concrete
Concrete is the cheapest "stone" you can ever use to make backsplash tiles.
As a result, backsplash tiles made from concrete are more affordable if you compare them to, say, granite.
The reason why concrete backsplash tiles are so common is their ability to mimic those made from other stones but at a lower cost.
For example, concrete products are just as strong and durable as those made from granite.
Concrete's performance against moderate heat is impressive as well.
On the downside though, concrete is porous and requires sealing to make truly water-resistant backsplash tiles. Concrete backsplash tiles look sync well with minimalistic or rustic kitchens.
Example:
Polished plaster
The ancient Egyptians loved polished plaster for its rich colors. It is quite easy to prepare – it is a mixture of slaked lime, marble chips, and marble dust.
With these simple ingredients, you can end with polished plaster with the appearances of limestone, marble, and even travertine.
The reason why you might consider polished plaster backsplash tiles is the variety of rich colors it delivers.
It also comes with impressive textures and a surface that ranges from very smooth and rugged.
Composite (or Solid Surface)
Composite is a synthetic material made by mixing polyester or epoxy, acrylic, and stone pigments.
It is often used to make countertops. If your kitchen already has a countertop made from composite material, you might want to complement it with a composite backsplash.
Besides the eye-catching look, another reason why composite is preferred for making kitchen surfaces is their readiness to be molded in corners and curves.
Better yet, there is a horde of styles and colors to choose from. Composite backsplash tiles perform better against water seepage.
Wood
Wood backsplash tiles aren't common, but it's still a preferable material of construction.
The natural look of wood alone, whether stained or not, is a concrete reason why you might choose wood backsplash tiles.
Ceramic & Porcelain
Ceramic and Porcelain backsplash tiles are hard to install.
You will have to hire a qualified professional if you want the best results.
The main advantage of ceramic is its ability to fit in sharp corners and awkward shapes. It is also easy to cut and low maintenance.
4. Style – Texture, Pattern, & Colors
In recent years, backsplash tiles have increasingly become decorative tiles.
The feel and look they deliver is now just as essential – if not more – than the primary protective qualities the product provides.
Homeowners who choose to install backsplash tiles look at the style and general appearance of the product with the same seriousness they do with cost and quality.
You too should take the style into account and choose accordingly.
You should also consider the fact that tastes can change fast.
In fact, backsplash options today go with trends. If you don't see yourself keeping up with the rapidly changing styles, consider choosing a timeless design.
This way, your backsplash won't feel outdated after a given number of years.
5. Peel and Stick Backsplash
What is the point in installing a permanent tile when you can opt for temporary peel-and-stick options?
Or so you may ask. Peel-and-Stick backsplash is a relatively new concept, but one that's easier to handle, cheap to acquire, and easy to change.
They mimic the appearance of the popular permanent backsplash tiles but can be stuck and removed easily like pieces of posters.
Sometimes the exaggerate the looks of permanent backsplash tiles. The best thing about Peel-and-Stick backsplash tiles is that they allow the designer to produce any design they want.
Because they can be easily stuck and peeled as the homeowner sees fit, they are the best backsplash tiles for anyone keen to stay up on their toes with the latest styles.
6. Compatibility – Do they fit in?
If you have a pre existing décor plan in your kitchen that you would like to sync with everything else you will install in the future, you might want your backsplash to complement it perfectly.
That's why you may keep a sharp eye for options that suit your kitchen's décor and style. Trying to install just any type of backsplash in very much like trying just any type of shirt on your new trouser.
If the current fixtures in your kitchen are rustic, modern, or more contemporary, be sure to choose a backsplash design similar to your style in aesthetics.
A little bit of planning can go a long way to help you avoid the disaster of installing backsplash tiles with the wrong design and realizing it's too late to make changes.
Conclusion
When choosing backsplash tiles, consider the appearance and well as quality and overall cost of the tiles as well as installation costs.
Also, ensure that they are compatible with your current wall décor.
You are free to choose between Pick-and-Stick and those made from real materials