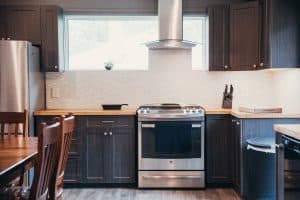 Manufactured home range hoods remove fumes, heat, smoke, airborne grease, steam, and other combustion products from the range by evacuating and filtering the air. It is must-have equipment in your kitchen if you want to have a nice time while cooking.
The market has plenty of range hoods that meet the needs of the small kitchen that comes with most manufactured homes. Before we look at the best models available, let's glance at the types out there.
The 5 Types of Mobile Home Range Vent Hoods on The Market Today
Under Cabinet
Wall Mount
Island
Cabinet Insert
Download
1. Under Cabinet Variety
This is probably the most common type of range hoods. They are installed where the name suggests, under the cabinets of your kitchen but above the cooking range or cooktop.
Manufacturers ship them in just two standard varieties –
ductless
ducted.
The ductless type simply filters and recirculates all the dirty while the ducted type transports airborne pollutants and smoke outside.
Having a ducted range hood installed under the cabinet is the best way to go because all the ductwork will be hidden in the cabinets, giving you the freedom to style your kitchen.
That said, ductless types are just as effective as their ducted counterparts.
The best thing is that ductless range hoods come in multiple sizes, styles, and designs, all of which give a wide range of options to choose from.
2. Wall Mount variety
If your kitchen does not come with cabinets in the section immediately above the cooking area, a wall mount hood may be the best option for you.
These hoods are installed on the wall and aligned directly in line with the preexisting duct system of your kitchen for ventilation purposes.
That's probably why they are often referred to as wall-mounted chimneys because their design is very much the same as that of traditional chimneys.
If you compare them to under cabinet hood, wall-mounted varieties typically widen at the bottom to cover the bigger part of the cooking space. That may be a reason to choose them over their under-cabinetry counterparts.
3. Island Hoods
These are mobile home range hoods to rely on if you are looking for equipment that provides maximum ventilation for the cooking area and does not need to be installed on the wall.
Island hoods have a similar design to that of wall mount hoods except that you don't need to install them on your walls.
Typically, an island hood will feature a vent that links to a single duct installed in the ceiling which serves to suck dirty and hot air out of the cooking chamber.
Their intricate mode of operation and style is perhaps the reason why they are costlier than most other range hoods. But they are worth it because their style adds elegance to your kitchen.
4. Cabinet Insert Hoods
This type of hood is perfect for homeowners who value customization.
Often called power packs, these units are designed for easy installation in an existing range hood or cabinet.
Cabinet inserts often feature blowers, lights, and speed controls, but seldom incorporate complete ventilation systems as it is traditional with other hoods.
Cabinet insert hoods are a perfect option to use as a base for your custom-designed range hoods – it provides all the core and essential features you need while permitting you to create a ventilation system design that matches the layout of your kitchen.
5. Downdraft range hoods
Most range hoods work by pulling fumes up the ceiling and finally outside the house.
Downdraft range hoods are the direct opposite of that – they suck air into the cooking chamber from outside. For this reason, they are normally installed behind the cooktop.
The setup reverses the usual direction of the rising air as it pulls the cold air into ducts and eventually pushes it out through vents beneath the floor.
If your kitchen is equipped with a drop-in cooktop or the cooktop is built-in on an island, you will find this type of range hoods to be a necessity. They are also a good option if you want to save on space and still get maximum ventilation although a proper ducting system must be in place.
Related: Is A Ceiling Fan In the Kitchen A Good Idea?
Manufactured Home Range Hoods – 10 Shopping Factors
Consider these features when shopping for a range hood for your manufactured kitchen:
1. Size
The model should be as wide as your cooking space. Because island-mount range hoods don't rely on a wall or cabinet to funnel the fumes, they should be a bit wider than the cooking space.
2. Filters
Ducted hoods use aluminum filters to collect grease before the odors and smoke are expelled outside.
These filters need to be removable and washable (in any washing tool but they should be dishwasher friendly just in case) because, once in a while, the accumulated grease will have to be removed.
Non-duct range hoods often come with charcoal filters for the same purpose.
These filters are not washable because of the nature of charcoal, so you'll need to replace them as often as you would have washed them. The frequency of washing or replacement will depend on your cooking frequency.
But how do you know when to replace the filters? Some range hoods come with filter indicator lights to alert you appropriately.
Related: Range Hood Parts Guide
3. Sound levels
The sound of range hoods is measured in Sones, not decibels. One Sone is very much equivalent to what your refrigerator produces when running.
Light traffic produces a maximum of 8 Sones while normal conversations in a room can be about 7 Sones. Use Sones to make a comparison between units.
However, bear in mind that the Sone rating of a hood is directly proportional to its CFM – the higher the sone rating the bigger the CFM.
Of course, you want the quietest range hood, so you will definitely choose one with the lowest sone rating. But that could mean you are getting a product with low CFM. That's a dilemma right there!
4. Stainless steel material
In the kitchen, stainless steel is always better whether it's a knife or a range hood. The best thing about stainless steel is the ease of cleaning. It is also rust-resistant and durable.
These features are worthwhile, but the surface of the hood should be coated with some form of tough plastic or similar material to prevent you from leaving greasy fingerprints on it.
However, emphasis on stainless steel doesn't mean brass range hoods aren't great.
5. LED Lighting
Just like any other kitchen equipment, range hoods need to be monitored closely to avoid surprises.
It is standard for kitchen equipment to come with notification units on them which, more often than not, tend to be LED lights or alarms.
You need LED lights on your range hood to tell the status of a number of cooking elements, including timing and the state of the filters.
6. App support
This is a reserve of more smart range hoods.
If a range hood is linked to a smartphone application that allows you to monitor every minute aspect of the system, that would be great, wouldn't it?
Some smart range hoods will tell you on your vacation the kind of food being cooked back at home.
7. Timer and refresher
Some smart range hoods come equipped with automatic on/off mechanisms and a refresher that permits you to set the time you would like the system to refresh. This feature lets you proceed with your chores without worry.
For instance, it just makes sense to set your range hood to run for exactly one hour if you know you are baking for one hour. The refreshing feature plays an important role in keeping the unit operating as long as you are cooking.
8. Fan power
Because kitchens come in different sizes, range hoods come with different fan powers. This means the small size of your manufactured home's kitchen won't require a range hood with the most powerful fan in the market.
The job of the fan is to clear the odor and hot hair from the cooking space. Some range hoods come with two or more fans.
To determine the amount of power you need in a fan, consider finding the volume of your kitchen I.e. multiply the height of the kitchen's ceiling, the width, and length.
9. Range hood style
You obviously want a range hood with a style that "marries" that of your kitchen. Therefore, just so you don't select something that will look out of place, you will glean through various finishes offered by the market.
The type of finish on the range hood can have an influence on ease of cleaning and general maintenance.
When choosing a range hood that meets your styling needs, you are more likely to pay attention to such things as a shiny or brushed finish, design, size, and the general look of the equipment.
Lastly, you may consider how seamlessly the unit will incorporate into your kitchen.
10. Cost
It goes unmentioned that the cost of the range hood varies depending on such things as power, size, and such technology add-ons as auto on/off switches, inbuilt lighting, sensors, and alert systems.
The cost of installing the unit should be considered as well. The total cost of having the unit in full operation should be affordable.
Manufactured Home Kitchen Exhaust Hoods – Recommendations
With a width of 28-1/2″ and depth of 10-3/4″, this range hood can be installed within the standard 12″ deep cabinets in small kitchens that come with most manufactured homes.
It is equipped with a powerful 600 CFM blower to support a range of cooking needs. A stainless-steel push-button is used to easily operate the halogen lighting and 3-speed blower.
Features
Stainless steel liners: these sheets are used to protect the cabinetry located immediately above the cooking surface. You need them when the canopy/cabinet depth is higher than 12".
Controls: the stainless-steel button allows you to conveniently operate the lighting and blower speeds
600 CFM inflow: easily extracts grease, moisture, odors, and smoke from the small kitchen
3-speed blower: use these speeds to effectively match the cooking volume with power
Lighting: halogen lamps are a safe illumination source and mood lights you can use in the cooking area
Quiet operation: produces just 2.1 Sones at the highest speed
Recirculating or Ducted: you can easily convert the hood for both Recirculating or Ducted installation
Packaging: as it's traditional with all hoods from Arietta, this range hood is protected with thin plastic coatings against scratches.
1-year labor and parts warranty: Arietta will provide for parts, In-Home-Service, and labor should an issue pop up
Stainless steel construction: is easy to clean and durable
This hood's FIT system completely removes the need for taking measurements as it will ensure the hood is installed seamlessly into the cabinet cutout in three easy steps.
This is what makes it ideal for your not-so-big manufactured kitchen: 3-1/4" damper, a rectangular venting measuring 3.21" x 10", and maximum vent length of 36 feet x 3.25" x 10".
It's worth mentioning that this range hood can be converted to ductless installation (or re-circulation) complete with a convenient charcoal filter model.
Features
Vent system may stop to the outdoors (this system can terminate through the wall or roof)
Easy-to-use push-button controls
FIT system – eliminates the need to take measurements before installation
Limited 1-year warranty
350 CFM blow: perfect for cooktops with ratings of 50,000BTUs
Stylish and sleek hidden vent that matches your modern kitchen
If you are after a sizable range hood that comes in a range of colors but still fits in the small cabinetry of your manufactured home, you might want to try out the Broan 40000 Series.
It supports convenient remote operations which are in line with ADA standards.
The Broan 40000 Series 30″ Hood was made for a range of installations as it can be installed as 3-1/4″ x 10″ ductless ducted opening either horizontally or vertically.
The hood features an easy to clean moisture and grease filter, a fan, control switches that activate the lights and the fan.
Features
2-speed fan: lets you handle a range of venting jobs
Rocker light switch and separate rocker fan switch
Removable aluminum mesh filter – which is dishwasher safe
Up to 75-Watt super-bright incandescent light
Externally vented range hoods – guarantees superb performance for a range of cooking needs
Limited 1-year warranty
Installs 3-¼" x 10" ducted with an inbuilt damper and duct connecter
Hemmed bottom and mitered sides for good looks and safety
HVI-2100 and UL listed for your protection and safety
Rear or top exhaust options: lets you connect the entire ductwork according to your preferences
This is just the right range hood for you if you are looking for equipment that was designed for discreet and flawless mounting inside a small kitchen's cabinetry. Everything that comes with this range hood speaks of the extent it was made with a manufactured or mobile home in mind.
For instance, with just 5.9 Sones, you can fry your food and get entertained at the same time in a small kitchen. The powerful 400 CFM blower falls within the range of blowers designed for scarcely spaced homes and can easily handle a variety of cooking needs.
It supports 36″ or 30″ wide cooktops and features high-density aluminum mesh filters that capture most moisture and grease. The convenient stainless-steel push buttons are used to operate the incandescent lights and 3-speed blower. The filters are dishwasher safe.
Features
Packaging: as it's the tradition with Arietta, all the hoods come with a protection of thin plastic coating that prevents scratching
1-year In-Home Labor and Parts Warranty: just rest assured that Arietta will shoulder all the costs arising from labor, in-home service, and acquisition of parts in the event an issue arises within the first 1 year of purchase
Recirculating or Ducted: you can convert the hood for either Recirculating or Ducted installation. Recirculating mode serves to clean the dirty air out of the kitchen and reintroduces a stream of clean air back in the chamber, whereas traditional Ducted installation simply removes the air from the kitchen.
Stainless steel construction: makes it durable, beautiful, and easy to clean
Quiet operation: operates with just 5.9 Sones at its highest speed
3 Speed Blower: this allows you to match the cooking volume with power.
400 CFM airflow: removes moisture, grease, smoke, and odors easily
Incandescent lighting: you don't need an additional source of lighting
Conclusion
You need a mobile home kitchen exhaust fan to keep your cooking area free from unwanted smoke, heat, grease, and other combustion products.
Manufactured homes come with small kitchens, so you don't need a range hood with the highest fan power.
However, you may want to choose a durable unit made from stainless steel or brass.
The perfect unit should produce less noise (meaning fewer Sone ratings) and at least be smart (we mean support for a mobile app, LED lights, and sensors). The overall cost of the unit should be considered as well.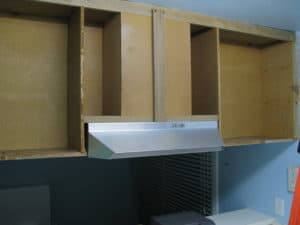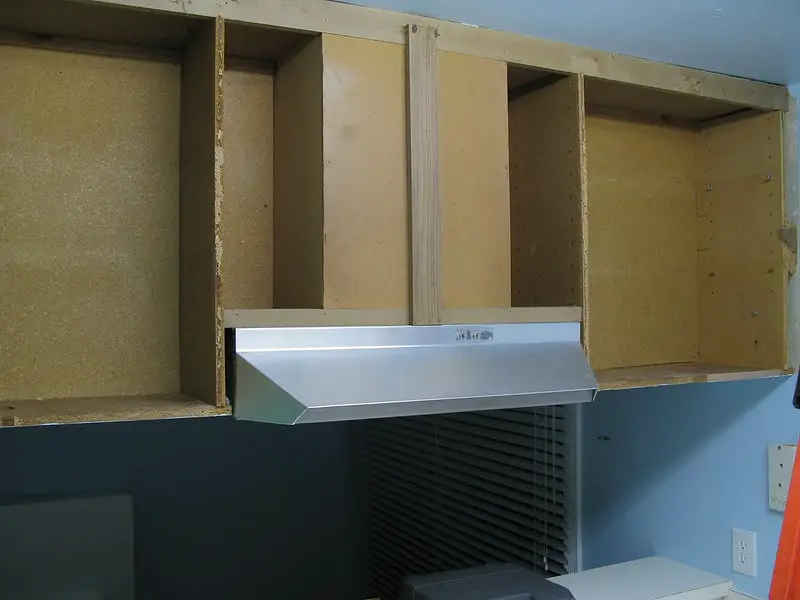 Frequently Asked Questions
Q: Can a range hood duct be insulated?
Like any other duct system, you can insulate your range hood duct. Insulating range hood duct is the most effective way to reduce irritating noise and vibration when the vent hood's inbuilt fan is running, as well as reducing heat loss for efficient cooling and heating system.
Q: Can a ducted range hood be converted to ductless?
If your range hood is convertible, you can convert it to ductless in a relatively easy way using a recirculating kit. Convertible range hoods provide more flexibility and save on expenses of installing ductwork and other extraneous costs associated with ducted range hoods.
Q: Does a range hood need a dedicated circuit?
A range hood usually requires a dedicated circuit. It requires a well-grounded circuit with a 3-prong grounding receptacle protected with a 15 or 20 amp circuit breaker. Although many range hoods come with the option to install them as a plug-connected appliance, installing as a hardwired appliance is the safest bet.
Q: Can you clean range hood filters in the dishwasher?
You can actually wash your range hood filters in the dishwasher. However, this will depend on how long it has been since you cleaned them because you don't want too much grease to go into the dishwasher. Dishwashers help clean the filters thoroughly.
Q: Can you install a range hood without a cabinet?
Although most range hoods are meant to be installed under a cabinet, some models are designed to be installed without a cabinet. However, range hoods intended to be installed without a cabinet tend to be pricier.
Q: Are range hoods required by code?
Most state and local codes require that you install a range hood with a fan that is vented outside. This requirement is meant to make the environment safe for quality life, especially ensuring you and your family breathe fresh air.
Q: Should range hoods match appliances?
Range hoods should not necessarily match appliances, but if you like it, you can match it with the range itself, the cabinetry, other appliances, or the wall color. There is no harm in giving it a distinct color, so that it stands out.
Q: Should range hoods touch cabinets?
Never allow your range hood to touch the cabinetry. Basically, there should be space between the sides of the hood and the upper cabinet. It is ideal to leave a distance of 3 inches or more between hood and cabinetry, but don't exaggerate.
Q: Should a range hood be on a GFCI?
Yes, a range hood needs to be GFCI protected. The 2005 NEC 210.8(A)(7) requires all 15- and 20-ampere/125V receptacles within six feet to be protected by GFCI. This requirement is regardless of whether receptacles are readily accessible.
Q: Does range hood have to be the same size as a range?
A range hood should be at least as wide as the range. However, you will need extra 3 inches on each side for ultimate efficiency. Install your range hood about 24 inches from the cooktop for optimal performance.
Q: Should you tile behind a range hood?
You should not overlook tilling behind your range hood because it is hidden.
Although some hoods are installed such that they leave little to no space for backsplash, it is useful to tile behind a range hood. A tiled range backsplash is a perfect way to give your kitchen a beautiful backdrop.
Q: Do range hoods come with plugs?
Wall mount range hoods come complete with a cable and plug. If you are using plug-in hoods, all you need is to leave a power outlet behind the chimney cover.
Q: Will you need a range hood liner?
If your kitchen setup features custom cabinetry or a custom hood, it is apparent that you will need a range hood liner that fits inside your custom hood. Hood liner serves to vent unwanted pollutants and smoke just like a range hood does.
Q: Does a range hood need to be grounded?
While it is permitted to install range hoods on an ungrounded circuit, it is imperative to have your range hood grounded.
Q: Does a range hood need a damper?
A backdraft damper prevents air from flowing into your kitchen through the ductwork; therefore, it is good if you consider installing one. Newer vented hoods come with an already installed damper, but you can still buy it as an accessory.
Q: What does convertible range hood mean?
A convertible range hood is a hood that can be converted from ducted to ductless. This line up of hoods is converted using a recirculating kit and can be used with external ducts or for recirculation.
Q: How many watts does range hood use?
A standard range hood will draw about 30-60 watts. The electricity used will depend on your hood's energy efficiency, CFM, and airflow.
Q: How far does a range hood vent have to be from a window?
Your range hood vent should be terminated at least 3 feet from the window and 10 feet from any mechanical air inlet.
Q: How do you know if your range hood is ducted?
If you are not sure if your hood is ducted, check to see if there is any cap allowing the vented air to escape. If you can't find any duct and feel strong airflow from the range hood when turned on, it is probably a ductless model.
Q: How do you know if you have a ductless range hood?
Ductless range hoods or recirculating hoods have the obvious vent through which it blows back the filtered air.
Q: Which range hood is best for Chinese cooking?
For most people, the best range hood for Chinese cooking is the Cosmo COS-QS75 30-inch under cabinet range hood.
Other high-end models include FOTILE JQ7502.G 30", Cosmo 668WRCS75, Cosmo 5MU30 30".
Q: Which range hood is best for Indian cooking?
For Indian cooking, the best range hood is the PLJW 109 2000 CFM proline range hood.
Q: What is a range hood recirculating kit?
A range hood recirculating kit or simply recirculating kit is an accessory used to convert a ducted range hood to a recirculating or ductless hood. The kit features a vent and charcoal filters.
Q: Why would a range hood drip water?
The common reason your range hood is dripping water is improper insulation.