Manufactured home thermostats lets you maintain the setpoint temperatures for your home's cooling or heating systems. Besides cooling and heating appliances, you might need a thermostat to control the setpoint temperatures of kitchen equipment including refrigerators and ovens, water heaters, and even the incubation equipment for your birds if you have any.
Manufactured Home Thermostats – Two Types
There are just two types of residential thermostats:
Programmable thermostats
Non-Programmable (mechanical) thermostats
1. Programmable thermostats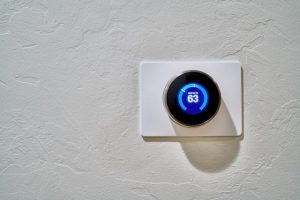 These thermostats adjust the temperature of the room according to a series of settings (programmed settings) that come into effect at specific times of the day. They are also referred to as clock or setback thermostats.
They conserve energy better than the non-programmable type when used correctly.
Some of them come with Vacation Hold Mode that prevents the heating and cooling of an empty home. This type of thermostat is costly compared to their non-programmable counterparts.
The smartest programmable thermostat in the market can cost about $400.00 or higher.
Google Nest Learning Thermostat 3rd Gen in Stainless Steel (2-Pack), for example, costs about $500 but it is perhaps the most energy-efficient and automated thermostat you could ever install in your home.
2. Non-programmable thermostats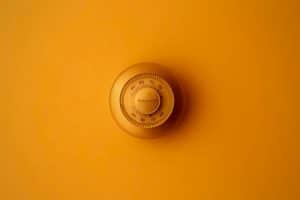 These are the most basic mobile home thermostat options for most households. They let you manually set the temperatures as you want them to be. They allow you to turn on the cooling or heating when you need it and turn off when you don't. They lack the smart features often found in programmable thermostats.
Some of them may cause you to incur exorbitant energy costs if, say, you forget to switch off the heater or cooler or any other appliance connected to it. They, however, give you total control of the temperature in the home.
Better yet, these thermostats are highly affordable if you compare them to the programmable type – you can get a non-programmable thermostat as lowly priced as $20.00.
For example, the simplistic Emerson Single Stage Non-Programmable Thermostat costs just $18.00 but works with single-stage heating systems as perfectly as a programmable alternative would, and still ensures very high precision of +/- 1-degree Fahrenheit.
Guide to Choosing the Best Thermostat for A Mobile Home: 5 Considerations
You want the most effective thermostat that is best priced and still doesn't compromise on performance. Hence, there is a bunch of attributes on which you must train a sharp eye:
1. What kind of HVAC system do you have at home?
Not just any thermostat will work perfectly with any HVAC system.
Most non-programmable thermostats would work with most of the commonly used HVAC systems.
Programmable thermostats, however, are particularly troublesome when it comes to versatility.
Google Nest E Thermostat, for example, doesn't support 2-stage heat pump systems but Google Learning Thermostat does.
Therefore, consider confirming the type of HVAC system you have at home before going out to shop for a thermostat. Thermostat manufacturers always list the type of systems supported by their products. This is how the manufacturer will label their products.
Works with 1 stage cool or heat – this device is used when you have separate conditioning and heating units
Works with 2 stage or multi-stage cool or heat – this device is designed for cooling or heating units that have a low or high speed
Works with Direct Line Voltages – this device is designed for 110 or 240 DC power sources often used on older homes
Works with 24mV – this device is designed for use with the wall furnace, fireplace, or floor.
Zoned HVAC – this device was designed for settings where cooling and/or heating is controlled individually in several areas from one HVAC system.
Basically, it's prudent to check if your home is fitted with Direct Line Voltage, 1 Stage, 24mV, 2 Stage, or Zone cooling or heating so that you can determine whether the thermostat of your liking is compatible.
2. Programmable vs. Non-Programmable thermostat?
Which type of thermostat meets your needs? If energy conservation is not a big factor for you and you can manually control the room temperature easily, a non-programmable thermostat would be the best choice. They are also a good option if you are looking for an economical device with simple controls.
If you are after automation, programmable thermostats would be the best choice. They also offer advanced functionalities that will ease the way you regulate temperatures in your home. Better yet, they tend to be energy efficient.
3. How is the existing wiring like?
If you are replacing an old thermostat, it would be thoughtful of you to check the kind of existing wiring before buying a replacement. Most programmable, non-connected thermostats will work perfectly with two or just a few low voltage wires (a style of wiring common in old heating systems).
Newer programmable thermostats, however, often demand a C-wire or common wire. The C-wire is preferred in modern devices because it supplies a continuous power device with such features as Wi-Fi and displays.
If you don't have the C-wire already installed but you want a smart thermostat so bad:
Choose a model that comes with a power extender or adapter that allows you to attach the C-wire at the end, like most products from Ecobee.
Install or buy a third-party adapter that allows you to add a different wire
Pick a model that doesn't require the C-wire at all (most of the smart thermostats from Nest and Emerson don't require the C-wire)
Hire a professional to install the C-wire
4. What are the features you're looking for?
The exact way you would prepare a list of must-haves when buying any household appliance, you might also want to list down the features you want your thermostat to have.
Besides the basics, different manufacturers will add unique features to their products.
For that reason, you will need to be familiar with each manufacturer's products to create a list of must-have features.
5. One small thing about installation…
Virtually all non-connected thermostats will be compatible with the wiring of your cooling and heating systems. Manufacturers almost always ship their products with all the installation guide you need.
Pro Tip: Consider installing your thermostat on the interior wall preferably at a centrally located section. The location should also be far away from air vents or direct sunlight. You don't want your thermostat to interpret the wrong temperatures.
Manufactured Home Thermostats – Recommendations
1. The Best Programmable Thermostats for A Manufactured Home
Honeywell is somewhat a voice of authority in this industry. The T5 + Smart Touchscreen Programmable Thermostat is one of their best products on offer. With this thermostat, you can keep the correct home temperature based on a 7-day flexible schedule. The schedule can take into account your location's daily temperatures.
Through a smartphone or a tablet, you can monitor the temperature of your home from anywhere on the planet. The convenient onboard touchscreen is just the right place to adjust the controls and see your temperature settings when you are not on your smartphone.
This thermostat can automatically switch between cooling and heating configurations to provide your rooms with maximum comfort. It comes with an energy star on it which means one thing – it is energy efficient.
Forget about the price tag, this is probably the smartest thermostat you can ever install in your manufactured home. With a time of use, this thermostat will learn the warming pattern in your home and eventually keep an eye on the surrounding weather to deliver just the right temperatures as you want them.
If the room gets dangerously hot, by any chance, the device will alert you via your tablet or smartphone app. Still, it will automatically turn itself off when you are not around to avoid cooling or heating an empty home. And when you walk into the room, it will beautifully light up to show the temperature you set you set last time you were in the room.
This thermostat saves on average 10 – 12 percent on your annual heating bills and 15 percent on your cooling heats. Essentially, it will pay for itself in just two years of use. The price tag may seem too high, but if you look at the features onboard, the device is worth every dime on it.
If you are looking for a cheap thermostat that doesn't let the affordable price tag interfere with its effectiveness, you might want to try out this simplistic device from Honeywell. It avoids the intricate touchscreen and other features you'd find on high-end thermostats by featuring a simple backlit LCD screen instead.
Still, the maker didn't forget to add the vacation hold mode which turns off the heating and cooling systems when you are not around. I find the green backlit LCD screen easy to read and free from the unnecessary clutter often found on the high-end thermostats. You are given the option to power it with your cooling or heating systems.
When it comes to programming, it is so easy to program that you might not even look at the manual. It supports separate programming for every day of the week, with 4 periods every single day.
Sometimes you'd want to have more comfort by controlling all your room temperatures by voice commands from your cozy sofa set. This is one of the programmable thermostats that would let you achieve just that, thanks to the built-in Alexa.
Give voice commands from anywhere in your manufactured home (provided you're in the line of sight) and the device will set the heating and cooling systems appropriately. It can save you a lot of money in energy costs – capable of saving you up to 23 percent yearly on your cooling or heating costs.
Tom's Guide actually named it "The Best Smart Thermostat." This might be true if you consider the crisp glass finish, powerful quad-core processor, vivid touch display, dual-band Wi-Fi (to link it with the app on your smartphone), and support for voice control.
This programmable thermostat works perfectly with a myriad of home systems that require temperature control. Whether you installed electric or gas furnaces, central air conditioners, millivolt systems, 2 wire hot water systems, central cooling and heating systems, and even heat pumps with no backup/auxiliary heat – this thermostat is good for all of them. The 7-day programmability allows you to program every single day individually up to 4 programming periods.
However, it's worth mentioning that this thermostat, however compatible with a huge array of systems, it is not compatible with multi-stage cooling or heating systems, 3-wire hydronic systems, or baseboard heaters (and any other line voltage systems).
2. Best Non-Programmable Thermostats for a Manufactured Home
The most impressive thing about this thermostat is the precision – it perfectly maintains the right room temperatures with an error of just +/- 1F. The fact that it is non-programmable means you will be making all temperature decisions yourself. This can be advantageous as it gives you total control of the cooling and heating operations.
The small display lets you see all the minimalistic settings you have to do. The setpoint will be retained in the memory in the event of a power outage, returning the device where it was when power is restored.
The fact that it gives you the freedom to monitor the temperatures means you can easily prevent temperature swings that may interrupt your comfort. However, it comes with an auto-change feature that switches between cooling and heating.
If you have any Cadet F series baseboard already installed, the process of installing this thermostat will be as easy as ABC as you won't need much additional wiring. It is still easy to install with other heaters. It comes with a double pole (4 wire) with a positive off setting.
In front is a large twist dial that adjusts smoothly when you need to regulate the room temperature. To supplement the standard low position, the device supports an off position on the 2-pole model.
How To – Installation Steps
Use this step-by-step guide to install a new thermostat. Note that this guide is supposed to supplement the manual you received from the manufacturer of your new thermostat. The instructions here can also be the ultimate guide to any uncomplicated non-programmable thermostat even in the absence of a manual.
Step 1: Turn Off Power to your HVAC system
For safety reasons, switch off the power supply to your HVAC system before beginning to change the thermostat. Also, check if the circuitry meets the specifications outlined by the manufacturer of your new thermostat.
Step 2: Dismantle the existing thermostat
Unscrew the old thermostat from the installation point beginning with the cover plate and then the device itself. Do it carefully to avoid damaging the mounting plate and the inner wiring. Ensure you don't leave hanging wires.
Step 3: Separate and Label the Wires
Locate low-voltage wires. Use the masking tape to label and cover the naked tips of the wires. Wires in some older thermostats may not have color codes, so use your own lettering codes to identify them.
Consider taping the wires on the walls or wrap them around a biro pen so that they don't slip out of the wall cavity.
Step 4: Install your new thermostat base and wire
Remove the base of the old thermostat by unmounting the screws. Proceed to install the base of your new thermostat. You might need to level up the base if your new thermostat is not self-leveling.
Remember to connect the screw terminals of the base of your new thermostat to their corresponding low-voltage wires. Tighten any loose wires to avoid dismantling the whole base again in the event you discover malfunctions after installation. Install the batteries and ensure you got the polarities right.
Step 5: Mount the thermostat and restore power connection
Mount the thermostat on the base and replace the cover. Confirm the proper functioning of the control unit. Switch on the power to test the device. Press the reset button on the thermostat to clear any previous memory. If it is programmable, create your test schedule.
Conclude the installation process by testing the controls of the thermostat and checking if the heating and cooling systems are recycling appropriately. It might take you a full day to determine whether your thermostat is functioning as expected.
Conclusion
Whether you intend to buy a new thermostat to control your HVAC system or water heater, you want the device that is up the task in terms of accuracy, cost, and upgradability.
Your choices will be limited to two types of thermostats: the programmable and non-programmable options.
Confirm the kind of HVAC system you have in your home before going out to shop for a thermostat.