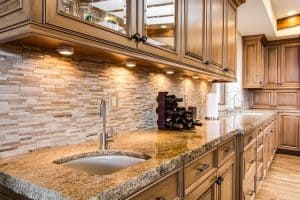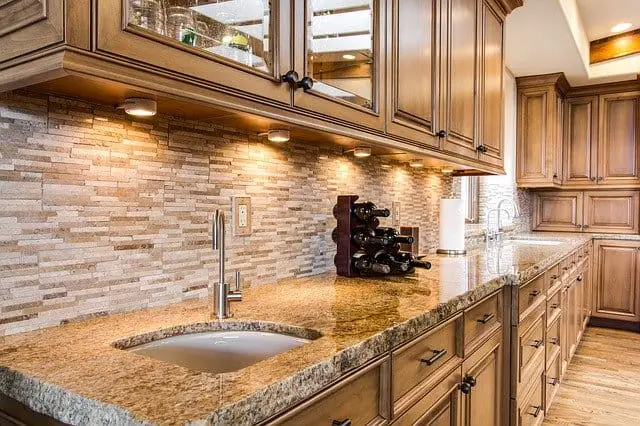 I take lots of time digesting how to make the most of my space. Perhaps it is because I subscribe to the idea that the best way to predict the future is by inventing it.
Well, the time I spend in the kitchen is almost incomparable, and cabinets have always proven to be an essential part.
Various kitchen designs will always be at your disposal, and the thought of having sinks above the sink will still arise. Most people have reservations about putting their cabinets above the sink, and perhaps, for a good reason.
However, there are times that you will need to compromise. It is in this regard that we explore if you can and why you need the cabinet above the sink.
Short Answer
So, can you put kitchen cabinets about the sink? Yes, you can. There is never an ideal position for your cabinets. However, as mentioned, having your cabinet above the sink is a great idea. It comes in handy, especially when you need extra decoration or have to maximize limited space. It will also be suitable for kitchens that do not have a window above the sink.
It would suffice to mention that cabinets above the sink tend to present safety concerns. Their safety is usually dependent on their installation and even quality. Ideally, it is about the clearance above the sink. Remember, there will also be a need for you to have enough headroom when using this sink.
Height, therefore, will always be a significant element when placing your cabinet above the sink.
However, various issues go into determining the suitable height for you to embrace.
How high should your cabinet be above the sink?
Should it have different styling?
These are some of the concerns that we seek to explore. Well, let's focus on determining the right height first.
How High Should You Place Your Cabinet Above The Sink?
The height of your cabinet will often be dependent on where your countertop or specific appliances are.
Most often, they will be much higher than the standard cabinets above the fridge or oven.
That is because it allows for enhanced headroom in the long run.
Ideally, you will be free to adjust the height above the sink, depending on your preferences and needs.
As long as the top of this cabinet is in line with the others, you will be good to go.
That is because one cabinet appearing lower or higher than the others will compromise symmetry and appeal.
Experts will suggest that your cabinet hangs approximately 24 to 36 inches above the counter.
It is a recommendation that assures you of enhanced overhead space. However, it would suffice to mention that this is not a standard measurement, as you could go higher or lower.
The idea here is that the cabinet should be placed in a way that assures you of enhanced accessibility.
Most people can comfortably reach the seven-foot mark, and putting your cabinet above this point will only be inconveniencing.
In this light, the cabinet's top counter should be no more than 84 inches from the floor; otherwise, you will need a ladder.
4 Cabinet Shopping Factors
So, what should you consider before determining the height of your cabinet? Here are a few variables you should always consider.
1. Check The Countertop Height
Undoubtedly, the countertops will always have to be your starting point when determining the height of your upper cabinets.
Most often, the distance between the countertop and the cabinet should be approximately 18 inches.
The same applies when measuring from the sink. However, you will be free to extend it to between 20 and 22 inches, depending on your preferences.
2. How Tall Are Your Family Members?
If most of the kitchen users are tall, you will most likely want to raise your kitchen cabinets. As mentioned earlier, the standard height from the floor will always be between 8 and 9 feet.
However, most females will comfortably reach nowhere beyond 8 feet while the male counterparts hit the 9-feet mark.
For that reason, if most kitchen users are likely to be female, the height needs to be lower, and vice versa. If you are taller than that, feel free to explore.
3. How High Is The Ceiling?
Kitchen ceilings vary in height, but most will always be about 8 feet high. If yours is among them, ensure that your cabinet goes all the way up. On the other hand, you will be free to adjust if your ceiling is either shorter or taller.
If there is a little space above the cabinet, feel free to accessorize it too.
Some people might consider putting an additional shelf or cabinet on top of the first one. It is a great idea, but you will need to rely on professional services.
4. Are There Any Standard Measurements?
Usually, your cabinets should measure between 30 and 42 inches over the countertop. Their average width should range between 12 and 36 inches.
This range shows that the measurements are dependent on the available size of your kitchen. Your preferences will also have a significant impact on the final dimensions.
As mentioned earlier, the height from the floor should average at 84 inches tall.
However, you will be free to adjust between 80 and 96 inches from the floor. How about you aim at something that matches your height?
Let's Spruce Up Your Kitchen With Cabinets Over The Sink
Indeed, there is no harm in having your cabinets over the sink. What matters the most is the difference your art brings.
Take a moment and reflect upon which arrangement will highlight the elegance and sense of glam you so desire. It is through this that you will feel at home while in the kitchen.
Here are a few styles you will want to consider in this regard.
Embrace open shelving above the sink
Have you ever thought of giving your cabinet an airy feel? That is what comes with open shelving, as it highlights a level of elegance.
Usually, doing this will provide you with enough space to store some of the things that can be exposed to humidity.
Perhaps, this would be the best place for you to place your beloved houseplant.
Remove The Doors?
While at it, you could consider removing the doors on cabinets above the sink.
This move will always assure you of that wow factor you have always desired. Things can only get better if you paint the inside of your cabinets. It will add color and style. Besides, you will be free to blend the colors with your interior décor.
How about you consider this open space as your coffee bar?
Open shelves or cabinets above the sink will always be the best to store your coffee pots, equipment, and ingredients.
As long as you make it spacious enough, it will be much easier for you to come up with an elaborate setup in the long run.
Fortunately, you will have a variety of options to choose from. Whether you need a touch of modernity or a classic style, it will be easier for you. Feel free to engage a reliable expert for more insights on the same.
Glass fronts
Have you ever thought of what you get by replacing doors with glass fronts? It is an experience you might not want to miss, as it brings a different level of beauty.
With these fronts, you will be sure of a whole world of difference in the kitchen. Glass fronts allow you to see whatever is in the cabinet.
For that reason, it will be ideal for you to consider maintaining a minimalist way of keeping things.
Wall Paint + Rich Cabinet Colors
You can hardly ignore the role of color and paint in improving both beauty and longevity. Most often, you will find it valuable to paint your cabinets alongside the walls.
As long as you ensure that the color is hardly overwhelming, you will have no reason to worry. Take the time to find a paint that is topnotch and likely to bring the vibrance you so desire.
While at it, you should aim at getting a suitable color for the kitchen cabinets. Perhaps you would fall in love with a natural wood tone or a high-impact color. Whichever pleases you, do not shy away from it.
Remain organized at all times
From embracing minimalism to remaining neat, your organization skills in the kitchen should be topnotch. These upper cabinets are not ideal for storing appliances.
Instead, you will find them valuable when storing things like cookware, utensils, and dishes. Ensure that you not only categorize your items but also place them where they are visible.
In Conclusion
You cannot deny that having a cabinet above the sink is classy.
But should it be unique? Yes. With the insights provided above, attaining the best style for your kitchen will hardly be a struggle.
Now is the time for you to embrace a cabinet above your sink, as it is handy in maximizing space.