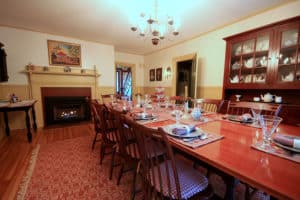 The dining room is an important space in any home where a family gathers to share a meal. When you are thinking of ceiling lighting solutions, you want to ensure you are choosing lighting options that work best for the height of the ceiling.
High ceilings work perfectly with pendant lighting. Chandeliers look great when hanging down a high ceiling as well.
For lower ceilings, it would be prudent to focus on LED recessed lightings, flush mount lighting, and recessed lighting options. All these choices should be made in consideration with your favorite colors and style.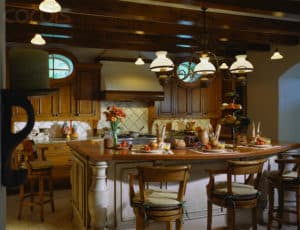 The dining area found in most manufactured homes comes with a height of about 8 feet from the floor to the ceiling. The standard height of a dining table is 30", but can be slightly higher.
The clearance between the middle part of the table where the ceiling-based lighting fixture will shine and the one extreme end of the table should be between 30" to 36".
A Longer table will require more than one light fixture to hang over it. This is less likely to happen in a mobile home because of the small size of the dining area.
Here are the factors to consider when selecting the best lighting solutions for your dining room:
Type of Lighting Best for Dining Rooms
Cost of Buying and Installing the Fixtures
Height and Size of the Ceiling
1. Type of Lighting Best for Dining Rooms
Whether you prefer wall sconces that bring the touch of intimacy and chandeliers or pendant lights that create a dramatic focal point, it is recommended that you choose the type of lighting that compliments your décor and brings the shine you want.
Not all types of lights would be perfect for your dining room.
Here are the types of lights best suited for dining rooms:
Chandeliers
Wall sconces
Pendant lights
Flush mount lighting
Semi-flush mounting
Chandeliers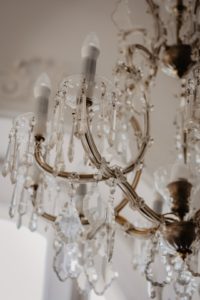 Chandeliers are some of the lighting options you would install in your dining room if you want to bring sophistication in the space. Because they attract all the attention, they are the best focal point makers in any dining room.
Traditional dining rooms synch best with crystal chandeliers. They feature several dangling crystals that provide a soft, cascading light all over the dining space.
Most of the contemporary or minimalist chandelier options you will find in the store take the style of pendant lights. They are mainly made from wrought iron and a few or many crystals.
Whichever type of chandeliers you choose to install, they should be fixed between 30" and 35" above your dining table.
What's The Size and Type of Your Dining Table?
Believe it or not but the choice of a chandelier will be influenced by the size and shape of your dining table.
Many interior designers agree that the chandelier should be approximately 1/3 the width of the underlying table. If your table is 60" (or 5 feet) in diameter or length, for example, the chandelier of your choice should have a diameter of about 20".
Big style always makes up for tiny size
The more ornate the chandelier is, the best suited it is for larger dining rooms even if it's smaller than what you can imagine.
The ornate features add a different type of weight that gives a chandelier the same commanding power as the larger and less ornate options.
Sometimes Two Are Better Than One
Most of the dining rooms found in manufactured homes would work with just one chandelier hanging above the table. If your dining room is a bit bigger, however, there is no good reason why you shouldn't install two chandeliers.
This can be especially recommendable if you are dealing with a long rectangular table on which the diners at two extreme ends need to receive an ample amount of lighting.
But that would mean you are going for small-size chandeliers.
The Size and Maximum Hanging Length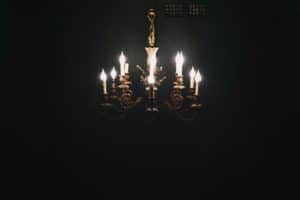 Chandeliers come in many different shapes although most of them tend to be circular in the middle.
That's probably why the circumference or of the chandelier is not used to measure their sizes. Rather, we judge them based on the number of lights present on the unit.
Mini and Small chandeliers come with between 1 and 5 lights on them while the larger options come with more than 5 lights.
The typical dining room in a manufactured home can be serviced with two or three mini or small chandeliers. If you must choose the larger options, then one fixture would do.
The length of the cord is one of the critical aspects of the chandelier to which you need to pay extra attention. Hanging lengths range between 0.5" to 112".
The ideal hanging length in a typical dining room found in manufactured homes is between the minimum 0.5" and 40".
Fortunately, you don't need to worry about the precise length as most chandeliers permit cord adjustment to meet your specific needs.
Glass Shade Type
There are over fifty types of glass shades, but only five are popular:
clear glass
etched glass
 frosted glass
 seeded glass
 tinted glass.
Any type of glass would do for any dining room unless you have any individual taste or needs.
Compatible Lamp Type
The best thing about chandeliers is their versatility – most of them can be used with different types of bulbs. Often, four types of bulbs are used:
CFL (Compact Fluorescent Lamp)
Eco Incandescent
Fluorescent
Halogen
CFL (Compact Fluorescent Lamp)
They are very much like fluorescent tubes except that they are small and folded or curved to fit in place of the regular incandescent bulbs.
Recommendations
Eco Incandescent
These eco-friendly bulbs consume less power compared to regular incandescent lights.
You can attach them on your chandelier fixture and receive the same light you would've got from any other incandescent light, but cheaply.
Recomendations:
Fluorescent
These chandeliers can work with regular fluorescents bulbs.
Recomendations:
Halogen
They are also referred to as tungsten halogen, quartz iodine, or quartz halogen bulbs.
They operate very much like incandescent lights but on a different voltage.
Recomendations:
Wall Sconces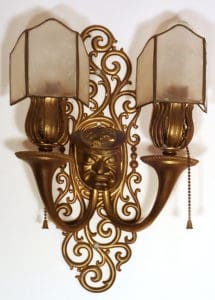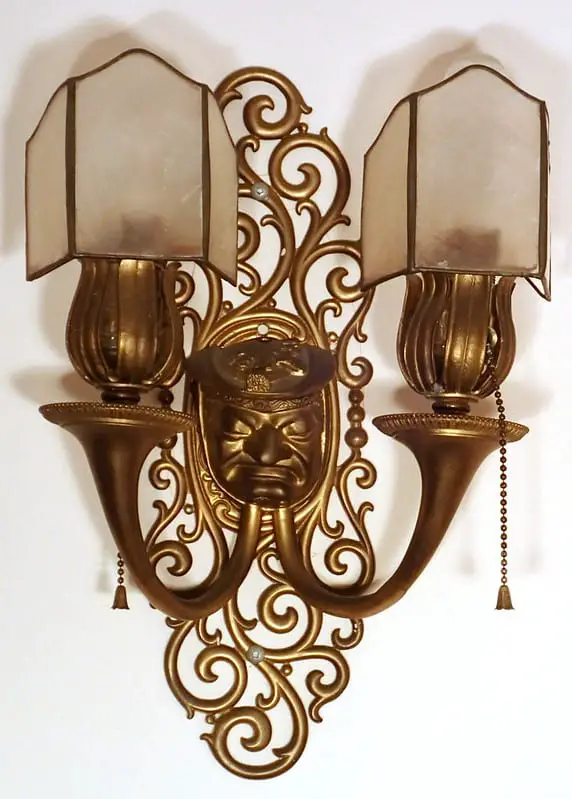 Wall sconces are some of the most versatile lighting options you could ever buy. Unlike other common lighting fixtures, they are fixed on walls instead of the ceiling.
It is rare to find wall sconces being used alone without being complemented with other types of lighting fixtures. This is partly because most of them don't produce enough light to reach the middle part of the room. Also, the fact that they are positioned on walls means the light can be obstructed by people sitting around the table hence reducing the amount of light that reaches the table.
With proper positioning, however, wall sconces can be an excellent lighting option for a dining room of any size. Unlike regular ceiling lights, their positioning along the perimeter of the wall means the whole room is engulfed in a floodlight emanating from multiple locations
For better results, consider installing your wall sconces at a height of at least 60" from the floor or 24" from the level of your dining table.
When you walk around in the dining area, your wall sconces should be around the level as your eye level. The best thing about this type of lighting is that they don't shine brightly like the ceiling options.
This reduces the likelihood of causing harsh glare on your eyes. The fact that they are installed around the room means the shadow produced by one bulb will cancel the other in the opposite direction.
Take The Dining Room's Décor into Account
Wall sconces are dependent on the general décor in your dining room more than any other type of lighting. Because they are installed on walls, you need to put into account their finish as well as the accents and the color of paint and general décor on your walls.
You Have Many Choices to Choose from, But Glass Shades Are Good for Dining Areas
There are several types of wall sconces, but just a few would look great on the walls of your dining area. Those with glass shades are the most commonly used type. This popularity is partly because of their versatility.
Depending on how you install them, they can serve as task lighting, ambient, or accent lighting. This means they are the best option of sconces if you will be frequently switching between different purposes of your dining area.
Some wall sconces come with fabric shades and they are the best if you wish to provide more diffused light in the room. They might not be the best sort of sconces for you if you are planning to use them alone; consider complementing with regular chandeliers or pendant lighting.
Some sconces come with cylindrical shades, which means you can choose to install them vertically or horizontally. Although they look better in bathrooms better in bathrooms, especially above the mirror, they can be installed in a dining area with bright paints.
The most decorative type of sconces tends to be those with curved shades. They come in different themes, shades and decorative add-ons. If you wish to provide accent lighting in the dining area, they are the best type of wall sconces to install.
What are the best wall sconce brands?
Whether a wall sconce is great or drab will depend on your assessment across many different brands, but those from KOHLER are some of the best in the market.
The company has impressive customer care in the United States market and offers some of the best kitchen, bathroom, and general home products across North America.
Livex Lighting supplies some of the best candle style wall sconces you might want to consider.
If you are looking for high-end or handmade options, Eurofase, Feiss, and a bunch of individual designers at Lowes, Maynard, and Home Depot would be better options.
Pendant Lights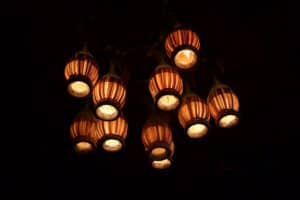 Pendant lights are just the right type of lighting fixture to install in your dining area if you don't fancy sconces, chandeliers, flush mounts, and semi-flush mount options.
Traditionally, formal spaces at home such as the dining area work well with low hanging pendant fixtures.
The rule of thumb is to install your pendant lights hanging about 3 feet (or 36") from the dining table and 6 feet (or 72") from the floor.
However, rules are set to be broken – some people consider this "rule of thumb" as too low a typical dining room especially if it doubles as a casual entertainment spot.
For a more laid-back or modern feel, you might consider bringing them a little bit and hanging them between 6-1/2 feet to 7 feet (or 78″ to 84″) off the floor.
Recomendations:
Mullins 1-Light Brushed Nickel Mini Pendant with Clear Glass Shade: Cost: About $50.00
The simple design of this sleek industrial mini pendant and white finish makes it great for the dining area. It comes with a 40-Watt medium base bulb that must be bought separately. It is compatible with both CFL, LED, and incandescent options.
Sydney 1-Light Polished Chrome Clear Glass Hanging Pendant : Cost: About $107.00
The polished chrome design of this pendant light can match a wide range of dining room décor. They also come with a dimmable feature that lets you adjust precise light levels. The hanging cord too can be adjusted.
Flush Mount and Semi-Flush Mount Lighting
Flush Mount lighting describes any of the dome-shaped lighting fixtures often installed flush or directly on the surface of the ceiling without the need for cords.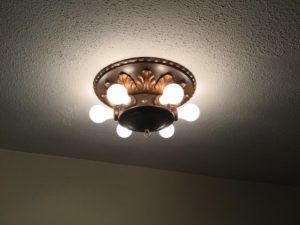 They are the default source of lighting in most homes regardless of the purpose of the room. If you don't have a lot to consider, they are the kind of lights you would settle on without even thinking.
Semi-Flush mount lights are very much like Flush mount lights except that they hang on a short cold off the ceiling rather than attack directly on the surface of the ceiling.
Both Flush mount and Semi-Flush lighting are great for a dining area with short ceiling height. This is because you don't need to maintain long clearance height between them and the dining table.
For that reason, you don't need to be too specific with the length of the cord of the Semi-Flush lighting – the length is too short to have an impact on anything.
There aren't many Flush and Semi-Flus lighting out there. So, your choices will be mainly based on things such as the finish (nickel, black, brass, oil-rubbed bronze, chrome, white, etc.) and mount shapes (square, cluster, circle, bell, or drum).
However, you have hard sizing choices to make:
| Fixture Type | Fixture Size |
| --- | --- |
| Mini size | Less than 13" in diameter |
| Small size | between 13" and 22" in diameter |
| Medium size | between 22" and 30" in diameter |
| Large size | from 30″ and higher in diameter (NOT SUITABLE for the typical 8 feet high dining area found in most manufactured homes) |
2. Cost of Lighting Your Dining Area
The cost of hiring the installation contractor bites a bigger part of the budget. Just like any other lighting project, you will need a licensed electrician to install the fixtures in your dining area.
The perks of hiring a licensed electrician are zero malfunctions, safety, and electrical wiring that is up to code. If you can estimate the cost of labor, it will be easier to calculate the total cost of installing any kind of lights in your dining area.
It also becomes easier to prepare reasonably. The purpose of the budget is to help you stay focused on the lighting fixtures of your desire and avoid overspending.
Conclusion
Most manufactured homes come with dining spaces with a ceiling about 8 feet between the floor and the ceiling.
This means your lighting fixture options will be limited to short corded chandeliers, pendant lights, wall sconces (which you might want to complement with other types of lighting fixtures), and flush and semi-flush lighting fixtures.
The costliest part of installing lights is that of hiring a qualified electrician. Once you have determined the cost of labor, it becomes easier to prepare the budget.