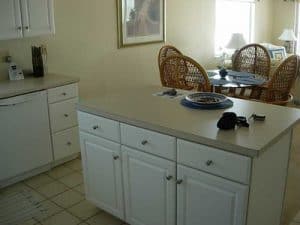 A freestanding kitchen island in the middle of your kitchen serves to complement the design of your kitchen as well as provide a dining spot for the rest of the family.
You can use it in various ways. If you intend to use it for dining, you would add a few stools around it. If you intend to use it as a food preparation area, there will be no point in adding stools.
Also, you choose to simply use the cabinets in the underbelly to store your pans and other kitchenware.
Manufactured home kitchen islands can go well with your kitchen.
You get extra storage space, counter space, and possibly an extra room for a sink or an appliance such as a microwave oven.
If you surround it with stools, you would have removed the need for a separate dining area. Basically, a kitchen island can help you save a lot of space in your manufactured home.
The idea of a kitchen island is relatively new. It only gained recognition when kitchens got bigger and when more homes began embracing the concept of an open plan kitchen.
Today kitchen islands are starting to be a near-universal add-on in most kitchen remodeling projects.
Related: How To Shop For Replacement Cabinet Doors
5 Features to Look for A Manufactured Home Kitchen Island
Remember to look for these features in every kitchen island in your consideration:
1. Waterfall concept
More and more homeowners are opting for islands with waterfall countertops than any other type of kitchen island.
Products with waterfall countertops have their countertops extending past the edges of the island.
The countertop extends out and flows downward along the sides, displaying the beauty of the material used to make your island from multiple directions.
This concept can mean a lot if you wish to install an island for the purpose of making a statement.
Some of the popular materials used to male statement islands are natural stone, concrete, wood, and natural stone.
2. New takes on some old classics
Islands that mimic classic furniture are a trend. And as the popularity continues to soar, this look is expected to become more accessible.
Today, instead of going for those expensive custom-made products, you can find a range of pre-crafted options with the looks of the classic furniture in an array of colors and styles.
3. High Contrast
It's worth admitting that the unstoppable mix-and-match trend has hit the kitchen. Besides the rest of your cabinetry, the kitchen island offers a perfect opportunity to add some dimension and create contrast in your kitchen.
You are free to utilize the same type of material in two complementary shades or colors (black and white or navy blue, for example).
Better yet, you can mix two contrasting materials, like mixing wood and metal.
4. Inbuilt Storage
A tidy kitchen comes with plenty of storage space that can be used to prevent cluttering. Most homeowners want their crock pots, blenders, pots, and pans out of sight.
Kitchen islands often come with plenty of storage space that you use to keep everything you need to hide.
It can be cabinets, pull-out shelves, hidden charging stations, drawers, and even open cases that may be used to store cookbooks and mugs.
Your microwave, for example, can fit snugly somewhere in the underbelly of the island and free some space on the countertop.
You can as well choose to add a convenient trash and recycling unit in the empty space within the island.
5. First-rate functionality
Think about it: incorporating an oven, sink, or cooktop into your kitchen island can boost your kitchen's functionality, all you need is to have is a proper drainage system.
A dedicated and spacious island will free vast spaces in the remaining part of your kitchen which will ease your movements and boost the efficiency of food preparation.
Furthermore, if you proceed to add some dining seats around the island, you would have made your kitchen a more sociable and open place.
Such a kitchen would be an excellent place to kill time with your family members as you cook dinner or entertain your guests.
7 Factors to Consider When Choosing A Kitchen Island
Not just any kitchen would accommodate an island. Sometimes space may have a bigger say on whether to add an island or not.
Even if your kitchen is spacious enough to accommodate one, you would still consider a few factors to avoid ending up with an awkward-looking arrangement.
Here are the factors you need to consider before even setting out to buy the island:
1. Function
What do you intend to use the island for?
Are you looking for extra space for preparing your food?
Would you like to create a dining area within the kitchen?
Ensure that you are fully aware of the purpose behind the purchase of the island and how you want it to work inside your kitchen.
Knowing these things can be helpful in coming up with the appropriate design (if you decide to go the DIY route) or choose the option that suits your needs.
2. Appliances
Adding a few appliances to your island can improve the flow of work in the kitchen.
Put into consideration the wish-list and practical items that would go well in the space, such items as:
Pull out trash can drawers
Pull out freezer
Steam oven
The best thing about kitchen islands is that you can think outside the box and add pretty much any appliance anywhere in the storage as long as there is enough space for it. Enter storage.
3. Storage
Most homeowners tend to focus on the countertop portion of the island and ignore the storage potential of the underbelly.
It is only after you have bought a tiny island that you realize you have a bunch of baking supplies, holiday dishwasher, family heirlooms, and lots of other stuff.
That's why it is important to consider your storage needs when shopping for an island. Create a list of all items that need extra space.
Once you have ascertained that the rest of the regular cabinets can't hold them, it will only make sense to select an island option that comes close, if not entirely, to store all the items.
It is advisable to only include items that often get in your way when working in the kitchen.
Because appliances such as microwaves seem to fit nowhere unless you make a special space for them, maybe this is the perfect opportunity to make a slot for them on the island.
4. Shape and Fit
The shape is just as important as the size. Think of these two factors when deciding how the kitchen island will be installed and function.
Here are the questions you need to ask yourself:
What's the size of the island in your mind?
How did you usually work in the kitchen before the installation of the island?
How do you think the island will affect how you work in the kitchen?
How do you envision the traffic flow in the kitchen and around the island?
How much more space do you need to have in the kitchen to feel comfortable.
5. Style
Style is everything. You obviously don't want to spend huge sums of money on an island that would look out of place once installed.
When it comes to styling your island, Pinterest can be of great help.
Do you prefer open shelving to glass doors?
There are a lot of questions you need to ask yourself, but all of them boils down to two things: improving the aesthetics of your kitchen and ensuring that the island is synchrony with the rest of your kitchen's style.
6. Kitchen shape
Some kitchens were not designed to accommodate an island. The size of the kitchen as well as how other items are arranged all over it can influence your island decisions.
Kitchens are normally designed in 3 shapes:
G
L
U
Most of these kitchens may not have all it takes to support a functional island.
The G-shaped type, which often comes with a peninsular-like section, tends to look overcrowded and is the worst kind of kitchen to even consider adding an island.
An open-plan kitchen, on another hand, leaves a lot of free space in the middle and would be perfect for the installation of an island.
7. Kitchen island size
You should select the size of the island relative to the size of your kitchen.
Choosing a small island for a large kitchen would look underutilized; opt for a large island for a small kitchen and you'd barely have space to walk around.
Fortunately, islands are sold in a range of sizes, from small square options to large rectangular varieties.
To choose the best island for the existing space, start by measuring the size of the empty space in the middle of the kitchen and take them to your dealer's store.
The dealer will help you in figuring out the perfect option for your space.
The smallest island you can install is 4" L x 2" W. However small it is, you still need to have plenty of room around it to permit easy movement during cooking. Unless your kitchen measures 12" L X 8" W, forget about the idea of an island.
Here are the questions you need to ask yourself in the same breath:
What's the size of your family?
How many people normally cook in your kitchen at the same time?
Is your kitchen a central point for your family life and parties?
6 Types of Kitchen Islands
There are about 6 types of kitchen islands perfect for a manufactured home.
1. Rolling Cart "Island"
We can barely call this a kitchen island, but hey, we need to start somewhere. These "islands" are very much portable preparation areas that you'd keep to one side of your kitchen instead of letting it feature prominently in the middle of the space.
Pros
Probably the cheapest "island" and one that's easiest to move around the kitchen
Cons
Rolling carts are designed to roll. Unfortunately, the wheels are prone to unlocking and may sometime fail to provide a firm grip on the tiled floor in the kitchen
Examples
Home Styles provides lines of functional Rolling Cart Islands including:
2. Small Non-Portable Island
Probably the smallest real kitchen island.
They are almost the same in size as the Rolling Cart "island" minus the wheels.
They are normally 38" in height to provide just the right height you need when preparing food.
Because they don't move around, they remove the annoyance of the cart rolling around when you want it to stay stationary.
If you try to affix it on the floor in one position, you could end up triggering the electrical code's requirements set by the authority in your locality. As such, it would be prudent to leave it unattached.
Pros
This is the best way to go if you are looking for a simple island
Cons
They are normally 4″ long to the maximum, which is meager even for the average food preparation needs.
Examples
Home Styles happens to produce this type of island as well.
An example is their Black Wood Base with Wood Top Kitchen Island (25-in x 48-in x 36-in):  Although this kitchen island is largely stationary, four convenient wheels can be popped out of the base when you need them most and help you move it around the kitchen.
3. Kitchen Island Table
This island looks like a regular table with a thick countertop. In fact, it is so strikingly similar to the conventional table that the only thing that can make you call it an "island" is the fact it is installed in the middle of the kitchen. There are no cabinets under it.
Pros
One of the easiest islands to bring in the kitchen and install
Having a table as an island adds a special charm in the kitchen
They are easy to dismantle or remove if you don't like them
Cons
No space for sinks, cabinets, receptacle – just a plain table in the middle of the kitchen.
Example
A good example is International Concepts' Kitchen Island.
Another is Crosley Furniture's White Composite Base with Steel Metal Top Kitchen Table (18-in x 43-in x 35-in): A sizable table with 2 convenient utility drawers and heavy-duty locking casters.
4. Base Cabinet With Countertop
These islands come with small cabinets and an actual countertop made from preexisting materials.
They are the first truly fixed islands that may require a permanent electrical cord to be added so that you can incorporate such appliances as microwave ovens.
The countertop can be as big as 24" L x 12" W.
Pros
If you decide to go the DIY, this is the easiest real island to build
Cons
You need a countertop material that has been cut "to size"
Example
The Diamond NOW Wintucket 30-in W x 35-in H x 23.75-in D Truecolor Cloud Sink Base Stock Cabinet  has everything you need in a Base Cabinet Island minus a countertop.
This gives you an opportunity to choose whichever type of countertop you want to accompany it.
5. Fully Functional Island (Water and Electricity)
These are full-blown kitchen islands with everything you would want an island to have: power supply, drainage, sink, and ample working space on the countertop.
Pros
They aren't merely "auxiliary counter spaces," they are virtually full second kitchens
Cons
The cost of installing this island can skyrocket out of hand due to the need for plumbing, drainage, and electrical setups.
Example
Etsy recycled material perfect kitchen island is a perfect Fully Functional Island made from recycled materials.
6. Double-Tiered Eating/Cooking Island
Islands in this category are the most advanced of all.
They are normally 42″ L x 36″ W and come with two countertops, one slightly lowered below the other.
Some of them come with a large countertop big enough to support a row of seated people on one side and a cook on the opposite side with a sink or two in the middle.
Either way, they serve two purposes –
they can be used as an eating area or
cooking area.
The lowly countertop can be used as a food preparation space and the higher counter as an eating area.
Pros
Optimal height as well as eating and cooking space.
Cons
The lowest countertop is never big enough to be considered a real space that can support serious cooking.
Example
Etsy 7ft gray kitchen island without countertop  comes with everything you want in a double-tiered eating/cooking kitchen island.
The cost of this class of islands can be considerably high unless you've planned for it.
Conclusion
Because your mobile home's kitchen is most likely to be small, an island is all you may need to increase the area for food preparation, dining, and even storage of the kitchen.
When choosing an island for your kitchen, consider the size of your kitchen, type of the island, style, and related factors.