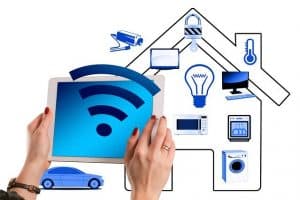 Technology is awesome!
It's just for a fact that so much technology and power is packed in your latest smartphone that what they used to take Neil Armstrong to moon.
And now, you can do literally anything with it:
automatically switch and on-off the lights when you enter or leave the room;
brew coffee with a simple voice command;
monitor your entire home in Los Angeles while you're on a vacation in Bahamas
and so on.
Making a smart home has never been easier. You don't even need an electrical and electronic engineering degree to install smart cameras on your home – a simple DIY  "HOW TO MAKE A SMART MANUFACTURED HOME" guide from the web is enough to get you started.
Related: How To Setup A Home Office In A Manufactured Home
What IS A Smart Home?
'Smart Home' means the home is automated to some degree.
If you can control the air conditioner from your iPad, that's home automation.
You can automate virtually anything or function in your household today.
Figures about Smart Homes
Smart Manufactured Home – Pros
Smart homes have increased comfort and security for the owner's property. Making your manufactured home smart involves installing sophisticated sensors that throughout monitor the premises. This ensures that all the room and your yard is protected.
Monitoring all your home appliances and devices from a centralized point
You can remote control all your smart home functions hence minimizes time wastage
It saves on energy depending on the type and automation capabilities of the device
Enable smooth flexibility of new appliances and devices and enhances the functionality of smart appliances
Smart homes are more sustainable as compared to regular homes.
Manufactured smart homes offers the homeowner peace of mind.
The smart home enables the homeowner to execute commands while away. For example, you can lock your door remotely upon recalling that you forgot when you were leaving.
Smart Manufactured Home – Cons
Smart manufactured smart homes are quite expensive to establish. This profoundly limits people with considerably low incomes.
Dependency on the internet limits people who have no access to an internet connection.
Require technical maintenance; therefore, they tend to depend on professionals.
Connecting to Wi-Fi provides exposure to hackers.
How To Make A Smart Manufactured Home – Recommendations
1) Smart Security Devices
Smart Doorbells
Top Picks: ZMODO's Greet Pro Smart Camera and Ring Video Doorbell Pro
A typical doorbell would only let you know of the visitor at the door – and that's only the case if the visitor presses the button.
Smart doorbells go a step further – they come with HD video cameras, an alert system, and sensors that let's you know who is on your step and if they are up to no good.
If, for instance, a package pirate tried to steal the items that the Amazon delivery guy left at your door, you would be alerted immediately.
Some doorbells permit two-way audio communication and night-vision support. One such device is ZMODO's Greet Pro Smart Camera which even links with Alexa home assistant.
Smart Door Locks
Top Picks: Ultraloq U-Bolt Pro (plus Wi-Fi Bridge) and Schlage Sense 
Keys are becoming outdated. And if you are forgetful, there is likelihood that you've already replaced your keys multiple times.
The best, and the smartest, solution to key misplacement or door lock spoofing is a smart lock that don't need a physical key to open.
It has become industry standard for door lockers to come with an app which you can use to open the door, but lots of other technologies may be involved as well such as user codes and scheduling.
One remarkable smart door lock great for a smart mobile home is August Wi-Fi Smart Lock. With it, you can open or close your doors with simple commands via Alexa or Siri.
Smart Streaming Security Cameras
Top Picks: Arlo Pro 2 and Blink XT2 Indoor/Outdoor Smart Camera 
If you want to be remotely updated with all activities happening inside or/and outside your manufactured home, it would be a great idea to install smart streaming cameras.
They take automation to another level by not only streaming a live feed of every event happening in every nook of your home, but also detecting such things as smoke and water leakage.
Some of these systems employ complicated protocols like Zigbee and Wave, so you will need to hire a special technician to install them.
But for those that use Wi-Fi, it won't cost you a penny to download a DIY manual for guidance on how to install them yourself.
Smart Nanny Systems
Top Picks: PANORAXY B100V.3 Mini and Zohulu 1080P Mini 
Do you have a child whose safety you would do anything to safeguard? You need a smart nanny system.
Typical nanny systems would simply stream a live feed of the whereabout of your child, but some more advanced smart systems may go a step further to interpret the child's noises and sing a lullaby when necessary.
The line between smart nanny systems and general home security streaming systems is somewhat blurred due to the overlapping functions.
The major difference is their operating location: nanny cams are often concealed while general security systems are conspicuously installed. Still, you will need to be a particular when shopping for one.
2) Lighting Automation
Light Switch Controller
Top Picks: Brilliant Control and Lutron Aurora
What if you had a device that you could use to control light, music, and a bunch of home appliances? Well, such a device is already in existence, it's called Brilliant Control (that's an actual brand name).
Brilliant Control comes with in-built Amazon Alexa that lets you use voice commands to switch on/off household lights, music devices, and an array of other devices.
You can video chat with anyone within the house if you feel like it. Just so you understand this amazing device better, consider reading this review on PC Magazine.
Lutron Aurora is a cheaper alternative to Brilliant Control and works better with Philips Hue smart bulbs that are found in pretty every smart home.
Smart Bulbs
Top Picks: Philips Hue Bulbs  and Yeelight Smart LEDs 
Smart lights will dim and turn off when they detect reduced activity in a room. Some of them allows the user to a range of colors via voice commands or smartphone app.
Virtually all smart bulbs will let you set lighting schedules and even connect to one the popular smart home assistance devices like Apple Homekit, Alexa, and IFTTT.
Philips Hue line of bulbs is something akin to authority brand in this segment of home lighting, although challengers like Yeelight Smart LED bulb are gaining on it.
3) Smart Kitchen Appliances
Precision Cookers
Top Picks: Anova Culinary Precision Cooker and Traeger Ironwood 650
If you are a big fan of sous vide cooking (nothing big really, just a way of cooking ordinary food by first wrapping it in plastic bags and cooking it in a hot bath), you need a precise immersion calculator.
Anova Culinary Precision cookers would be great for the task – they let you control the cooking temperature from anywhere in your home via an app and Wi-Fi connection and keeps you updated with the cooking process.
And if you are into barbecuing, there is a strong chance you're already fed up with your current grill's tendency to let out flare-ups and similar annoyances.
Traeger Ironwood 650 ensures that you no longer worry about uneven cooking temperatures, flare-ups, or the need to constantly feed wood into the grill.
Through Wi-Fi connection, you can control everything from anywhere in your home and still deliver outstanding food.
General Smart Kitchen Appliances
Smart 12-Cup Hamilton Beach Coffee Maker
This coffee machine is here because mornings are better when you can request "Alexa, brew some coffee for me" before you roll out of your bed.
You are going to impressed that it costs about $90.00 to acquire – not many smart coffee machines come with price tags in that region.
Perhaps the most likeable thing about this coffee maker is that no apps are required to control it – just talk to it via the Echo device or Alexa app.
If you still fry your chicken and chips in a pan of oil, this is probably the best time to explore an efficient and smart alternative: the Cosori Smart Wi-Fi Air Fryer.
Besides offering 11 cooking modes, it allows you make to make settings from an app and even let you prepare over 100 different recipes.
The fact that it easily pairs with Alexa means you don't need to touch a button to
iDevices Smart Kitchen Thermometer
Things can get a bit tricky when cooking multiple foods – you find yourself monitoring the temperatures of several pots at the same time. This cute little thermometer lets you track two temperatures simultaneously so you don't scotch your omelet. The temperatures can be tracked on a smartphone app.
4) Smart Cleaners
Smart Vacuum Cleaners
Top Picks: iRobot Roomba s9+ and Dyson V11 Torque cleaner 
Of all boring chores in any household, cleaning is perhaps the most loathed.
Cleaning the floor can be on another level of boring and that's probably why vacuum cleaners came before washing machines.
Today, even the most advanced manual vacuum cleaners have been outclassed by robots which would pick tinier particles on their own with very minimal human control.
iRobot Roomba s9+, as you would expect from any pancake-sized cleaning robot, is capable of reaching difficult areas of your home and empty itself. But it is never effective away from rugs and carpets; iRobot Braava Jet m6 – an advanced sibling of the former – is the best alternative for tile and hardwood floor.
Dyson V11 Torque cleaner is not a robot, but an intelligent cordless stick vacuum that automatically detects the type of the surface of the floor (or any other surface) and adjusts the motor speed into the correct mode.
Smart Air Purifiers
Top Picks: Blueair Classic 605 and Winix HR1000 
Basic smart air purifiers will take your commands Alexa or any other home assistant or remote control.
More advanced smart purifiers will check the quality of air on their own and adjust the fan speed accordingly among other cool things.
If you are looking for the best smart purifier for starters, I'd recommend the Blue Classic 605s.
Besides its ease of use, you can tell Alexa to control it for you when you are not around – isn't that cool?
From its app, you can make such settings as night mode, LED light level, child lock, and even set a timer.
The Winix HR1000 comes with typical features you'd expect on a smart air purifier – a handy app for adjusting anything and Wi-Fi interconnectivity – but the deodorant coated carbon fibers are one distinguishing feature.
Smart Air Conditioners
Top Picks: Friedrich Kuhl Series and Midea Smartcool Portable Air Conditioners 
An air conditioner is a must-have during the summer or if you live in a hot area.
One flaw common in virtually all traditional air conditioners is their inability to make precise temperature judgements and adjust accordingly even with most advanced thermostats in the industry.
Homeowners incur huge costs in electricity bills every year for using faulty or inefficient air conditioners.
Smart air conditioners are probably the most efficient and less error prone option we have around.
Most of them come with highly precise sensors that will adjust the moisture or heat level just as you want the room to be.
Also, most of them, expectedly, will come with an app that you can conveniently use from anywhere in your home.
Samsung, LG, and Mitsubishi Electric produce some pretty awesome air conditioners perfect for mobile homes. For starters, however, Friedrich Kuhl series of conditioners would be great as they are designed for small rooms.
Smart Washing Machines
Top Picks: Samsung WD90J646410AX and Samsung High Efficiency 
Think of a washing machine that can weigh the load of clothes and adjust the right amount of detergent.
Also, think of a machine that does self-diagnosis and alerts you when a maintenance job is due.
That's a smart washing machine.
Samsung WD90J646410AX smart washer keeps the memory of use and will remember the often-used programs.
The smartest (but not the most unique) thing about this washer is that it lets you add clothes in the middle of a washing session – not may washers does that.
It can swallow up to 9kg of clothes and wash them just perfectly.
It measures just 600 x 850 x 600 mm, dimensions that make it ideal for a crammed pantry in your manufactured home.
5) Smart Health And Fitness Devices
Top Picks: QardioBase 2 and Sleep Numbers 360 Smart Bed 
If there are smart devices you need most in a manufactured home, they must be health and fitness devices.
That's because most manufactured homes aren't spacious enough to have a fully equipped gym, leave alone a sizeable fitness room for basic exercises.
Good news is that smart health and fitness devices don't need to be accompanied with strenuous exercises to work.
Some of them will just track your sleep or breathing rhythm and let you get proper attention from professionals – just that!
QardioBase 2 is the right device you need for tracking your fat, muscle mass, BMI, bone composition, and even pregnancy.
Once it has gathered troves of data on your body, it transfers it to the smartphone app for further processing and decision making.
There are tons of fitness trackers out there, but very few of them are as effective as a fitness mattress.
At least, that is the idea behind the Sleep Numbers 360 Smart Bed.
This mattress incredibly customized mattress will track your sleep, connect with a bunch of third-party apps at your request, and display the insights and sleep trends on its app.
6) Smart Outdoor Devices
You need to trim the grass outside your manufactured home. You also want your small garden sprinkled at the right time with right amount of water. There is a smart device every task.
Rachio 3 Smart Sprinkler (this is a controller)
This sprinkler controller gives the user total control over irrigation via an app that lets them choose from more than 8 or 16 zones (it depends on the unit you choose).
Systems with one zone comes with one master valve terminal.
The sprinkler won't water your garden during rainfall. You can as well choose to turn it on or off from long distances with your smartphone.
It integrates an array of cool services including IFTTT, Google Assistant, and Amazon's Alexa.
Husqvarna are known for their cutting-edge outdoor mowers.
One of their well-known robotic lawn mowers is the Automower 315X which comes with a few fab features like programming options, quite operation, ability to create schedules and monitor the mowing session.
It is important to note that Husqvarna Automower 315X is a high-end trimmer, so you could end up spending as much as $2,000.

Conclusion
Because manufactured homes aren't as spacious as traditional homes, you may need smart devices that have been designed to ease some basic chores in limited spaces.
Smart devices are all these same – if you are not controlling them with voice commands, you have an app installed on your smartphone for that purpose. They are mainly centered around automation.
If you have movement problems or disabled, for instance, it only makes sense to equip your manufactured home with smart air conditioners, smart bulbs, and smart cleaners.
But that's a bare minimum. You can automate pretty anything in your household. There is a correct smart device for every task.