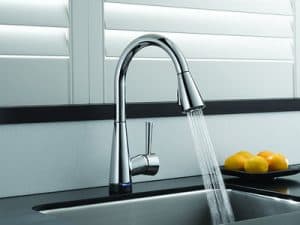 The job of a faucet is simple and straightforward – to permit and stop the flow of water into the sink.
Some faucets still use the lever or screw mechanism to stop the water flow while others utilize new concepts such as fluid flow or sensors.
Whichever technology that comes with the faucet, you want it to stop the flow of water immediately you turn the handle off or regulate the flow just as you desire.
With so many styles, finishes, technologies, and types to peruse through, choosing the right faucets for your needs is one of the most daunting tasks you could ever embark on in a home improvement project.
However, if you focus on the defining features and create your list of must-have features i.e. features that the faucet must possess to work for you, the process can become a bit easier.
7 Features to look for in Manufactured Home Kitchen Sink Faucets
Spout height & reach
Ceramic valves?
Finish
Number of holes in your sink
Single or multiple handles?
Pull-down or conventional sprayer?
Touchless feature
1. Spout height & reach
Faucets come in different reaches and heights. You don't even need to think hard about it – just look at the height and reach of each option and choose one that pleases you.
Still, it may depend on a few factors. If there's a shelf above your sink, tall spouts may be hard to use or may not fit at all.
If you would like one spout to service two or three bowl sinks, a short spout will be incapable of servicing all the bowls; a tall spout would be more practical.
High-arc (or "gooseneck") faucets typically stands at 8″ or taller.
This is the ideal height for individuals who regularly handwash large pans and pots and those who simply want a larger working space.
Typically, a faucet reaches between 8″ and 10″ between the aerator and the faucet's body (the point where the water gets into the faucet).
However, this doesn't mean oversized faucets with a reach of 11″ to 16″ don't exist.
2. Ceramic valves?
One common annoyance with some types of faucets is the tendency of their valves to keep dripping even after you've hurt your fingers trying to close them as tightly as you could.
Some valves are largely free of this problem until after a few years of service. However, there is only one type of valves that almost never drips regardless of age, it is the ceramic-made valve.
3. Finish
Some finishes are just tougher than others. More importantly though, ensure that the finish matches the nearby towel bars, cabinet hardware, and pretty any fixture close to it – mismatches always look bad.
If you are replacing an old fixture, your choice of finishes will be open. Most of the options you will find in the store are finished with satin nickel, bronze, or chrome.
All these finish options are durable but some last longer than others.
Chrome
Chrome lasts longer than the other two and most other finishes. Chrome coated faucets are also easier to clean and that's probably why they are so popular in modern bathrooms and kitchens.
Nickel
Nickel finishes often come labeled as "satin" or "stainless-steel" or "brushed."
They are easily recognizable through their dull shine.
They do last as long as their chrome counterparts except that they are prone to water spots and fingerprints.
This means they are harder to keep in a sparkling clean condition. Some manufactures may add a coat on them to reduce smudges and stains, but these coatings tend to wear off or chip away with brief use.
Bronze
Bronze faucets come with a familiar brownish tone that's hard to mistake, thus the name "brushed" or "oiled" bronze.
But the surface tends to be a coat (like epoxy) instead of real metal.
While this coating may seem tough at the beginning, wear and chipping are unavoidable with sustained use.
4. What's the number of holes present in your sink?
If you wish to switch from a two-handled faucet to a one-handled alternative, it is recommended that you consider the total number of holes available.
Most of the products sold nowadays feature three holes:
one dedicated for hot water,
one for cold water,
and the other located under the spout.
A cover plate may be included in some single-handle options to conceal the extra holes (this is not universal, you will still need to check out the label to confirm that it is there).
If you are choosing a bathroom faucet and you currently have the "wide spread" type of faucet with 2 handles located a long distance from the faucet, you cannot switch to a new single-handle model.
Kitchen faucets will with "pull-down" sprayers mounted in their spouts almost always come with one empty home sprayer hole.
However, the solution to this problem can be simple: just install an average soap dispenser. There is a strong chance your new faucet will even include one.
5. Single or multiple handles?
Faucets with single handles are more convenient.
Two-handle faucets are good for the bathrooms, especially the traditional type in which they create a stylish symmetry that's also easy to use.
However, single handles are more practical compared to any other type. They are also more convenient as temperature adjustments are easier – plus, there is no extra one handle to clean.
6. Pull down or conventional sprayer?
Pull-down sprayers beat the conventional time by a huge mark when it comes to convenience.
Also, if you have ever installed a "side" prayer (basically, a sprayer handle that has been mounted in a sink) you probably noticed that it was prone to leaks and dribbles.
And you might have assumed that the issue would have probably been worse if you had opted for a similar faucet-mounted sprayer. Probably not.
Experts continue to rate "pull-down" sprayers more favorably as a reliable option compared to the old school side prayers.
7. Touchless faucets
Touchless faucets come with infrared or light sensors that turn's it on automatically. They offer the convenience you need when your hands are dirty or soapy. They can also help you to save money because they only let out water when you need it.
Style yes, but don't overlook the practicality of the faucet.
3 Factors To Consider When Selecting A Kitchen Faucet
What really makes the faucet perfect for your kitchen? Besides the list of features and specifications you have with you on a paper, remember to evaluate the faucet based on these factors as well:
1. Efficiency and Water Conservation
High-efficiency household plumbing fixtures are rated by EPA (U.S. Environmental Protection Agency).
All high-efficiency faucets will come with EPA's WaterSense label, meaning they satisfied the agency's water efficiency standards.
Efficient faucets avoid dripping in idle mode and are generally good for saving water.
If you choose a low flow faucet such as hands-free options, it means less water will go wastage as they will only permit water flow when you need it.
2. Hygiene
Go for a faucet that you can operate for a long time without cleaning.
The reason why you need to consider the hygiene factor is our tendency to forget washing faucets and pretty any other plumbing fixtures when we finish using them.
And many different people may operate the faucets with their dirty – in the long run, you end with a germ infested faucet that might pose a health hazard.
Hands-free faucets are always the best when it comes to hygiene as the user doesn't need to touch it to use.
3. Care and maintenance
Think of the long-term care and maintenance needs of the faucets.
Do not go for intricate high-end options if you don't have a care and maintenance plan ready for them.
Also, it would be a good idea to buy the hardiest faucet you can find just so you don't do the repair and maintenance work so often.
Single Vs Double Handles
Choosing between different types of faucets
Sink faucets are divided into two broad groups:
single and
2-handled faucets.
There are many subcategories.
1. Single-Handle Faucets
As the name suggests these faucets come with one handle.
They can stand on their own or attach to the base of the faucet. Many single-handle models sold today come with a mounting plate that is used to cover the three idle holes.
They are mostly ADA compliant for individuals living with disabilities.
If you feel like it, you can integrate your single-handle faucet with a side sprayer.
If you are going to choose them over the 2-handle type, at least check their distance from the window ledge or backsplash as the rotation of the handle may cause it to hit anything behind it.
If you have several additional sinkholes, consider purchasing a soap dispenser or separate spray nozzle.
Pros
These types of faucets are easy to install and use. They also occupy less space compared to 2-handle type thus ideal for small kitchens with small sinks.
Cons
The biggest problem drawback of single-handle faucets is their inability to adjust the temperature more precisely, something that's easier to do with 2-handle faucets.
MOEN makes some of the recognizable and cheap single-handle faucets in the market, including the Adler Single-Handle Low Arc Standard Kitchen Faucet with Side Sprayer in Chrome which supports tool-free installation that will see you install it 45% faster all by yourself.
2. Double-handle faucets
These faucets come with two separate handles, one for cold water and another for hot water. You might need three sinks to get the best out of this type of faucet. The handles may be mounted separately or integrated. The sprayer is normally separate from the faucet's head.
Pros
If you compare them to single-handle faucets, the two handles on this faucet helps the user get precise temperature adjustments.
Cons
Double-handle faucets can be an ordeal to install – you will need to hire an experienced plumber to do the job for you.
Another drawback is that you need to use both hands to make adjustments to the temperature.
Delta makes some of the best Double-Handle faucets in the market:
This faucet comes with a high-arc spout that swivels 360 degrees.
It comfortably fits 3-hole installation with 8″ centers. To prevent scalding, the metal level handles 1/4-turn stops.
The two high-arc spouts on this faucet fill large pots fast than typical single-handle faucets.
It accommodates a side-mount sprayer with 8″ reach that you can use to wash dishes and spray down the sink. Also, it fits a 4-hole installation with 8″ to support fast dishwashing.
What About Sprayers?
Sprayers are normally found on the side or spout of the faucet.
Some faucet designs incorporate the pull-down or pull-out spray heads into the spout that permits to channel water wherever you want, providing added versatility and convenience you would want when cleaning and cooking at the same time.
There are three types of sprayers:
Pull-Out faucets
Pull-Down faucets
Side sprayers
1. Pull-Out faucets
These faucets come with angled or curved spouts, allowing the user to pull out and extend the head to control the rate of flow of water.
They are mainly availed for single-handle faucets.
If you are looking for the best faucet for washing vegetables and dishes and rinsing in the sink, you might want to consider this type of washers.
Pros
The hose is longer than the pull-down, meaning you can swivel easily to the sides to fill your pans and pots on the countertop (very much like a hands-free activity).
Cons
Their low profile makes them ideal for small kitchens or those with a small countertop. Also, they aren't particularly great for filling your tall pots.
Examples:
This sprayer is exclusively available on Home Depot, but the most interesting thing about it is the ProMotion™ technology that provides smooth spray head controls with minimal effort.
They also come with ceramic valves which means they won't drip.
This advanced splasher packs several impressive technologies including the reflex system that that ensures easy movement and smooth operation.
It is designed for a 1-hole or 3-hole sink configuration with an optional stock plate included.
2. Pull-down faucets
These faucets come with spouts that rise conveniently into a perfect arc, allowing the user to pull the head to control the rate of flow of water.
They are available for both double and single faucets and permits more flexibility and space in the sink.
Pros
They usually come with one tall arc spout and several spray options, meaning you can use it to fill some of your largest pots available.
Because it permits one fluid hand motion, it is regarded as the most ergonomically perfect type of sprayer.
Cons
The great height of the spout may worsen an already low water pressure.
If you end with cheaper models or faulty weights, the spout sprayer/head will be prone to dangling.
Examples
Few faucets blends style and innovation like this one: a sensor feature has been included to enable hands-free use; 2-spray modes – aerated and full stream; a LED light that runs off the energy generated by the water flow, and a 3-minute auto-shutoff.
This is yet another innovative sprayer from Glacier Bay for low-income earners.
It is cheap but still packs some impressive technology and functionalities that will make dishwashing a fun experience.
It is one of those faucets that come with a FastMount mounting system that helps you install it in about 10 minutes.
3. Side sprayers
Side sprayers are mounted to the side of the faucet
They require a separate hole in the countertop or sink.
Their main purpose is to extend the flow of water to hard-to-reach parts of your pots.
The best part about them is that they can be retracted when not in, thus freeing much of the space for food preparation.
Most sprayers can be easily matched with an existing faucet.
Examples
Probably the two simplest and cheapest side sprayers out there. They get rid of unnecessary fancy technologies and functionalities to provide basic spraying functions at a much lower cost.
Just a simple plastic-made pullout side spray compatible with most of KOHLER's models and available in all KOHLER's colors.
Conclusion
Faucets are some of the hardest kitchenware to choose because of the large number of types available.
However, if you want to choose a few that really satisfies your needs, you need to pay attention to the specific must-have features your faucet of choice needs to have.
Once you have prepared a list of these features, proceed to evaluate each option based on its efficiency, cost, hygiene, and its care and maintenance demands in the long run.