Why would you install  a manufactured home approved wood stove rather than the conventional electricity-based heating option (or HVAC)?
If you have ever paid for winter heating bills, you know the feeling you get when you receive ridiculous energy bills that you can't even comprehend.
In an average winter, heating costs can account for about 45% of the average home budget.
That's the reason why many homeowners are turning to the oldest yet reliable source of heating – the wood stove.
The closest competitors to wood stoves are fuel oil-powered stoves – just 2-1/2 gallons of fuel oil is equivalent to 50 lbs stoveload of wood. You will need to feed the wood into the stove now and then.
Still, we need to take into account that trees are a bit clean and renewable sources of energy; fuel oil is dirty and unrenewable.

Mobile home approved wood stoves have become more advanced lately. The most efficient wood stove in the market today beats the most efficient oil-based stove by several factors.
Related: Wood Stove Parts Guide
Manufactured Home Wood Stove Safety: Play by the rules
There are rules that must be observed when installing a wood stove in a manufactured home. The United States Dept. of Housing & Urban Development (HUD) has a list of approved labs that tests every stove model intended for use in mobile homes.
That's why you should check the approval metal tag on the rear of the stove indicating the compliance with HUD Standards UM-84 and the name of the testing lab. If this metal tag is missing, the stove is not good for your manufactured home.
Secondly, the HUD requires that the stove must be connected to a tested prefabricated chimney system – it must be connected to your stove and installed by a professional.
Thirdly, to feed the stove with fresh air, the stove must be attached to a ducting system that links it to the outside.
Fourthly, the stove must be secured to the floor of your home by some means.
The HUD requirements are complemented by a few other basic installation and clearance guidelines provided by your stove's manufacturer.
These complementary guidelines are often based on the testing based on the Underwriter's Laboratory Standards 1482. All of them must be adhered to.
Manufactured Home Wood Stove Options – 2 Types
There are two major types of wood stoves:
Freestanding stoves
Insert stoves
1. Insert stoves
These stoves are designed in such a way that they can be easily slid into your existing open fireplace or, better yet, installed directly into your wall or chimney breast. Only the front part of the stove remains visible.
2. Freestanding stoves
These stoves, as the name suggests, may come with all the necessary infrastructure – cooktop, oven, etc. – to be installed from the ground up and don't need to be inserted in the wall or chimney breast.
If the manufacturer doesn't ship the stove with the installation infrastructure, you can buy them from third parties and end still end up with a decent freestanding stove.
Related: Are Electric Fireplaces Tacky?
Manufactured Home Wood Stoves – Five Shopping Factors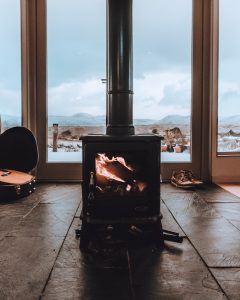 Wood stoves come with a few intricate features that you must bear in mind if you want an option that will meet your needs.
Also, several technologies are used by different manufacturers to boost the efficiency of the products and set them apart from the pack.
That's why you need to evaluate the options with a keen eye lest you end up buying a seemingly cheap but ineffective option.
To choose the best wood stove option, consider these factors:
efficiency
size
style
construction
blower 
1. Efficiency
An efficient wood stove won't require to be fed with wood (i.e. sweet gum, hemlock) as often, saving you a great deal of money and time.
For a woodstove to really qualify as efficient, it must have an EPA efficiency sticker on it complete with the efficiency rating.
The efficiency rating should be at least 70 percent or higher. It is possible to find an affordable woodstove with efficiency as high as 80 percent, but it may mean you are compromising on other important aspects.
2. Size
The size of the wood stove is directly proportional to the size of the area it can heat.
However, we tend to focus too much on the size of the space that needs to heat and virtually ignore the size of the stove.
Choose a large stove for a small room and you will be wasting much of the heat by allowing it to be absorbed by the walls.
Choose a small stove for a large room and you will hardly feel the warmth unless you sit too close to the stove.
This is where square footage comes in – you want the stove that will sufficiently heat the square footage of your home.
Most of the stoves in the market today can heat living spaces in the region of 1,500 square feet which is the average size of the living room in most homes. A small wood stove would heat such a space.
If your living space measures about 2,000 square feet, you will need a medium-sized stove.
3. Freestanding vs Insert – which style do you like?
As mentioned earlier, there are two types of wood stoves –
Each of these types of stoves comes with pros and cons.
Freestanding stoves, for instance, require a lot of space during installation.
Also, you will be free to place it anywhere in the room while considering that you will need a vent or chimney.
Because insert stoves are slid into existing spaces in the wall or chimney, you won't incur any extra costs trying to install it.
When it comes to versatility, however, freestanding stoves outshine insert stoves because they give you the freedom to make a combination of choices.
Determine if you really need either of the two. You will obviously put into consideration your needs and the design of your living room.
If you need plenty of space for movement, for example, it only makes sense to choose the insert type.
4. Construction
Most wood stoves are made from these materials:
Cast iron
Sheet iron
Limestone
Soapstone
Cast Iron
Cast iron is the stereotypical image of wood-burning stoves – wood stoves were historically made from it and still do. Cast iron has the advantage of being extremely sturdy. It never changes shape even when subjected to great heat.
If you are looking for a long-lasting wood stove, look for one with a body of cast iron.
The downside of cast iron, however, is that it takes a bit longer to warm compared to other materials. It also takes longer to cool.
Sheet Iron
Sheet iron is the second most often used construction material after cast iron.
With sheet iron, the manufacturer has extended design possibilities because it is malleable. We live in a time where the aesthetics and general appearance of the stove are important.
As such, sheet iron is becoming a preferred material of construction for most manufacturers. However, sheet-iron stoves tend to be less sturdy compared to their cast iron counterparts because the sheets are malleable.
An outer layer is added on a stove to bring the much-needed insulation and reduce the loss of heat.
Soapstone
Soapstone is the most often used layering material because it appealing to the eye and provides superb insulation.
Limestone
Limestone is the second most used laying material after soapstone. The biggest advantage of limestone is the range of patterns it gives your stove – limestone comes in an array of patterns. It can also be shaped virtually into any pattern to give your stove a custom-beauty.
There are other materials used both on the body and in layering on woodstoves.
5. The Blower Factor – Does The Stove Come With A Blower?
Some manufacturers will be generous enough to offer a stove and a blower (although the cost of the blower may have been included in the overall price of the stove unbeknown to you).
Some manufacturers will be bold to tell you to buy your own blower separately from the stove.
Manufacturers who offer both as a unit are always attractive to the average shopper because it could mean you are saving a few dollars.
Because buying a third-party blower may turn out to be costly, it is prudent you consider an offer that entails both as a unit.
Related: Can A Crack In A Mobile Home Wood Stove Be Repaired?
Two Words About The Technologies
As we mentioned earlier, manufacturers tend to come up with ingenious technologies to help their stoves stand out of the pack in the market.
If you did your research well, you might have bumped into such terms like "air wash system" and so on. These technologies go a long way to boost the efficiency and general functionality of the woodstove.
Here are some of the commonly applied technologies:
1. Catalytic vs Non-catalytic technologies:
Most of the newer stoves in the market today generally fall in either of two categories: catalytic stoves and non-catalytic stoves.
Catalytic options pass their exhaust smoke through a mesh of ceramic honeycomb catalyst (not necessarily the same as the catalytic converter found in cars).
The catalyst helps in the burning of the particulate matter and exhaust gases. As a result, stoves with this feature emits fewer pollutants.
Non-catalytic stoves, on another hand, come with baffles somewhere in the chimney to create a longer pathway for hot gases so that they can travel a long distance burning to completion and reducing the number of pollutants.
2. Air wash system
This is a fairly common add-on in many cast iron-based stoves.
It is more of a design than a separate hardware unit. The design entails a series of vents that draw plenty of cool air from the room into the stove.
The drawn air is heated and passed through ducts to 'wash' over the interior of the glass.
The purpose of this feature is to keep the glass dirt-free for longer. A clean glass gives you the full flames and the glow you need.
Four Manufactured Home Wood Stove Recommendations
As we approach the winter, it is just right that you install a wood stove capable of comfortably heating a 2,000 sq. ft of living space with 89,000 BTUs of energy.
This stove has been approved for mobile use in the United States and meets all EPA's 2020 guidelines, meaning it leaves a very low carbon footprint.
Cleaning up the stove is easy, thanks to the large ash drawer complete with brushed nickel handle. Part of the stove is lined with firebrick which guarantees two things: combustion efficiency and long lifespan. It can accept logs as long as 21".
The downside of this stove, however, is that the manufacturer won't ship it with installation materials (no floor protector, no chimney connector, no radiation shield, no thimble…the list goes on and on).
The blower is sold separately (for models B26 or CB36)
This is probably the only wood stove from Ashley Hearth Products designed for the smallest space – 68,000 BTUs to heat up to 1,200 sq. ft of room space.
Most stoves from this manufacturer cater for 2,000 sq. ft or more space. As it is traditional with stoves from this company, the integrated ash pan comes with a nickel handle that makes cleaning easier.
It comfortably swallows logs that are 18″ in length. This stove too has been approved for mobile home use in the United States. It is also compliant with all 2020 EPA guidelines.
You will still need to buy the blower separately if you opt for model B36 or CB36.
With an efficiency of about 70 percent and fully approved for use in a manufactured home, this is one of the best woodstoves you can ever consider buying.
The EPA tested output is 41,200 BTU/H which can sufficiently warm a room measuring between 800 and 1,800 sq. ft.
The manufacturer ships it with a blower. That's a thumbs up because some manufacturers will ask you to buy the blower separately. Better yet, it comes with a 5-year limited warranty – not too bad for a stove of its class.
The door is made of glass this time, not Nickel. The firebox is lined with traditional insulation brick not only to reduce the number of wood logs burnt but also to add a few years of service on its lifespan.
If you are planning a comprehensive remodeling of your manufactured home's living room, this is one of the best stoves to add in the mix. It saves a lot of money compared to a masonry fireplace. In addition to saving you the expense, it comes with the efficiency and warmth you want in a wood stove.
The blower allows you to vary the speed of air circulation in the house. The EPA tested output is 40,900 BTU/H enough to heat a space of 1,500 to 1,600 sq. ft. With an efficiency of 78 percent, it is one of the most affordable wood stoves, at least in terms of wood fuel.
It is approved for use in mobile homes and comes with emission ratings of 3.6 cubic FEET.
Sadly, the outside air kit and ash drawer are not included. But the Air Wash System, glass door, and brick-lined firebox – the things you wouldn't want to miss in a woodstove – are present.
Related: Can Hemlock Be Used As Firewood?
One Wood Stove For The Cost Conscious
If you are cash strapped and you still need a decent wood stove, consider this reasonably priced option:
Unlike most stoves you would find in the market today costing upwards of $1,000 (sometimes as high as $3,000), this stove costs about $800 depending on whether you choose to buy it on Amazon or LOWE'S.
If you consider the fact that it heats up to 2,000 sq. ft. of living space (very much like most other high-priced options), it is an affordable investment worth considering.
The heavy-duty American steel construction, plus the wrap-around shield, are the features you want to see in a durable woodstove. A deep and convenient ash pan has been added on the side.
Perhaps the most outstanding feature on this stove is the Automatic Air Setback (AAS) system which helps you start the fire easily and maintain it longer.
It comes with probably the largest viewing glass you will ever find in any other stove of its class – the slot gives a full view of the entire firebox.
It is HUD compliant – meaning you can use it in your manufactured home and even outdoor hook-up sites. The best part is you don't need hearth protection, only a spark and ember.
Conclusion
The ever-increasing cost of electricity is pushing more homeowners into buying woodstoves. Your choices will be limited to two types of woodstoves – the insert sort and the freestanding alternative.
Whichever you choose, ensure that it meets the HUD regulations to operate in a manufactured home.
Also, pay attention to the efficiency of the stove as well as the materials of construction. A stove that comes with its owner blower is better.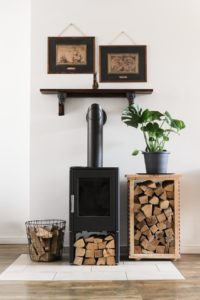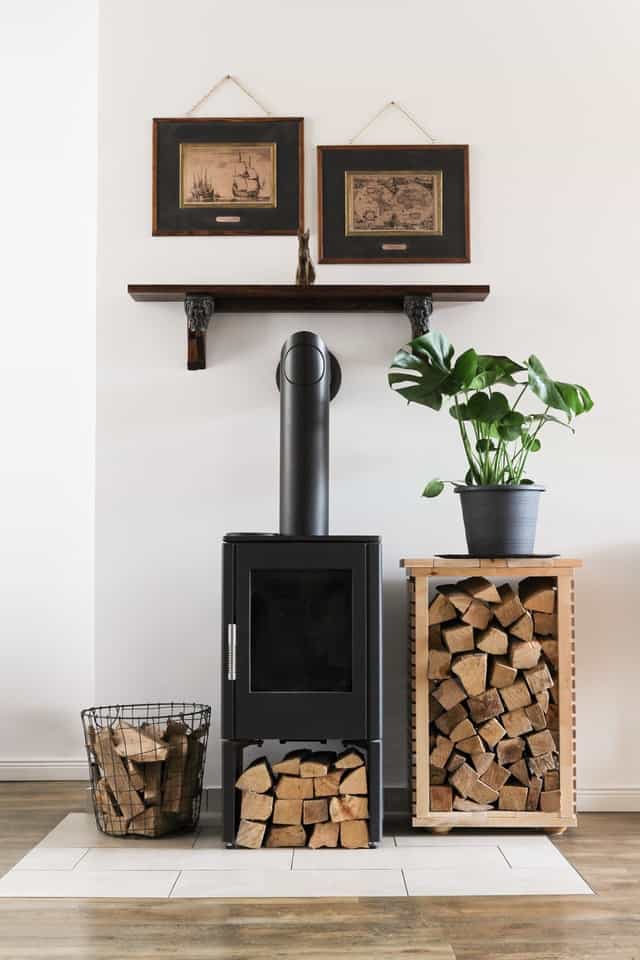 Frequently Asked Questions
Q: Do wood stoves wear out?
Yes. The average lifespan of a wood stove is between 10 to 20 years.
Q: How much does a wood stove weigh?
The weight of wood stoves depends on the manufacturer and model. However, the overall weight ranges from 300lbs to 800lbs.
Q: Can a wood stove set off a carbon monoxide detector?
Yes. A wood stove has a carbon monoxide alarm to alert you that a potentially deadly gas might be leaking from other appliances in your home or your wood stove.
If the alarm suddenly sets off, you should know that something is wrong.
Q: Can wood stoves cause Sinus Infections? Headaches? Allergies? Bronchitis?
Yes. Wood stoves produce harmful toxins especially carbon monoxide that can cause health issues, including allergies, headaches, sinus infection, and bronchitis.
Q: Can a wood stove burn coal?
No. Coal cannot burn inside a wood stove.
Coal requires a source of air between the fire so that it can burn properly. Therefore, a grate at the bottom of the stove and wood stoves should not have any grate.
Q: Does wood stove glass break?
Modern wood stoves use clear heat resistant glass that is made of ceramic.
The glass used cannot break due to heat produced from burning.
However, glass can break when hit by a wood piece, struck by a fire poker, or when retaining clips are tightening.
Q: Does a wood stove need a damper?
Yes. When you open a damper, it allows air to get into the chimney to start fire and controls how quickly the fire will burn.
Q: Does a wood burner need a flue liner?
Yes. Installing a flue liner in your wood burner is obligatory as it can increase efficiency, improve safety, and assist in cleaning your chimney clean.
Q: Does a wood stove qualify for an energy tax credit?
Yes. You can claim a tax credit for buying a wood stove. The tax credit is limited to 10% of the buying price and a maximum credit of about $300.
Q: Can you leave the wood stove door open?
Wood stoves are not designed to be used while their doors are open.
However, you can leave a wood stove door open, but airflow will not flow properly into the stove once you do so.
As a result, the stove will be less efficient, and it will send a lot of heat into the chimney instead of releasing heat into the room.
Q: Can a wood stove heat two stories?
Yes. Wood stoves can heat a two-story home if you use it properly.
Q: Can wood-burning stoves heat water?
Yes. Wood stoves can heat many things apart from your home. They can produce extra heat that can heat water.
Q: How often should a wood-burning stove be cleaned?
In case you use your wood stove regularly, you should clean the inside part at least after every four, five or six weeks.
You can also clean its glass when you are cleaning the inside part. However, it is good to clean your wood stove once it gets dirty.
Q: Do wood stoves need electricity?
No. Wood stoves do not need any electrical source to operate.
Therefore, they are the best heating source backup, especially when there are issues with electricity sources.
Q: Do wood stove increase homeowners insurance?
Yes. The insurance premiums can range between 0% to 5% depending on your home insurance company.
Wood stoves tend to be a fire hazard. As a result, companies increase premiums to cover the associated risks.
Q: Does a wood stove add value to a home?
Yes. By installing a wood stove, you can increase the value of your home to about 5%.
Q: How much does it cost to have the wood stove installed?
The average cost of installing a wood stove is between $1200 to $4500.
Typically, the wood stove cost ranges between $400 to $3500 and wood stove insert ($1200 to $3400).
Additionally, labor installation costs range between $250 to $800, and installing a chimney or ventilation system costs between $300 to $3500.
Q: Should you tip the wood stove installer?
Yes. Wood stove installers can appreciate a tip, especially when they do their work well or complete the project under budget or early.
Q: How far does the wood stove need to be from the wall?
Wood frame walls that are covered by the drywall are considered to be combustible. In case no wall protection is used, a wood stove must be at least 36 inches from the wall.
Q: How do you keep a wood stove glass from turning black?
Only burn well-seasoned wood in the wood stove.
Make sure you allow enough oxygen to vent through the wood stove.
In case your wood stove has a heat setting, you should try turning up the heat controls a few notches.
Avoid burning wood that is known for high sap content. In this case, you can try burning hardwoods, including walnut, cherry, and oak.
Q: How do you clean wood stove glass?
Use a damp piece of paper towel in cleaning the wood stove, but you should dip it in ash.
In case the wood stove glass has a lot of dirt, you can try burning high-temperature fires in the stove before you can start the cleaning process.
Q: How much clearance does a wood stove need?
A wood stove requires a clearance of at least 36 inches between an unprotected ceiling and the stove's top.
Q: How close can the wood stove be to a window?
If you wish to install a wood stove in front of a window, you should leave a clearance of at least 36 inches from the glass.
The spacing is meant to prevent the glass from getting damaged, cracking, or heating up.
Q: What are wood stove ashes good for?
You can use wood stove ashes in repelling snails, slugs or creating lye for soap.
However, one of the traditional and most common uses of wood stove ashes is amending soil.
This is because wood ashes contain a lot of phosphorus, potassium, and calcium that can neutralize soil acidity.
Q: What is the best wood stove paint?
Rustins High Heat stove paint, Rustoleum stove paint, and Stovax Thermolac Brush On Stove Paint are some of the best paints for your wood stove.
These paints are easy to apply, durable, offer a super smooth finish, and protect your wood stove.