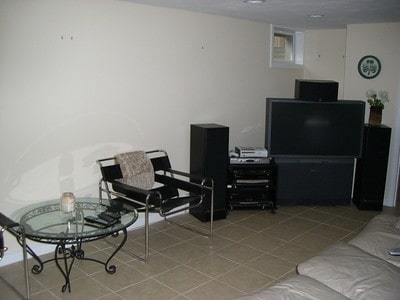 So, Can You Add A Basement To A Manufactured Home?
Absolutely yes you can! The HUD code actually provides a set of carefully written guidelines  any homeowner can observe to add a structurally sound and safe basement even on the oldest manufactured home out there. The guys at Ozark Homes, Missouri, have worked on some pretty impressive garage and basement projects in manufactured homes that can only convince you it's about time you got yours started.
Nine Benefits Of Manufactured Home Basement Additions
But, why even think of adding a basement on a manufactured home? Or so you might ask. Basements bring huge benefits, including:
1. Extra storage space
Let's just begin by accepting that most of the mobile homes sold today don't meet their buyers' storage needs.
So, building a basement can be an effort to supplement your home's storage spaces even though it might not end up as expansive as that you would've added on a site-built home.
Whether your basement project proceeds to completion or not, the resultant space would be the best area to keep all the stuff that can't fit in the main unit, all dry and out of way.
No more tripping on heirlooms and old bicycles.
2. Recreational space
The desire to have a place to kill time within your home could be the reason why you are thinking of building a basement right now.
Nothing beats basements when it comes to establishing a spacious place to entertain your guests or have fun with your family.
Add a hockey table, huge TV, and a pool table and you will end up with a fun space away from the living room.
3. Personal gym
Space is always an issue in manufactured homes.
The makers of these homes tend to focus on the basic needs of an average family – a place to sleep, living room, kitchen, bathroom, and an extra room for your home office or storage.
Still, just like any other homeowner, you need to stay fit.
Even if you were to convert your small extra room into a gym, you will still need to address other issues that come with it, like preventing the treadmill from distributing vibrations to the rest of your home's structure and also not damaging the floor with sustained workouts.
If you consider the spacing shortfalls in the main unit and the risks of adding heavy gym equipment in it, the basement becomes the second option for you other than exercising in your open backyard.
4. A two-story home, basically
If you add a bigger basement area, you will be free to fill it with more rooms – a kitchen area, living, room, and even a bathroom as opposed to a small area.
Basically, you would have added a story to your home. And, if your family is large enough, this extra floor can solve most of the space problems you have.
5. Extra living space
Some of the homeowners who add a basement on their manufactured homes do so to create an extra living space for guests and family members.
If the members of your extended family are prone to stopping by and staying for a day or two, it is only logical that you create a separate area for them to stay as long as they wish.
It is always good to give your guests maximum independence.
Better yet, you can rent the basement (assuming you end up furnishing it well like the rest of your home) and earn some good income.
6. Hobby space
If you are tired of your kids turning your garage into an art gallery, or if you need some space yourself to further your hobbies, it only makes sense you come up with an innovative way of freeing more space in your home for the purpose.
A basement provides a great place to do your things far away from the living room or home office. You can leave your projects there, safe and undisturbed, and resume at the time of your choosing.
Whatever your hobbies are – sewing, art, technology – there isn't a perfect place for them like a spacious basement.
7. Garage
Your basement need not be entirely submerged.
If it is not, why not add one or two garage doors on one side and turn it into a full-blown parking space?
This maneuver can give your manufactured home a feature most mobile homes don't come with.
This is especially an attractive idea if you don't have a lot of land surrounding your property.
8. Storm shelter
Unfortunately, lots of families in America lose their homes every year to hurricanes and storms or other bad things that leave them struggling to cope before getting another home.
But it feels nice to know that you have a safe space in the basement where you can escape to with your family when the worst strikes.
9. Add a few dollars on your home's value
One of the home improvement efforts many homeowners make shortly before putting their homes on the market is the construction of a sizable basement.
It works perfectly just like any other home improvement project – a home with a basement in it will cost more than another without it.
It is very much like a dangling carrot for buyers, they will be more interested to acquire the home if they hear it has a basement.
Four Things You Need to Know When Planning to Put A Home on Top of a Basement
The idea of putting a basement on a manufactured home doesn't come out naturally as it does with a site-built home. This is because site-built homes have a strong foundation. However, the HUD code is all for it, it even gives the stipulations you need to observe when adding a basement on a manufactured home.
What if you have dreamed of acquiring a home for your family, but you would like more space to supplement what it came with? Shouldn't you buy a triple-wide next? Not necessarily. There is a cheaper option worth considering – a basement.
Much as it's perfectly OK to add a basement to your mobile home, you still need to bear in a few important factors if you want to end up with a practical and safe space.
1. The shape of the land matters
The results you will get for putting your home on a basement will be different depending on the state of the land.
If the land is hilly, for example, and you would like the home to sit on top of the most raised part of the land, the end results will look different than if it were installed on flat ground.
Putting a basement above the land impractical or a contradiction if you ever complete one.
Does a "basement" built above the ground even qualify as a basement?
Definitions aside, some homeowners may find it appealing to adding a basement that is barely or entirely above the ground.
For those who may be desperate to add a basement under a doublewide for parking purposes, it could be the best thing you'll ever do.
That's because you won't even need to complete the basement conclusively or even furnish it – a less-finished area would be enough to house your car.
The obvious difference will be the large conspicuous doors leading into the garage, especially if the hilly ground is steeper.
2. Check code and comply
What does your area code say about adding a basement in a manufactured home?
Building codes are often the same whether you live in a manufactured home or site-built home.
Still, you will need to comply with them. This could include understanding the kind of egress allowed in your basement especially if you want it to serve as a bedroom.
Also, be certain with how far under the frost line you are allowed to go.
This measurement varies from place to place. In warmer states, it is normally 1- foot or less. Other places could allow up to 5-feet.
3. Count The Total Cost Of Adding A Basement Under Your Home
Another thing worth considering, of course, is the total cost of your whole basement project.
The materials you will need to complete the project – concrete, cinder blocks, steel beams, etc. – will cost money, sometimes a lot of it.
Also, consider the cost of digging out the dirt and dumping it at the site of your designation. You don't want to start the project and stop halfway when your funds run out.
So, it would be prudent to prepare a budget for the project by determining the cost of everything and factoring in such hidden costs as transporting the materials to the site and labor.
4. The logistics
Any house, whether manufactured or site-built, is a big investment. Furthermore, as far as home improvement is concerned, it can be a long and costly project.
And, though manufactured homes are usually small, significant logistics will be considered when moving one from its original site to where you built the basement.
It is just obvious you will use special trucks and a crane but lots of other logistics will be involved.
You probably hired a contractor to do this job, and if so, you'd only hope they have all it takes to deliver the best results.
If you want the best results, consider checking with your local mobile home manufacturer.
Obviously, the wall bearing the total weight of anything, such as a roof or the rest of your home, need to have a special foundation beneath.
That's why you need to consult the company that manufactured your home before embarking on building your basement.
The Basement Is Complete, Now What?
Then, of course, there is the question of the use of the basement once it's completed.
Nine out of ten times the project has something to do with a search for extra space.
But there is more to it. Maybe you want it to serve as a garage or a study room.
If you desperately wanted to have a home office, adding a basement probably looked like an attractive option.
You'd normally embark on the project after you've made up your mind about the purpose of the basement.
How Finished Is Your "Finished"?
The extent of the basement project depends on the purpose of the end "product."
For some homeowners, a basement finishing work may mean nothing beyond adding a few electrical outlets, a workbench, and lights.
And for others, the whole project may be all about building strong walls, ceiling, full wet bar, and everything that defines luxury living.
If the space is meant for entertainment then you would be particular with acoustics and related features.
"Finished" would be unfinished if all the defining features won't have been added yet by the time you get inside to begin using it.
Noise factor
The noise factor is only important if you intend to use the space for an entertainment area – you need to contain the noise so that it doesn't disturb people on the overlying floor.
In such a case, you will need to install sound insulation systems complete with duct system resilience systems (RC channels) the joists before covering with drywall.
RC channels serve to break down the sound waves and reduce the amount of noise escaping to the overlying floors.
Safety factor
There are three things in your basement that need to meet high safety standards –
the supporting wall,
stair and its handrails, and
drainage.
Badly built walls can curve inside and fall without warning.
The stair and its rails better be long-lasting or else you will be doing frequent repair and maintenance work.
Because the basement is located beneath the rest of your home, how you get water down there for your toilet, kitchen, and bathroom needs great expertise.
Badly installed water delivery system can result in flooding which, if it gets out of hand, can ruin your basement
Moisture problems
The basement should be built in consideration of damp air and moisture management.
A dehumidifier alone is not enough – in fact, a dehumidifier can end up drawing a lot of moisture from the foundation walls, creating a new problem.
The best way of cutting on humidity is to ensure your basement kitchen and bathroom are well ventilated. Also, ensure that there is good drainage off the roof and the foundation.
What Does the HUD Code Say About Basements in Manufactured Homes?
The HUD Code recognizes the basement as a substantial addition of living space and a structural support system for a manufactured home.
Construction
Because of their location, the outside walls can't be wider or longer than the floor of the overlying home. Also, the walls of the space should not protrude horizontally past the edge of the floor joist's perimeter.
Excavation of the site produces huge quantities of soil that can create a disposal problem. You need to figure out where to take this excess soil and use part of it to backfill against the wall of the basement to set up a drainage slope.
It is advisable to build the basement – at least halfway – before the home arrives instead of trying to remove the home, building the basement, and replacing the home.
If your home will be rolled onto cross-bream girders, the top 6 – 8″ of your wall (sometimes the top course of the structure's concrete blocks) should be left out so that the home can be easily rolled across the walls of your basement and finally into its correct position.
Interior supports
The basement's support structure depends on whether your home has an integrated or standard floor system.
Standard floor systems
Most of the manufactured homes sold today have their floor joists running either perpendicular or parallel to the home's length.
The chassis tends to be delicate in these homes and therefore, it should not be tampered with or removed during the construction of the basement.
You will need to accompany your basement with heavy steel cross beams to provide more support.
Integrated floor systems
Consolidated floors consolidate the chassis and the floor joists into one structure.
This means the home has low installation and transportation profiles and gets support at the centerline and perimeter wall.
Building a basement under such a home is highly advantageous, as it eliminates the need for costly steel cross-beams.
It also provides the flexibility you need especially when considering locating the stairwell to your basement.
The HUD also recognizes the challenges you might encounter including location and design-related issues, whether or not the maker of your home used "foundation ready" chassis/floor system, stairwell design, among others.
There is no fixed time period within which the basement must be completed before you add/install the home.
In areas prone to flooding., or if the winter is approaching, it would be prudent to embark on your project at the start of the dry season.
Conclusion
Yes, you can add a basement under your manufactured home.
Whether you are in need of extra storage space or an entertainment space, basement construction is one of the best improvement projects you can carry out on your home.
However, you will need to consider a few factors such as your local building codes, cost of the project, and how to get rid of the heap of soil excavated from the basement.