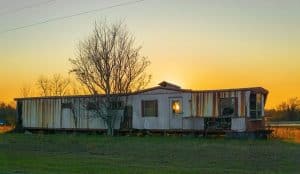 Manufactured homes have gained a lot of popularity today. These are homes that are professionally constructed by trained contractors and personnel in an organized environment and on a permanent chassis that ensures initial and continued transportation of your permanent home.
Manufactured homes are built in an advanced factory setting rather than on site like traditional homes are. The quality of manufactured homes is assured through both specialization and training.
Manufactured homes have improved in quality over the years, with their designs coming in a variety. These designs vary in terms of size, style and floor plans.

Manufactured housing in California
The state of California has more than 4800 mobile home parks for manufactured and other mobile homes. According to the California law and state codes, the term manufactured and mobile homes are used interchangeably, even though the two are not the same. The state of California offers an environment that is very welcoming when it comes to manufactured home living.
When considering living in a manufactured home in California, you need to weigh the pros and cons that come with it. There is a lot of responsibility in terms of personal and financial commitments that come with manufactured home living. It is advisable for anyone seeking to live in a manufactured home in California to have detailed information regarding the state codes, laws and regulations that pertain these homes.
In terms of quality of manufactured homes in California, these houses are made with the best quality so that shouldn't be a concern. The state of California has some of the best and strongest procedures that have been set to deal with quality issues of manufactured housing.
There are pros and cons to living in a manufactured home, which are dependent on many factors. Living in a manufactured home in California, like any other state has its upside and downside.
Pros of living in a manufactured home in California
Manufactured homes are an inexpensive alternative
When it comes to the expenses required to build a home, a manufactured home is substantially lower than a traditional one. According to a research, manufactured homes are the largest source of non-subsidized housing in most states.
Manufactured homes have become a primary part in addressing the problem of housing shortage as a result of high prices and demand.
Manufactured homes are an inexpensive alternative to permanent home ownership of traditionally built homes. In addition, manufactured homes are spacious and they have contemporary floor plans that differ depending on the features included.
The home size ranges of manufactured homes range from 900 to 2500 square feet, which is a good size for a home.
Structural strength of manufactured homes
All manufactured codes are built by contractors who follow the HUD code that was adopted in 1976. This code ensures that the factory production process is addressed, and it also requires homes to meet certain standards.
These standards are:
Construction standards
Fire safety standards
Transportation to the installation site
Structural design
Energy efficiency standards
Manufactured homes in California all bear a red seal that is permanently affixed. This red seal shows that all requirements under the HUD code have been adhered to.
Amenities and acoustics of manufactured homes
Most contemporary manufactured homes have all the features of traditional homes included during installation. A standard manufactured home has three bedrooms, a laundry room, bathroom, kitchen and a living room, all of which are present in a traditional home.
Living in a manufactured home in California is advantageous because, the home buyer has an option of choosing his own amenities. There are other models of manufactured homes that are double-wide, and these models are more spacious as they have fireplaces, whirlpool tubs and also walk-in closets.
In terms of acoustics, manufactured homes are built as separate modules, which means that they have less interference in terms of sound.
Manufactured homes can be quieter than traditional site-built homes, and they are very strong and durable as well.
If you decide to combine two or more modules together, the sound transference of your home is minimized because these modules are individually constructed and insulated. This offers the house which is now a larger structure more strength, durability, minimal sound interference and sheltering.
Manufactured homes are eco-friendly and energy efficient
Manufactured homes are meant to be energy-efficient and environmentally conscious, which is what makes them a good option for housing in California. During installation of manufactured homes, there is a HUD code that must be adhered to ensure that the state laws and codes pertaining manufactured housing are followed.
The HUD code certifies that these homes attain a high degree in terms of energy efficiency.
Manufactured homes are built with;
Manufactured homes are built across the board, and with a higher quality than they were in earlier years. There is an improvement in the quality as well as a smaller carbon footprint all at a very low price. It is also possible for a manufactured home to be entirely Energy Star Certified and the bathrooms and kitchen can also be state of the art.
The bathroom can be fitted with appliances that are energy saving and plumbing fixtures and faucets that are water-saving. If the home buyer desires, it is also possible to have energy-efficient lighting in manufactured homes as well.
Versatility of manufactured homes
Another advantage of living in a manufactured home in California is that manufactured housing allows long-term options, meaning that you can start small and move your way up. A basic manufactured home is very affordable, so it is possible for families with appropriate sites to add manufactured modules as their needs change over time.
In case you plan to construct a larger and more permanent structure in the near future, a manufactured home is a good place to start. These homes can be used as starter homes for families in California State, and afterwards they can be rented out or be used for other purposes at home.
The versatility of manufactured home also allows it to be relocated to another site if the current site was not a long-term choice. If the initial site was rented and not owned, you can also have your home moved to a property you own.
Fast installation of manufactured homes
There is a lot of joy that comes with being present when your new home is delivered. This excitement is topped by watching your home take shape onto its new foundation.
During installation of manufactured homes, the process involves utility hook ups which is not a long process. It does not matter whether you decide to buy a manufactured housing community in California or buy a manufactured home for a property you already own, the installation is going to be very fast.
Low-risk construction of manufactured homes
When constructing traditional site-built houses, the construction sites are mostly plagued by such problems as the following;
Theft problems
Damage of site
Delays on delivery
However, when it comes to manufactured housing, these problems are minimal or non-existent in some cases. Manufactured houses have a low-risk construction, which ends up saving both time and resources for the home buyer, and the construction waste is also kept at a minimal.
Manufactured homes are also advantageous in that they reduce misuse and disappearance of materials, which is pretty common for traditional houses. As such, the cost of manufactured houses remains low when compared to that of site-built homes.
Access to high-end locations
Another advantage to living in a manufactured home in California gives you access to high-priced areas in the State.
When choosing a place to live, such locations as lake property, beach property and some cities are priced very highly making it impossible to live there.
When you have a manufactured home, you can get a lower cost entry point into these high-priced areas rather than when you live in a traditional home.
Taxes of manufactured houses are lower
Manufactured homes are advantageous to live in California because they have lower taxes. As long as your manufactured home is installed on your own private land, you can get a lower property tax compared to when your home is considered real property.
Manufactured houses are however challenging to own because financial institutions don't give the same financing for manufactured housing as for traditional houses. The tax returns for these houses are however worth all the hassle that comes with initial financing.
Mobility and flexibility of manufactured homes
Manufactured homes are obviously more mobile and flexible when compared to stick-built homes, especially if you already own the land where installation is done. Living in a manufactured house in California is advantageous in that, they can be semi-permanent if you want.
Manufactured homes can be moved to different positions on the site, or be moved to a totally different site if you desire. When living in a manufactured home in California, you can also decide to remove it completely and have a newer manufactured home, or build something different such as a brick and mortar home.
In terms of mobility, manufactured homes are much easier to move than permanent homes. If you decide to move to a different neighborhood, you don't have to move without the comforts you already had in your old home. You can relocate with everything you had, even the memories you have made and the spaces you have created over time.
Quality control of manufactured homes
Manufactured homes are built by professionals and skilled contractors in a very controlled environment. As such, these houses are not exposed to the natural elements that the traditional houses are exposed to during construction.
If you decide to live in a manufactured house in California, you don't have to be worried about delays in delivery due to such factors as bad weather. The California State laws and codes for manufactured housing requires these homes to be tested and controlled before installation to ascertain that they are safe.
Cons of living in a manufactured home in California
Depreciation of manufactured homes
The market value of manufactured homes depreciates with time, which is disadvantageous especially if you plan to resell your manufactured home in future. In California, manufactured homes depreciate fast when they are not maintained well. Just like a car after leaving its dealership company, the value of manufactured homes plummets once it has left the factory.
Manufactured homes have a shorter economic life, which means that lenders opt to not lend on manufactured homes. If they decide to lend, the end up charging very high rates and offering terms that are not friendly.
Manufactured homes do not come with a piece of land as part and parcel unlike traditional homes, which means that the total value of the property may go up during purchase.
Manufactured homes are classified as personal property rather than real property, which is where the disadvantage lies.
Mobile homes are technically classified under personal property while brick and mortar houses are termed as real property as they are fixed permanently to land.
Undesired layouts of manufactured homes
When living in a manufactured home in California, you may not be very happy with the layouts of the house. This is because most manufactured homes are built as trailer homes and not as prefabricated modular homes. As such, their layouts may not appeal to your taste or match the aesthetic you had in mind for your new home.
These homes have an already fixed layout, as they are delivered to the installation site by truck. Manufactured homes are usually long and narrow, and they have smaller rooms and even less living space.
These homes are designed in such a way that they cause inconvenient heating and cooling vent placements unless they are upgraded by the buyer.
Financing of manufactured homes
Manufactured homes are considered personal property, which makes them more expensive to finance in California State. Manufactured homes have higher interest rates that are paired with shorter terms which makes it challenging to consider as a housing option.
This can be a challenge especially because, the loans available for financing of personal property, commonly known as chattel loans are not easy to get.
These special financing considerations that surround manufactured homes have an impact on the plans of the buyer's and the financing options available.
When giving out mortgages, mortgage lenders consider buyers of "real property" for mortgages over buyers of "personal property".
Manufactured homes are considered "personal property" in the California State, which makes their financing options to be unfriendly.
Homes that are built on their own chassis such as manufactured homes have a probability of relocating at any time which is a red flag to lenders. The other alternative to a mortgage is a personal property loan. This loan however involves even more strict requirements for qualification. These requirements are such as; extra investment of finances and unfavorable terms for qualification.
Damage on manufactured homes
In most cases, manufactured or mobile homes are not anchored down, they are left sitting on a temporary foundation on a lot made of a concrete slab. As these houses don't have any permanent foundation, they are more prone to damage from natural disasters and bad weather conditions such as storms. When living in a manufactured home in California, bad weather conditions might be a threat to the safety of your family.
The damage on your manufactured home incase of a storm could also leave you homeless. As such, living in a manufactured home in California can be challenging with the risk of damage incase of bad weather conditions.
Park policies of manufactured homes
This advantage of manufactured homes is dependent on whether your manufactured home is in a park or not. This means that, it doesn't matter how much you spend on your manufactured home, as long as you don't own the land it is installed on, you will have a landlord.
Having a landlord means that you operate on his schedule, rules and procedures. It also means that you have to pay rent to your landlord, even if you live in your manufactured home. A manufactured home is also harder to sell when it is installed in a park, and it sells for less than it would have it wasn't in a park.
In Conclusion
A manufactured house, like any other property has its pros and cons, but it is definitely a good place to live in California. This can turn out to be your answer of owning a home. However, before deciding whether to do so, it is important to take note of the pros and cons associated with the decision.
The decision  depends on the current needs and circumstances of the individual family in question. If the pros outweigh the cons, you can move to California and be a manufactured home owner there.