Is your garage packed that you're forced to park your car in the driveway?
Is the attic packed to the point of sagging your ceiling?
Manufactured homes are understandably compact such that you may feel the need to supplement the little storage space available with outdoor options.
When your indoor storage options are running thin but you still need even bigger space, manufactured home storage sheds become a better expansion option.
The best thing about storage sheds is that they are specially built for the task, unlike the attic or garage.
Besides storage purposes, storage sheds are used for a few other purposes:
Potting or greenhouse shed
Art Studio
Recording Studio
Writing Space
Daycare Space
Barbershop
Pet Groomer
A child's playhouse
She Shed \  Mancave
Gym
etc…
Eight Factors to Consider when Choosing a Storage Shed
1. Style
Storage sheds are not the same. There is a likelihood you already know the style of shed you want. If you don't, you will need to make a choice out of about several different styles:
A-Frame
Barn
Craftsman
Workshop
Modern
Saltbox
Lean To
This comes with a classic roofline similar to the roof found on most modern home designs. Basically, the roof resembles the letter "A".
This type of roof allows you to add a loft to expand the storage area.
If you are looking for a conservative-looking storage shed, you might want to start out with this style.
These storage sheds resemble the wood barns you often see driving down the country road – the Letter "A" breaks in the middle before descending in the heaves.
This style came from nineteenth-century England.
They feature large windows, a chimney-like structure on the roof, and an "A" roof like that found in A-Frame styled sheds.
If you love the aesthetics that come with the large windows on a shed, this is an option to consider.
Workshop style
These storages have no specific design but tend to be larger than the traditional storage shed.
A typical workshop-style shed measures about 100 sq. ft. – some come larger than that. If you want all the freedoms to do anything to the shed – add larger windows, break the sizing limits, etc. – you need to choose this style of shed.
These are what their name suggests – they are installed to show off their inspiring HGTV, a good combo of colors, and clean looks.
The roof may be flat or sloping on one side, but all maintain sheds in this category maintain a showy demeanor.
The best thing about them is that they can be customized with an array of workbenches, shelves, and hooks.
Though not the most inspiring style of sheds out there, it has gained a significant following among shed purists.
The most distinctive feature of this style is a large entry door and a smaller exit door.
This feature makes it easier to get inside the shed without hitting your head on the top frame.
This style of sheds is designed to lean on another structure, either the main building, fence, garage of another bigger shed.
These sheds are perfect for storing your gardening equipment and any other outdoor-oriented equipment.
Related: Can You Put a Storage Shed In The Driveway?
2. Material of Construction
The material of construction has an influence on such aspects as the durability and aesthetics of the storage sheds. The choice of material of construction can have an influence on your budgeting plans.
Most of the storage sheds you will find with your dealer are made from three materials:
Steel
Vinyl/Plastic/ Resin
Wood
Steel
Steel sheds are more economical compared to those made from wood. They are also available in a range of colors.
Most of the options you will find in the store are either vinyl-coated or finished with enamel.
Galvanized steel is the most often used material in the construction of sheds.
Steel-based sheds are more resistant to scratches and rust. As such, they significantly reduce the amount of money you spend on maintenance and repair work.
DuraMax Building Products supplies some of the best steel storage sheds in the United States market, though those from Arrow are just as perfect.
Probably not the cheapest storage shed you would want this is one of the largest storage sheds produced by this manufacturer. It is large enough to swallow a car and serve as a full-size garage. It is 99" wide.
This is yet another large-size storage from DuraMax Building Products capable of housing a whole SUV.
It comes with thicker metal frames (0.042) and walls (0.042) and side lockable doors to ensure maximum security.
Arrow is known for producing fewer hardware sheds that are easier to install.
This is one of them – it comes with 50% percent less hardware and the installation process would take mere minutes.
Vinyl/Resin/Plastic
Modern technology makes it possible to synthesize many different types of plastics with specific desirable qualities.
That's why it is difficult to say exactly what kind of plastic would be the best for storage sheds.
Virtually all types of plastics have three common features: they are resistant to rust, they are easy to clean, and never succumbs to rot or mold.
However, plastics are seldom used alone, you will need to combine with steel-reinforcements to build a truly secure storage shed.
Some models come with large windows to permit more light.
Sheds made from plastic can save you a lot of money as they are less prone to damages, meaning less maintenance and repair work.
CRAFTSMAN and DuraMax Building Products supply some of the best plastic storage sheds in the market, including:
This tiny storage shed can be a perfect option for you if you are looking for a compact hatch you can install in the backyard to store your lawn care equipment. The multi-wall resin construction is durable. It is tall enough to house an averagely sized ladder.
The best thing about this shed, other than being sizeable, is a convenient electrical cord port that lets you establish a connection between your home and the shed power a few appliances in the shed (if you really need them).
This is the storage shed you would choose if you were looking for an all-weather storage option made from resilient vinyl.
The best thing is that you don't even need to paint – it comes looking great.
The height is tall enough to let you walk inside without bending. A foundation kit is included so that you embark on the installation process yourself if you can.
Wood sheds
To be honest, wooden sheds stand out of all other sheds made from other materials of construction. The appearance of wood is satisfying. We all have been accustomed to associate wood with construction.
Wood storage sheds tend to be more stylish and sturdier.
Lumber framing is good at providing the much-needed strength to resist loads of snow or strong winds and storms. Another plausible thing about wood is that it can support several hangers and shelves.
Engineered wood is superior to ordinary wood when it comes to resistance to termites and rot.
Engineered wood, or composite wood, is any product you get when you combine pure wood with fibers, veneers, adhesives, and any other fixation methods.
Whether you choose engineered wood or regular wood, you are free to apply any paint you wish – this benefit doesn't come easily with other materials.
Some manufacturers like to ship their wooden sheds with DIY kits although they may not come with all the roofing materials you may need.
The biggest problem with wood sheds is the frequent and costly repair and maintenance work needed to keep them in working conditions.
Leasure Season and Heartland supply some of the best wood sheds in the market right now, they include:
The best thing about this shed, just like most other wooden sheds from Heartland, comes as a pre-cut kit – you don't need to saw it before use. It is large in size and comes with all the bonus features you would want in a storage shed: vents, shutters, windows, complete floor system, etc.
This option is pre-cut too but not as large as the above. It is made from engineered wood which means it is sturdier and resists termites and rot. The heavy-duty construction helps protect it from snow and storms.
This Cypress-made shed is coated with Acrylic. It looks small, nut it's spacious in reality and could end up swallowing all your garden equipment, solving all your storage problems in an instant.
4. Budget & Cost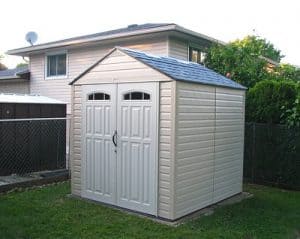 How much does the shed cost?
How much are you willing to spend on it?
The amount you will end up spending on the whole project depends on a lot of factors.
The material used to make the shed, taxes, your distance from the store, and labor costs are some of the effects that may affect the cost of the project.
According to the Home Advisor, the price of an average, regular-sized, and prefabricated storage shed averages from $1,501 to $4,000 – the average cost is $2,750.
The price could end up higher if you choose costly materials and if the extent of your project is larger. The size of a typical storage shed is the region of 10 ft. X 12 ft.
Materials like Vinyl can make the project to be expensive.
Customization like windows, electrical work, and skylights can add a few more dollars on the average cost.
Hiring a professional to do the installation for you means you should be prepared to cater to the labor costs.
It is still possible to find storage sheds as cheap as $350 and others as expensive as $4,100.
The purpose of budgeting is to help you focus on the essentials and avoid overspending.
Once you have obtained your measurements and made up your mind about the type of replacement doors to buy, you can proceed to prepare your budget.
5. Size of shed
What size of shed do you need?
You need to start by evaluating your storage needs.
There are three classes of storage sheds:
small
medium
large
Small – Under 80 sq. ft.
These sheds are anything below 80 square feet.
They are ideal for lawn and garden tools, bikes, bags of fertilizer, a few hanging tools, gas cans, and push mowers.
They are the smallest, cheapest, and easiest to assemble.
Medium – Between 90 and 120 sq. ft.
These medium-sized sheds are somewhere between small and large sheds.
They are anything between 90 and 120 square feet in size.
Some of the things you want to store in a medium-sized shed are garden equipment that can't fit in small sheds but doesn't need large sheds.
They can be bulky equipment, snow blowers, wheelbarrows, lawn tractors, and riding mowers.
Large –Between 144 and 288 sq. ft.
These are the largest storage sheds you can ever install in your backyard. They range between 144 and 288 square feet in size.
They are large enough to accommodate the largest lawn equipment and recreational vehicles. It is perfectly OK to use this class of storage sheds as a garage.
In fact, some manufacturers offer sheds geared towards serving as garages and storing your lawn care equipment.
Either way, they are the costliest of all storage and the most intricate to install. The downside of this class of shades is that they must be accompanied by a floor and some foundation.
Most manufacturers would unbundle the kits thus requiring you to buy them separately which makes them even more expensive.
6. Accessories
What accessories would you want to accompany your storage shed?
Remember that sheds are sold as one-piece units.
Everything else you would want to add on your shed must be bought separately as accessories.
The type of accessories you choose to add on the shed will depend on your needs.
Ramps
If you're planning to store wheeled power equipment in your shed, it only makes sense you add a ramp so that you can have an easy time moving the equipment into and out of the shed.
Skylights and windows
To make the shed more user-friendly and improve visibility, you need to allow plenty of natural light inside via windows or skylights.
Some manufactures can be considerate enough to include skylights on the shed.
Windows and skylights go a long way to improve the aesthetics of your shed.
Shelves
You need shelves to organize your tools neatly in the shed.
Shelves are normally shed-specific, meaning you are more likely to purchase shelves from the same company that provided the shed.
Some manufacturers may be considerate enough to include shelves on the shed.
Anchors
Shed anchors serve the important role of holding your shed in one place against strong winds.
It depends on the manufacturer. Some manufacturers don't require to tie down their sheds with an anchor.
Roof strengthening kits
Your shed may need additional support especially if it is metallic and is intended for windy areas.
7. Weather
If your locality is prone to stormy rains, strong winds, heavy snowfall, or very high temperatures, you should consider these weather factors when choosing a shed.
Both wood and steel offer satisfactory resistance against strong winds although roof strengthening kits may be necessary for better protection.
Sheds made from regular plastics are highly vulnerable to strong winds. Those made from reinforced plastic are relatively strong.
Plastics tend to fade or change color when exposed to searing heat for a long time. So, if you live in very hot areas, you would opt for a metallic or wooden shed.
8. Landscape
The type of the foundation and size of the shed may require a specific type of landscape.
For instance, an irregular landscape will require a deeper foundation to reduce the likelihood of the shed toppling over under minimal storm.
Likewise, large sheds require landscape with more clearance so that they don't create an eyesore. You may need the service of landscape architecture.
Conclusion
Storage sheds are never one fits all – you will have to choose between different sizes.
You also need to pay attention to the factors that can help you separate the best and not-so-good options for you.
Such factors as the cost of acquisition as well as the kind of landscape and the purpose can influence how you choose the shed.