One of the essential purchases you need to have when upgrading your manufactured home is the skylights.
In addition to providing some natural light, they'll also ventilate your residence.

Your manufactured home skylights can provide an emergency egress where you'll be able to save yourself if there are emergencies.
If you need some extra warmth during the freezing winters, installing skylights is a better option.
They will save you on heating bills by letting natural light and sunshine heat your house during the winter.
However, skylights may make your home uncomfortable due to the excess heat.
Related: Can Skylights Be Painted?
Manufactured Home Skylight Types
Manufactured home skylights are classified according to their flexibility and depending on how they are designed and installed.
Classification According To Flexibility
This category divides skylights into two types namely fixed and operable skylights.
1. Fixed skylights
These are manufactured home skylights without movable parts.
Using these types of skylights in your home minimizes water leakages because they are the most watertight.
They come in different shapes and are characterized by simple operation mechanisms.
2. Operable skylights
Some movable parts characterize this type.
They have a pivoting hinge at the top or in the middle allowing you to close and open the skylights when a need arises.
They can be either manually operated skylights or electric venting skylights.
Manually operated skylights are cheap and less prone to breakages.
Electric skylights are too expensive and unreliable, because they utilize complicated mechanisms that increase the chances of breaking down.
An advancement in this type includes the solar-powered skylights and some electric skylights which are fitted with sensors.
These two are designed to close automatically whenever the first raindrop falls.
Some have integrated shades that can be shut.
They are sometimes referred to as roof windows due to the opening and closing feature. The distinct advantage of the operable manufactured home skylights is the natural cooling effect.
Classification According To Design And Installation:
This category, like the flexibility, divides skylights into two: the curb mounted, and deck mounted skylights.
Before installing either type of skylight, ensure your manufactured home has a roof equal or more than 3:12 pitch.
Many people wonder if they need a professional to do the installation.
Skylights need flashing and be well fixed in order to have a watertight seal, which will require the skills of technicians.
1. Curb mounted skylights
This type of manufactured home skylight is characterized by a frame and a lip on which they sit.
The frames are fastened to the roof sheathing and then flashed to minimize the flow of water through the opening.
After flashing, the skylight is fixed at the top of the frames.
The frames may be metallic or wooden or made of concrete.
Curb skylights allow more size flexibility and more glass area.
Most of the manufactured homeowners prefer curb skylights because watertight and are easy to maintain.
You can replace or repair the window without necessarily replacing the whole skylight.
2. Deck mounted skylights
Unlike the curb mounted skylights, these skylights do not sit on top of the frame.
They come with their inbuilt frame, which you attach directly to the roofing deck of your manufactured home.
Deck mounted skylights need a skilled professional because poor flashing, installation, and sealing maintenance may result in extreme leakages.
If you are ready to do the maintenance, installing deck mounted skylights for your manufactured home makes a great option. This is because they are the cheapest.
Manufactured Home Skylight Desirable Features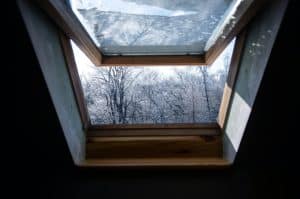 Ultraviolet blocking glass
This helps prevent the UV rays, which may harm your skin, eyes, and bleach your furniture.
They help control the mush brightness when the sun is too hot
Double glazing
It helps minimize condensation and also conserves heat, saving you on heating bills.
However, double glazed skylights are slightly expensive.
Additionally, they help control noise pollution by protecting much sound from entering your manufactured home.
Automatic closing
This unique feature becomes handy if you are likely to open your home skylights and forget to close them.
Currently, the best skylight manufacturers feature moisture sensors that help close the skylight immediately they detect the first raindrop.
Remote control
With the advancing technology and aiming to make your manufactured home a smart home, you need skylight featuring remote control.
This becomes handy if you have installed your skylight in an awkward position.
With the remote control, you can program when your manufactured home skylight should open and close.
Tabular design
This feature is essential if you want to have natural light penetrating your manufactured home, but you have limited roof space. They make the perfect option to light small bedrooms, kitchens, and bathrooms.
Skylight – Pros
1. Allowing natural light into your manufactured home without compromising on privacy. Unlike windows that you have to pull-out the curtains, skylights allow sunlight without exposing the core of your house.
2. Sunlight through your manufactured home skylights can help elevate your moods.
3. Skylights save on cooling and heating bills. Depending on how you align and operate your skylights, they can have significant heating and cooling effects.
4. Installing skylights increases the value and beauty of your home. This will allow you to hike the price if you decide to resell the manufactured home. However, you need to make it an architectural asset by balancing it with home theme and design.
5. Skylights add to health and immune by helping avoid and recover from the seasonal affective disorder. Most of these seasonal affective disorders are caused by the lack of enough exposure to sunlight.
6. They enhance your house ventilation and let in the fresh air, especially for the stuffy rooms.
7. They allow you to view the wonders of nature during the day from the core of your manufactured home. Also, skylights offer you an opportunity to see the night sky.
Skylight – Cons
1. They make the home uncomfortable during the summer due to excessive heating and too much light. You can consult before installing to ensure your natural benefits do not get out of control.
2. Poor installation of skylights in your manufactured home exposes your house to leakages.
3. Cleaning skylights is a great challenge because you have to climb on the roof, which is risky and dangerous.
4) Poor quality material and installation results in heat loss during the winter season.
Pre Installation Considerations
Roof Size
This is a primary consideration to keep in mind before installing a skylight. At least a 3:12 pitch is recommended on your roof before deciding to install a skylight.
Quality
The skylight that you purchase should be high quality and have one of more of the following characteristics:
Ultraviolet coatings
Shading
Ventilations
Water tightness
Energy efficiency
Sound reduction
Product material
Resistance to wind and breakage
Area of placement
For a skylight to be effective, you need to place it strategically on your roof.
The different directions your skylight faces tend to have varying benefits depending on the seasons. Make sure to have a plan.
Time Of Year
When you are installing a skylight for your home, it is essential to consider the weather.
This is because bad weather may distract you during the installation process.
Summer would be the perfect time of the year to do any installations.
Related: What Can Be Done With The Ceiling After Removing The Skylight?
Safety measures
Installing a skylight will involves climbing onto the roof and ca be risky. During the entire process, you ought to ensure necessary safety measures are employed.
Some can include:
Inspecting the ladder
Make sure to wear proper footwear
Utilize roof jacks
Ask additional people to assist in the process
The Slope Of Your Pitch
Exploring the slope will help you much during the flashing. This is necessary because flashing kits vary to meet specific requirements of a given slope.
Your House Environment
If you have tall plants around your house, the chances are that you will prefer domed skylights. This is because falling leaves slide right off and doesn't require climbing up on your roof to remove litter every time. Domed skylights also offer an excellent view of the sky.
Light Intensity
Depending on how much light you want,  you can select between glass and plastic manufactured home skylights.
Manufactured Home Skylights – Recommendations
It is one of the best skylights that everyone would wish to purchase for their manufactured home.
It comes with pre-punched flanges, which makes them easy to install.
The polycarbonate material makes it unbreakable while enhancing thermal protection.
It is fit with UV-blocking material that helps reduce heat and glare associated with sunlight.
It comes with pre-punched plunges that make it easy to install. Also, they feature smoke tinted polycarbonate and the double glazing for sound control.
This product blocks over 95% of the UV lights, thus, reducing the heat and glare effect. When installed professionally, you will never experience leakages in your manufactured house.
It is strong and unbreakable; therefore, it provides an ideal penetration of sunlight while featuring reliable waterproof.
It features one of the most straightforward installation processes for a flat roof, metal roof, or between the roof decking and shingles.
It has a dome shape that will give the best view of the sky during nights.
These skylights are made of polycarbonate material, which makes them unbreakable and also will block harmful UV rays.