Even if your manufactured home is situated in the quietest neighborhood you could find, you still need to erect a fence around your home to keep off the prying eyes of curious neighbors.
Manufactured home privacy fences are diverse – they range from traditional wooden fences for your backyard to more advanced DIY projects and stone-based options.
Privacy fencing can either be solid infill (total absence of the see-through gaps) or spaced (with gaps).
If you want to contain kids and pets and prevent them from wandering all over the place, in-fill fences would be the best option.
Typical privacy fencing measures between 6″ and 7″ in height, but they can be higher.
Six Factors to Consider When Choosing A Privacy Fence for Your Manufactured Home
Related: Should Neighbors Split the Cost of a Fence?
You want to select a fencing option that will meet your needs. Here are the factors to bear in mind while shopping for one:
1. Nominal gate/fence height and local fencing codes
The first thing to consider is the nominal gate/fence height and what your local fencing codes say about it. In most states in the United States, fences are classified as Group U structures. This makes them be subject to limited regulations.
Normally, a fence with a height of 6″ would be good for your side and rear yards. Your front yard should be 4″ tall.
Codes can be different though, check your areas code first before building a fence.
2. Type of the fence
From stone-based fences to wire mesh fences, there are dozens of types of fences to choose from.
Those made from stone/brick and iron bars are too permanent hence not appropriate for a manufactured home.
Fences meant for mobile homes should support both temporary and permanent installation. They should also be easy to install.
For these reasons, your choices will be limited to PVC vinyl, chain link, bamboo, composite, picket, and wood fencing. Materials like vinyl are more expensive than chain links or wood.
3. Cost
What is the initial price of the fence?
What's the cost of installing your fence of choice?
You need to go for the cheapest option you can afford while ensuring you're choosing a high-quality product. Wood fences tend to have a small upfront cost but can prove costly in the long run due to high maintenance costs.
Vinyl options have considerable trade-offs and are a bit costly compared to wood options but are easy to maintain in the long run.
4. Decoration, Security, and Privacy
There are only three reasons why you would want a fence around your home: you want to maintain some level of privacy, you want to keep off the intruders, or you just feel like adding something nice looking round your home.
There are fences for every task. A fence meant for providing security, for instance, would be sturdy while that meant for decorative purposes would come in captivating.
5. Climate
Different types of fences react differently to different climates. A metallic mesh can rust. Wood can shrink and swirl. Vinyl can warp. You want a fence made from a material that can withstand your local temperatures and humidity.
6. Inform your neighbors
It is never right to erect a fence out of blues without acknowledging your neighbors. You could be blocking their view.
Related: Can You Put A Fence In Front Of A Gas Meter?
Five Types of Manufactured Homes Fences
There are five (5) types of privacy fencing great for manufactured homes:
1. Picket
Picket fences are the most basic type of privacy fencing. They consist of a horizontal bottom rail and top rail attached to posts, which are erected upright into the ground.
Picket fencing is so popular that those familiar white picket fences are what comes in your mind when the name pops up.
However, the styling may vary, sometimes ranging from rustic options to more pointed pickets.
If your home is situated close to the beach, white picket fences would blend well with it. Houses located in northern suburbs and cottage environments too go well with white pickets.
How tall should your picket fence be?
Picket fences are seldom chosen to provide ample privacy. They tend to be shorter than most other types of confining and privacy fences.
For that reason, picket fence panels and posts are sold in heights ranging between 5" and 6". Fence panels are often 8" wide.
What kind of wood is used for picket fences?
The most preferable wood is cedar, whether your project is DIY or contractor-based.
Cedar has the advantage of resisting virtually all insults of nature. It also requires minimal maintenance and looks great. Most hardwoods are competent for this job, you just need to care for them well.
At what cost?
According to Home Advisor,  each linear foot of a 3″ to 4″ tall picket fence will cost you $10 to $75.
This includes professional installation.
However, depending on the type of wood you choose, and the height of the structure, the cost of materials alone can be anywhere between $3 – $30 per every linear foot.
The more exact price will heavily depend on such factors as the land's topography, the complexity of the design, and whether you want to include a gate.
Note that pickets can be made from plastic as well.
Check out these impressive picket fences:
This fence was designed for semi-permanent houses. The package comes with two units enough to erect a fence 116" long. The vinyl construction makes them weather resistant.
The white gothic trim on top of this fence would look great around a mobile home as well as walkways or even provide protection for your plants, flowers, trees, and vegetables.
2. Wood Fencing
Wood fences consist of in-fill panels of wood installed close to each other in such a way that very little or no space is left between them.
They provide maximum privacy compared to picket fencing. If you must leave some space between the panels, the ideal spacing to observe is 8″.
Dimensional lumber is sold at 8″ or 16″ lengths, so positioning your posts 8″ apart could mean you are cutting on wood wastage.
The best thing about wood fences is that they can take a range of finishes and stains.
Wood fencing is also cheap compared to stone and similar options.
However, it is prone to insect attack and rotting, meaning regular maintenance will be needed. A well-installed wood fence can last between 10 and 15 years.
What's the best type of wood for wood fencing?
Redwood is the most often used type of wood in wood fencing.
The quality, aesthetic value, and durability of redwood make it competent for the job. However, redwood isn't the cheapest kind option.
You might find yourself choosing between a range of other hardwoods.
How tall should your wood fence be?
There is a strong chance your community has a fencing code to which you must adhere.
The ideal height for a decorative wooden fence is 4" while that of a privacy wood fence is 6".
At what cost?
According to Fixr, the cost of erecting a privacy wood fence is in the region of $3 – $6 for every linear foot.
This cost increases to $9 – $18 for every linear foot if you choose to use tropical hardwoods.
All these costs include the cost of installing the fence, but the complexity of the installation process may inflate the cost with as much as $25 – $50 an hour.
Here are a few wood fences perfect for your mobile home:
Nominal panel height (ft): 4
Made from an eco-friendly Red Cedar, the manufacturer ships it in pre-assembled solid panels for easy installation.
It is naturally resistant to rot and insects. Actual dimensions are 48" H x 30" W. Can be temporary or permanent.
This fence too is pre-assembled and made from eco-friendly Red Cedarwood.
Actual dimensions are 48″ H x 30″ W. Can be temporary or permanent.
Nominal panel height (ft): 6
This fence is made from pressure treated unfinished wood to provide the durability you want in a fence.
Because the wood is unfinished, you can use a stain or paint to give it the looks you want.
The gothic style of the top section can give your garden the charm it has always needed. It is covered by a 15-years limited warranty.
The best thing about natural cedar is that it can be left like that or stained and painted – the functionality doesn't depend on the finish. The actual dimension is 68.5 in. H x 72 in. W. It was designed for both temporary and permanent installations.
3. Composite and Vinyl Fencing
A composite is any material made by combining two more materials to take advantage of the properties of the constituents. Composite fences are mainly made from recycled wood or plastic.
These fences can imitate the appearance of other fences including picket, stone, and array of other surfaces.
Options can be purchased as posts, panels, or pickets that have decorative patterns showcasing your home while still enhancing its security. In extreme weather, composite fences are prone to warping.
PVC vinyl fences are increasingly becoming popular, very much like their composite counterparts, and last longer than wood fences.
They are also low maintenance. It only makes sense to install PVC vinyl fences for permanent purposes; it can be costly for temporary installation.
This type of fence is known to become brittle in very cold seasons.
What's the best type of composite material for fencing?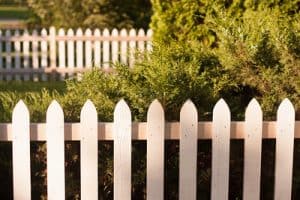 Trex is the most popular composite material used in composite fencing.
Trex fencing comes out unique, beautiful, and low maintenance compared to vinyl and wood.
At what cost?
Composite fences cost $25 per foot to install. That's $10 more when compared to a wood fence approximately $15 per foot.
If you consider long term benefits (composite lasts longer than wood and requires minimal maintenance), composite fences come out cheap.
PVC vinyl fences cost almost the same as composite fences.
The cost of installing a linear foot of PVC vinyl fence can be between $19 – $35.
If the fence is decorative with specialty detail on it, the cost can rise to about $50 per linear foot. So, the detail and size of the PVC vinyl can have an impact on the cost.
Here are some impressive composite and PVC vinyl fences perfect for your mobile home:
This Polyethylene/steel-made composite fence comes with a realistic stone appearance. It is eco-friendly, durable, and backed with an unbelievable 25-year warranty.
This is yet another composite fence that imitates the looks of wood without compromising on durability. It comes in three finishes with incorporated UV protectors: Red Cedar, Walnut Brown, and Nantucket Gray.
These pre-assembled panels are lightweight and can be installed to step over terrain. They feature Panel features 1-3/4″x 2-3/4" rails; 3-13/16" picket spacing.
The most impressive thing about this vinyl fence is the Snap & Stay technology that serves to secure the pickets onto the rails from the inside.
The panels that come with this fence feature 6" groove and tongue boards and 2-1/4″ x 7" decorative bottom and top rails.
4. Bamboo fencing
This type of fencing makes use of rolled reeds or planks of light or dark-colored bamboo. It is unbelievably cheap and requires infrequent and minimal washing as maintenance.
They are perfect for homes situated in tropical regions, that's probably why they are not popular in America except in some areas in Florida.
Those who prefer them erect them around the backyard swimming pool or patio.
Bamboo fencing does perform well in cooler regions as well. They aren't particularly a bad option for apartment dwellers especially when you need some privacy from close-quarter neighbors.
Bamboo may seem flimsy from afar, but it's actually durable and naturally resistant to termite attack. Because of its unpopularity, information about the cost of erecting one is scanty.
Take a look at these bamboo fencing options at Home Depot:
These carbonized and durable bamboo panels are held together by three rows of 14-Gauge galvanized coated strings of wire and weigh just 45 lbs. per panel.
You want a Japanese bamboo fence with a beautiful diamond lattice pattern to enclose your home? Consider this option. They are easy to set up.
5. Chain link
Often referred to as chain-wire fence, hurricane fence, diamond-mesh fence, cyclone fence, or simply as wire netting, this fence is made from LLDPE-coated or galvanized steel wire woven to form a mesh.
It provides good visibility but won't allow a hamster and any other similar tiny pets across the meshwork although this may depend on the grade of mesh you choose.
At what cost?
According to Home Advisor, the cost of setting up a foot of chain link fence is between $5 and $20. The linear foot will cost you between $10 and $20 to install. Most homeowners part with $2,068 on average, sometimes between $1,500 and $3,000.
The scrollwork detail at the topmost part of this mesh provides a traditional feel. It is made from aluminum hence tough yet lightweight.
Four Privacy Fence Alternatives
Here are a few backyard fence alternatives you may want to pick from based on your requirements and preferences.
1. Metal Panels
This will be a viable option if you are creative with it.
This option is ideal especially if you want to increase on security measures.
For some creativity, you may accentuate with wood and also play a little with colors.
With corrugated metal panels, you have no reason to worry about the weather elements.
Depending on both color and texture, choosing the right panels can give your backyard a vintage, rustic, or modern look.
2. Brick/Stone Wall
Brick/stone wall fences are another popular option.
There are two ways of installing these fences.
You can either use mortar to join the bricks or just arrange and stack the stones up.
It's easy to construct especially if you happen to be handy.
This type of backyard fence would look good on any kind of property.
It's what most property owners use to increase on the aesthetic value of the property.
In addition to this, the materials in question are easy to find and you'll have no need to clean the walls.
3. Hedges
It is arguably the most common backyard fence options in most commercial and residential settings.
There's a countless number of plants that can be used to create a beautiful backyard hedge fence.
However, this is dependent on certain factors, some of which include the following:
 Geographical location
 Type of soil
 Season of the year
Having all these factors considered and carefully determining the best plant to use, hedges are beautiful alternatives.
Flowering plants will add more beauty to any type of home and will make your backyard stand from the rest.
For security concerns, thorny plants would be your best choice as they would deter anyone from getting to you.
The major downside about hedges is that you have to keep the plants watered and well maintained.
Related: Is It Rude To Plant Privacy Hedges?
4. Brushwood
For that perfect backyard fence, brushwood would make an ideal alternative. However, you want it installed the right way.
You may need to hire a gardener who's well versed in that area. Brushwood is available in most lumber yards. It is also a highly cost-effective option.
Brushwood creates a conspicuous and attractive fence that will for sure increase the value of your property
Conclusion
A fence is an investment you add on your property either to protect yourself, create some privacy, or decorate the margin of your home.
Typical privacy fencing measures between 6″ and 6″ in height, but they can be higher.
When shopping for a fencing option, consider the cost, type of material, your local fencing codes, and climate. Remember to acknowledge your neighbors before installing a fence.