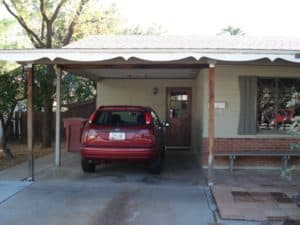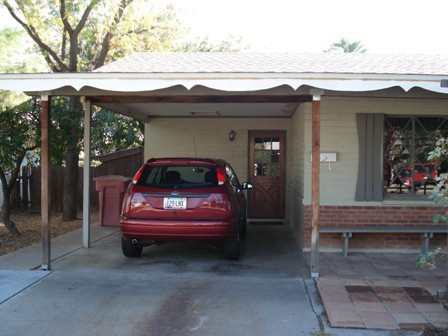 Buying a new car is one of the best investments that you can make in life. It is a necessity that you will be using daily. Therefore, it can be illogical for you to pack your vehicle in an open place. This is why you might need to install a garage or a carport.
Do you wish to shop for a carport in your manufactured home and do not know how to go about it?
If that is the case, you should worry no more. In this case, a carport refers to an enclosure that you can use to shelter your vehicle.
It is vital to keep your vehicle in an enclosed area to prevent it from being damaged by harsh climatic weather conditions.
Some of the weather conditions include too much sunlight, cold, heavy rainfall, or strong winds.
You can decide to keep your vehicle in a carport or garage, depending on your needs and preferences.
However, through this article, you will understand why it is vital to install a carport instead of a garage in your manufactured home and your carport's buying guide.
Five Reasons Why You Should Choose A Manufactured Home Carport Over A Garage
1. Affordable
Building a carport at your manufactured home can cost you less compared to building a garage. This is because if you decide to build a garage, you must follow similar procedures like that of building a house.
As a result, expenses can add up. With a carport, you will only choose one that fits your budget and follow very few guidelines such as the one followed in constructing a manufactured home.
2. Portable
Once you have built your garage, you cannot move it from one place to another.
Conversely, with a carport, you can easily move it to any site that your desire. This implies that if your carport's current location does not serve your right, you can relocate it.
Since you are living in a manufactured home, you can opt for a portable carport that you can easily move to your new home when moving.
3. Faster to construct
Installing a carport at your mobile home will take one day or less.
This is because you only need to buy the required materials and assemble them with or without a contractor's assistance.
So long as you have the tools and kits, installing a carport at your manufactured home can be an easy DIY project.
Conversely, contrasting a garage can take an extended period. For you to contract a garage, you are supposed to engage your contractor in design and contraction.
4. Serves many purposes
While the main reason for constructing a carport is to offer shelter to your vehicle, it can serve other uses.
For instance, if you have not parked your car there, you can use your carport as an outdoor shelter for hosting parties and picnics.
All you have to do is arrange some tables and chairs.
Additionally, when it is raining, you may wish to dry your laundry.
In this case, you can tie a rope between the carport's posts and hang your clothes.
5. More stylish look
Carports are aesthetically pleasing compared to garages. Also, carports come in various designs which can suit your needs and preferences.
Carports are smaller and open, making it easier for you to make them attractive by adding decorations.
For instance, you can put seasonal flowers around the carport's edges to enhance its visual appeal.
Conversely, garages are closed, making it difficult to impose a unique design of your choice or decorations like a carport.
Six Considerations When Shopping For The Best Carport For Your Manufactured Home
1. Size
Choosing the right carport size can offer maximum protection to our vehicle and equipment for many years. In case you do not consider the size of your carport, you may face numerous challenges.
For instance, if you shop for s custom size without measuring your equipment or vehicles' size, you may end up getting a carport that covers a small area.
You might also overestimate your space such that you end up installing an oversized carport.
In case you need a simple shelter for one car, then you can choose a standardized carport.
Conversely, if you have large equipment and extra equipment, you can choose a double or triple carport.
However, if you wish to avoid shopping for the wrong size, you should get advice from your carport builder. The builder can assist you in getting the most suitable carport size for your equipment and vehicle.
2. Carport designs
Freestanding
Provided you abide by the local and national construction codes, freestanding carports can offer you high-level flexibility in your manufactured home.
However, before you decide where you can install your freestanding carport, you should ask the local authorities the following questions:
What are the rules of accessing the carport from the road?
What are the rules about the appearance of the front side of your manufactured home?
How close to the boundary can you install your carport?
If you install the carport, will you affect your neighbor's natural flow of light, views, or car access?
Attached
It offers an uninterrupted cover to your vehicle. It can also enable you to save some money.
This is because you will not be required to pay for supporting one side of the carport since it is already your property.
However, you should carefully consider the stability of your carport and your manufactured home.
In this case, you should ask your home designer the following questions:
Will the final structure withstand the weather conditions?
In case you have a hipped roof style, how close to the corners can you install your carport?
Will it be necessary for you to strengthen the roof framing?
Will the fascia of your manufactured home offer enough support to the additional weight exerted by the carport?
Cantilever
A cantilever carport refers to one which is designed with support from only one side.
In this case, your structure will not have any post and will be more open.
However, you should check all snow loading and wind elements to ensure that your carport is structurally sound. To install a cantilever carport, you should seek advice from a professional structural engineer.
3. Roof style
Provided you have enough finances, you can shop for any roof style imaginable. However, below are some of the common carport roofing styles you can consider:
Flat roof
Flat roofs are the most famous since they are easy to install and inexpensive to buy. However, flat carport roofs may not drain well and are susceptible to damage from ice forming and water pooling. But having a slight incline can enhance the drainage, without changing the appearance of your roof.
Skillion roof
A skillion roof is similar to a flat roof, but it has a greater slope.
Majority of modern manufactured homes have skillions roofs since they offer passive climate control features and impressive profiles.
Therefore, you can use the same style for your carport.
However, before installing this kind of roof, you must know the maximum amount of height recommended by your local authorities. Your building designer or architect can assist you to come up with the best skillion roof.
Gabled roof
Gabled roofs are the best, especially when you are planning to mimic your house's roof style. These kinds of roofs require more labor and materials than flat roofs.
Therefore, you will invest a lot in installing one. However, the final finish is worth your money.
Additionally, gabled roofs are ideal, especially in areas with a high likelihood of receiving snowfall or high rainfall. This is because a gabled roof can drain more easily than a flat roof.
4. Framework construction
The framework that you choose for your carport will affect both the durability and look of your structure. Currently, you can access many materials.
However, it is vital to select a material that can match your manufactured home, make it look attractive, and offer a durable, safe, and robust structure. Some of the frame materials you can consider are:
Wood
Wood is a natural and renewable material that you can use in framing your carport. One of the advantages of using wood is that it is generally affordable and attractive material.
You can also modify it based on your needs and preferences. However, if you do not treat the wood carport, it can rot, pose a risk of bending, splitting, or warping.
Before you use wood, you should consider the type of wood and make sure that it is suitable for your carport.
You also have the option of choosing a glue-laminated wood that offers greater tensile strength than steel. Although such kind of wood is corrosion resistant, it is more costly than aluminum.
PVC
PVC is also one of the common materials that many manufactured homeowners use in contrasting their carports. This is because it is produced in large quantities and is relatively cheap.
It also requires little maintenance and tends to look good over a long period. However, PVC material tends to expand and contract when exposed to extreme sunlight or cold. Therefore, if it is not installed professionally, it can create leaks in your carport roof.
Steel
Steel is a strong material you can use as frames due to its robustness. However, it can be expensive as it requires regular treatment either by galvanizing or powder coating. Steel is also recyclable.
You should know that there are various grades of steel which you can access in the market. By considering the available grades, you can find it easy to choose the best one.
For instance, if your manufactured home is located at the seashore, you should choose steel grade to withstand salty water.
However, if you wish to get a high-quality steel carport frame, you should select a galvanized one since it is rust-resistant.
Aluminum
Aluminum is an inexpensive option you can choose. They are easy to assemble, light hence portable.
This kind of carports can be made of pure aluminum or a combination of heavy canvas or aluminum vinyl, especially on the roofing part.
5. Roofing panels
You need to choose roofing materials that can withstand the climatic conditions of your area.
Currently, some of the famous carport roofing materials are
Glass
Glass material offers a clean, polished finish and has acoustic features that make them produce less noise when raining heavily.
However, glass is expensive to buy and install. It also does not offer UV protection, and if you buy a low quality one, there might be a safety risk.
Polycarbonate
Polycarbonate has high impact resistance, making it difficult to break. It is versatile, with many of its varieties designed with a UV filter. It can be tinted, opaque, or translucent.
It will still look clean and robust even if you use it over a long period.
It is self-extinguishing and does not support the spread of fire. It also has a low heat transmission mechanism, making the underneath surface cool, especially during sunny days.
GRP
GRP is commonly known as Glass Reinforced Plastic and sometimes referred to as Fibre Reinforced plastic.
GRP is a composite laminate of glass fibers reinforced with polyester resin. GRP has a similar appearance, like glass. It is versatile and can be opaque or translucent. It is available in a variety of colors.
If you wish to choose one that is covered with a UV stabilized layer to protect your vehicle from being damaged by UV rays.
However, GRP has a lower impact resistance compared to polycarbonate. GRP can fade due to prolonged exposure to sunlight. It is also difficult to clean the surface since the surface is usually rough.
6. Color
Some carports are available in a variety of colors. Therefore, if you wish your carport to match with your manufactured home, you should color its color.
For instance, you can choose a color that matches your windows, walls, fascias, and other outdoor features. You will make your carport appear as if it was built at the same design as your house by matching the color.
Six Additional Considerations
1. Weather conditions
The best custom carport depends on the weather conditions of your locality. In case your manufactured home is located in an area that receives heavy rainfall or snowfall, you should consider getting an enclosed structure to protect your vehicles. It is also essential that you anchor your carport on concrete slabs if you live in a windy area.
2. Determine the use
One of the main reasons for buying a carport for your manufactured home is to protect your vehicle from weather elements such as sunlight, snow, hail, strong winds, and rain.
You can also use your carport for other purposes.
For instance, you can use the area in storing your outdoor equipment.
Also, a carport makes the best spot where your pets and children can play.
Interestingly, if you have a small mobile home, a carport can make the best spot for hosting a casual get together like a birthday party.
3. Consider your space
The available space around your manufactured home is one of the vital things which you should consider when shopping for a carport.

In this case, you should check if you have enough space to assemble or build your carport.
To determine the space where you can install your carport, you can use a tape measure in measuring the width and length.
Ensure you consider trees or overhead power lines which can obstruct or limit your carport roof. Your carport should not make it difficult to access your house.
However, sometimes it can be better if you hire an expert to install a carport so that you can avoid the hassles of measuring your area.
4. Think about the future
When shopping for a carport, you should consider the future.
For instance, you may wish to buy a new vehicle in the future, or your relative may move in, requiring a safe place to park his/her vehicle.
It is also possible that you might contemplate trying a new hobby or side hustle that can require a working space.
Additionally, if you are planning to buy another manufactured home in future, you should consider if the available space will be enough.
By considering your carport's future needs, you can save time, effort, and money in the long run.
5. Guttering
You need to choose a carport that includes downpipes and guttering. This can ensure that instead of leaving rainwater to run off your roof haphazardly, it is directed to specific locations.
This can cause puddles around your carport.
6. Guarantee
A carport can be an expensive buy. Therefore, you should choose one that can offer value for your money by lasting longer.
In this case, you can consider buying a carport that provides good guarantees.
This is because such a carpet is built to last for an extended period.
Conclusion
Finally, it would help if you were extremely careful when shopping for the best carport for your manufactured home. This is because every material has its benefits and features.
You should also choose designs and materials that match your needs and preferences and your set budget.
Since carports come in various styles, sizes, and shapes, you should not have any issues in choosing the best one. All that you will achieve is to protect your vehicle from potential damage.
Hopefully, by considering the factors highlighted above, you will find it easier to shop for the best carport for your manufactured home. Therefore, you should not have an excuse for leaving your car in an open place.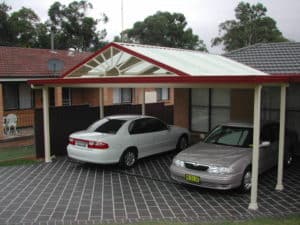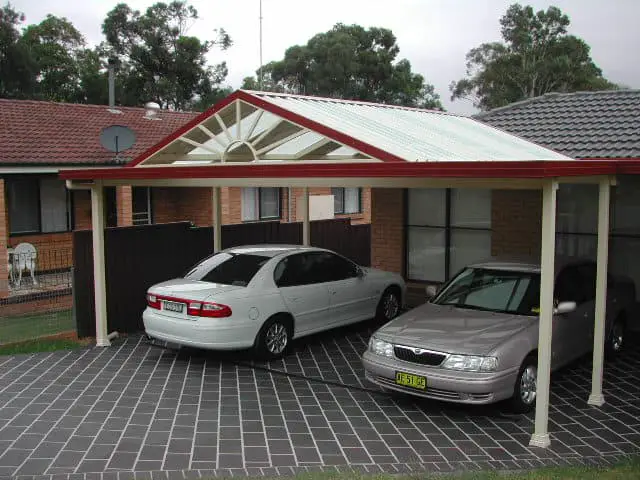 Frequently Asked Questions
Q: When was the carport invented?
The first carport was invested in 1936 by Frank Lloyd Wright when he used a carport in his Usonian home design known as the House of Herbert Jacobs.
Q: How long do carports last?
If you buy galvanized steel carports, they can last for more than 30 years, even if you keep them outdoors. In many cases, manufacturers provide long warranties so that customers can be assured of the product's quality.
Q: Do carports need planning permission?
It is not a requirement to get planning permission for a carport provided that you are using it for domestic purposes only. Therefore, it implies that you will only use the carport to store your car and not rent it out.
Q: Do carports need a building permit?
Yes. It is vital to get a building permit for your carports even if you do not place it into the ground.
Q: Can carports be painted?
Yes. Dirt, oil stains, and tire tread marks can ruin your carport's look, but you can enhance it through painting. However, before you paint your carport, you should ensure that the paint and primer are compatible. You must also prepare the surface by cleaning it thoroughly.
Q: What are solar carports? How much do they cost?
A solar carport is a structure consisting of a solar-paneled roof. It serves dual purposes of protecting the car and offering a large surface area for the solar photovoltaic panels. Most importantly, solar carports use the existing parking area in generating power. Solar carports cost around $4 per watt.
Q: Do metal carports attract lightning?
A metal carport, which is a conductive structure, provides a low resistance path to the earth. In other words, the metal carport will not increase the likelihood of lightning striking, but if lightning occurs, it can reduce its magnitude.
Q: Do carports need gutters?
Water can drain aimless from your carports even if you have not installed a gutter. However, you can install gutters to guide the flow of rain downspouts away from your structure.
Q: What sizes do carports come in?
Carport sizes vary according to the kind of structure that you want.
However, single carports come with a standard width of 12 inches, double carports (18 to 24 inches wide), triple carports( 26 to 30 inches wide), and commercial carports (32 to 60 inches wide).
Q: How much do carports weigh?
The weight of the carports varies depending on the materials used in designing them. For instance, a concrete will weigh about 19,000 lbs while a steel carport will weigh up to 2200 lbs.
Q: Does Lowes sell carports? Menards? Costco? Home Depot? Tractor Supply?
Yes. Lowes, Home Depot, and Tractor Supply sell carports made using industrial steel frames and galvanized roofs.
Clients have the option of choosing a flat, arched, or peaked roof style.
Menards sells metal carports made of galvanized steel by VersaTube manufacture.
Q: Does Tuff Shed build carports?
Yes. Tuff Shed can build custom carports with varied styles using different kinds of material. If you are looking for a small carport, medium-sized, or double carport, they can build one which suits your needs.
Q: Can metal carports be moved?
Yes. Below are some of the guidelines when moving a metal carport.
Assess the distance.
Research on how you are going to move it
Plan- If you are going to dismantle it before moving, you should have a plan and the right tools. You can also slide the carport instead of taking it apart.
Season- Avoid moving your carport during the winter season.
Lastly, if you are not sure how you can move your carport, you can request help from a professional
Q: Are carports taxable?
In many states, metal carports account for the property's tax value if installed on a concrete foundation and have power running to them.
Therefore, it would be helpful to visit your local tax assessor before buying a carport as it can increase your annual property tax bill.
Q: Do carports protect against hail?
Yes. A carport can prevent hails from hitting your car.
However, since carports are open on the sides, they can allow hail to hit your car at an angle. Also, in some cases, hail can bounce off the ground and hit your car.
Most importantly, carports are useful compared to leaving your car in an open space.
Q: Do carports prevent frost?
Yes. Even though a carport is open on sides, it can keep frost away from your car.
Normally, warm components such as cars radiate heat. But a carport can create physical barriers that prevent moisture from condensing on the vehicle even if the exterior is cold.
Q: Do carports increase home value?
Carports can increase the value of your value unexpectedly.
In many cases, adding a carport does not automatically raise the value of your home.
However, if you install it correctly, it can improve your home's look, making it more desirable to potential buyers.
Q: Do metal carports sweat?
Yes. Warmer air can carry high levels of humidity such that when the air cools, water droplets start to form around the metal carport.
As a result, when wet warm air gets into contact with cold metal structure, it leads to sweating.
Q: How much does a carport cost in the UK?
In the United Kingdom, a single carport costs between £2000 to £4000, but its average price is £3000.
However, double carports are more expensive as they cost around £5000.
Q: How do you stabilize a carport?
If you wish to install your carport directly into the ground, you can use earth drive anchors in securing them so that they become stable.
Notably, you should secure all the anchor bolts to the metal posts.
Q: Who makes the best carports?
There are myriad carport manufacturers, but some of the best ones include Abba Patio, Palram, King Canopy, and ShelterLogic.
Q: How much does it cost to enclose a carport into a room?
It costs between $1000 to $1500 to cover a carport into a room. However, before you do the conversion, you should check the local building codes, and if you have enough alternative space, your visitors can park their cars.