Have you been wondering where to start in remodeling your manufactured home? Closet doors are a must-buy product for your home.
Apart from securing your closet's privacy, they add fresh appearance and refinement to your home's interior.
Manufactured home closet doors come in different types and sizes from which you choose.
Do you have minimal space? Fret not!
These closet doors come in small size compared to regular doors, so they will fit well without consuming much space. It is challenging to select the best closet door that matches your needs with the flooded market.
This article will give you every detail you need before settling on the closet door to buy for your manufactured home. Keep reading!
Related: Mobile Home Interior Door Shopping Tips
Four Mobile Home Closet Door Classifications
1. Core
These divides the manufactured home closet doors into three categories, namely
hollow core
cutting hollow core
solid core closet doors
They vary installation procedures and versatility, which makes them suitable for varying interests.
2. Material
These doors can be made from wood and polyvinyl chloride (PVC) materials.
However, the wood can be either plain or engineered, each with its advantages.
Additionally, there are molded composite closet doors that are made of wood-based products and engineered to resemble wood doors.
3. Finish
Depending on the finish carpentry work needed during the installation, manufactured home closet doors are classified into four categories.
These categories are
primed
stained
prefinished
unfinished
This classification is essential for those who want to blend closet doors with their home decor.
4. Construction
Different manufactured home closet doors come in different designs.
For this category, four classifications exist, namely,
flush
splint jamb
panel
flat jamb
Six Closet Door Shopping Factors
Manufactured home closet doors are essential in transforming your mobile home beside the privacy they provide.
Making the right choice that blends with the decor of your manufactured home is perfect.
Besides, there are other vital factors that you need to put into consideration whenever you are purchasing a closet door.
1. The Measurements
This helps you to get the exact door size for your closet. Most of them  come in standard sizes.
The standard height is 80" and some standards widths include 36, 32, 30, 28, and 24.
2. Pre-hung Vs Slab
Depending on your interest, you can choose between pre-hung or slab closet doors. The pre-hung door comes when ready for you to install with the built-in frames and hinges. Most of the slab closet doors for manufactured homes come unfinished.
3. Styles
Manufactured home closet doors exist in many varieties, allowing you to select them according to personal interests.
Also, you have the opportunity to choose between left-handed or right-handed closet doors.
4. Material
Depending on the durability, and the look you want to give the core of your house, you can select amongst the different material. Most of the manufactured home closet doors are wooden and serve well.
On the other side, PVC closet doors are more reliable, durable, waterproof, and resistant to fire.
5. Home Decor:
This is an essential factor to consider if you have the goal of making your home smart and keeping your closeet content private.
In most cases, you will prefer selecting the slab door closet, which comes unfinished. This type will allow you to paint it in a way that it matches with other decoration in your manufactured home.
6. Finishing touches
Depending on the money and time you want to invest in your closet doors, you will select different types of doors.
Typically, choosing closet doors for your manufactured home can be a great challenge if you are not sure of what you want.
Think about the space available, the budget, and the decor plans to help you make an educated decision.
Closet doors come in different styles and variety. Know what you want, and you will be sure to get the right signature door for your home.
Related: Bedroom Closet Insulation Tips
Which Closet Door Type Is Right For You? Here Are 9 Choices
Having knowledge of the types of mobile home closet doors available in the market will help you when selecting the right design for your home. Below is a comprehensive guide of some closet door types for your manufactured home, including the benefits and downsides.
1. Bifold closet doors:
These types have panels that are connected by hinges. These panels are usually available in 2 pairs of panels for a 4 to 6 feet exit opening.
However, you can still have a bifold cabinet door customized to fit any sized cabinet of your choice. Most people use this type in the bedroom closets.
They are an excellent option for the closet with small openings and work best when you apply a light lubricant on the rollers for smooth closing and opening.
Pros
Bifold doors are inexpensive and feature lightweight
They do not consume much space when they open
Bifold closet doors can be used with wide closet openings
They can be flush-mounted, and there is no need for casing meaning that you can save on materials and labor
Cons
Making access to the far sides of the closet is a challenge
These designs can quickly come out of the truck especially when younger kids are tugging on them frequently
2. Pocket closet doors:
This is an answer to those who have limited space or are unwilling to install conventional swing closet doors. Unlike swing doors, these doors slide into a little pocket made in the wall when they opened.
Pocket closet doors are a perfect choice for those who have limited space in their manufactured home. It allows you to have full and easy access to the entire closet opening without compromise on space.
They are sometimes referred to as sliding pocket doors due to the ability to slide into the pockets.
Pocket closet doors allow you to match the frames with other doors frames of your manufactured home, adding to home decor.
They are not only an excellent option for those lacking space but again for those saving on space for other reasons. Due to the fortified and high quality hardware used in making them, they are an excellent choice.
Pros
They have lightweight without compromising on quality
Pocket closet doors are super space savers. Making them ideal for manufactured homes since most of them have limited space.
They are easy to use and allow you to access the whole opening at ease.
Upon installation, they can be easily customized to blend with other door frames.
They can serve a dual purpose if used in bathrooms.
Cons
They are expensive.
They are not the perfect option if your manufactured home has a wide closet opening.
3. Mirror closet doors:
Almost all closet doors can be customized into mirrored versions. For instance, the bypass closet designs are available in frameless mirror door options.
They offer a full-sized mirror door in your home space. You can save wall space and still benefit from more light in your room brought in by these designs.
Pros
They can be found in various styles whether framed or not
You can easily access your mirror right in your closet, saving you time and energy.
Cons
These closet doors can bring in unwanted glare in your homerooms.
They are expensive
Mirrors can easily break, especially when you are using them in a child's room. This is why it is recommended that you use impact-resistant mirrors
4. Louvered closet doors
This type is similar to the shutter and accordion designs. Usually, it is recommended that you go for the models that are made from wood to add more warmth in the space.

Also, most of them come with decorative panels that add more details to your room.
Pros
They allow a lot of air and light to enter through the cabinet thus keep your clothes fresh
They are easy to maintain with a dust spray or a duster
Cons
They are expensive, making them too expensive for low income earning families.
5. Accordion closet doors
These manufactured home closet doors feature state-of-the-art designs. Accordion closet doors are made of lightweight PVC that is easily made to look like any material, wood, laminates, and lightweight fiberglass or aluminum.
This PVC material makes them strong and durable, thus perfect choice. Some of them have acrylic inserts similar to clear glass or frosted. The panes in these doors are narrow; hence you can stretch the entryway nearly flat when closed or accordion into a thick band as they are opened.
These are the perfect choice for people who need full access to the opening without having to use the regular swing door.
Pros
One can find a lot of options in the market
They are lightweight
They are durable, waterproof, and fire-resistant.
They are looking much better in the present than they were some years back
They are great options for kitchen laundry spaces, bathrooms or small closets
Cons
Lightweight designs can feel unstable when opening and closing them.
6. Pivot closet doors
This type of manufactured home closet doors have pivots installed at the top and bottom of the door. This is contrary to standard door hinges, which are secured along the sides; thus, being excellent space savers.
The strategic installation of the pivots allows the closet doors to open fully and create a drama in your rooms. Most people match the blanks with those of other doors. This is done by making the door flat with no paneling, insert glass, and customizing it.
Pros
They can easily be customized to match with other doors of your manufactured home.
They are bold and feature modernized beauty.
Pivot cabinet doors are frameless; thus, no need for finish carpentry skills.
The user has access to the entire cabinet opening.
Cons
They are expensive due to the use of complicated design and hardware; this makes them unaffordable for low-income people.
They can only be installed by skilled professionals, which adds to the cost.
7. Bypass closet doors
These are also called sliding closet doors. They are installed with a frame that has a track allowing them to slide past one another. Today, one can find these doors in various materials, including aluminum, wood, and glass.
They can look modern, and at the same time, they can be paneled to look traditional. Depending on your preference and taste, you can get a bypass exit that suits your needs.
Pros
Bypass doors save you a lot of space
They do not open into space, so you don't have to worry about the clearance as you open the door
They are available in various materials meaning that you can find a design that meets your needs and taste
They are lightweight and sturdy
The new models have a track system to keep the door in the tracks no matter what
Cons
These doors allow for access to one side of the closet because they slide over the other
If you choose to use old bypass doors or install your new bypass door on old tracks, you will have to replace them regularly because the door will keep coming out of the tracks
8. French closet doors
French closet doors for manufactured homes are lightweight and narrow to fit any closet opening. Additionally, the frames feature lightweight; they are either wooden or made using fiberglass.
They have their hinges installed along with the frames. The glass frames exist in varieties ranging from frosted glass frames to strained glass frames.
Pros
They are easy to install; thus, no need to hire skilled personnel.
They feature state-of-the-art beauty and offer access to the entire closet opening
They are suitable for wide closet openings
Cons
You will need more space to open the closet doors fully
You cannot use them in small rooms because they are large and can hit other valuables
9. Industrial Chic:
This comes typically in metallic designs and saves a lot of space for the user because they are double and slide. The metal sliding designs give your room an industrial vibe.
Pros
They add a contemporary look to your space
They are suitable for men who would like a simple but hardwearing exits in their closets
Cons
Most of them come in small sizes, and therefore they are only suitable for small closets
In Closing….
As you can see, there are lots of things to consider when shopping for replacement closet doors for a manufactured home. If you keep an open mind & your options open, your closet makeover project is sure to be successful.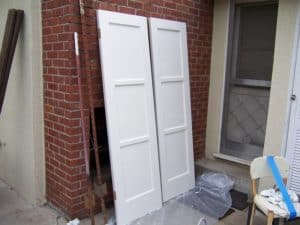 Frequently Asked Questions
Q: Can Closet doors be painted?
You can paint your closet doors, which is also an excellent way to make your rooms look finished.
Depending on your interests, you can opt for brighter colors to make them stand out or paint them in the same color as your walls to blend and almost disappear into the background.
Q: Can you stain closet doors?
Like any other door, you can stain your closet doors to match the wood trim and compliment the entire color scheme in your home.
Q: Can you cut closet doors?
Basically, closet doors should line up flat and fill the opening; therefore, if your closet doors hang on the rail system, you can remedy the situation by trimming them appropriately.
However, cutting closet doors is not advisable, and homeowners are encouraged to buy the right door sizes.
Q: Can you wallpaper closet doors?
Wallpapering is a great way to decorate your bedrooms.
If you have a wallpaper that you love but do not want to fill the bedroom walls with a pattern, you can simply hand it on the closet doors.
Q: Does a closet door need a header?
Although the header's job is simple, it is still critical and, therefore, your closet door needs one.
However, because it is a non-load-bearing wall, you can use 2-by-4 lumber, which is also a header because it spans over an opening.
Q: Can you paint sliding closet door frames?
Paint them.
If your sliding closet door frames have faded paint or just feel like updating their look, painting them is no harm.
Indeed, it is a simple project that doesn't require unique skills.
Q: Do closet doors come with hardware?
Mostly, closet doors will not include hardware.
The best idea is to understand what hardware your closet door needs, which depends on its type, then order from online retailers or buy from local stores.
Q: Do laundry closet doors need to be louvered?
Because of the considerable amount of heat energy and moisture generated in the laundry room, it is advisable to use louvered closet doors. They will increase ventilation, which is ideal for your washer and dryer.
Q: Should closet doors and bedroom doors match?
You should match the closet doors and master bedroom doors so that everything works in sync.
Matching doors not only elevates your decor but also adds the home's value.
Q: Can you replace a closet door track?
Yes, closet door tracks are easy to replace. All you need is to follow the instructions on how to replace a closet door track.
Q: Can you lock closet doors?
Closet doors need to be locked to protect their contents from unwarranted parties.
If the locking system provided by the manufacturer doesn't offer the high-level security required, you can always upgrade.
Q: How can you determine if your closet doors are solid or hollow?
Although there are several factors that distinguish hollow-core and solid-core closet doors, examining the finish can help you determine what type your closet door is.
Since hollow-core doors are barely stained, a stained closet door may mean solid-core, while painted counterparts might mean it's a hollow-core closet door.
Nevertheless, don't overlook other factors like weight, prices, and sturdiness.
Q: Should closet doors open in or out?
Typically, closet doors should open outwards or slide from side to side. This will eliminate wastage of space inside the closet.
Q: Should closet doors be left open?
Having your closet doors closed promotes the feeling of safety and security as well as trapping positive energy.
Therefore, it is advisable to keep them closed throughout.
Q: How big should closet doors be?
The most common closet openings are 6-foot wide with a standard height of 80-inches, but you can also find 96-inches height.
However, you can get a closet door that is ideal for your closet's opening.
Q: Why do closet doors make noise?
The primary reason you hear irritating noise from your closet doors is because of dust, grime, and dirt that accumulate in its track over time. You can remedy this by cleaning and lubricating the closet door's track.
Related: Why Do Sliding Closet Doors Make Crackling and Popping Noises?
Q: Do sliding closet doors need a bottom track?
Sliding closet doors do not necessarily require a bottom track because the top track supports all the weight.
However, you might need one to guide the sliding closet doors if it is likely to be bumped hard enough.
Q: How do you replace closet door finger pulls?
Remove the damaged closet door finger pulls and insert the new one into place. Attach the washer and bolt the tighten with a wrench.
Q: Can you replace the mirror on a mirrored closet door?
Replacing mirror(s) on a mirrored closet door is not the best idea ever.
Although it is something you can do with the right skills, the safest bet is to upgrade them or buy a whole new set.
Q: How do you replace rollers on a sliding closet door?
When replacing sliding closet door rollers, all you need is to screw the wheels on the closet door using appropriate screws (typically ¾ inches) in the original screw hole.
When buying new rollers, make sure to use the old wheel and plate for reference.
Related: Closet Accessories Guide
Q: Do you install closet doors before the carpet?
The standard procedure is to install carpet after the doors and trim are in place.
However, if you are not installing a jamb, the best is to hold the door off until the carpet is installed.
Q: How do you expand the closet door opening?
Start with removing the old closet door, then measure the new closet door while marking appropriately on the wall.
Move the walls to enlarge your closet to the desired size and use a reciprocating saw to cut the original framing, reframe the closet, and install the closet door.
Q: Can you cover mirrored closet doors?
Like any other closet door, mirrored closet doors can be covered to give your desired appearance.
Depending on your budget and interests, you can cover you mirrored closet doors with wallpapers, curtains, or opaque window film.