Today's accessory marketplace offers a range of closet add-ons and inserts to meet your wildest needs. In fact, we now have entire stores devoted to selling closets and closet accessories.
Finding the right store to get quality manufactured home closet accessories can be a bit tricky. To see what the shops around you have to offer, browse through the store or any home center near you.
Every accessory or closet store worth its salt out there has a working Internet site where you can stop to check their stock – that's highly important as you don't want to leave your home to look for nonexistent items.
Regular eCommerce stores like Lowes, Amazon, Home Depot, and Wayfair aren't bad either.
For quick fixes, for example, you can find shoe caddies, wire baskets, clear stackable boxes, and even tie racks in virtually any departmental store or home center. These will allow you to reorganize the closet all by yourself.
To redo your entire closet, you can always get design assistance at a local closet store or expert establishment — some may offer it free charge e.g., at your local departmental store, while others may charge a tiny fee for the service.
Once you have made up your mind about all the accessories you need in your project, you can decide to add them on the close all by yourself or opt to hire a qualified professional for the job.
Two Common Closet Accessory Construction Materials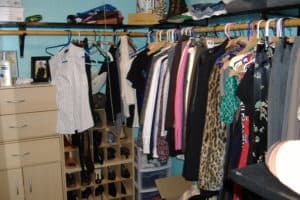 Epoxy
Most closet accessories and shelves are made from a material known as epoxy – basically, vinyl-coated wire that doesn't stretch easily. Epoxy shelves are often referred to as ventilated shelving.
By far, the coated wire is the most practical, relatively inexpensive, and lightweight material — this type of shelving permits plenty of air inflow and circulation within the closet.
You will find it in sturdy narrow mesh (great for storing your heavy items) and wide mesh (great for storing lightweight items like clothing and towels)
Plastic Laminate
Plastic laminate (or plastic-covered particle boards, also called Melamine) parts cost slightly more than components made from coated wire.
They also tend to be attractive and durable and can be easily combined with any wire storage unit to create a functional and flexible closet.
These components normally come in black, white, or wood finishes, like cherry or maple.
Seven Must Have Manufactured Home Closet Accessories
Most closet systems will include these accessories
1. Hooks and Hangers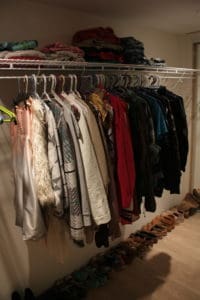 Hooks are mostly available in plastic and metal but you can still find some decent wire hooks in your local store. They are often designed to be easily screwed into walls or doors to hold robes, shirts, towels, and belts.
There's just a lot of things you need to keep in mind when shopping for hooks, but most importantly, you need to understand the different types of hooks available out there.
Hooks and hangers go together because they serve pretty the same purpose – to hang your clothes, coats, hats, and similar personal effects in your closet.
Some of them don't belong in the closet at all, but let's take a glance at each:
Hooks
There are many types of this essential accessory, but just five of them can be used in a closet –
removable hooks
s-shaped hooks
over-the-door hooks
coat hook
ceiling hooks.
S-shaped hooks
This type of hook is almost unmistakable due to its familiar "S" shape.
They have a long history – you've probably seen one in a butcher shop already with a carcass hanging on it, but they have other more decent applications in the closet.
Queen Elizabeth II of Britain reportedly carried one with her  to hang her purse off the table when dining at restaurants.
Lots of these hooks are still available today in plastic and iron, and many homeowners use them to hang handbags and purses in closets. They also look great in utility closets.
S-shaped hooks are sold in packs with each pack containing a different number of hooks. The price range per pack is between $1.50 and $4
Removable Hooks
Removable hooks come with an adhesive or a suction mechanism that lets them cling on flat surfaces, strongly enough to hang an item.
They are highly versatile and are perfect for anyone who wants to take full advantage of the flat walls of the closet. Also, if you don't want to put holes on the surface, this is the best hook for the job.
Removable hooks can be expensive depending on the materials whether they use adhesives or suction mechanisms. A typical hook has its price tag somewhere between $5 and $15.
Over-the-door Hooks
This is a slightly different type of hook that hangs on the door of your closet instead of the inside. It can come out useful if your closet is congested and the only space you can put to use is the doors.
Most of these hooks resemble typical hangers that have been arranged neatly on horizontal bars.
Also, if you don't want to use those hooks that require you to put holes on the wall, you can use this type of hook. The best thing is that they don't interfere with the function of the door while they are there.
The cost of these hooks is surprisingly low – they seldom surpass $17
Coat Hooks
Coat hooks are made specifically for coats. However, they don't fit in just any kind of closet.
They are suited for hallway closets where you'd hang your coat on your way to other rooms after a long hectic day at work.
They can be made from plastic or metal, but wooden options are the most commonly used out there.
Coat hooks can be quite costly, with price tags normally falling somewhere between $14 and $50. There are more sophisticated models that cost over $100.
Ceiling Hooks

Most closets come with a crossbar or hanger rods running across and above the compartment.
The crossbar or rod is meant for placing your hangers and stuff. Some closets, however, don't come with these items, so you are free to add a few hooks on the 'ceiling' of your closet to hang whatever item you want.
Ceiling hangers are normally screwed into the surface and can be used to hang heavier items you think regular hangers and hooks won't sustain.
Note that there are different classes of ceiling hooks, ranging from those you can add in your closet to more tough ones used to hang potted plants off the ceiling.
A set of typical ceiling hooks for closets costs a few cents up to about $2
Hangers
Hangers are a better alternative to hooks because they are never fixed at one point in the closet – you can easily remove and use them elsewhere as you please. There are over 30 types of hangers, evidently, too many to list in this guide. Choosing the right kind of hanger is easy, you just need to know your needs.
What Do You Intend the Hanger For?
Pants Hangers

Yes, there are hangers specifically made for hanging your pants.
Other options feature open rods where the user can slide their folded pants onto the unit or ones that come as straight bars where the user can carefully fold their pants and before hanging.
Suit Hangers
Hanging your suits together permits you to keep your pieces close to each other so that you can have an easier time when getting dressed.
Skirt Hangers
Look for a product that comes with clips for hanging your skirt and ensure that they can easily adjust so that they can be slid apart or together.
This will permit you to hang several skirts in a variety of sizes without problems.
Because skirts tend to fall off the conventional hangers, this is probably the only type of hanger that will work for you and even make your closet look roomy and organized.
Dress/Shirt Hangers
When most buyers think about clothes hangers, this is what's going to go through their minds.
They are the ubiquitous apparel hangers and probably the most common type of hanger you see in the store.
The process of hanging up your shirt or dress using these hangers is easy.
The best thing is you can decide if you want your broad or slim, have notches for strings, or straps to be non-slip to allow you to customize them for any dress or shirt.
Belt Hangers
It can be incredibly tricky to hang your belts in the closet if you don't have a specially made hanger for them. Belt hangers are made to make it easy.
Tie Hangers
Ties are too slim to take up huge spaces in the closet, so most of the tie hangers you will find hangs a bunch of ties at once, say, ten of them at once. In most cases, just one tie hanger is enough for your needs.
Nursery Hangers

This type of hanger is intended for children's clothes. They are very much like those meant for adults but a lot smaller. This's so that the child's clothes do not get damaged or stretched when hung in the closet.
Material of Construction
Whether you are going for hangers, consider the material of construction of the product of your choice.
Hooks are normally either
stainless-steel
plastic
or wood-based.
Hangers, on another hand, can be made from an array of materials including
satin
wood
plastic
and metals like stainless steel or iron.
2. Clothes/Closet Rods
Clothes rods are the integral parts of wire or laminate closet systems.
They serve the important function of separating the hanging clothes more so if they are of different sizes and lengths.
Choose a closet with these features:
Durable
Choose a durable metallic, wooden, or plastic closet that that holder will hold your hangers and keep your closet organized and neat for longer.
The parts of the rod should be strong enough to support many loaded hangers without showing signs of bending.
Perfect for Compact Spaces
Find a rod that can be installed in the closet and even mounted somewhere in the bathroom without taking up much storage space.
Shop for a slender and collapsible closet rod that can hold as many as 12 hangers. It can be a great way of increasing your closet storage.
Collapsible Storage
Find a collapsible rod that can shrink or flip to pave way for other uses when you no longer use it. This can prove to be helpful in small closets or laundry rooms.
Easy Wall Mounting
Some rods are designed with brackets at each of the two ends for easy mounting, allowing you to simply insert your screws into the designated holes and attach them into the pre-drilled hole in your closet.
Dimensions & Ease of Care
A typical closet rod comes with dimensions in the region of 10.25 L X 1.25 W X 4.75 H.
Ensure it is made of a material that is easy to clean by wiping with a dry towel or damp cloth.
3. Fixed/Gliding/Pull-out Shelves
Fixed shelves are mainly supplied in laminate and wire, and in a range of sizes –
the narrow options are meant for shoes, pants, and sweaters
and wide options are for games, boxes, toys, and bulky clothes.
Gliding/Pull-out shelves are usually made of wire laminate or wire to permit easy access to heavy items such as jeans and boots, or to low or high parts of your closet.
Consider these factors when buying gliding/pull out shelves:
Maximum Weight
What's the maximum weight can the shelf hold?
What are your weight needs?
It is always good to go for a product that can support the highest weight possible in its category, normally 100 lbs. or more.
Easy to Install
Some shelves are installed by simply sliding them in the slot while others must be screwed in the compartment.
Either way, ensure the item of your liking won't give you a headache during the installation process.
Width
Most shelves measure about 19" in width and will only enter in a slot of similar width.
Those meant for children closets can be about 11" wide.
Start by measuring the slot on your closet, then buy a shelf that fits the width.
Construction Material
Do you like solid wood shelves?
Would you be OK with polymer shelves?
Know the material that works for you.
Instant Organization
If you are intending them for children closets, buy a set that guarantees instant organization; for children suck at arranging things on their own.
4. Wire Baskets
Wire baskets are available in a variety of shapes and sizes and can prove useful in ventilated the organizing system. They are normally supplied in stacking sets.
If you are looking for a better option for storage of towels, jeans, sweaters, general laundry, and toys, you should consider equipping your closet with one or two wire baskets.
The best thing is that they can be freestanding or built-in.
5. Cubbies
Laminate cubbies can be eye-catching and serve to keep your shoes organized as well as keeping your purses and bags upright and neatly isolated from each other.
6. Stacks of Drawers
It is almost standard for stacks of drawers to be supplied in laminate whole-closet units, hold everything from sweaters to hosiery, keeping them away from light and dust-free.
Some makers may even offer special models and designs, such as unique jewelry drawers equipped with velvet organizing inserts.
Many stores like to avail stacks of drawers and shelves together for buyers to purchase them as two complementary items.
7. Casters

Casters can adapt several closet components, such as shoe racks and basket sets into compact mobile components that can easily be shifted with your ever-changing needs.
Conclusion
Shopping for closet accessories is never a simple and straightforward affair.
In fact, finding the right store to get all of your quality closet accessories can be a hurdle.
It is recommended that you begin with your local stores to see what they have to offer, browse through the store, or any home center near you.
Every accessory or closet store worth its salt out there has a working Internet site where you can stop to check their stock – that's highly important as you don't want to leave your home to look for nonexistent items.
Hooks and hangers are some of the important accessories of your closet, so you need to choose them with a sharp eye.
For the case of hangers, there are over 30 types of them out there, meaning you have a lot of research to do and tons of other factors to consider. Whether you are going for hangers, consider the material of construction of the product of your choice.
Accessories like drawers, shelves, closet rods, casters, cubbies, and drawers won't stress you much.
These items aren't as diverse as hooks and hangers.
As such, the only major factors you need to bear in mind when selecting them are
materials of construction
their sizes, durability
ease of installing
dimensions
and a presence of a few unique features.