Doors are an essential part of every space in your manufactured home.
Each door opens an entire universe of creativity within itself.
When painting your bedroom door, it is apparent that you want to get smooth and beautiful results.
Since doors take a lot of use and abuse, you want to paint them with a tough and durable paint with a high sheen and glossy appearance.
With That Said, Can You Paint A Bedroom Door With Acrylic Paint?
A precise answer would be – yes, you can paint bedroom doors and other interior doors with acrylic paint. Although many people prefer painting their bedroom doors with oil-based paints thanks to its reflective qualities, acrylic paint can give seducing results when applied correctly.
When applying acrylic paint, you need to sand the door properly to rough up the surface, then apply a primer to enhance bonding and lower absorption. Because acrylic paint tends to peel off easily, make sure to seal it with at least two coats of a premium quality sealer to retain your design and get smooth and magnificent results.
What Is Acrylic Paint?
Acrylic paint is an incredibly versatile, fast-drying, and water-soluble paint made of pigment suspended in acrylic emulation.
The paint becomes water-resistant after drying.
Depending on how you dilute and modify the paint when painting your bedroom door, you can get a finishing that resembles gouache or oil painting.
With acrylic paint, you will get the desired look for your bedroom door and other interior doors.
How To Paint A Bedroom Door With Acrylic Paint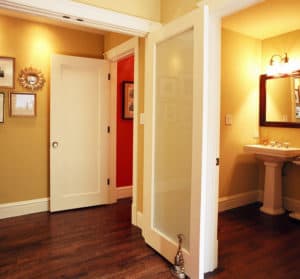 Doors act as an accent in every room and highlight the total style of your manufactured home.
If you are looking to jazz up your bedroom door with a bold new color, there is a proper way to do it with acrylic paints.
One reason you need to paint your bedroom door with acrylic is that it is tough and durable.
Besides, the matte luster of acrylic paint features reflective properties and touches up well while hiding imperfections.
With that said, here are steps and tips for painting your bedroom door with acrylic paint.
1. Determine the previous paint type
Understanding the previous paint on your bedroom door is extremely important.
It determines how you will prepare the door before applying a fresh coat.
Basically, acrylic paints don't bond well with oil-based enamel paints.
To determine the previous paint type, dampen a rag with rubbing alcohol and rub it against your bedroom door. If nothing comes on the rag, the previous paint is oil-based.
But, if the paint transfers to the rag, you're dealing with acrylic- or latex-based paint.
A bedroom door that was previously painted using acrylic or acrylic latex paint will be easy to work on.
2. Buy tools and materials
Professional results are attributed to top-notch tools.
For this reason, you need to buy high-quality tools and materials.
Some of the things you need include;
paintbrush
paint roller
dust mask
sander
paint scraper
utility knife
putty knife
foam brushes
drop cloth
paper,
primer.
3. Choose the bedroom paint color
Now it is time to pick a paint color.
While there are endless options to paint your bedroom door, giving its a white or gray hue is a beautiful option.
Whether you settle for a white, light neutral, or darker color, make sure to complement the tone of the door with that of trim.
For you who are obsessed with aesthetics, you can paint your bedroom door to faintly disappear or make it outstanding by giving it a look that contrasts your interior theme.
Related: Is It Better To Paint Your Home Yourself Or Just Hire Someone To Do It?
4. Prepare your door for painting
The success of a paint job starts with excellent preparation. There is a lot to do in this step.
You can opt to paint your bedroom door in place or detach and paint it on sawhorses.
While each method has pros and cons, there are many benefits when you paint the door while hanging on its hinges.
To paint without removing the door from hinges, you need a rag or newspaper to catch any paint drops.
Remove the doorknobs or locks and keep them safe.
Most modern locksets are easier to remove, which makes it a better option compared to masking.
You don't want to stain your hinges; therefore, cover them and any other hardware with painter's tape.
A utility knife will help reach the outside of the hinges and cut the tape.
To paper the surface, you need to remove the previous paint.
You can easily remove the old paint using a putty knife and sandpaper for stubborn patches.
Removing existing paint with sandpaper or abrasive cleanser makes the surface uniform while giving it the grip required for acrylic paint to stick.
Note: If your bedroom door was painted before 1979, it could be lead-based paint, which can damage your organs and brain when absorbed into the body. In this case, you need to test if the existing paint contains the toxic lead and precautionary remove and sand it.
After sanding and removing the old paint, clean the door thoroughly.
5. Dampen the surface
Dampening the door surface increases the time paint takes to dry, allowing you more time to apply it.
The trick also helps you to get perfect results by reducing brush marks.
6. Apply the primer
A high-quality primer will enhance bonding and help the acrylic paint glide on smoothly.
Once the surface is sanded and clean, apply primer using a paint roller and a small paintbrush.
Make sure to follow the manufacturer's instructions for the best results. Consider using a high-quality water-based gloss primer.
Allow the primer to dry (preferably overnight). If you are not certain how long it takes to dry, check the container for drying instructions.
7. Paint the door
Since this is the actual work, create enough time to do it.
Apply the paint in even and broad strokes, and avoid getting back over surfaces you have already painted. To create an even finish, paint without a break.
Acrylic paints are vastly known to dry quickly; therefore, a short break can lead to uneven drying and patchy finish.
Once the initial coat is dry, you can sand the door to remove any imperfections, then wipe clean with a clean rag and recoat.
The above approach works for flat bedroom doors.
If your bedroom door is paneled, you might need to invest more time.
Here are the steps to perfectly paint your paneled bedroom door.
Start with painting the edges around the door – top, sides, and bottom – using a small paintbrush.
Paint the interior panels. Basically, a 6-paneled bedroom door has two square panels at the top, two rectangular panels in the middle and bottom.
Next, paint the vertical strips between panels.
Then paint the horizontal rails.
Lastly, paint the vertical strips on the sides of your door.
Follow the procedure to apply a second coat.
8. Sealing the door
There are various acrylic sealers in the market ideal to add extra protection to your bedroom door.
Add two coats of a good quality sealer and allow the door to dry completely. Just make sure to warn family members not to touch the painted door(s).
9. Reinstall your door hardware
Once the sealer is dry, you can reinstall the locksets and admire your work.
You may consider installing new crystal knobs to add a dash of sparkle to your bedroom door.
Six Benefits Of Painting Interior Doors With Acrylic Paint
Acrylic paint is highly flexible and durable, which makes it ideal to paint exterior doors.
Similarly, acrylic paint boasts a host of properties that make it suitable for painting bedrooms plus other interior doors.
Here are reasons you might consider acrylic ideal for your bedroom door.
The paint dries faster than oil-based paints, allowing you to complete your project faster.
Modern acrylic paints are water-based, meaning they are less toxic. Painting your bedroom door with acrylic paint means you and your family are safer.
It is durable – modern acrylic paint is durable than oil paints. With additional coats of sealer, your bedroom doors will retain their great look for longer.
Acrylic paint is water-resistant when dry. This property makes it easy to clean your bedroom doors with water and soap.
Acrylic paint is more affordable, giving you a cheaper way to paint your doors.
With acrylic, you will give your bedroom door the lovely watercolor-like transparent layering.
Three Cons Of Acrylic Paints
They are available in fewer colors, limiting you to perhaps undesired colors.
It is hard to remove from brushes, nails, and clothing once it dries.
You are forced to work swiftly because it dries faster.
Conclusion
Painting doors is not one of the DIY activities any likes.
This post has, however, simplified it.
With acrylic paint, you can still add a dash of elegance to your bedroom door.
If you are thinking of painting your manufactured home interior doors, try acrylic paints.