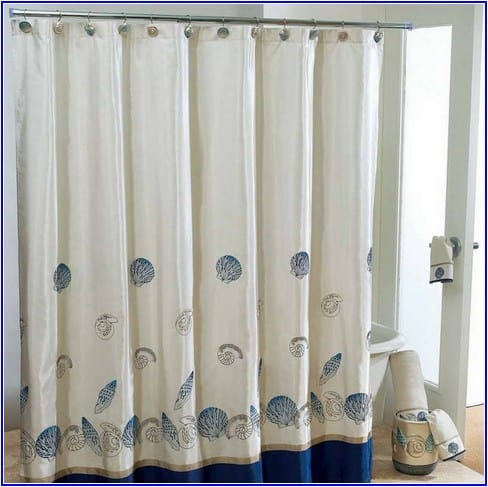 Whether you've just completed a major bathroom remodeling project or you are planning to make a few changes to your shower unit, you need a new manufactured home shower curtain.
Even the most often washed curtain needs to be replaced at least once every year to cut on germs and the fact that everyone deserves to shower behind a new style of curtain now and then.
The market is full of all sorts of curtains made from different materials.
Sometimes choosing the right kind of this essential product, more so one that suits all of your needs is not easy.
That's why we have prepared this guide to lead you through your shopping experience and choose the correct product.
Nine Manufactured Home Shower Curtain Shopping Factors
Here are the factors to bear in mind when choosing a shower curtain:
1. Dimensions
The standard curtain size for the average shower unit is 72 in. X 72 in., which permits the length of the curtain to extend down to the bathroom's floor and even cover the bathtub.
If you are going for custom options, consider taking the measurements of the space to determine if a standard curtain will fit properly. In case the standard size doesn't fit in the space, go for an extra-wide option.
When taking the measurements, note that for the standard curtain to fit snugly on your shower unit, an extra 3" need to be added to the length to take care of shower rings and the curtain rod.
Besides, your curtain should extend 12" or more beyond the edges of the shower unit to permit water to escape from those edges.
2. Material
You were particular about materials when you went shopping for your window curtains.
It's going to be the same with shower curtains.
The material used to make the curtain is one of the most important factors that must appear on top of your list because it determines several things.
Firstly, the resistance of the curtain to the accumulation of foam and water is determined by the material.
Secondly, some materials influence the aesthetic value of the curtain, and you want to go for the most appealing product you could find.
Most of the shower curtains you will find in the store are made from two types of materials –
synthetic
natural fabrics.
Synthetic
Synthetic materials like plastic and polyester are both waterproof and wrinkle-resistant (highly important if you like taking hot showers).
That's why a big part of the options you will find are made from one of these materials.
If your bathroom is open to sustained wear and tear i.e. you often wash your kids there or the dog doesn't count three to extend its paws in the air when soaking, you will need a product made from synthetic fibers.
Polyester
The best thing about polyester – a famous synthetic fiber in its own right – is its resistance to mildew growth which can be a major headache in some chronically damp bathrooms.
Polyester is also easy to wash and can even be rolled and pushed in a washing machine with cool water and it will come out sparkling, ready to be hung up once again.
Plastic
If you are looking for cheap shower curtains, you should go for plastic options – they are like water, literally.
Also, manufacturers seem to find it easier to add fun colors on plastic shower curtains than most other materials, both synthetic and natural, so they are perfect for children's shower units.
Downsides
The biggest downside about all synthetic materials, however, is they feel and look a bit stiffer than most other materials.
They also feel cheap, something that could leave you thinking a little longer when trying to establish a luxury bathroom.
Natural Fabrics
Natural fabrics such as canvas, hemp, linen, and cotton, are both luxurious looking and eco-friendly.
These fabrics are also easy to wash as long as you adhere to the manufacturer's directions.
Unfortunately, most of the natural fabric-based curtains you will find in the store are prone to wrinkling and are not waterproof.
You will need to add a good quality liner on them so that they don't get wet and damp all the time.
Silk and satin, some of the most popular natural fabrics used to make a shower curtain, are perfect options for a luxurious shower unit.
They bring style and glamor to your shower space at a cost higher than most other materials.
Why Many Homeowners Prefer Cotton (Strangely)
You may want to opt for cotton because your neighbor or friend suggested it.
Strange enough, many buyers are increasingly going for cotton when synthetic fabrics are still considered to be the best materials for the job.
While it is expensive, cotton is a solid material great for a shower curtain because its products tend to hold up perfectly plus, it is easier to wash compared to most other natural fabrics.
Better yet, it can give the bathroom the much-needed dressier feel.
Perhaps the most important of all, cotton absorbs moisture superbly well. However, if you are going to choose a cotton curtain, remember to buy a quality liner to accompany it.
Likewise, bear in mind that cotton shower curtains will require a wash at least once per month just to stay clean and nice.
3. Shower Rings and Hooks
Shower Rings
Shower rings serve the important role of holding your curtain in position, so they need special considerations.
Most of the ring options you will find in the store are made from plastic or metal – there are wooden rings but can be a rarity.
The rule of thumb used to select the right type of ring is to choose a product that matches the shower rod.
So, because most rods are metallic, you are more likely to go for metallic rings by default.
However, rules of thumb are not written in stone, you can use plastic rings on a metal roll but the opposite never looks pretty.
Shower Hooks
Metal curtain hooks have a classier look compared to their plastic counterparts.
Therefore, if you are one of those homeowners who are style-conscious, or if you are attempting to give your bathroom a regal look, you may want the best steel or chrome shower hooks to hold your curtain.
Stainless steel happens to be the most popular metal, followed by brass but virtually all of them are accompanied by decorative finish, such as chrome or brushed nickel – you can rest assured the style is very much customizable.
It is common to bump into styles that come with roller balls in the upper section of the hook.
This design is meant to permit an easy slide on the rod. So, if you are looking for a hook that allows the curtain to be easily opened or closed, choose the rollerball style.
Also, you may want to confirm if the hook of your choice comes with anti-corrosion and anti-tarnish properties, as some don't. That will add a few years to the lifespan of your hook.
So, basically:
Plastic rings are a more cost-effective option compared to metal.
Even for rings with rollerballs, there is a risk of having occasional noises as metal rings brush against the metal rod. This noise can build up to an irritating level that may prompt you to replace the offending rings. So, if your shower unit is installed with a metal rod, cut on screeching noise by purchasing plastic hooks.
If your bathroom has a casual design, plastic rings can suit the space just fine.
If your bathroom features a minimalistic style, think of plain silver or plain white rings or hooks
If your bathroom features a regal or lush style, choose embellishments l faux diamonds at the end of the hooks, Fleur De Lis embellishments, golden hooks, or golden metal balls.
If you have a transitional or classic bathroom, you can get away with timeless elements, like basic round embellishments at the end of the hook.
Beyond that, you have many different options for certain themes.
For instance, you can find western horseshoe shower hooks, nautical theme shower hooks, or even animal-themed hooks like paw prints. In case you would like a particular bathroom theme, take your time and shop around for a few custom designs
A Word About Hookless Shower Curtains
If you think hooks or rings won't work for you, you can give hookless curtains a shot.
Hookless shower curtains are simply slipped over the shower rod and will remain that way until the day you will decide to replace them.
If you are into more modern styles, a hook free shower curtain is just the right option to reflect this.
Also, they are less troublesome compared to ringed or hooked curtains as they don't slip out of the rod when blown.
They also provide a seamless look, cuts down on cost (now that you don't need rings or hooks), and are semi-permanent.
4. Color
Color is another important factor to put into consideration.
Shower curtains come in all imaginable colors, from plain simple colors to complex hues and mixtures.
Your choice of color will depend on your needs and who frequents the bathroom.
If it's a shower unit for kids then you are more likely to go for the default color schemes for kids, normally multicolored polka dots or any other scheme that features a lot of colors.
Remember to keep color choices consistent throughout the bathroom.
For instance, it wouldn't be pretty to have white curtains with red hooks or rings and grey walls or white tiles.
So, you want to ensure your shower curtain choice doesn't clash with the preexisting color scheme. In case your bathroom features neutral shades such as whites, you can add a splash of a bolder color with a bright-colored curtain.
However, if the bathroom already features a strict color scheme, consider choosing a curtain to match it.
For example, say the bathroom features yellow tiles and yellow sinks.
Try to choose a shower curtain with complementary colors such as gray or green. You could also choose a curtain that contrasts easily with yellow such as a purple curtain.
5. Weights
It is easy to overlook the weights factor when shopping for a shower curtain yet it is one of the most definitive aspects and one that has a profound influence on your experience while using the curtain.
So, bear in mind the need for weights and magnet. If the pressure of water is very high, for example, it will certainly cause the curtain to fly up and down while you are in the middle of a shower.
To reverse this annoyance, consider investing in a curtain that can accommodate magnets and/or weights to help it stay in an upright posture.
You will find many weighted curtains to meet your needs online or in any department store.
6. Liners
Liners deserve a special mention.
The first section of the curtain is the liner.
Since the bottommost part of the curtain liner will stay within the tub most of the time, it will get exposed to moisture, and therefore, will be more vulnerable to mildew and mold buildup.
So, because it should be made from water-resistant materials, it is becoming common to find polystyrene or PVC vinyl liners.
Both polystyrene and PVC help to repel moisture and keep those unwanted growths at bay. Another impressive thing about PVC liners is that they can be washed in very low settings when it accumulates dirt.
However, most of us environmentally-conscious homeowners would be uncomfortable with PVC products hanging in the home because of the eco-unfriendly chemicals involved in the production of this plastic.
PVC vinyl doesn't disintegrate in landfills.
But because the liner will be disposed of there at some point, a lot of people feel it would be irresponsible to use this product. product.
A better option would be a polypropylene or EVA/PEVA (Ethylene-vinyl acetate) liner. While these two still have plastic origins, they are eco-friendlier compared to vinyl.
Alternatively, you can opt for fabric liners although they can be costly depending on the kind of fabric. Another downside of fabric-based liners, especially those made from natural fabrics, is that they get soggy in moist conditions.
7. Rods

What type of rod do you think would be perfect for your shower curtain?
To fit a specific style, you want to pick a rod that matches that syncs with it.
The four popular materials – stainless steel or iron all finished with either chrome, copper, or bronze –can deliver the look you want but you may want to narrow down to just one or even look outside these three.
If you would like to set up your shower unit and make it feel bigger than it is, opt for a curved rod. Curved designs provide up to 33 percent more shower space compared to regular shower rods.
8. Beauty
The shower curtain of your choice needs to please the eye. Colors do make a shower curtain attractive, but it can be even more eye-pleasing if those colors are arranged in patterns.
Therefore, patterns and design are two important factors to consider when judging the beauty of a shower curtain.
Most of the products you will find in the store come with artwork or patterns added using Dye Sublimation processes. These processes give them bright vibrant colored patterns that don't fade even when exposed to moisture for long periods.
Nothing beats a shower curtain that has been decorated with beautiful patterns and still possesses the advantages of such materials like silk, satin, or polyester fabric (remember, no wrinkles on the product and no PVC vinyl worries).
The patterns and design on your shower curtain can serve as a genesis to design the remainder of your bathroom. For that reason, choose a design and pattern you totally love…something you won't be bored to gaze at every day.
9. Cost v/s Budget
First, find out the price ranges of shower curtains and all the necessary accessories (liner, rod, rings, and hooks) of your liking.
Thereafter, prepare a budget and factor in everything else such as transport and cost of installation (if – only if – you will need another person to add the rod).
The price of an average shower curtain lies in the brackets of $19 and $34.
The standard 72" x 72" curtain costs about $24.
Prices do vary by a wide margin but can be influenced by the material, brand, and size.
The biggest options, or those made from luxury materials such as satin or silk can cost upwards of $35 without the necessary accessories.
The brands to check out when shopping for shower curtains are Laural Home, Duck River Textile, and Bath Bliss.
Conclusion
To choose the best shower curtain that meets your needs, take the measurements of your shower unit, and choose the curtain accordingly.
However, there is a strong chance the standard dimensions of 72" x 72" will work for you.
Other factors to bear in mind are material of construction, shower rings and hooks, color, weights, liners, beauty, rods, and cost v/s budget.