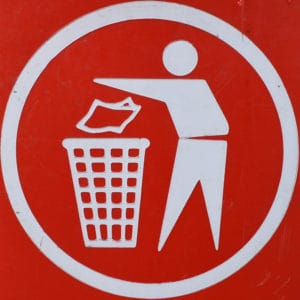 Do you often find your bathroom sinks and cabinets littered with half-torn toilet paper, cotton balls, bottles of used bathroom cleaner, and all sorts of trash?
In this case, a wastebasket may be the best solution for you. At 5 gallons or less, this waste management solution is just the right equipment you need to collect all the unwanted pieces of debris in your bathroom before they're disposed of.
Two Things to Look for in a Manufactured Home Bathroom Wastebasket
1. Removable Washable Blend Liner
Check whether the wastebasket comes with an inner removable liner.
The purpose of the liner is to prevent trash and fluids from spilling in the wastebasket.
When some bathroom chemicals leak on some plastic and metallic surfaces and stay there for a long time, they tend to corrode or leave ugly stains that may necessitate complete replacement of the unit. That's just how important the liner is.
Not only should the removable washable liner be resistant to damage from bathroom chemicals, but also be washable so that it can be reused over and over before you think of replacing it.
2. Slim, Skinny, Fit-Almost-Everywhere Design
The perfect wastebasket assumes a slim and skinny shape that enables it to fit in small spaces.
Most of the products you find in stores come in this design. However, some incorporate features that make them look bigger.
This category of baskets is no way undesirable, you just need to understand your needs and choose one with the right design.
6 Factors to Consider When Choosing a Wastebasket for Your Bathroom
It is easy to walk straight into the store, pick any wastebasket available, and take it home without even trying to glean over the finer details. That way, you may end up with something that doesn't meet your needs or straight low quality.
As such, it is important to bear in a mind a few factors that may define your ideal wastebasket.
Here are factors to consider when shopping for one:
1. Space
The first thing to do is to check whether the size of your bathroom will support a wastebasket.
Bathrooms in manufactured homes can be very small sometimes. Understanding whether your bathroom is spacious or small can help you choose the right capacity of the wastebasket or decide the correct location to place it.
Most products are small enough to fit in any bathroom. However, if you feel your bathroom is already crowded but you need a wastebasket so bad, you are allowed to place it outside close to the entrance of the bathroom.
2. Cost v/s Budget
Budgeting works like magic when prepared properly.
Have you ever had a change of mind shopping for a minor item like a lighter, and then ended up buying an overpriced option that turned out to be so average?
That's why budgeting is important – it simply keeps you focused on the item you need and lets you set aside the right amount of money for it. Basically, budgeting protects you from overspending.
Start by determining the minimum and maximum amount of money you are willing to spend on a wastebasket.
If you need multiple wastebaskets, factor in their exact number to avoid mixing different options with a wide range in pricing.
Once you decide what you are going to spend, it becomes easier to come up with a list of features the wastebasket must have and those that you may be willing to trade-off.
Most of the wastebaskets you will find on Walmart and Amazon have their price tags somewhere between $4.00 and $50.00.
The simplest wastebaskets can cost as little as $4.00, like this Mainstays simple bathroom wastebasket ~ Mainstays Basic Wastebasket Light School Grey – Cost: About $4.98.
Those that incorporate advanced features can be as high as $50.00, such as Umbra Touch Trash Can with Lid, 1.6 Gallon (6L) Capacity – Cost: $34.00
3. Placement & Size
Yes, bathroom wastebaskets are meant for the bathroom, but that doesn't mean you can put them just anywhere in your bathroom. There are those large ones you'd leave at the entrance.
Then there are smaller models you'd bring inside and position them beneath the sink. Some medium-sized models can be best suited for the corner. You actually can choose where to place them, but something won't feel right with a 5-gallon wastebasket positioned beside the toilet seat.
While bathroom wastebaskets fall in the category of indoor wastebaskets all of which tend to be smaller than outdoor variety, there is still a slight variation in size among them.
The sizes of typical bathroom wastebasket range between 30 gal. and 65 gal.
For a small bathroom used by one or two people, a 2 gal. wastebasket would be appropriate.
A family of up to four members using a medium or small bathroom will require a wastebasket with a capacity in the region of 4 – 5 gallons.
The reason why the size of bathroom wastebaskets tends to be way smaller than most other indoor wastebasket options is because of the limited amount of wastes produced in the bathroom.
Size would be a big factor if you were shopping for a kitchen wastebasket because of the large amount of waste that needs to be collected once before disposal.
Three Commonly Used Capacity Ranges of Bathroom Wastebaskets
Category 1 – Under 2 gal
Examples:
Category 2 – Between 2 and 4 gal.
Examples:
Umbra Woodrow 2 gal. Open Wastebasket  – Cost: $30: This 2-gallon wastebasket is made from treated natural wood that has been carved into a can-like shape. The Espresso finish gives it an attractive appearance.
Wayfair Basics™ Mesh Metal 4 Gallon Wastebasket  – Cost: $12.00: This sleek stainless steel wastebasket can fit anywhere – bathroom, bedroom, kitchen, etc. Wayfair avails in a variety of colors to match any contemporary décor.
Category 3 – Between 5 and 9 gal.
Examples:
In summary:
Bear in mind the size of the bathroom as well as the number of users at home when selecting a wastebasket – the bigger the number of users, the higher the gallons your wastebasket should have.
Placement is important.
Although you are free to leave larger capacity wastebaskets at the entrance of the bathroom, the region beneath the sink isn't normally too small to accommodate even the largest wastebasket.
However, for the sake of convenience, you might want to position the wastebasket in the corner of the bathroom or beside the toilet seat.
4. Design & Material of Construction
For every wastebasket that you settle on, there will be literally hundreds of similar options to opt for, all of which may come in different styles and materials.
That's why it's advisable you conduct your research about various styles and materials before deciding which types are perfect for your need. You might be surprised by the wide range of alternatives available in the store.
Most of the wastebaskets you will find on Amazon, Wayfair, and pretty any other store out there are cylindrical or cuboidal with a brim that slightly spreads outward.
When it comes to style, most of them feature a woven network of whichever material the manufacturer saw fit. The base is always solid. A significant number of them come in a simple pail-like style with an all-solid body.
Virtually all wastebaskets out there are made from these five materials of construction:
Natural Fibers E.g. Banana or Sisal Leaf Wicker
A good part of the wastebaskets on Wayfair and Amazon have been woven from some tough natural fibers like sisal, banana, or coconut leaves.
They are built to look like the traditional basket. If you love to keep your home green or would like a wastebasket with aesthetic value, natural fiber options would be the best for you.
While they are good for aesthetics and eco-friendliness, natural fiber wastebaskets are vulnerable to moisture-induced destruction. For that reason, you will need to keep your bathroom floor dry at all times if you choose products made these fibers.
One Example:
Bamboo & Wood
Bamboo and wood-based wastebaskets have a lot in common with natural fiber options – they are natural, handmade, good for aesthetics, and cheap. On the downside, they too are vulnerable to moisture-induced destruction.
One example:
Umbra Woodrow 2 gal. Open Wastebasket – Cost: $30: This wastebasket is made from treated natural wood carved into a can-like shape. The Espresso finish gives it an attractive appearance.
Stainless Steel
Stainless steel is the most often used material in the production of wastebaskets.
If you are prone to being unsanitary at times (something we don't glamorize here) this is one of the best types of wastebaskets as they don't get damaged by water or absorb odors.
The fact that they are all-metal and rust-resistant means occasional pools of water on the floor are less likely to damage them.
One example:
Synthetic fiber
A few bathroom baskets are made from synthetic fibers like Polyester, Rayon, Spandex, and Acrylic fibers.
Of course, the frame, lid, and base must be made from a more rigid material like plastic or metal. They are cheap but some of them are prone to absorbing moisture and getting soggy.
One example:
Plastic
Plastic wastebaskets are probably the third, if not the second, most common type of wastebaskets in stores. The best thing about plastic is that it is lightweight and does not corrode.
It can't be damaged by moisture and turns out to be fairly cheap than most other materials. These advantages make it the best material for durable and easy-to-carry.
One example:
Umbra Skinny Plastic 2 Gallon Open Waste Basket  – Cost: $12.00: This skinny, slim, and stylish wastebasket is one of those options you would easily choose when searching for a simple yet practical way of managing trash in your bathroom.
In summary:
There aren't many design choices to choose from when shopping for a wastebasket.
Most of the options you fill find are cuboidal or cylindrical and either woven or all-solid.
5. Quality & Suitability
The reason why you need to pay great attention to the quality of the wastebasket options is that most of them come in very few designs, colors, and materials. There isn't much to use to tell them apart other than their material of construction, color, and very limited styles.
It actually can work in your favor because you get to focus on things that really matter. You want a quality wastebasket capable of delivering service for a long period. The product should be quality at the same time.
If you find an affordable product with good quality, it would be prudent to ask yourself is it will sufficiently meet your needs. For instance, that's the point you would start evaluating such features as the capacity and determine whether it will hold your average trash loads.
Here is how to evaluate the quality of a wastebasket
If it is woven or features metal mesh, how sturdy is the weave or the meshwork?
How are the handles and/or the lid? Do they feel flimsy or strong?
If it comes with an inner liner? Is it moisture-tight enough?
How are the materials used to make the product? Are they the right material you want on a wastebasket?
When it comes to suitability, you need to consider the condition of your bathroom. As mentioned earlier, natural fiber wastebaskets are prone to damage by water.
So, it would be thoughtful of you to opt for stainless steel options because of their resistance to rust and the fact that they are all-metal.
6. Ease of Removing the Trash Bag
This can be a big selling if you have previously had a hard time removing the trash bag from the wastebasket. Some models give users a hard time when it comes to pulling out the trash bag and disposing of the trash.
For that to come with intact trash bags, it is impossible to dispose of the collected trash without carrying the wall unit to the outside. Some users love the models with a removable trash bag so that they can easily pull it out when full and empty them without having to struggle to carry the whole basket.
One area of concern is the lid of the basket. Plastic wastebaskets tend to come with manufacturing lines on the lid and the base.
These projections can be sharp and big enough to puncture the trash bag. In the long run, the trash bag will be damaged enough to begin spilling parts of the trash in the basket.
When shopping for a wastebasket, therefore, especially the plastic ones, consider inspecting the lid and interior parts to ensure it is free from manufacturing projects.
You can do the same to other materials as well – the meshwork in low-quality stainless steel may end up in bare projections of wires.
Conclusion
The wastebasket is one of the integral parts of your bathroom.
Whether you choose the stainless steel type or the eco-friendlier and stylish natural fiber types, the purpose remains the same –
to collect all the debris and trash that comes up in everyday bathroom activities and
keep them before they get disposed of outside.
When shopping for one, start by asking yourself whether your bathroom is sizeable enough to hold it and other things.
Also, bear the maximum and minimum amount of money you are willing to spend on the product. Choose a wastebasket made from your favorite material.
The quality of the product will have an influence on the durability and functions of the product you choose.