Whether you live in a conventional or manufactured home, you might need extra storage, especially if you have a petite kitchen space.
One of the most convenient ways to do so is to hang all your pots and pans from a ceiling-mounted pot rack.
They will be right there within reach while allowing you to save space and jazz up your kitchen.
So, Can You Hang A Pot Rack In A Manufactured Home?
Yes. Installing a ceiling-mounted pot rack in your manufactured home is the best way to organize your pots and pans. Besides, a pot rack allows you to dress up your kitchen in your personal style and maximize space. Because these homes are generally small, it is imperative to hang a pot rack that will hold all your pots, pans, and other bulky items that eat a considerable amount of space.
Pot racks support a fair amount of weight. For this reason, you need to consider attaching the space-saver to joists rather than screwing it into drywall. Pot racks come in different materials, designs, and sizes, allowing you to choose your taste.
What Is A Pot Rack?
As the name suggests, a pot rack is a function piece of kitchen furniture where you can hang or store your pots and pans.
They are mostly made from wood or metal and can feature a unique finish to match pots or blend with your kitchen theme.
Pot racks are incredibly useful and come in all sizes, ranging from less than a foot to over fifteen feet long.
Regardless of the model or size you choose, the ultimate purpose of a pot rack is convenience and, most importantly, saving the storage space inside your manufactured home.
High-end models can provide decorative value and augment your kitchen's visual appearance and scheme.
Besides making your ceiling more useful, hanging pot racks allow you to position them at the most comfortable reaching height.
Nine Factors To Consider When Choosing And Installing A Pot Rack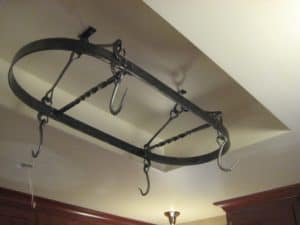 A carefully chosen pot rack is not only seeming salvation for any cabinet-space-challenged homeowner but also a beautiful addition to kitchen decor.
With models of different sizes and shapes, only one is bound to satisfy your storage needs.
When choosing the pot rack to hang in your kitchen, make sure to keep an eye on the following:
1. The Size Of Your Kitchen
Mostly, the reason you choose to hang a pot rack is to create some space in your cabinet's shelves.
You will want to pick a small enough rack to fit in your small kitchen ceiling and large enough to hold all your pots, pans, and perhaps other heavy kitchenware.
2. Where To Hang The Pot Rack
Before you proceed with the idea of buying and installing a pot rack, you need to identify options for placing it.
While having it above the stove seems like a smart idea, your risk getting burned by heat generated from the stove.
Instead you should identify a nice spot to hang it, like over an island counter.
Again, attach to joists and make sure not to block light fixtures.
3. Size
The size of the pot rack you need will ultimately depend on the placement decision and the number of pots and pans you have.
Consider the number of your pots and create a space for each.
4. Shape
Most ceiling-mounted pot racks are rectangular, oval, semi-oval, or square, but you can find other shapes.
Choose a rack shape that blends with your kitchen feel and great for aesthetics.
5. Style
The style you choose depends immensely on your taste without losing focus on getting the most out of your rack.
6. Finish
You want a pot rack that blends seamlessly with existing decors and appliances.
To choose the best finish, consider the maintenance, quality, and let the other factors come into play.
While you may prefer a specific material, it is not a primary factor to consider.
Provided your pot rack is professionally made and installed properly, it will support your purported kitchenware. Besides, you need to consider the following:
7. Who Must Be Able To Access The Cookware From The Rack
Regardless of the placement decision you make, you should make your pots and pans comfortably accessible by ensuring ideal height.
The trick is to maintain a perfect height for considerably short family members while ensuring the tall ones do not hit their head.
The height of your ceiling might also affect how high your rack will be.
8. Other Focal points In Your Home
When hanging a pot rack, you should avoid obscuring other beautiful artworks in your manufactured home.
This is a major consideration if your kitchen is open to the dining room.
9. Location Of Joists
Your rack should hang from joists.
Although it is rare, you might not locate joists where you intend to hang your rack.
In such cases, you can reconsider your placement decision or let a carpenter install a trim attached to the joists and hang your rack from the frame.
Eight Benefits Of Making Use Of A Hanging Pot Rack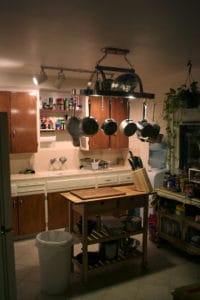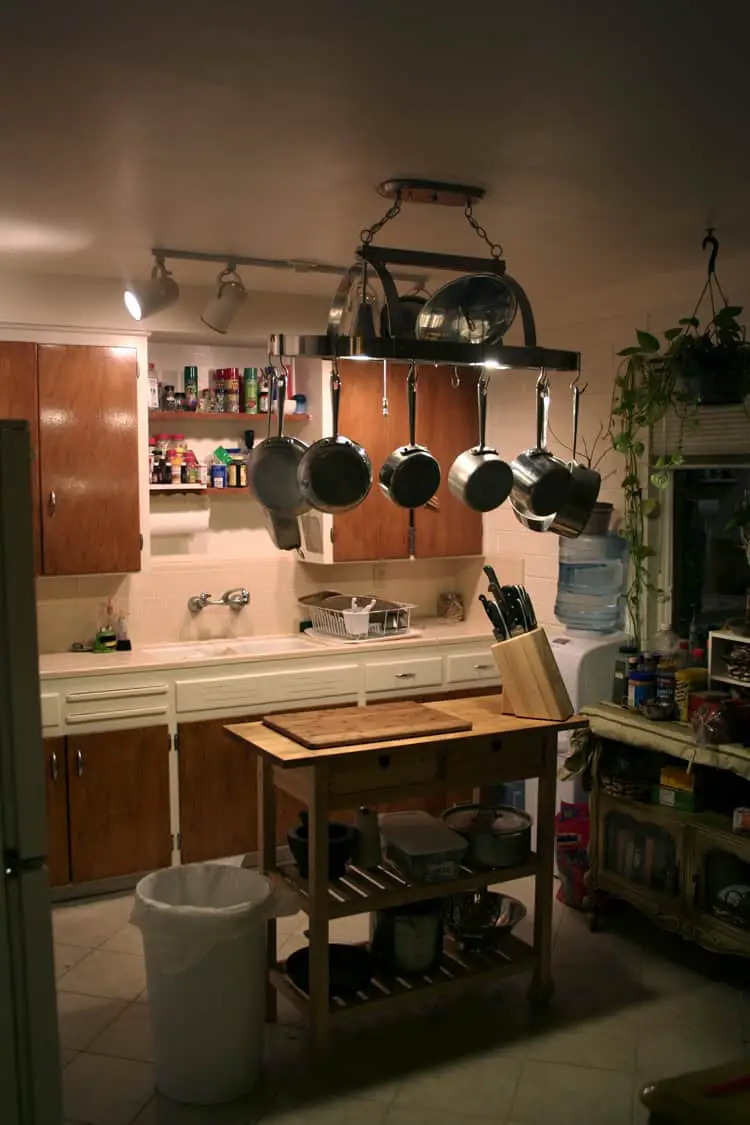 When designing, renovating, or upgrading your manufactured home, installing a hanging pot rack is one of the most useful upgrades you do.
Their many benefits make life in the culinary atmosphere a lot easy.
Here are some of the benefits you get by hanging a pot rack.
Ceiling pot racks enhance convenience as you can easily and comfortably access cookware.
They offer better storage and free some space elsewhere, especially if you have a little space.
They are decorative and practical. You can always find a ceiling pot rack that blends with your existing kitchen appliance and the entire decor of your manufactured home.
A pot rack can hold other kitchen items apart from pots and pans.
Since no stooping or crouching is involved, they are a perfect option for people who suffer from chronic discomforts, like back and knee issues.
They are a perfect way to keep your kitchen organized.
It sounds like bragging, but a ceiling pot rack allows you to display your prized cookware and protect them from scratches and dents that may result from banging in the cabinet.
It adds grace to your kitchen to provide lifetime enjoyment.
Three Drawbacks Of A Hanging Pot Rack
Cookware may overlap; therefore, limiting accessibility from one pot to another.
Some ceiling pot racks can take away from the aesthetic feel of your manufactured home.
Pot racks can block lights or block more beautiful focal points.
How To Install A Ceiling-Mounted Pot Rack (8 Steps)
Now you know what a hanging pot rack is and why you need to have one. Here are the steps to hang a pot rack and enjoy the many benefits the unit offers.
Measure the area where you want to hang your pot rack. Measuring the area ensures you pick a pot rack that accurately fits in the space you want to hang it. See the space you have and buy or make a pot rack that fits the space.
Locate ceiling joists. To locate joists, you need to run a stud finder over the ceiling where you will install your rack. After finding the joists, mark them using a pencil. For rectangular racks, you need to locate at least two joists and put two marks on each joist.
Place your rack on cardboard that is slightly bigger and put marks where the chains will be hanging. Ideally, this is to create a template that you will use to drill the holes in the ceiling. Using a sharp object, make small holes on each mark.
Place the cardboard against the ceiling and mark where you will drill. Ensure the marks align with joists.
Drill pilot holes where you are about to hang the pot rack. In this step, you will need a power driller. Refer to the manual to know what drill bit is required for that particular ceiling pot rack.
Screw the hooks(usually provided by the manufacturer) into the holes. Pliers can help get a better grip if the bolts don't go in smoothly.
Attach the chains to the hooks according to installation instructions. Next, you need to secure the rack to the chains. In most cases, you will need help from another person to lift the pot rack.
Hang pots and pans evenly around the rack's frame, then sit back and admire your work.
Conclusion
It is rare to find a manufactured home kitchen with enough cabinets or counter space.
Having little culinary space can pose significant challenges, especially if you're an enthusiastic cook.
Installing a ceiling-mounted pot rack could be the only solution you need to ultimately make life in your manufactured home a lot easier. It brings more benefits than you can imagine.