The walls of your showering area require a unique type of wall panels because of the moist conditions and the tendency of foams of dirt to collect on them periodically.
So, firstly, the material used to make shower wall panels should stand up to water.
Secondly, it should be easy to clean and scrub off the stains left by foams of dirt even after a long period of neglect.
Manufactured home shower surrounds are often purchased in shower showrooms although they aren't entirely absent in online stores.
Many homeowners struggle to choose the best bathroom partly because of overemphasis on traditional tiles and also the fact that they aren't readily available in popular online stores in diverse collections.
Related: How To Shop For A Manufactured Home Shower Kit
Manufactured Home Shower Surrounds – 4 Shopping Factors
This guide will lead you through purchasing the right kind of shower wall panels for your bathroom, but first, here are the things to consider:
Material of construction
Styles & Finishes
Cost v/s Budget
Size and Format
1. Material of Construction
Perhaps the most important factor to consider is the type of material that was used to make the panels. The material determines all the features of the panels including its water-resistance capabilities and acoustical features.
Most of the products you will find in the showroom or store are made from four materials:
PVC – Polyvinyl chloride plastic
Acrylic
Pressure laminated vinyl with MDF core
uPVC – Unplasticized Polyvinyl Chloride Panels
Here is a not-so-long overview of each:
PVC – Polyvinyl chloride Plastic
If you are looking for one of the most affordable shower wall panel options available out there, then you should probably choose those made from PVC.
Polyvinyl chloride is the world's third most popular plastic and also one of the easiest to produce in large quantities, so its price is next to water. The price tag, the excellent rigidity, and the ability to flex in different forms makes it an attractive option.
Another good thing about PVC sheets is that they are light in weight compared to MDF or acrylic. That's because their core doesn't consist of a solid mass. Rather, it comes as a vertical cuboidal construction that can be hollow sometimes. All these make the process of transporting the product and sticking them on shower walls much easier.
Above all, PVC brings a high-end product to homeowners with small budgets. Although the designs may not be as eye-arresting as those found in MDF panels, they nonetheless have the benefits you would only have found in premium products.
Two brands to check out for PVC shower wall panels are Ekena Millwork and Dundee Deco.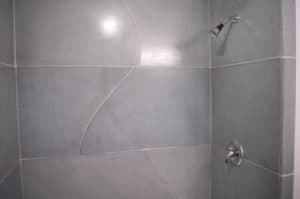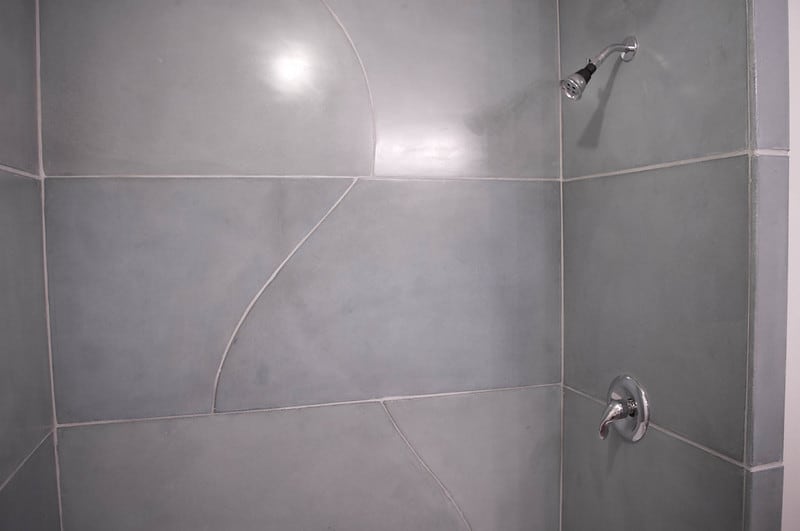 Acrylic Shower Wall Panels
If you are looking for the slimmest shower wall panels out there, then you should go for those made from acrylic.
Although acrylic products are incredibly slim, they are still heavier than the thickest PVC panels you could find in the showroom because they are designed to be dense.
The best thing about acrylic is that it allows the manufacturer to produce a range of bold-colored products and even make semi-transparent panels.
Just like their PVC rivals, they are highly durable, hygienic, and easy to clean even after weeks of splattering them with the dirtiest shower water you could produce.
Pricewise, they are expensive compared to PVC panels. And the fact that they are remarkably heavier means it is equally expensive to transport them to your home for installation.
Two brands to check out for acrylic shower wall panels are STERLING  and American Standard.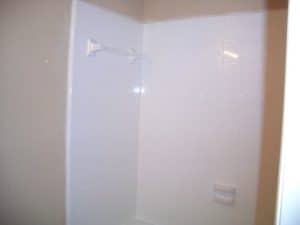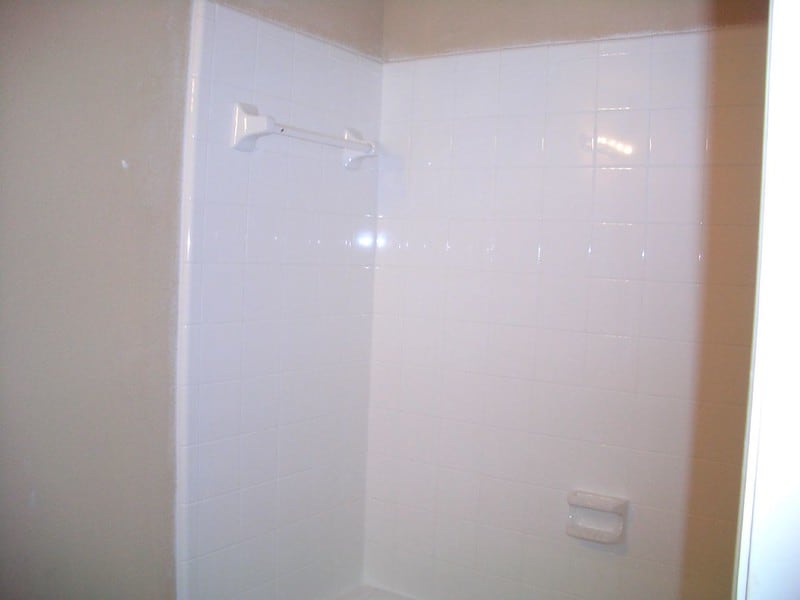 Laminated MDF Shower Panels
MDF panels are the thickest and heaviest, and still the best-constructed panels you could find. So, if you are not a fan of the lightweight PVC or the unnecessarily slim acrylic options, you might want to choose these panels instead.
Note that these panels come with an MDF core, but the surface may be coated with another water-resistant and aesthetically pleasing material.
Also, the core is often laminated with a high-pressure lamination backing to boost the resistance to water.
Just like acrylic and PVC panels, MDF panels are hygienic and durable.
Another good thing about this type of panel is its wide variety of designs.
You can choose from a range of patterns from those imitating the classic marble patterns to something bespoke and personal.
But this doesn't come cheap – some bespoke MDF designs can come with a price tag as high as $800 per panel. This is probably because you will have total control over the manufacturing process of your design.
A brand to check out for Laminated MDF shower wall panels is WallDesign.
uPVC – Unplasticized Polyvinyl Chloride Panels
UPVC is very much like regular PVC in most aspects except that it is more rigid and far less volatile when exposed to heat.
These panels don't have any harmful effects often associated with conventional hydrocarbons and their derived plastics because plasticizers (the likes of BPA, phthalates, and Bisphenol A) are not part of their ingredients.
Wall panels made from this material are thus environmentally friendly and avoid most of the weaknesses found in their close cousin – PVC. But that's not why it is great for shower room application.
uPVC is still water-resistant to water destruction and is easier to produce en masse just like PVC, meaning you will acquire its panels at an affordable price.
There are other non-so-popular materials of constructions. They include:
Fiberglass,
Fiberglass Reinforced Plastic – FRP
PVC Composite
Solid Stone/Cultured Stone Surface
Laminated Wall Panels
Marble Panels
Optical Grade Top Gloss Acrylic Panels
2. Size and Format
Consider the size and format of the shower panels just as seriously as you did with the type of construction material.
This is because these two factors affect the appearance of the final installation and how you will install them.
Shower panels are typically availed in two formats –
thin strips (with a width close to that of laminate flooring) or
sheet-like panels.
Most suppliers avail their products in widths in the region of 30" – 60". The average width is about 1000 mm. Just two of these are normally enough for most of the corner shower enclosure installation. In some cases, however, you might need 3 plus one joining trim to cover a larger walk-in shower.
Shower panels often have an option of groove and tongue fixing or square edges. Square edges are perfect for corner installations.
The height of most waterproof shower panels falls between 60″ and 80″. They can be at least 50" mm above most of the shower cubicles.
Some of the thinnest packs you will find, most of which can be easily fixed to bathroom ceilings, tend to be around 50" wide x 80" in length. They usually feature a groove and a tongue fitting to boost their waterproofing.
Still, you can make a calculation of the square footage of the material that you need.
To determine the amount of shower panel you need to complete your project, proceed this way:
Working in inches, start by measuring the total width of each of your walls from left to the right-hand side, then the height from the top to bottom.
Now multiply the obtained width by height of each of the walls to find the total area (square inches).
Proceed to divide the obtained area by 144 (this is the number of inches that make up a square foot). The quotient is the net square feet or the total size of shower wall panels you need to cover all the walls.
If your walls include doors or windows, you will need to measure them as well (height and width from one edge to the next edge), and then divide the obtained area by 144. This will give you the total square feet.
Next, subtract the total square feet of the area occupied by the window(s) and/or doors(s) from the total square area of your walls to find the real amount of panels you will need.
3. Styles and Finishes
It is for a fact that there are more styles of interior tiles available out there than there are shower wall panels.
But you need to remember that shower wall panels are a relatively new concept. Bearing that in mind, there is still a good amount of design choices available.
Cheap brands tend to focus on lines that sell fast, such lines as plain black, grey, or white options. These options aren't entirely undesirable and can even go a long way to save you a few dollars if you are shopping on a budget. Marble styles are popular as well although they seem to appeal more to older buyers.
Some stores and manufacturers collaborate with designers to come up with eye-pleasing designs that may also be availed in an array of colors. Lars Contzen is a world-renown designer and has worked on panel lines owned by Showerwall.
BUT, why should you consider the style and finishes? It all boils down to aesthetics. If you want your guest bathroom to look beautiful, you will go for the beautifully designed and finished tiles you could lay your hands on.
4. Cost v/s Budget
The cost of the shower wall panels depends on a range of factors including the brand, material of construction, and design.
Low Cost (Or Bottom of the Price Barrel) Shower Panels – Fiberglass, Acrylic, PVC, and FRP
Panels made from PVC, acrylic, fiberglass, and FRP are the cheapest.
FRP
FRP panels are sold in 4' x 8' sheets, with each panel going at around $35.
You will require four of these and they will need to be seamed at the back. All in with trim pieces and adhesives,
I'd recommend you budget for the larger 60" x 32" pieces for between $200 and $300 but this is going to depend on your regional price.
Fiberglass
Most of the Fiberglass shower wall panels you will find in the store/showroom supports direct to stud deployment.
They cost between $300 and $450 and often measure between 70" and 74″.
While they are cost-effective, there is no room for customization as they come in standard sizes.
They tend to be 1/8″ thick (that's slightly thicker than the closet FRP panel).
Acrylic
Acrylic panels are can be a better alternative to FRP and fiberglass because they won't yellow or fade with age. But they need to be backed by a backer board.
The most common size is 6" x 32" and costs between $600 and $800.
Mid-priced Shower Panels – PVC Composite, Solid Stone/Cultured Stone Surface & Laminated Wall Panels
A standard 80" PVC composite shower panel kit costs between $1,000 to $1,300 while that of 96" costs between 1,400 and $1,800.
You can also choose to buy them in other custom sizes as well as "la carte" sizes complete with trim prices.
Solid Stone/Cultured Stone
Solid stone and cultured stone panels are a bit rare, but you can find panels measuring about 3/8″ thick (which is about 3 times thicker than most products in the low-cost category above) in standard sizes of 72", 84" or 96".
You will be free to cut them into customized sizes.
For size 60" x 32" x 96," expect to pay anything between $1,100 and $1,900 (shorter sizes cost less).
Laminate
Laminated shower wall panels come 3/8" thick and waterproof. You can cut laminated panels into smaller pieces to meet the needs of your project. They mostly come in size 23" x 94". Since they are mainly supplied in modular sizes (still can be cut in smaller sizes), they can be utilized for both custom and standard sized showers. A kit with dimensions of 60" x 32" 94" costs between $1,300 and $1,600.
High-price Shower Wall Panels – Marble Panels and Optical Grade Top Gloss Acrylic Panels
These two materials are the farthest you can go as far as price is concerned, and there is a reason for it:
These shower wall panels are normally 3/16". That's so tiny, right?
They compensate for this tiny thickness by focusing on the "cool factor".
They are the best option if you are looking for something sleek and colorful to add on your shower walls. They imitate a range of nice-looking things: painted glass, evening haze hues, etc.
However, the price tag may be too high to reach – a 60" x 36" x 96" kit costs between $3,200 and $3,600. The styling is unforgettable, so they are worth every penny you'd splash on them.
Marble
Marble slabs are probably the most luxurious shower wall panel options you can ever select.
As you would expect them, they are costly. Expect to part with something between $4,000 and $8,000 for the marbles only (the cost of installation is high as well).
The cost of maintaining a marble installation isn't cheap either. However, if you can afford marble shower wall panels then you definitely can hire someone to maintain them for you.
Budget
It is recommended that you prepare a budget that adequately covers the cost of shower wall panels as well as the cost of hiring a qualified professional to install them.
There is always a maximum amount of money you would be willing to spend on the panels, transportation, and installation process.
If you have $20,000 in your hands, for example, your budget might not permit you to spend on the most high-end shower wall panels you could find.
Basically, a budget prevents you from overspending or potentially opting for panels you didn't consider at the beginning.
Cost Saving Tips When Shopping for Shower Wall Panels:
As we mentioned above, the cost of the product can be influenced greatly by the material of construction, brand, and an array of other factors.
Related: Should You Keep The Bathroom Door Open Or Closed After Taking A Shower?
You can consider the same factors and save a great deal of money and still end up with a quality product that serves your needs.
For instance, popular brands tend to overprice their products for no good reason. You can conduct research and settle for a less known brand that produces products of the same quality at a much lower price.
Here is how to save on shower surrounds:
Ensure that you can obtain the panels of your choice wholesale. Also, figure out if the panels can be cut into small pieces just in case you change your mind when you research at home.
Understand the full cost of the product before committing to buying it. Imagine focusing on the cost of the panels and forgetting everything about adhesives and backer boards only to find that they are costly enough to double the cost of the project!
Make sure you are privy to the exact delivery costs as well as the taxes. If you are buying high-end panels like marble or cultured stone slabs, then expect the cost of delivering them to be high. It is only good that you know the exact cost no matter how high or low it may be.
In a nutshell
Choosing the best shower wall panel can be as if you consider these factors: material of construction, styles & finishes, the cost versus your budget, styles and finishes, and size and format.