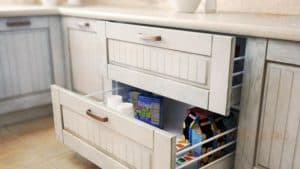 Manufactured Home drawer hardware is one of the most frequently used elements of any kitchen.
The frequent use increases the likelihood that you will feel the need to replace them immediately when a necessity occurs.
Unlike most other kitchen furniture, drawers are highly flexible when it comes to replacement –
you can choose to buy them as a complete system or
opt to buy them as individual parts and then assemble into them to make a complete drawer.
This is highly advantageous because you get to choose the specific parts you want to meet your unique needs.
Three Kitchen Drawer Part Components
A typical drawer system consists of:
Slides
Drawer Box
Pulls & Knobs
1. Slides
Slides are an integral part of any drawer system. They are everything that enables each individual drawer to get in and out of the slot.
Whether you are doing a repair job or wish to buy every part separately to end up with a unique drawer setup, you can choose to buy drawer slides separately.
There is a range of attributes by which slides are designed and constructed, they include:
Mounting style (e.g., center, under, side, and bottom mounting)
Finish
Weight rating (I.e. max. Load capacity)
Slide extension (e.g., three-quarter, full, over-travel, etc.)
Slide length
Finish
On top of these attributes, drawer slides show different functionality and use different mechanisms depending on the kind.
These are common kinds of slides:
Wooden slides
Ball-bearing slide
Roller slides
Wooden slides
Wooden slides have been around for a long time, longer than steel metal and steel slides.
Their popularity is, however, starting to wane as more durable and jam-proof alternatives flood the market.
As you would expect, they are made from wood and can be installed either at the bottom or sides of the drawer.
Wood is not short of benefits, and a few drawbacks too:
The main advantage of wooden slides is that they don't need a false face component or additional hardware. Furthermore, few materials come any closer to beating wood's aesthetic value. Also, they are cheap to make where wood is aplenty.
However, it's hard to achieve the great precision required by this type of slides during the manufacturing stage. Full extension is near impossible to achieve. They're not recommendable in high humidity areas as they are prone to stick in moist conditions.
Roller slides
This type of slide is made of two mated and epoxy-coated metallic profiles – one attaches to the frame of the cabinet while the other clings on the drawer.
The best thing about this type of rollers is that they almost always come with nylon wheels which permit quiet and slow movement.
Because they are conspicuously attached to the drawer, they require an extended drawer front lips or a false face to hide the hardware.
Roller slides are available in both bottom (or European bottom mount) and side-mount configuration. They are more suited for lightweight applications involving about 75 lbs.
Ball-bearing slides
As the name suggests, this type of slide comes with ball bearings to permit smooth movements in the steel alloy or nylon wheels.
Compared to wooden and roller options, they can work smoothly with drawers designed to hold heavy loads, typically excess of 500 lbs.
Most of the ball bearing slides you will find in the store fall in two popular models –
telescopic or
progressive slide models.
Progressive
Progressive models have all their components moving at the same time, guaranteeing quiet and smooth opening and closing motion.
Telescopic
Telescopic models, on another hand, are segmented to permit individuals segments to move independently in stages.
For example, one segment will fully condense or extend before initiating the movement in another segment.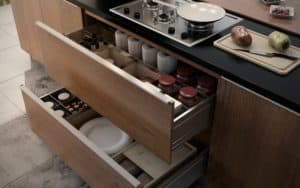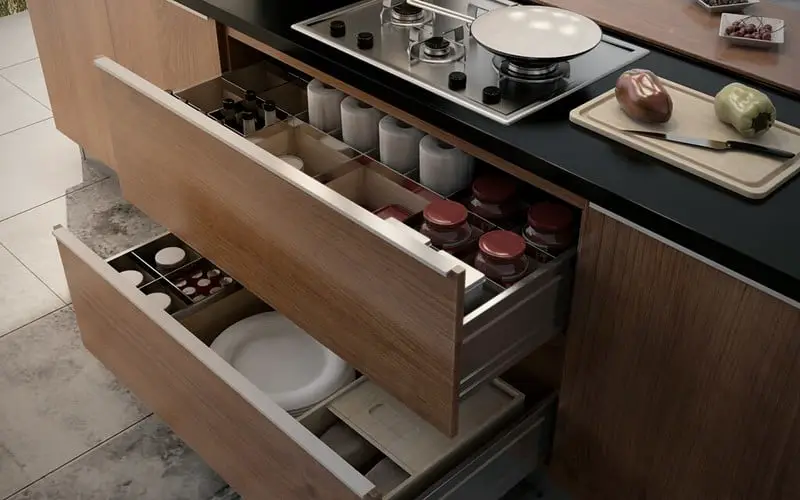 Additional Features and Functions to Look for in A Drawer Slide
Sometimes you have to look beyond the obvious mechanisms explained above.
There are optional features and functions that go a long way to improve user experience and increase the functionality of the drawer.
Some of them are:
Lock-in/Lock-Out
Your drawer will remain locked, opened, or closed until you a lever is released
Hold-In/Hold-Out
The drawer remains in a closed or opened state until the right level of push or pull is applied.
Assisted Open/Close
An assistive mechanism will automatically open or close the drawer about 3/4 of the way and then stop there.
Push-To-Open
Slides open when the right pressure is exerted on the front face, removing the need for more hardware components
Soft-Close
Slides with this feature work in collaboration with hydraulic dampening components to prevent your drawers from clamming on the stopping barrier during closing.
It reduces noise produced and damage inflicted on the drawer.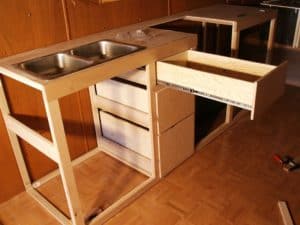 A Word About Mounting Options
Not just any drawer would work with any kind of slide, so there is a need to consider the mounting option supported by your drawer of choice.
The type of mounting can be determined by space/capacity of the drawer, weight holding capacity, cost, and the design of the drawer.
You will choose from five popular mounting styles:
Bottom-Mount
Side-mount
Center-Mount
Undermount
Groove-mount
Bottom-Mount Slides
Probably the most commonly used type of mount
They typically feature a roller guide mechanism instead of ball bearings, but they are always installed at the bottom of the drawer (Note that bottom-mount slides are installed on the sides of the cabinet, but they are located close to the bottom edge of the drawer where the attaches to the rest of the drawer's underbelly)
If your cabinets are the frameless type, this is the best type of slides for the drawers
Bottom mounting slides almost always come with angle flange that serves to support the drawer box
They are also widely used in big weight and partial extension options
OVIS supplies some excellent bottom-mount slides, check them out.
Side-mount Slides
These slides are installed on the horizontal sides of the drawer
If you plan to use your drawers to hold heavy items, this is one of the best slides for them
They are available in both two popular sliding mechanisms – roller and ball-bearing mechanisms.
The required clearance between the drawer and the cabinet is just 1/2"
The main drawback of side-mount slides is the limitation they place on the drawer's horizontal width
Brands to check out for great side-mount slides are Knape & Vogt and OVIS.
Center-Mount Slides
These slides come as single slides that can be mounted directly under the central line of your drawer
They may restrict the overall height of your drawer, so you may need to consider the size of the cabinet
The biggest benefit of center-mount slides is the ease of installation, which means you can easily push screw them in position in a minute and get your drawer ready for storage. However, most of them are designed to hold much less weight than compared to side mount options
Brands to check out for Center-Mount slides are OVIS  and Hickory Hardware.
Undermount slides
These slides are mounted to the cabinet's sides and connect to a few locking devices attached to the underbelly of the drawer inside of your cabinet.
Undermount slides can be the best option for you if you want to showcase or highlight your cabinetry's quality while the slides themselves remain hidden.
Also, undermount slides are just the right option in situations involving a limited horizontal space as they typically only need a clearance range of 3/16″ to 1/4″ per slide.
Another thing worth noting about undermount slides from most manufacturers is that they call for 1/2" of clearance space below and above the drawer inside the cabinet' slots.
Brands to check out for Center-Mount slides are OVIS and Everbilt.
Groove-mount Slides
Groove-mount slides NOT commonplace.
Most of the products you will find in the store were likely imported from Europe to the US.
For these slides to work, your drawers must come with specially milled on the sides
The height of the groove is used to distinguish different types of groove-mounted slides
The most often used grove heights are 17mm and 27mm.
Groove-mount slides are designed for light loads and only extends partly
OVIS supplies the 17mm options.
Another Word About Extension
You will need to figure out the correct size of your drawer slide. One you must be aware of when selecting a drawer slide is how large your drawers are in the cabinet.
Choose a slide for a tightly fitting or small drawer relative to the slot in the cabinet and your slides won't extend properly.
Also, when there's a lip or an overhang from the countertop or top part of your cabinet, it only makes sense that you go for an over-travel slide so that the drawer can extend far out and give you unrestricted access to your items.
All the slides you will find in the store falls in one of these three extension categories:
3/4 extension
If you want to create restricted access to drawers' contents, you should choose this type of slide which extends out 3/4 of the drawer.
Replace the old wooden guide slides with this alternative.
Full-extension
If you are a hobbyist or just another average homeowner, I'd recommend slides that allow the drawer to extend to full length before stopping or full-extension slides.
You will have unrestricted access to your stuff stored in the drawer.
Overtravel
Drawers with slides that allow this extension will extend beyond the edge of the cabinet.
You will end up with more inches than you would have had with full-extensions.
If your kitchen features countertops that hang off the edge, this is the right kind of slide to add to your drawers.
2. Drawer boxes
Low-quality drawer boxes won't work in harmony with your preferred type of slides even if the slides suit them perfectly.
Of course, there are other risks of going for low-quality boxes, like reduced lifespan and peeling for example, but the most important thing here is longevity and practicality.
A decent high-quality drawer box can last between 20 and 30 years.

The Material of Construction – All-Plywood and Maple Are Best
The material of construction has an influence on most aspects of the drawer box, including aesthetics and durability.
When choosing based on material, all-plywood or Maple are the best options.
Maple
Maple boxes complete with laminate finish are the unofficial standard for all drawer boxes. They are smooth and durable and the flawless, light-colored wood looks great.
They normally come 5/8″ thick (across) while the bottoms of smaller drawers are about 1/4″, often plywood. Larger drawer boxes meant for heavier items come with 1/2″ melamine bottoms.
Ask what cabinetmakers often recommend and you will be told dovetail maple boxes that come with 1/2″ bottoms (note that drawers are mostly in the range of 24" and 36″ wide).
Understand that the weight rating of glides includes the drawer's weight. If those are pan and pot drawers, you'll definitely want the heavy-duty glides.
However, that is over-specified for normal drawer boxes and less likely to bring anything substantial to your kitchen life for the total expense it costs. I would selectively upgrade specific drawers only.
Plywood
All drawer boxes need to be individual units, with a distinct drawer head made out of the cabinet's face material. Plywood comes out as a perfectly serviceable material, plus it is stronger than what a typical drawer box actually needs for everyday storage tasks.
A quality drawer box for high-end cabinets is normally dovetailed and sides made from ash, beech, or maple. Plywood sided drawers are starting to be preferable only for basic, simple, no-frills cabinets.
Also bear in mind that using 1/2″ ply at the bottom rather than 1/4″ only brings a few lbs. on small drawers while large drawers require 1/2″ for strength.
Other popular materials used to make drawer boxes are:
Something about Hardwood Dovetail Boxes
Remember that drawers are high action areas, and they are normally the first places to set off wear-and-tear before the rest of the cabinet is affected. Not just the material of construction matter, but the kind of joints as well especially if you want the system to last.
Usual problems with substandard drawer boxes are the moment the bottom begins to sag, or even worse, the face starts to break off. Boxes of the lowest-quality typically use notched butt joints and staples. All these construction techniques are never as secure as those involving dovetail joints.
It is pretty standard for American cabinetry to feature drawer boxes equipped with dovetail joints complete with sturdy plywood bottoms. This is partly because the final result is of quality, beauty, and strength.
Usually, a top-quality drawer box comes with sides that are about 5/8″ thick or slightly higher. When using a drawer box with dovetail joints, the 2 sides of each box attaches to the interlocking set of teeth.
Another reason why you should go for dovetail joints is that they add significant strength to the box's structure.
The bottom side of the box is typically made from plywood or Maple. The base normally attaches to each side using dado (or groove joints), which may be glued or nailed into position.
So, basically, if you want a drawer box that lasts, choose one with dovetail joints.
3. Pulls & Knobs
Beauty and function are reasons why you would choose pulls and knobs carefully. The kitchen can be a messy place sometimes and you don't want those germs and dirt to end on your pulls and knobs.
Pulls are preferable for drawers that often carry heavy items. Knobs, on another hand, are great for lightweight drawers.
Kitchens with traditional and classic styling tend to feature cabinetry with knobs while pulls are considered to be something of modernity. However, the choice between the two can boil to the buyer's preferences.
Consider these factors when shopping for pulls and knobs:
Comfort
Get close to any cabinet in the store and test the knobs. Then test the pulls.
Which one feels comfortable?
Remember you will be opening your drawers several times in a day, so comfort is something you must take seriously.
Some companies like Top Knobs have a sampling program in place so that you can order a few of their knobs, test, and buy and if you end up liking them.
Finish
The finish on the pull or knob determines its beauty.
While most homeowners tend to choose brushed nickel or chrome, there are so many options that you could get lost trying to find the right one.
The trick is to figure out what would work best with your drawers before embarking on shopping.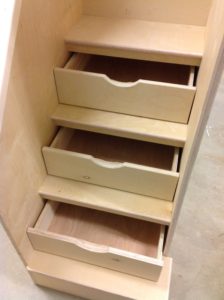 Cost of Everything v/s Your Budget
This is a factor to consider for everything that makes up your drawer system.
Most of the drawer boxes you will find in the store fall between $25 and $100.
Pulls mostly fall in the price range of $7 and $12 while knobs are often between $6 and $10.
Slides designed for minimal functions cost between $1 and $15 while advanced options cost between $25 and $50.
It is good practice to prepare a budget before shopping for these parts.