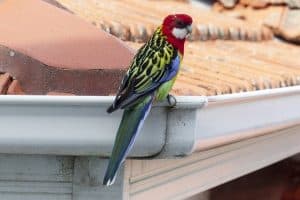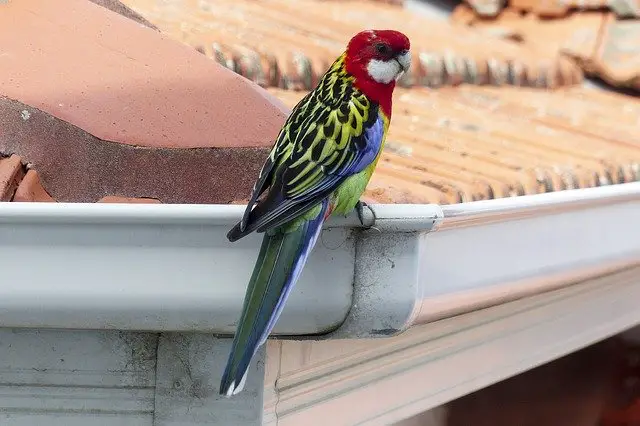 Manufactured home gutters are not exactly glamorous, but they are there purposely to handle a crucial task: collects rainwater and channel it away into a water tank or drain it away from the home basement.
Such a system is essential, as it will keep your house water-free and protecting siding, doors, windows, and foundation from possible water damage.
While most gutters are often installed on existing roofs, the best way to simplify installation is by adding them during re-roofing. This will allow gutters to be efficiently integrated into the roofing system. So this means your timing may not be right if you are  also thinking of installing a new roof.
The shape and designs of our homes vary, and that means gutters may not be necessary for some houses. Remember, you're installing a gutter on the house to collect and direct water into a specific place.
If your home has broad overhangs that can cast runoff properly away from your house, then why should you need guttering? Perhaps you will only require putting proper grading and drainage that can carry water safely away.
So if this case describes your house better, save that cash for a different kind of problem you may encounter.
Manufactured home gutters are vital as they help to prevent the following issues:
Flooding in the basement or underneath the home
Potential foundation problems
Soil erosion around your home
Possible damage to the exterior siding
Water colorization on the walkways
Excessive moisture and stagnant water in the crawl space
Five Mobile Home Gutter Materials
1. Aluminum
Aluminum house gutters are among the list cost-efficient rain gutter that you can purchase for your home.
The advantages of installing these gutters include being:
Weather-resistant
Lightweight
Rustproof
Ability to resist harsh climates
Relatively easy to work with in terms of maintenance
Available in seamless models
Unlike other popular gutters, aluminum can hold paint for long; hence you will not lose the curb appeal of your home easily. For this reason, you can now attest as to why reputable gutter contractors and most homeowners prefer aluminum gutter to other available materials.
2. Vinyl
Vinyl gutters are the number one choice for many homeowners merely because they are cost-effective and ease of installation.
These materials also do not corrode or rust; hence can last for years. Anyone can install and manage these gutters easily since they are lightweight, and their sections can snap together.
Vinyl gutters function just like other materials when used in milder climates, and especially when installed correctly. You may require an expert to install them properly, as poor installation can cause sagging sections.
While they may develop cracks over time if installed in extremely cold regions, they are a better solution in case you want to install new gutter while on a tight budget.
3. Stainless Steel
Stainless steel gutters are often the best choice for manufactured homes with wood shingles roof. They are one of the most robust materials in the industry, which are virtually indestructible, does not rust and shine for several years.
While its price may not fit your tight budget, these gutter worth investment because they are more efficient and effective as compared to gutters manufactured from common, lesser materials.
Therefore, if you choose to go for this route, be ready to shell out slightly more peanuts as you are guaranteed quality. In a nutshell, copper gutters are virtually indestructible and perhaps the most eye-catching gutters you can get on the market. So if quality and beauty are your priority, then don't hesitate to shop for these home gutters.
4. Copper and Steel
There are galvanized steel gutters that you can get in different varieties and sizes (regular and mini).
Their make is not questionable since they are sturdier compared to their aluminum counterparts.
Therefore, if you have installed galvanized steel on your home, you won't have to worry about damage in the case of a falling tree branch.
The market offers a competitive cost simply because the gutters are more prevalent in the industry. The only drawback is that galvanized steel is prone to rust. However, you should be able to manage this issue by doing proper maintenance to make it last for a more extended period.
5. Zinc
If you are residing near the ocean or any other area with salty air, you might consider going for zinc gutters because of its durability.
They are highly resistant to corrosion, warping, and weathering hence can serve you for a longer period. The mode of installation is a bit different from typical gutters, so you will need a professional technician to do the installation.
In fact, an expert is the only person who can weld the joints and end correctly. Zinc gutters are expensive and are usually used on the historic and high-end manufactured homes, but anyone can still install as long as they meet the budget.
Built-in Gutters
Also known as hidden gutters, these gutters are the best choice for homeowners who prefer invisible gutters and still want to make use of a gutter system.
The built-in gutters are concealed way to drain rainwater from a roof, and since they don't detract from the accuracy of a home, these hidden gutters are perfect when used on older homes.
Installing these gutters is quite practical and requires less maintenance as compared to typical gutters. These sizeable gutters work best with any amount of rainfall that your home experience during each year and even withstand the most massive storms.
What Are Some Mobile Home Gutter Alternatives?
While most of the manufactured homes use regular gutters to channel harvested rainwater into storage tanks, it is not the only solution to use on your home. If you don't like how these gutters look or their mode of maintenance or merely want to try out something different, then you have other options to choose from.
Here are some of the viable alternatives to rain gutters for your manufactured home.
1. Rain Chains
Rain chains are one of the best alternatives to have a curb appeal at the edge of your roofing. It directs rainwater away from your home to prevent it from damaging your valuable investment. These chains are available in different designs, and so you can choose your best multiple style options.
You can install these chains to help direct water to a rain barrel or planter for future use by gently sloping it out from your home. The advantage of using the rain chain is that the system would slow down the speed of falling water to reduce its destruction when it splashes onto the bare land.
2. Rain Dispersal System
Rain dispersal is a system that involves the installation of louvers on roofs of manufactured homes.
The main aim is to help deflects rainwater away from reaching the walls of your house. Thus, it provides a viable solution to walls damage caused by water splashing along the basement wall.
The system helps in limiting the chance of erosion occurring at the proximity of your home by dispersing water collected from the roofing.
The installation of such a system aims at giving your property an appealing look and prevents dirt and debris from splashing up and accumulating along with the basements of your home. The effectiveness of this system is beyond a reasonable doubt because it's created and fitted uniquely to your home.
3. Drip Edge
Galvanized steel drip edge is a great way to make sure rainwater from the manufactured roof does not drain closer to the foundation of your house. Although one can use this method in addition to any other gutter, it still works a viable way to protect your home if used by itself.
Once you've installed drip edges on your home, It provides extra support to your shingles, and so you won't have to worry about water damaging your shingle.
Remember that not all gutters will meet the needs of your home, water at some point can run down the fascia and will quickly cause damage that will force you to replace your shingles to protect your home.
However, you can make use of drip edge to seal the gaps that allow water to run down. It is also an essential way to prevent pests from getting access to your attic as they can cause further severe damage.
Even though you will incur a cost for installation of drip edge, it is relatively not costly and worthy update you can do to your home.
4. French Drain or Ground Gutter
The installation of ground gutter or French drain is important if you want to protect the siding as well as the foundation of your home from water damage.
The good thing about this ground system is that it is invisible, and nobody will know that you've installed it in your home. Perhaps it does not also affect the general appearance of the manufactured home.
Once you have installed the French drain, you will never experience any freezing issues, and you will not need to do further maintenance.
We recommend that you hire an expert to do the construction on these ground gutters since the proper installation will help it last longer without encountering significant problems.
The Overview
The installation of a new or replacement mobile home rain gutter is undoubtedly a crucial step you can take to avoid costly home repair and create a safe environment for inhabitants of your house.
Water can cause slow but severe destruction to your property if you don't take necessary action, and this is the reason you need to inspect your home from time to time.
With proper installation of gutters, you won't worry about rainwater hitting the roof of your house. It will trickle down the slope of the roof to the edge, where the gutter will collect and channel through a downspout and direct safely away from home.
The importance of hiring professional gutter installation services is clear: water will start dripping next to the house and damage its foundation if the water on the roof does not funnel right.
You don't need to wait until the condition worsens to take action if you realize that your gutters are extremely old and cannot be repaired, it is necessary to install new gutters.
Gutters with poor conditions can cause water to build up and damage your roof or collect water at the bottom and flood the basement of your home. Installing shoddy gutters is even worse as it contributes to the unsafe living condition, as overwhelming water is likely to create eroded surfaces and slippery, icy surfaces.
Regular Maintenance Tips
The installation of rain gutters is necessary since it can significantly save your property from damage resulting from rainwater. You can as well use these gutters to collect water for future use. It collects and diverts water in a given direction so as not to affect your property but to keep its value intact.
While some mobile home gutters are easy to install and you can do it by yourself, it will be wise to seek help from service providers to achieve better results.
Most homeowners would find it challenging to decide on the best place for the installation of gutters & downspouts. This is because the maximum volume of water requires a perfect location that can hold as much as it continues to rain.
If you are in such a dilemma, you can take assistance from an expert to help you decide the best allocation of slopes. This will help prevent chances of leakage and any other uncertain instance. In fact, the installation of gutters at your manufactured home doesn't mean the end of your responsibility; it indeed the beginning.
The installation of gutters opens a new chapter of doing regular maintenance. It is an essential exercise that you need to keep in check to ensure the collected water is diverted correctly to the right place. The falling leaves, debris, and other materials may cause blockage on the gutters leading to leakage or improper diversion of water.
If you want to avoid such a risk caused, you will need to clean your gutters regularly to preserve them for a longer duration. One may consider the cleaning process as dirty, tedious work, but it is a great task need to do to avoid severe consequences of clogged channels and stagnant water.
If you are not able to do the entire work by yourself, then it still possible to achieve better cleaning through the help of a skilled person. By taking into account some simple protective steps, then you can greatly save your property with ease and convenience.
6 DIY Manufactured Home Gutter Installation Instructions
What You'll Need
First you need to have # 8 0.75 inch screws, gutter pieces, short sheet metal screws, #8 1.5 inch screws, # 10 3 inch screws, heavy duty tin snaps, Power drill, automatic center punch, jigsaw, file, tape measure, line level, jigsaw, drill bits, string, ladder, pliers and combination square are some of the tools you need for this task.
Step One
You then need to calculate the slope of the eaves, tie a string to the line level then use some chalk to mark those level lines every ten feet. To ensure that your gutters have a downward angle capable of draining water away from the roof, you should make each successive mark at least 0.25 inches lower on the slope gauge than the previous marking.
Step Two
Measure the entire building so as to determine the total length of the gutter assembly, then measure and cut the gutter sections accordingly. Make sure you mark each piece at the ends so as to meet the ten foot mark and then subtract the 0.25 inch seam allowance on each end of the gutter piece. Using a marker and a combination square, make the markings across the entire piece and then use tin snips to cut along the markings.
Attach the gutters together and use hanging brackets to connect each piece together. Make sure you set a hanging bracket from the end of the completed gutter assembly, and then set the successive brackets at least twenty four inches apart along the assembly.
Step Three
Set the gutters upside down and then set a gutter sleeve at the point where you want the base of the gutter and the downspout to meet. Draw a clear outline on the sleeve of the gutter, remove the sleeve and use a hole punch to make 4 corners around the drawn outline. Using a jigsaw, cut the outline, throw away the cutout and file the edges.
Step Four
On the underside of the sleeve lip, apply some sealant and then turn the gutter upright. You can then proceed and insert the sleeve into the hole. Attach an enc cap to each end of the gutter and then use a set of pliers to crimp the cap edges to the gutter.
Step Five
Invite someone to help you at this point, both of you should hold the gutters at each end and move up the ladders together so as to reach the eaves. Use the number 8 screws to attach the hanging brackets to the roof. Then measure and mark the preferred length of the downspout and cut it out to size, make sure you don't cut the tapered end.
Step Six
Go ahead and attach the downspout to the gutter so as to ensure it fits, adjust it as required and once the downspout is well fitted, you can set gutter assembly over the arranged connectors. Once you are through, tightly screw the downspout to the fixed gutters.
Wrap the bands around the downspouts at areas where it is possible for them to connect to the wall of the manufactured home. Use the # 10 screws to tightly fix the bands to walls so as to ensure all the downspouts are in place. Using a water sealant, seal the end caps and seams, the gutters are ready for use.
Bottom line
There are many mobile home gutters that come in different styles and designs. All these are available in the market, but before you step out to buy one, list down your preference according to what best suits your home to make the right decision.
How is the topography of the land that you reside in?
How often do you experience rain in your place, what is the condition of your roofing?
What budget are you considering to commit to purchasing home gutters?
These are just but a few things you will need to ask yourself before making that decision.
Alternatively, you can opt to consult with a professional gutter contractor to help you find the right gutter system for your valuable home and ensure that a particular system is installed correctly.
If possible, it would be wise to contract or work directly with your home center so that the contractor can install the gutters during the final on-site construction process of your home.
If you want to install drain tiles, it is a perfect time to involve a contractor to help you install one that can move water away from your home basement efficiently. Therefore, it is now the right time to get prepared before the next storm arrives by considering the above guide.
Frequently Asked Questions
Q: When were rain gutters invented?
Rain gutters date back to the Indus Valley civilization that existed between 1500 BC to 3000 BC. During that period, gutters were designed using bricks of burnt clay. However, these traditional rain gutters would serve very minimal purposes compared to the current rain gutters.
Q: Are gutters required by code?
No, gutters are not required by code. However, positive drainage away from the foundation of the house is required by code.
Q: Can gutters be painted?
Yes. However, you must ensure that your gutters are clean before you paint them. In this case, you can use specialized rust paint and any other paint that can increase your gutters' aesthetic effect.
Q: Can gutters be removed and reinstalled?
Yes, it is possible to remove your gutters without experiencing any dire results. However, water will drip too close to the wall or can run down your walls. You can also reinstall gutters, especially if they are damaged.
Q: Should you tip gutter installers?
Yes. In case the gutter installer does anything extra or spends more time than expected, offering a tip could be a good idea.
Q: Can a gutter overhang a boundary?
No. If your gutters overhang your neighbors' land, it would be a trespass, even if the gutters do not interfere with the daily activities.
Q: Can gutter guards be installed on existing gutters?
Yes, the gutter guard installer can reseal your existing guards before installing a gutter guard.
Q: Are gutter guards worth the money?
Yes. However, at first, you might see it as a big investment that can drain your pocket, but you can save a lot of money by removing the necessity of hiring a professional cleaner. In case you used to clean your gutters, they can reduce the time you spend in scooping debris from your gutters.
Q: Can gutters overflow in heavy rain?
Yes. Gutters can overflow during heavy rain, especially if they have debris blocking them, downpipe, or stopping water flow. If your gutters are not large to handle large amounts of water or are not positioned correctly, they can overflow.
Q: Can gutters go around corners?
Yes. In this case, you can use meters to join two gutters around corners. But the miters should be appropriately sealed to prevent water from leaking around the corners.
Q: Can you connect the gutter to a French drain?
Yes. An effective gutter system combined with a French drain can guide water away from the foundation of your house.
Q: Are gutters covered by homeowners' insurance?
Yes. Your homeowners' insurance covers all damages of your house, including gutters. But the damages must be sustained during the covered events like explosions, objects falling from the sky, fire, windstorms, volcanic eruptions, and snow.
Q: Where should gutter water go?
You can install a rain barrel aboveground or underground if you wish to repurpose rainwater for cleaning or gardening. You can also channel gutter water into a drainage pit. Additionally, you can install a rainwater collection system so that you can use the water collected in watering your plants.
Q: Should gutters and downspouts be the same color?
No. It is not a must for your downspouts and gutters to be the same color. In this case, you can match your gutters with the roof while downspouts can match your house's walls.
Q: Should gutters be level?
No. Even though gutters might look level from a distance, they should be slightly pitched from one end to another.
In case the pitch is small, water will fill up your gutters and start overflowing. Conversely, you should avoid a too sharp pitch since it will not be aesthetically pleasing. As a result, your gutters should slope one or two inches after every 40 feet. Therefore, your gutters should be completely level from the front side to the backside to avoid water spillage.
Q: Should gutters be the same color as houses or roofs?
Yes. Choosing gutters with the same color as your roof or house allows them to blend well. However, sometimes you may not find an exact color that can match with your house. In such cases, you can choose a gutter color that matches your trim or fascia.
Q: How much should a gutter cleaning cost?
The average cost of gutter cleaning is around $150. However, many homeowners spend between $110 to $185. But those who have a two-story home with 200 linear feet of gutters can spend around $125 to $250.
You can also choose to go the DIY route.
Q: Should your gutters match your windows?
No. However, it is good to select a gutter color like that of your windows. In case your roofs have a slight pitch, and you do not see any value, then matching your gutters will extend your roofline to your windows.
Q: Do gutter heating cables work?
Yes. Gutter heating cables facilitate better heating of downspouts and gutters. This means that you can prevent the buildup of ice in gutters during winter.
Q: Can gutters support a ladder?
No. It is not safe to lean a ladder against your gutters since they are not strong. As a result, if you wish to use your ladder, you should lean against a strong resting point.
Q: Are gutter brushes any good?
Yes. Gutter brushes are good as they block large debris, but they allow water to flow freely through the gutters. Additionally, they are easy to install, beneficial as they do not require a professional expert.
Q: Should gutter downspouts touch the ground?
Yes. It is incredible when your gutter downspouts touch or enter the ground as they enable rainwater to drain into the underground surface. One of the advantages of the inground drainage system is that water will not flow across the top of your landscaping since it would make it a muddy mess or cause erosion.
Q: Do gutters need heat tape?
It depends. For instance, if you live in areas invested in snow, you can install heat tape in gutters to prevent ice buildup along inside the downspouts and gutters or along the eaves that can cause a significant amount of damage.
Q: What are gutter lights?
Gutter lights are the most convenient, economical, and friendly way homeowners can use to brighten the outdoors of their homes, highlight their landscaping, or act as a safety device at night.
Q: Will gutter guards void the roof warranty?
No. However, before you choose gutter guards for your gutter system, you should read the roof warranty to ensure that it is compatible.
Q: Can you bend gutter elbows?
Yes. An elbow gutter can be bent to suit your requirements, provided you have enough distance between the butt welds.
Q: How do gutter clips work for Christmas lights?
For you to use gutter clips in hanging your Christmas lights, you should follow the procedure below.
Measure and calculate their power needs.
Choose your clips and lights.
Decide how you are going to hang your Christmas lights along the gutters.
Q: Can mice climb up gutter downspouts?
Yes. Mice can easily climb up the gutter downspouts to access any openings on the roof of your house. These holes are large enough to allow rodents to enter into the house.
Q: Can you compost gutter waste?
Yes. Decomposing organic material in your gutters can be an effortless and free-way of starting a compost pile. A successful compost pile requires aeration, moisture, and heat. Gutters offer the ideal conditions for the decomposition of leaves and organic material.
Q: Is gutter water safe for plants?
No. Gutter water should only be used in watering ornamental plants and not on vegetable plants. In many cases, chemicals, metals, and other products can leach off from the roof and mix with gutter water.