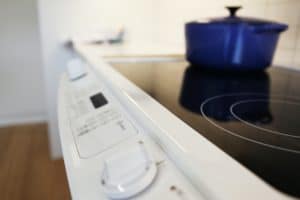 Sometimes referred to as stovetops,  manufactured home cooktops are an essential element of any functional kitchen.
They provide you with an area to place your pots and achieve even heating.
Stovetops appear like simple straightforward items you would walk in the store at any moment and walk out with the right model for your needs.
However, modern models incorporate so many things that should be gleaned through to determine if the option is appropriate for you. You can list down your needs and figure out the features the stovetop should possess to meet those needs.
Manufactured Home Stovetop Types
Stovetops can be powered by liquid propane (LP), natural gas, or electricity.
Some old-styled cooktops come with raised coils to support the pot, but most models today feature flat surfaces with coils beneath them.
Induction stovetops use electricity and come with a flat top, but relies on electromagnetism to generate energy. Most homes are equipped with electric stovetops, but liquid propane and gas cooktops deliver an excellent cooking experience as well.
You can judge the heat leaving the appliance simply by looking at the appearance of the produced flame by a gas-powered stovetop.
For electric-powered burners, however, the heat lingers a little longer.
Stovetop Sizes
There are different sizes of stoves – a stove can only work with a stovetop of its size.
The best size of a cooktop for a manufactured home's kitchen is anything between 30" and 35". This also happens to be the range of width within which most of the stovetops fall.
The 30" variety usually features 4 heating elements. The larger the size, the larger the stovetop hence the more the heating elements.
However, your choice will depend in part on the size of your kitchen and your cooking needs.
If you want several pots to simmer at the same time to speed up your cooking process, you will definitely go for a stove with many burners.
Things to Look for in A Cooktop When Shopping for One
Determine whether your cooking needs can be met any of these features:
Electric v/s Gas
Downdraft Venting
Wok/Griddle/Grill
Simmer/High-Heat Burners
Number of Burners/Additional Burners
Size
Basic Must-Have Features
Cost v/s Budget
1. Electric v/s Gas
Most of the cooktops you will find in the store fall into three groups
Electric options are used with electric stoves and the gas with gas stoves.
Your choice between these two can also influence your choice of the stove. So, which one is the best for day-to-day cooking tasks in a manufactured home?
Electric cooktops – sleek and tidy
Electric cooktops are ultra-convenient if you consider the ease of cleaning.
You probably understand how hard it is to remove burnt spills from the surface of any cooking surface; things are a little easier with the electric stovetop.
Are you an avid baker on a budget? Choose the electric option.
Pros
Bakers prefer electric ovens to gas-powered options partly because they don't want their bread to smell like gas.
If you compare the average prices of electric and gas stovetops, electric options will turn out to be cheaper.
As far as aesthetics are concerned, the smooth top of modern electric cooktops is sleek and tidy.
Cons
Older rustic electric cooktops, however, are not easy to clean.
Electric coils are known for being too slow to heat up and cool off.
Induction cooktops – speedy cooking
Induction stovetops are powered by electricity, but use electromagnetism to heat the pot.
Pros
If you dislike the cooking speed of the common gas and electricity cooktops, you can opt for the induction alternative.
Six quarts of water takes just under 15 minutes to boil on an induction stovetop!
Also, if you will be cooking foods that require precise temperatures, it only makes sense that you go the induction way.
Because it only heats the surfaces with iron particles in them, it is the safest type of cooktop.
It doesn't emit gas or catch objects such as napkins and dishcloths, two nuisances common in gas and electric stovetops.
Cons
The downside of these stovetops, however, is that they are prone to overcook food, especially during the first few sessions because they heat faster.
They often produce a rattling sound that can be upsetting.
Gas – even heating
Pros
Gas cooktops often come with an inbuilt fan that distributes heat evenly on the heating surface. The aid of the fan helps ensure even cooking.
It is easier to achieve accurate temperatures with a gas appliance than with an electric alternative although induction options are better.
The ease of installation is a major factor for many homeowners. Because most gas stoves are designed to use both gas and electricity despite the name, they are a bit harder to install compared to electricity-only options.
The same applies to their cooktops.
Cons
The main downside of gas stovetops is the price – they are significantly pricier than the other two options.
However, if you are looking for an option that can rival the induction appliance better, you should consider the gas option.
2. Downdraft Venting
Do you have a range hood already installed in your kitchen?
If you don't then you probably need to buy a cooktop that includes an inbuilt downdraft.
The job of this feature is what it sounds to be – to draw steam, oils, odors, and smoke from your cooking area and direct them to channel that expels them to the outside.
This is a must-have feature for a cooktop if you want to keep fresh and clean air in the kitchen.
Downdraft Venting can be easily observed by checking the presence of a vertical strip of meshwork or vents somewhere on the surface.
Some of the best products with downdraft venting you will find on Home Depot and Lowes are supplied by KitchenAid:
3. Wok/Griddle/Grill
Will you be roasting some food in your daily cooking activities?
If so, then you need a stovetop that comes with a grill. Some products do come with grills while others don't. A product with a grill is convenient and cheap as it removes the need of incurring extra costs to buy a new separate grill.
Having a grill ready on your stovetop can also save significant space in your kitchen.
You should be a bit choosy when it comes to the size of the grill. Grills that normally come with stovetops are usually smaller than stand-alone alternatives.
First, determine if your barbecuing needs will be met with such a tiny grate. Minimal tasks like roasting a few strips of bacon or sausages every morning for a 3-member family can be easily handled by most grills that come embedded on stovetops.
If your needs are more demanding, it would be prudent for you to abandon the idea of grill + stovetop as a unit and buy these two separately.
If your grilling needs range between large scale roasting and minimal tasks, it is advisable you buy the grill + stovetop unit and a large separate grill.
The design of products with embedded grills can vary widely. Some will permit a grill to occupy half of the space. Others come with a larger grill that occupies the entire cooktop, but it's normally removable to give space for regular cooking.
Stovetops that come embedded with a grill on them have their price tags upwards of $1,000, but Maytag supplies some of the cheapest options out there:
4. Simmer/High-Heat Burners
All burners on a typical cooktop may not be the same. We all find ourselves requiring different levels of heat to suit our diverse meals.
Delicate meals like eggs and savory sausages may be scorched if they are cooked on high-heat burners.
Complex meals may not cook properly if they are cooked on low heat burners. That's why you need a stovetop with both types of burners.
Simmer burners are a must-have because they let you cook light meals fast enough without ruining them with huge amounts of heat.
High-heat burners too are essential, but for more demanding meals and tasks such as boiling some water or cooking your own deer in a stockpot!
5. Number of Burners/Additional burners
The simplest and cheapest stovetop comes with 1 burner.
The 2-burner and 3-burner options are perfect for a small family. Most of the products you find in the store feature 4 burners.
Then there are those options that feature 1 or 2 more burners to bring the total to 5 or 6. The 6-burner cooktop is the biggest in the market.
Your choice between 1-burner and 6-burner appliances can depend on your ability to multitask among other things.
The most important factor to consider is the size of your family: the bigger the family, the more burners you will need.
Also, what's the size of space are you willing to leave aside for the stove?
More space permits cooktops with more burners.
If your space is small, avoid overcrowding your cooking area by going for a cooktop with fewer burners.
On average, 4 burners are perfect for most households.
6. Size
Most of the options you will find in the store falls in these sizes:
24" Cooktop
30" Cooktop
36" Cooktop
The standard kitchen found in a typical manufactured home can work well with both 24″ and 30″ cooktop.
If you own a Double Wide, or your kitchen is big for some reasons and you want to upgrade to a large-sized appliance, the 36″ stovetop won't be bad.
You still can choose from smaller sizes ranging between 12″ (the lowest you could go) to about 21″.
Your choice can be influenced by the size of the cabinet you left aside for the stove as well as the size of your family.
7. Cost v/s Budget
The cost of installing a stovetop can vary depending on the fuel.
According to Home Advisor, the average cost of installing an electric cooktop is somewhere between $390 and $4,180 – that's if you are replacing an old unit.
The cost of expert installation can range between $70 and $155.
Expect the cost of installation to increase if the professional finds it necessary to add new wiring and outlets or make some alterations to the unit.
The appliance itself costs between $320 and $4,030. The cost of the appliance will depend on the number of burners, size, special technologies, and even the brand.
An average gas cooktop costs between $430 and $4,230 to install. If your space requires more work, this cost could increase significantly.
Note that these costs include the price of the cooktop which is between $320 and $4,030, the price of the connecting kit which can be about $40, and the cost of the installation which falls somewhere between $70 and $155.
Imagine aiming too high and spending lavishly on a cooktop then you realize you don't even need some of its features!
That's why budgeting is an important thing to do – it simply keeps you focused on what you really need and lets you allocate the right amount of money for acquisition. Basically, budgeting helps you avoid overspending.
Start by deciding the maximum and minimum amount of money you're willing to spend on a cooktop.
If you need a product with more burners or bigger size, factor in their specific number of burners or size just so you don't end up paying up for extra features you don't need.
Once you decide the specific amount of money to spend, it becomes way easier to come up with a list of features the cooktop must have and those that you needed but are willing to trade-off with others because of the cost.
Who Supplies the Cheapest Yet Quality Cooktops?
While the cost of cooktops depends on the number of burners and size, some brands price their products so lowly that you may want to buy a truckful of them.
For instance, a decent 36" cooktop rarely falls past $1,000. Frigidaire, however, offers them cheaply without compromising on quality:
Frigidaire FFEC3625UB 36 Inch Electric Smoothtop Cooktop in Black  – Cost: $539: Decently designed electric stovetop made from durable glass ceramic.
Frigidaire FGEC3068UB Gallery Series 30 Inch Electric Smoothtop Style Cooktop with 5 Elements in Black – Cost: $490: Perfect as a replacement cooktop. Only available on Amazon. Ceramic construction that resists scratches and corrosion caused by spilled water and food debris.
If you are looking for affordable induction options, you better check with Empava:
8. Basic operational features
There are features that you can't do without, such as when to tell your broth has reached a certain temperature and the progress of all other things going on in the system, like the level of gas.
You don't want to buy an appliance without all of these features unless you want to have a cooking experience from hell:
Digital display
You need a screen somewhere to show you such things as temperature ranges, the health of the system, number of active burners, and level of gas among others.
Sealed burners
Burners without seals are open to damage, especially during cleaning. Even the best-built burners will corrode or acquire some ugly marks if left in a disused state for a long time without a cover.
Hot surface indicator lights
These lights are a must-have even for the most basic induction cooktops you could find in the store. A hot surface indicator light is a safety precaution that reminds you the appliance is hot. The indicator can remain shining even after the appliance has been turned off, just so you don't lay your palms on it.
Simmer & power burners
We already mentioned you need both of these burners to cook both low heat and heat meals.
Melting burning
Once in a while, you may want to melt some butter or ice, but not with regular burners.
Downdraft exhaust
Highly necessary if you don't have a hood range already installed. It is essential for eliminating odors, smoke, and grease from your cooking area.
Conclusion
Investing in a new cooktop can make your kitchen experience better.
How you choose this appliance depends on an array of factors, some of these factors are individual, like the size of your family and the size of your kitchen.
Device-specific factors to consider are whether the cooktop is electricity or gas-powered, presence/absent of the downdraft venting, basic must-have features, wok/griddle/grill, size of the device, the cost versus your budget, and the number of burners/additional burners.