There will be situations you'll want to convert a room meant for another purpose into a temporary bedroom at night and then return it back to its intended purpose during the day.
One of the best types of beds perfect for these situations are manufactured home folding beds.
This category of beds is flexible and lightweight, hence a better alternative to the often fixed and heavy traditional beds.
The foldable bed usually has extendable legs that lift it off the floor when being folded out. It's also designed to adjust for back support, a feature that makes it excellent for users with back complications.
It is typical for folding beds to come with strong metallic frames and an equally flexible spring mattress, but there's always an option to decide the kind of mattress you want to use on them.
What Is The Best Manufactured Home Foldable Bed?
Everyone is different, and just like a lot of things in life, what is best for one homeowner might not be pleasing for the next.
For that reason, the best folding bed for you will depend on your specific needs, which you can list down by answering yourself these questions:
Do you have a health problem that requires you to sleep in a particular position?
Who will be using the foldable bed?
How often do you intend to use the bed?
How long do you want it to last?
What Foldable Bed Should You Buy?
Just because foldable beds can be folded into compact units doesn't mean they are all the same.
You will need to consider each type and determine whether it will work for you.
There are three popular types of this kind of bed –
wall beds (or murphy beds)
sofa bed
futon
1. Murphy/Wall Beds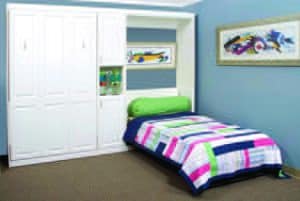 The term 'wall bed' is often used 'interchangeably' with 'murphy bed' – the two describes two related beds with a few differences.
For example, the spring mechanism that comes with the Murphy Bed holds the bed closed in an upright position.
Wall Beds, on another hand, utilizes a set of strong locking legs to safely secure the unit into an upright position.
Murphy beds are just as comfortable as most other types of foldable bed.
Once you have it correctly installed and pulled down the floor most Murphy beds you will find in the store can be used with the same type of mattress as a conventional bed.
So, whether you prefer a memory foam mattress or a spring alternative, you are good to use it virtually on any Murphy bed.
Related: Should You Get A Used Mattress?
Why you should buy a Murphy bed
Hides neatly into your wall or furniture.
Possible to use a "standard" mattress, can be made very comfortable just like any other beds.
No-fuss – you don't need to make it every day after waking up. Just hide it.
There are murphy beds you can fold up to make a sofa or a desk
Main drawbacks
Though foldable, they are fixed to one location hence very difficult to move around
Can be quite expensive to acquire
Consider Safety Features
Murphy/wall beds fold into the wall or cabinet, so there's a likelihood they would fall back if not held tight enough, which may result in injuries.
Buy a bed that won't endanger the safety of members of your household.
Since attaining popularity in the early 1900s, Murphy/Wall Beds have been improved and modernized with an array of safety features.
Most of the modern products feature hinged counterbalance systems to facilitate their retracting and folding up and make the whole process easier and safe.
Spring-balanced hinge systems hold your bed in position so that it doesn't fold while you're asleep or open up when folded into the wall or cabinet.
Inbuilt straps normally secure the bed tightly in place when stowed. The bed may also allow for firm attachment to your wall or floor to prevent it from falling down.
Consider Style And Size
Today's wall beds go beyond fold-up and open platforms to feature a few useful add-ons like cabinets, desks, and shelves.
You still can integrate your Murphy Bed into a wall with any custom exterior wall covering you please, or choose to go with fold-out cabinet alternatives complete with attached shelving and extra storage.
Additionally, you can easily store a Murphy/Wall Bed in your den or living room with an inbuilt couch design, where the bed is typically stored straight upright at the back of the couch.
As mentioned above, Murphy Beds are designed to unfold either vertically from the extreme top end of the unit downward or horizontally from one side of the unit.
Horizontal options are often folded into either a cabinet (which can be moved) or integrated into a wall.
Murphy/Wall beds are also available in a wide range of styles, including queen size, twin size, and full size.
Consider Material of Construction
Yes. Not just any material will work for you. Murphy beds started off metallic, but are today made from four materials:
Solid Wood
This is the strongest type of wood, and also the most natural of all woods used in furniture.
Choose this if you are looking for an authentic and more natural murphy bed.
Hardwood is the most preferable choice (softwoods are seldom used in furniture, by the way).
Most options you will get are made from oak, cedar, or mahogany. Please bear in mind that solid wood furniture is prone to warping naturally over time.
Plywood
In the world of furniture-making, plywood is referred to as "layered board", which is typical of several thin layers of one or several hardwoods.
The reason why you should choose a Plywood foldable bed over a solid wood option is that plywood is impressively resistant to warping.
The major flaw of plywood, however, is its tendency to form knots with increased use, eventually creating some structural weaknesses.
MDF
This type of wood is made of finer wood particles compared to those used in particle boards.
For that reason, MDF comes out denser and stronger, making it a better option for foldable beds than particle boards.
Particle Board
Made from compressed wood particles, particle boards resemble and feel very much like real wood.
Particleboard foldable beds are more affordable to a buyer shopping on a tight budget, but it is not as durable as most other materials.
Mind The Price And Warranty
Murphy/Walls Beds are known for their high price tags, higher than most other types of foldable beds, though this can vary vastly based on design and size.
Here are average prices for most of the common styles of Murphy/Wall Beds:
| Bed Type | Average Price |
| --- | --- |
| Twin Traditional Murphy/Wall Bed | Between $1,000 and $2,000 |
| Full Traditional Murphy/Wall Bed | Between $1,000 and $3,000 |
| Queen Traditional Murphy/Wall Bed | Between $1,000 and $3,500 |
| Twin Murphy/Wall Bed with Mattress | Between $1,000 and 3,500 |
| Full Murphy/Wall Bed with Mattress | Between $1,000 and $4,000 |
| Queen Murphy/Wall Bed with Mattress | Between $1,500 and $5,000 |
| Twin Horizontal Murphy/Wall Bed with Mattress (Twin) | Between $1,500 and 4,000 |
| Queen Horizontal Murphy/Wall Bed with Mattress (Full) | Between $2,000 and $3,000 |
2. Sofa Beds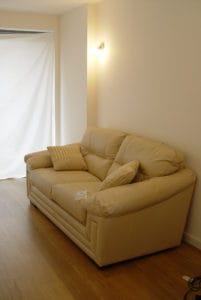 Sofa beds are designed to fold into a sitting sofa set and unfold to form a bed during bedtime.
Their mattresses are normally thin and flexible because they need to fold up into the couch when you are not using them as a bed.
It is typical for sofa beds to come with folding metal frames attached to the couch part. The mattress remains on top of the bed's frame.
When you're done sleeping, you fold one end over, then proceed to lift and lower the bed's frame inside the sofa.
Why You Should Buy A Sofa Bed
Sofa and bed as a unit, 2-in-1.
Some of the sofa beds you find in the store can be made more comfortable by adding just a few more layers of comforters and sheets
Main Drawbacks
Not really washable as you would want
Might not be hygienic over with increased use, with people sitting on it the whole day having to imagine their bums as you sleep
Not very portable as you would want, but still movable
Here are tips on how to shop for the best sofa bed for your mobile home:
Size And Space
When selecting a sofa bed, it is important that you consider the size of the set and determine what size meets your sleeping needs as well as what model fits the space in your home.
If you need to fit a few friends or a big family or group, then a larger sofa bed would be perfect. In that case, a corner, or maybe a sizable 3-seater option might be the best option.
If you don't have much space at home, you might opt for the 2-seater option or a smaller corner sofa bed that can accommodate one person.
What if your home barely has space to accommodate anything extra? In such a case, a single sofa bed chair would be a better option.
Measure For both The Sofa and The Bed Functions
The mechanism used to turn the sofa into a bed means it will take up a sizable space.
For example, the typical foldout sofa bed needs enough free space at the front part of the unit, or at sufficient space that can be cleared to support full extension.
For those that feature the click-clack mechanism, sufficient free space at the back of the sofa is a must-have, since the backrest will be pushed back to the rear and then flattened.
Alternatively, you can choose a futon or pull-out sofa bed which requires free space at the frontal face of the sofa, very much like the foldout.
In homes with very limited space, leaving some space for storing spare bed linens might be a major challenge. When that is the case, choose a sofa bed with inbuilt storage.
And remember, some brands like IKEA or basically any brand that offers both beds and their linen at the same time, may be in a good position to supply extra bed linens that match the bed and your style under one roof.
So, don't hesitate to inquire if the guys who supplied the bed can also include the linen that goes best with the unit, albeit normally at an extra cost.
Comfortable Sofa Beds
How comfortable do you want your sofa bed to be?
While the comfort factor may be determined by the thickness of the mattresses on the bed, the design of the whole unit could hurt your back if you don't select the right product.
If your room is acutely limited, fitting both the sofa and the bed in it could prove to be difficult. In such cases, the most compact yet comfortable sofa bed of all would be a perfect option.
Just keep in mind that, if the sofa bed is intended to serve as your primary bed, then comfort will be most essential of all.
3. Futon Beds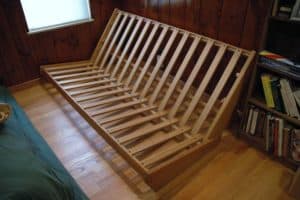 A futon bed is basically a mattress designed to fold into a piece of furniture that resembles a coach.
They also resemble sofa beds to some extent, that's probably why some suppliers like IKEA and Lowes list them and safe beds together.
And like a mattress, futon beds come in many different thicknesses, starting from soft, medium, then all the way to firm thickness.
A typical futon bed is pretty basic and simple and can be mistaken for a random covered mattress even in their sitting position.
Why You Should Buy A Futon Bed
Extremely good if you are looking for a space-saver – Roll and keep it inside the wardrobe
Easy to wash and wipe, good hygiene. The dust off can be removed easily, simply change your sheets and put the bed under the sun
You can include the bed-frame if you want – entirely optional, you can sleep on the plain floor if you want
Major Drawbacks
Not for everyone – those who detest sleeping on the floor may not like it
Can be quite a hassle to make every morning
Consider the Cost
The cheapest Futon bed you will find in the store costs slightly south of $150.
High-end options with quality fabrics and better cushions cost upwards of $300. An average option will cost anything between $200 and $300.
Such things as chrome legs can easily make a bed considerably expensive.
Think About Use
How often will you sleep in your futon? If you are thinking of using it as a bed only occasionally as a bed, or even as a bed for guests, consider buying a less expensive product, such as the cotton-filled one.
However, if you are thinking of using it nightly and even daytime sometimes, you should splurge your money on one as if you'll never consider another bed again. Make sure your choice is of high-quality, and if you care, check whether the mattress is filled with coils.
Consider Aesthetics
One thing about Futons is that they are always there in your family room by default (unless you choose to place them elsewhere).
So, think of how they will impact the space and how you want them to look while they are there.
Coil-filled mattress options, although comfortable, are notorious for losing their shape with increased time of use.
The foam-filled mattress options look nice, are solid, and will hold their shapes very well regardless of time. They are best suited for daily use.
Decide the Thickness
The thickness of the mattress is important. Thin and sleek futon frames are beautiful to the eye and work flawlessly with thinner mattresses.
Substantial wooden pieces require thicker mattresses that can match their frames.
Perhaps the question you should ask yourself is, what kind of mattress would meet your needs?
Make sure to choose one that you will want to lie on for extended periods without waking up fatigued and achy ribs. Don't dwell too much on color. You can always purchase a separate futon mattress cover.
Size of the Frame
Futon beds are available in most of the standard sizes of beds/mattresses except King size for the obvious reason – size.
While the queen-size mattress could be the most comfortable and spacious option for you, it means you'll have to already purchase or own a queen-size futon, which might be too big for a small space.
That's why it is recommended that you take the measurements of the space before making the final selection lest you end up with size issues. You will be happy you did.
Consider a Cover
You want your futon to look nice because it will always be out there where every visitor can see it.
The best way to improve the looks of the futon is to buy a cover for it. But first, determine if you really want to cover a futon's mattress with a cover.
This is your perfect opportunity to choose your fabric preference and color.
You can select between solid colors and patterns. Your fabric choices may include cotton, microfiber, and microsuede.
Some mattresses already come with water-resistant covering. You might pay more for those that come with protectors.