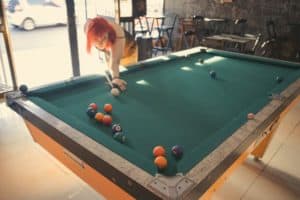 What could be better than having your very own pool table? Adding one to your home is a great way of advancing your game and having fun with friends.
Besides keeping you and your loved ones engaged, a manufactured home pool table significantly adds to the room decor.
If you are accustomed to aesthetics, you can coordinate the wall color with your pool table.
You can also attach a chandelier and bring antique pieces into your game room to give it a 'wow' factor.
Among its benefits, pools are handy in enhancing focus and critical thinking and improving hand-eye coordination.
Are you pretty new to the wonders of a pool table?
Open your eyeballs to absorb ideas and information about these great accessories to add to your manufactured home game room.
This guide will introduce to your everything you need to know about pool tables for your home.
Let's Get Started…
There are myriad ways in which pool tables are classified. This gives you a plethora of options to select from when buying a pool table for yourhome.
Choosing a pool table depends on your discretion, how much your floor can hold, among other factors.
Before getting into these factors, let's focus on various classification of table pools.
Classification According To Material
1. Slate
Slate is by far the best material for designing efficient play surfaces of pool tables.
Professionals have proved it beyond reasonable doubt of its ability to allow balls to flow swiftly and faster. It is a unique volcanic rock that is easy to model to the perfect shape of a pool table.
However, your manufactured home should have a sturdy floor to install this incredible pool table. This is because they are considerably heavy, in addition to being expensive than other types.
2. Wooden
Wooden pool tables are perhaps the most common in manufactured homes because they are lightweight.
They are relatively durable, especially when designed from hardwoods, and have sturdy support.
Because they tend to warp easily, they are used to make smaller tables for children.
If you are extremely sensitive to play surface problems, you may consider buying slate pool tables.
3. Acrylic
Rubber and plastics are widely used in making sports equipment.
Acrylic pool tables are usually smooth, which pair with their bouncing nature to increase durability.
These tables are a great addition to your game room because they are convertible and easy to move.
However, they won't offer an excellent experience if you want to play serious games.
4. Metallic
Metallic pool tables are available in the high-end market, however, they are not entirely made of metal.
The legs and frames are, in most cases, the metallic parts.
For durability and ultimate experience, metallic pool tables are made from rust-free material like aluminum and steel.
Classification According To Design (Style)
1. Standard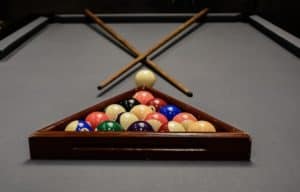 These tables are designed for one thing – playing pool.
Attempting to use this type of pool table for something else can hurt the felt or the entire table.
This might damage it to a point where you can't play anymore. If you want a table that will go to your manufactured home game home, you might consider this option.
2. Conversion
Conversion pool tables are gained popularity because of their multifunctionality.
If your manufactured home lacks room for both a dining table and pool table, a conversion table makes an excellent option.
The table comes with an optional part to convert it into a dining table or table tennis table.
3. Table Top
As the name suggests, these pool tables are placed on the top or a normal table.
They come in a myriad of sizes; therefore, making an excellent option for homeowners with small space but want to enjoy the benefits of having pool tables.
If your children are interested in playing pool, you can gift them with a table top pool table instead of allowing them to train on your table.
4. Folding
If you are looking for a pool table that you will just move around when needed, a folding pool table is an excellent option for you.
It is compact enough and allows you to enjoy playing pool without the commitment of sacrificing massive space in your home.
Homeowners lacking plenty of extra room will enjoy having this sport table because you can always fold it for storage immediately after you're done playing.
5. Bumper
These tables are for those interested in playing billiards.
They allow you to play your favorite game without changing anything about your primary pool table.
If you opt for these pool tables and are lucky to get the convertible version, it can make an exceptional poker table. They are sturdy and won't eat much space in your game room.
Ten Pool Table Shopping Considerations
When it comes to choosing a pool table, there are several things you need to keep in mind.
Since every one is a little different, knowing what you want will help make a great purchase that suits your all your need. Here are some of the factors
1. Room Size
The size of the pool table you will buy depends on the amount of space you have.
Fortunately, pool tables come in different sizes to fit in different rooms. The pool table size also depends on your experience.
Basically, it should perfectly fit in the room and allow you enough space to shoot comfortably from either side.
There are three common pool sizes, and they require different room sizes. These are the basic required room sizes for different pool tables.
bar-size
standard size
large
Bar-size Tables
They are usually 7-foot tables with 39 x 78 inches playing field and require 16 x 13-foot basis room size.
Standard Size Tables
These are eight-foot tables offering 44 x 88 playing space. You need a room measuring at least 17 x 13 feet.
Large (Professional/Tournament-size) Table
These nine-foot pool tables have 50 x 100 and require at least 17 x 14-foot room.
If you are buying a table for your kids, you might want to check mini pool tables. They vary significantly from 20 inches long to five feet. They are great and will work for people with small rooms.
2. The Players
One of the mistakes many people make when buying a pool table is overlooking the aspect of the expected audience.
For instance, the worst mistake you can make is buying a full-size table for kids.
A high-end slate pool table is ideal for professionals, while children showing interest in playing pool will enjoying playing on a standard acrylic pool table.
3. Type And Design Of The Table
It is undoubtedly that every pool table is different.
You will want to buy a high-end pool table that will skyrocket your skills.
Look for every other feature to ensure the pool table you are buying features a sturdy construction for durability.
You might need to check the legs, drop pockets, auto-return capacity, felt quality, color, eco-friendliness, and portability.
4. Slate
Basically, this is the main playing area that lies under the pool table cloth.
Ideally, the best pool table will have three-layered slates, meaning it combines three layers to form a sturdy playfield.
Although tables featuring 3-piece slates may be expensive, they are the best.
If you find them unaffordable, you can opt for a one-layered slate table.
5. Fashion taste and preferences
Pool tables come in different colors, designs, and patterns to meet the demands of every enthusiastic player.
With over ten styles and various types, you will get something that syncs with your preference.
6. Felt (pool table cloth)
A great pool table will have a table cloth glued and skewed into place.
Most come with green felt, but you can find options with blue, red, and purple sheds. The surface fabric can be made of three materials.
Polyester
These are 100 % polyester and give a great look. The downside is that they tend to wear out faster than other felts.
Woolen
The name 'felt' probably originated from the use of these surface fabric because of their fine texture.
Woolen pool table cloths are commonly used and have at least 60% wool.
They are ideal for casual pool games but make a lovely pool table.
Worsted Wool
This is the highest-quality surface fabric used in pol tables.
It doesn't pill like woolen cloth; therefore, you are guaranteed durability.
Pool tables with worsted wool are slightly expensive, but you will notice quality differences.
7. Pool Table Condition
Before buying, you need to do some work in checking the railing and cushions.
Pool table rails should be ideally crafted from hardwood, and the cushions should have canvass backing.
Rails with laminated surface should have high-pressure laminate.
8. Your Budget
The budget takes a bigger priority in any purchase.
Even with a strict budget, you can get a high-end pool table.
Keep in mind that buying a low-quality table because of a budget can lead to future regrets.
9. Warranty
After looking for all features and getting a high-quality pool table, you will want it to be backed by a solid warranty.
Ideally, a high-end pool table will be supported by a lifetime warranty.
10. The weight Your Manufactured Home Floor Can Hold
When buying sports equipment, the last thing you would want is exerting too much weight on your floor.
You must keep in mind that you are buying a pool table for your manufactured home.
Because heavy pool tables can cause the floor to sink, you should beware of how much weight your floor car withstand comfortably.
Don't buy hefty models that may cause regrets.
Four Advantages Of Owning A Pool Table
Primarily, many homeowners buy a pool table because of recreation. Having a pool table does more than elevating your very own skill. Here are some of the benefits you get from installing a pool table in your manufactured home.
1. Improving your skills
Having a pool table allows you to play any time you feel like doing so. Besides, a personal pool table permits you to explore new shots and poolish your skills without any significant disruptions. Frequent playing will perfect all your skill and give the confidence to challenge professionals.
2. Health Benefits
Playing billiards has so many health benefits that many people don't understand.
Having a pool table means regular playing, which requires coordination of senses and organs. Some of the health benefits include;
Burns calories as you make nonstop movements around the table
Sharpens focus and improves critical thinking as you find the perfect angle to bank your shots without hitting the 8-ball in and paying attention to detail.
It slows aging signs in men
Continuous playing enhances stretching and balancing
It improves hand-eye coordination.
Playing tones up muscles.
Sharpens the mind and improves cognitive skill
3. Pool table allows you to create a tighter circle of friends
Having a pool table in your abode enables you to spend more time with friends while having fun. Besides breaking the boredom, you will strengthen your friendship bonds. You can also share life experiences and other stories that will release stress.
4. Decor
It is an excellent way to decorate your home and match the entire decor in your manufactured home. Pool tables accentuate the beauty, decor, and value of your manufactured home.
Two Disadvantages Of Having A Pool Table
1. Possible addiction
It is very easy to get addicted to pool games because they are fun and highly interactive.
When you are addicted, you can easily forgo other, perhaps essential duties to play.
For this reason, it is crucial to play billiards cautiously after completing other tasks and at designated times.
2. High maintenance costs
Your pool table requires regular maintenance and cleaning to improve efficiency and increase its lifespan. This can be time-consuming.
You will incur high charges in painting it, acquiring chalk, stick, and exchanging the table.
Four Pool Table Maintenance Tips
To increase the efficiency of your manufactured home pool table, you will need to take good care of it.
Make sure to observe the following.
Keep pool tables away from direct sunlight. Try as much as possible to play indoors or under a shade if you must have fun outdoors.
Keep the felt (pool table cloth) and balls clean. Ideally, clean the cue balls after every game and vacuum the surface fabric appropriately.
Move the table cautiously. Basically, manufactured home pool tables are meant to be kept in the game room. However, if you must move it, call for help from friends.
Use chalk sparingly. Although chalk helps you make accurate shots, it can leave nasty stains on the cloth. Because you will not want to brush the table cloth often, use chalk reasonably.
The Five Best Pool Tables For Manufactured Homes
This is one of the best selling pool tables perfect for any manufactured home.
It is only six-feet long; therefore, it won't eat up much of your valuable space.
At just 110 pounds, this model is light and will not cause your manufactured home floor to sink.
Hathaway Fairmount Portable 6-ft is a perfect option if you want a portable pool table.
Although it is heavy, the Great American Monarch 8' pool table is a premium table meant to elevate your skills while providing optimal excitement.
Under its classic green felt, you will find a slate piece that ensures your cue balls move smoothly and swiftly.
It has incredible and functional features that bring a professional play to your manufactured home.
3. EastPoint Sports Masterton
If all you want to bring smart sports equipment in your manufactured home, then East Point Masterton is what should go into your game room.
With its softer cream cloth, this pool table add classic touch and elegance to your  home.
It comes with everything you need to play and weighs only 215 pounds; therefore, it won't exert unusual pressure on the floor.
This table promises the best experience once you start playing. You will find slate and slatron options, where you can choose your favorite.
Mizerak Donovan II features a modern design with a black-red style. It is sturdy and durable and comes ready to get started.
Mini Tabletop pool set makes a great gift to your children once they start showing interest in billiards. At just 6 pounds, you can carry this mini pool table anywhere and enjoy playing.
Related: Ping Pong Tables
Conclusion
We can all agree high-quality pool table is the best recreational item that offers ultimate home luxury.
With the above guide, you will be able to buy the right model to elevate your skills and have fun right from your home.