It is possible to install several overhead cabinets and run out of ideas on how to make full use of them.
If you moved into a new home and found several overhead cabinets, but you're not in a hurry to do complete remodeling, you will want to come up with ingenious ideas on how to utilize them.
But kitchen organization can be highly mind-boggling. Get anything wrong and you may end up with items falling on the counter or the oven every time you open or try to organize the wall cabinet.
So, What Should You Store In The Kitchen Cabinet Above The Stove Or Range?
There are more things to store there than you can imagine, especially if the rest of your lower cabinets are filled with pans, pots, and other cooking essentials that you need to fish out in a second without reaching your hand overhead.
8 Things To Store In The Cabinet Above The Stove
Here are some of the things you should store in your wall cabinets:
1. Food items
Food is one of the hardest things to find the right place to store especially if your home is too crammed to leave a space for the pantry. Without a pantry, you have nowhere to look but overhead.
Spices And….
It can depend on what type of food you cook often. If you are into spices, storing your bottles of spices conveniently in overhead cabinets is the best thing you can do to bring organization in your kitchen.
These spaces are generally appropriate for small packs of food, such as your weekly spaghetti supply, packs of noodles, wheat flour, etc. Large food items and mid-size sacks may be too big for these cabinets are risky in the event they fall over.
The benefit of storing food in overhead cabinets is the convenience they provide. Just reach your hand overhead and get some salt or sugar to sprinkle in your food pot on the oven immediately below them.
No Perishables
However, some types of food are a major no-no for storing in upper cabinets.
Do not put perishable foods in overhead cabinets. These kinds of foods are better stored in places with steady cool temperatures to extend their shelf life.
Remember that, if your overhead cabinets are close to the cooking area, there is a strong chance the temperature around them will vary from time to time, thus causing foods such as milk to go bad quite fast.
Therefore, foods like vegetables, open jars of pickles and jams, ketchup bottles, eggs, and all perishable food should be elsewhere away from these cabinets.
2. Glassware
If you are one of those homeowners with a huge collection of all sorts of glassware, finding the right place to keep them can be a headache.
You may have realized that wine glasses are not stored together with regular glass – there is no good reason why, they just don't look good together.
Of all cabinets in your kitchen, the type of cabinets best suited for stopping your glassware is wall cabinets.
Here are three reasons why:
First, lower cabinets are best known for storing utensils, so it would be great if you left them to play that role instead of trying to squeeze your delicate glassware down there.
Secondly, most of us like to show off our cute collection of glassware by storing them in cabinets with glass doors. Most overhead cabinets feature glass doors, so they are the best option for your glass-based items. You want to gaze at your beautiful glassware from most parts of the kitchen.
Thirdly, overheard cabinets are far from the ground, which means they are the right spot to store glass if you want them to stay away from dust.
Another reason is the ease of access – you will find it easier to simply slide the glass door aside and remove cocktail glasses for the overhead cabinet than, say, getting them from anywhere on the counter or lower cabinets.
3. Food Storage Containers
If your food supplies are safely stored in the pantry, then you should probably use some of your overhead cabinets to store food storage containers.
Most food storage containers are made from plastic or glass, and the best and convenient place to pick them is an overhead cabinet whenever you need to fill them with food.
If your cabinets are not divided into different compartments and shelves, consider adding them so that you can discriminate the containers according to the material, size, and even colors.
4. Salad Spinners, Cuttings, and Mixing Bowls
These are some of the most often used items in any functional kitchen.
They need to be stored in a place you can conveniently pick them and complete a task.
If you have some dough to knead, it would be easier to reach your hand overhead and get a mixing bowl than start turning the utensils in lower cabinets trying to find one.
5. Coffee mugs and Tea Mugs
Where else can you store mugs other than wall cabinets? They don't fit well in drawers. Lower cabinets are inconvenient especially if you want to brew a drink without bending and paining your back.
6. Cooking Oils
Instead of overcrowding your lower cabinets with your precious and healthy oils with pots and cooking pans, store them in wall cabinets instead.
It is from here that you can easily grab them out, open, and pour a waterfall in the pan to fry your eggs.
7. Cutting Board
Cutting boards are other items with no other home besides wall cabinets. If you have two or three cutting boards, there is no good reason why you should leave them lingering on the counter.
8. Packets or Tea and Coffee
Where else can you store your favorite brewing powder other than overhead cabinets?
Leave them in the basket?
Nothing beats the convenience of overhead the space on the wall if you want to brew a quick mug of coffee.
Related: What Can Stored Above The Refrigerator?
Yes, those are the things that are almost entirely stored in overhead cabinets.
Many kitchenware would look great both inside your lower cabinets and overhead cabinets, things like dishes, and some types of cookware.
But there are others that you should NEVER keep in overhead cabinets no matter what.
These items would either be difficult to extract from overhead, they pose some level of risk, or wouldn't look good while there.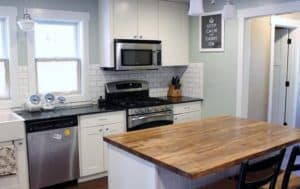 Three Things TO NEVER STORE ABOVE THE STOVE
It is recommended that you should never store these items in your upper cabinets:
1. Do not store any cleaning products
Cleaning products like detergents, soaps, sponges, and steel wool don't belong in upper cabinets. There is a good reason why organizers in grocery stores don't store these items close to food items.
Most cleaning materials, for example, contain artificial scents and chemicals that better stay in the sink and far away from your food.
You are more likely to store packets or containers of food in your overhead cabinets.
Consider storing your cleaning supplies in a basket somewhere on the corner of the kitchen to avoid cross-contamination of chemicals and odors.
2. Do not stack your utensils in overhead cabinets
Stacking hordes of utensils such as pans and pots in your wall cabinets is a big no. Utensils belong to lower cabinets, or at least that's where most of us love to keep them.
While there's no rule compelling anyone to keep utensils away from wall cabinets, it would be highly unfortunate if a sizable pot toppled over from the stack onto your head and caused life some injuries.
If elderly members of your household will be cooking occasionally, overhead cabinets would be an impractical place to stack such cookware. Also, reaching for utensils stacked in these cabinets can be an ordeal as you will need to climb on a stool to get them out.
If you want to store utensils in wall cabinets so bad because you've run out of space elsewhere, it is recommended that you install a cabinet organizer to prevent things from falling over your head.
3. Avoid keeping your cooking cutlery
Wall cabinets are installed high up on the wall.
The problem with this positioning is that it becomes difficult to reach out for small items like knives and spoons.
Things can be worse if the cabinet is cluttered with all sorts of cutlery. We all know how hard it is to organize cooking cutlery in any space.
Cutlery like spatula, spoons, whisks are often separated from each other and stored in a partitioned drawer where they can be obtained easily.
Therefore, it would be good for your sanity and safety to store them in one of your kitchen drawers, not wall cabinets.
If you must put utensils in wall cabinets because you have no drawers or have run out of space, consider buying a hook rail for spatulas and spoons.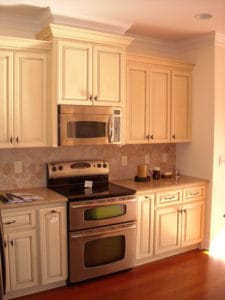 Conclusion
Wall cabinets are supposed to complement lower cabinets, but there are items that fit there in the former than the latter.
If your pantry is packed up or you don't have any, you can store your food in your overhead cabinets.
Cooking oils, mugs, and cutlery can be conveniently accessed when stored in overhead cabinets.
Of all things you can store in wall cabinets, washing products such as soaps and sponges are a no.