Are you thinking about redoing your home exterior?
There are relatively simple exterior changes that can breathe new life into a house.
Some of these extras that add character to the exterior of your home include window shutters and planter boxes.
In regard to upgrading the look of your home, you will likely contemplate the idea of adding shutters to the back of your home.
So, Is It OK To Put Shutters On The Back Of The House?
Whether or not to add shutters on the back of your home will immensely depend on personal preference.
Although many homeowners put shutters on their home's facade, adding shutters to the back of your home is perfectly fine. Shutters create a decadent look that adds cuteness and color to the back of your home. Putting shutters in place gives an excellent way to spruce up your back deck if you have one. Just make sure they are sized and mounted to appear functional, not faux stuck-on ones.
In this post, you will learn more about transforming your manufactured home, particularly using window shutters. Keep Keep reading!
Does Your House Even Need Shutters?
Windows shutters on your home's exterior look like matching bookends for windows.
They look functional and add character plus depth while presenting a cohesive fresher look.
Technically, shutters are slanted window covers.
Although shutters were originally designed for light control, ventilation, and protection against elements in a tropical environment, savvy DIYers and weekend warriors are using them to embellish their homes.
Of course, most current shutters don't perform or pretend to do any of the things they initially used to do.
Typically, shutters should be appropriately sized and mounted to appear as if they could cover the window when closed.
That said, the greatest mistake you can make is giving your home a nasty look with crazy-sized shudders.
Whether your house needs shutters will depend on a number of factors, including
your preference
budget
the width of your windows
and the look you want to achieve.
A general rule of thumb
If your windows are wider than they are tall, they won't be visually appealing with shutters. In other words, don't mount shutters on large windows. Shutters on large windows will look like skinny parentheses, which is often an eyesore.
When installing shutters on the back of your house, it is good to coordinate things a little bit by giving them the same shade as the shutters on the front of your home.
Many homeowners opt to hang black shutters, but you can buy paintable units so that you can match things perfectly.
For example, you may want to match shutters with your home's stone.
You can also tweak the color of your shutters to make them trendy.
If you are considering adding shutters, it is good to put them on the windows where they are "needed" the most.
What shutter style is right for your house?
If you have elected to put shutters on your home's exterior, one of the major decisions you will have to make is about the right style.
Ideally, shutters should match the style of your house.
The right style for your home will depend
on the region
its climate
and, of course, preference if the shutters are decorative rather than functional.
Whatever the architectural design of your home, if you're surrounded by a neighborhood oozing contemporary style or historical elegance, you may be tempted to keep up with the Joneses.
Here are the various shutter styles you can use to adorn your windows.
1. Panel shutters
Nothing gives a charming traditional look like well-crafted panel shutters.
Panel shutters are classic and are identifiable with a number of panels per shutter.
Their simple elegance adds a bold decorative look.
Functional options sync well with country-cottage homes and are ideal where snow, ice, and strong winds may damage windows.
2. Board & Batten shutters
The simplicity of these shutters makes them an ideal option for many building styles.
They are a perfect choice for homeowners looking for a rusting look.
3. Louver shutters
Featuring an overlapping arrangement of slats, louver shutters are arguably the most popular shutter style.
The louvers create a detailed design that adds a dash of elegance.
Function louver shutters provide ventilation, and if operable, they can close to keep away cold, sun, rain.
4. Bermuda shutters
These are functional shutters that open outward like awnings.
They are ideal for beach, coastal, and tropical homes because they allow a cool breeze into the house.
5. Mission-style shutters
This is the go-to style if you have a craftsman-style home.
They come in varied designs but emphasize clean lines and geometric simplicity.
Most shutter styles can be customized to fit many home styles.
Depending on the style and layout of your home, make sure to pick shutters that give the exterior of your house a flawless look.
When paired with decent planter boxes, shutters add a nice touch of personality to the unornamented back of your house.
Five Window Shutter Shopping Considerations
Window shutters have a long history gracing windows, providing privacy, and offering insulation benefits.
As window technology advanced, shutters became more decorative than functional.
If you are planning to install shutters, here are some of the things you need to consider.
1. Your budget
Before you can execute the decision to put shutters on your house, you should make sure that your budget can support the project.
If you're a savvy DIYer, you may find it cheaper to hang shutters by yourself than with the help of a contractor.
2. Material
Shutters can be designed from a vast range of materials, including
vinyl
wood
engineered wood
and powder-coated aluminum.
Most of these materials can be customized to deliver versatility and create a fashionable, stylish look.
The choice of material will depend on your budget, qualities, and style you want to achieve.
3. Size of your windows
Ideally, shutters should fit your windows; otherwise, you will have shudders.
For this reason, make sure each shutter matches the length of the window and be about one-half of the window's width.
Don't put shutters on large windows.
4. Your home's architectural styles
Your shutters of choice should match the style of your home to create a fascinating look.
5. Shutter styles
Shutters come in different styles to fit in various architectural styles.
That said, make sure to pick shutters whose style matches that of your home.
When You SHOULD NOT Use Shutters
The aim of installing window shutters is to embellish your home's exterior and "make it look real."
As in large windows, there are other times when adding shutters would create an awkward look.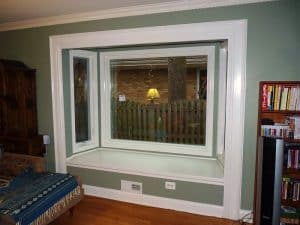 Basically, you should not use shutters when you have;
Bay windows
Picture windows
Windows with non-conventional shapes
Remember, you should always hang shutters in pairs. That said, it is perfectly ok not to have shutters on every window.
If your windows are curved on the top, you should make sure the shutters are also curved and installed the right way to appear functional.
Related: Why Does Your Home Creak When the Wind Blows?
Conclusion
Putting shutters on the exterior of your home creates a visually appealing look, especially if it is unornamented.
Interestingly, you can add shutters to any of the single windows on the facade, sides, or the back of your home.
Most importantly, make sure to hang them well, so they look functional.