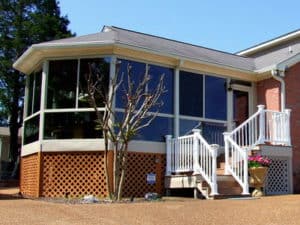 What's Even A Sunroom, To Begin With?
The space we refer to as the sunroom is also referred to by dozens of other confusing names:
"patio room"
"Florida room"
"garden conservatory"
"solarium"
"winter garden"
"enclosed porch"
"sun porch"
"three-season room"
"sun parlor"
etc.
It describes any room that lets in abundant daylight and unrestricted view of the surrounding landscape while sheltering the homeowner from adverse weather.
Although manufactured home sunrooms are mostly installed or built in such a way that they appear to be inside the home or part of the home, there exist outdoor sunrooms that can be installed/constructed to be separate from the main home.
Whether you choose to have one inside your mobile home or outside, your choices will be limited to just two options: prefab and custom-built sunrooms.
7 Factors to Consider When Shopping for A Sunroom
1. Prefab v/s Custom-Built Sunrooms
There are two types of sunrooms –
Custom
If you want your sunroom to have specific features that serve your needs, you can ask your local general contractor to design and build one for you.
Such a sunroom built by a private contractor under your instructions is said to have been custom-built.
They feature shingle roofs and stud/truss framing but the walls are usually made from glass. The walls may support full-length windows or patio doors.
Prefab
Today, however, there is increasing use of prefabricated kits in suburban areas.
Prefab sunrooms are designed and fabricated by the manufacturer off-site then transported in boxes to the buyer's home.
The easy-to-install product can be installed by the homeowner with the aid of an easy-to-follow manual, but intricate ones may require the help of the manufacturer or an affiliate contractor to assemble.
These prefab kits are often used alongside fiberglass, aluminum, glass, and steel to make sturdier and energy-efficient prefab sunrooms.
2. Location of Installation
It is important to decide the conducive location in which the sunroom will be installed (if prefabricated) or built (if custom-built).
Prefabricated sunrooms can be installed anywhere because they are not permanent. If you ever change your mind, you can easily disassemble and relocate them to the preferred location.
However, you need to be careful when choosing a location for your custom-built sunroom because there will be no room to change your mind once you get it built.
The most popular installation/building points are
porches,
decks, and
existing patios.
The location you choose to install/build the sunroom can be determined by the purpose of the sunroom.
If you plan to use the sunroom as an entertainment spot or a place to dine and cook, you would most likely place it on your porch or deck.
Those installed on the patio tend to mainly serve as a relaxation spot.
Not every type of sunroom would be perfect for just any location.
So, when shopping for one, bear in mind your needs, the purpose, and what the manufacturer or contractor recommends for the sunroom of choice.
3. Cost
The cost of a sunroom, whether prefab or custom-built, can vary quite widely depending on the type you choose, labor costs, and type of materials used.
Prefab Kits
According to Home Advisor, the cost of acquiring a prefabricated sunroom lies somewhere between $5,000 and $30,000.
This is inclusive of installation costs which are near-negligible because you can assemble the prefab product yourself. Still, it won't cost much if you choose to hire a professional to install it for you, although most manufacturers would gladly set it up for you for free or at a small fee.
Custom-Built
The cost of adding a custom-built sunroom to your home is between 8,000 and $80,000. The average cost is $30,000. Each square foot will cost something in-between $120 and $300.
If, say, you decide to build a 14' by 14' three-season sunrooms with painted walls, vinyl floor, windows, sliding doors, outlets, and lighting, you could spend about $45,000:
Flooring: $3,250
Windows: $11,250
Foundation: $3,750
Frame: $8,000
Paint: $2,000
Labor: $7,000
Utilities: $2,000
Door: $2,500
The following estimates, all based on the size of the sunroom, are reasonable. They leave room for variance as a result of site preparation, glass choice, material, seasonality needs, and wiring requirements:
80 sq. ft. (8' x 10'): $18,000
100 sq. ft. (10' x 10'): $22,500
120 sq. ft. (12' x 10'): $27,000
240 sq. ft. (12' x 20): $54,000
Cost of construction based on the type of the custom-built sunroom
Solarium Costs
This type of custom-built sunroom is completely enclosed in nothing but glass, all around it, and the roof. The frame may be made from wood or aluminum.
A means of cooling and heating needs to be included to trap most of the warm air indoors so that you don't shiver or freeze while stargazing.
The cost of building this type of custom-built sunroom is between $40,000 and $90,000.
Curved Eave sunroom cost
These sunrooms resemble a greenhouse with curved eaves. They literally bring the outdoors indoors and indoor outdoors. If you want to have an unobstructed view of the sky through glass, consider this type of sunroom.
Because the eaves come curved, they prevent the accumulation of snow and debris on the top, giving you a clear view of the sky regardless of the season. The biggest advantage is that you can sit under it and enjoy the views in all four seasons of the year, uninterrupted.
The average price of building this sunroom is between $40,000 and $80,000.
Conservatory sunroom cost
This group of sunrooms is originally designed to serve as greenhouses to grow crops before being repurposed into the current role.
You would think they are cheap because they are made from a repurposed structure, but they cost almost the same as other types because new glass panels and frames need to be used.
Some of the most commonly used materials on this type of sunroom are
glazed glass for the roof,
wood or aluminum beams, and s
ometimes walls made from polycarbonate.
All these and others may result in a cost in the region of $18,000 and $95,000.
Screen room costs
Screen rooms let you enjoy fresh air bug-free.
They are essential in areas you'd be exposed to mosquitoes, flies, and all those offending flyers and critters.
They are often built using black aluminum which guarantees maximum visibility and strength. This type of sunroom is excellent for any room, balcony, or porch.
You have the option of adding some glass panels for seasonal use.
The average cost of building one is somewhere between $5,000 and $25,000.
Integrated sunroom costs
An Integrated sunroom appears as if it was built around the same time as your home. It appears as part of the rest of your home and comes with the same styling and materials of constructions.
This type of sunroom makes heavy use of glass panels than the rest of your home. You actually can build an integrated sunroom at the same time as your home or choose to add it later with a similar style.
The cost of putting up this type of sunroom is between $12,000 and 25,000 but may depend on the overall scope of the project.
Three-season sunroom cost
This is the most popular type of sunroom in urban homes.
It is usable throughout the spring, summer, and fall. Because they are never used in the winter, very little or no insulation is used.
Some of the commonly used materials in their construction are
less energy-efficient glazed glass,
aluminum frames, and
minimal insulation.
You can use double or single-pane glass depending on your planned purpose.
To prevent the hot and cold air from affecting the rest of your home's conditioning, this sunroom is separated from the rest of the house with an insulated entry door.
There is very little difference between three-season and four-season sunrooms.
Most of the time it has something to do with the level of insulation, the three-season option being the least insulated type.
A three-season sunroom costs between 12,500 and $50,000 to build.
Four-season sunroom cost
If you wish to stay out of your home during all the four seasons, enjoying the day and night sky as well as stargazing, you might want to build this type of sunroom.
Besides being usable in all the four seasons of the year, they tend to be insect-tight.
Most of them are thermally engineered to be cooled or heated from inside, cheaply. To help in keeping energy costs to a minimum, the contractor may suggest you use aluminum or vinyl frames and double-pane windows coated with insulation.
Unlike three-season sunrooms, you don't need to separate this type of sunroom from the rest of the home with a door although there is always an option to use a patio door or French door.
Due to the need for cooling and heating elements, this is the most expensive type of sunroom to build.
An average-sized four-season sunroom costs between $25,000 and $90,000.
Ultimately, the cost will be influenced in a big part by the size of the sunroom you choose to build.
4. Reputable supplier
Sunrooms are very much like manufactured homes themselves; you need to buy from a reputable manufacturer or with a record of quality. Likewise, consider hiring a qualified contractor to build one for you if you opt for a custom-built sunroom.
Quality
Beware of sunroom makers that purchase substandard or use standard components like pieces of old wood and reused steel to build "custom-built" sunrooms.
Look for a company that maintains a team of engineers and other professionals.
Are They Local?
If possible, check whether the contractor or the supplier's products have been used locally and if they withstood the local weather conditions.
This is especially necessary if your area is prone to heavy snowing, storms, and adverse weather. Also, remember to check if the company's products are compliant with local building codes and laws.
Warranty
The supplier's warranty is as good as the supplier themselves. If the company hasn't been in the business for a reasonable number of years, you are better without warranty.
You can't be very sure they will honor the promise if they haven't been around long enough.
Any company with less than 5 years' presence in the industry may not be good for you.
Red Flag
If you are considering a custom-built sunroom and the contracting company promises to embark on your sunroom project right away, interpret it as a red flag.
It could mean the company is on a serious decline. A company with a backlog in its books will schedule a reasonable time to work on your project.
5. Value and Cost Comparisons
It would be prudent if you conducted ample research about brands and products of your interest and comparing the best models across brands.
It is always good to opt for a supplier or contractor who doesn't charge a separate fee on such trivial things as consultation and taking the measurements of the location of installation.
Comparing products made by two or more suppliers helps you decide what's best for you and can even help you opt for the cheaper option.
6. Materials of Construction
It is recommended that you understand the materials that will go into your seasonal room.
Such factors as the location of installation and the type of sunroom can influence your choice of construction material.
Vinyl
This is the most commonly used material in the production of support parts of the sunroom.
Vinyl comes with three benefits that you should put into consideration –
it is cheap,
offers just right insulation and overall strength, and
requires minimal upkeep.
Most vinyl used in the production of all-season rooms come with multiple walls or reinforcements of galvanized steel and aluminum. Vinyl is the cheapest material used in sunrooms.
Aluminum
Aluminum may not be a good insulator like vinyl, but offers superb tensile strengths.
This strength is important in complementing the steel frames (if your sunroom will come with them at all) to withstand the violence of nature like storms and heavy snow buildups.
Aluminum is also good for the aesthetics of the structure as it can boost the appearance of the structure.
It is not uncommon for manufacturers to use both aluminum and vinyl in the same parts to take advantage of the properties of these two materials.
Wood
Wood is the costliest of all materials used to make parts of sunrooms.
It probably has something to do with the cost of production and other factors because wood can be disappointing when it comes to durability. Extended periods of damp conditions can turn the toughest well-treated hardwood into a rotten mass.
However, wood is the perfect material to use when building an easy-to-assemble prefabricated sunroom. You can easily fit together the parts like pieces of a jigsaw and end up with the products you wanted.
Wood offers fairly good insulation against winter heat but doesn't perform quite as much against the winter freeze.
Periodical maintenance is necessary if you choose a product made from wood.
Glass
Large parts of the sunroom will consist of glass to give you an uninterrupted view of the sky.
Manufacturers love to use glass that has been double-sealed with silicone which reduces its vulnerability to impact-induced cracking.
When choosing glass for your sunroom, remember to look for the "tempered safety" label, it helps your structure meet building code requirements.
The best choices of glass for you would be:
Double-Glazed Glass
This is glass made for durability, glare reduction, and insulation.
It comes with a U-value ranging between 2 to 2.5. Glazing is determined by the shade which ranges from clear, bronze solar, and opal in that order.
Double-Glazed Glass Panel with Low-Emissivity Coating
Most manufacturers tend to apply a "Low-E" coating on the glass panels so that it can reflect much of the heat and UV rays into the atmosphere.
This coating can cut UV rays penetration by as much as 1.7 units, thus improving the glass' energy efficiency score.
Double-Glazed Glass Panels with Low-E Coating and Argon Filling
This type of glass comes with a thin layer of Argon gas inside to cut the V-value even further to about 1.48.
7. UL Approval
UL, or Underwriter Laboratories, are tasked by testing consumer products to determine whether they meet specific requirements.
Basically, UL safeguards the safety of the installation guys and the buyer by preventing the likelihood of accidents or malfunctions during installation and use of the product.
Unless the sunroom meets all the UL's safety standards,  you may not be permitted to go ahead with your project.
Conclusion
Manufactured home sunrooms stay "out" of your home when you feel like it without worrying about the weather or insects.
When shopping for one, consider the type you want and how much the type of your choice will cost you.
Remember to factor in the type of material of construction as well as the reputation of the supplying company.
The UL approval as well as the location of installation are equally worth bearing in your mind.