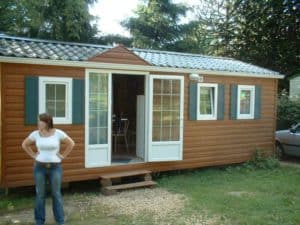 Figures from the U.S. Census Bureau show that the average price of a brand new manufactured home is $85,600. The same report also indicates that a single-wide comes with an average price of $52,900 while a double-wide averages $109,800.
A used manufactured home can range from virtually nothing, where the owner wants to simply walk away from all the costs that come with including monthly lot rent.
Because mobile homes are movable rather than fixed like site-built homes, you are expected to pay rent to the owner of the manufactured home community (if you don't own the land, that is) plus the debt owed on your home.
So, because most owners don't own the land their homes are standing on, mobile homes are considered to be personal property instead of real property. Therefore, about 85 percent of the time, manufactured homes are only financed with a personal or chattel loan.
The 5 MOST RECOMMENDABLE Home Financiers in The U.S.
Manufactured Nationwide – The Best Overall
21st Mortgage Corporation – Best option for Bad Credit
ManufacturedHome.Loan – Great for Good Credit
eLEND – Best for a Buyer on Low Down Payment
Vanderbilt Mortgage and Finance – Best for Any Manufacturer's Financing
1. Manufactured Nationwide – The Best Overall
Contact Details:
URL: https://www.manufacturednationwide.com/
Tel: (833) 237-0043
Mailing Address:
Equal Housing Lender NMLS# 147381
11030 Oakmont Street, Suite
100 Overland Park, KS 66210
Manufactured Nationwide is the best overall manufactured home lender on our because:
It lends in 50 states (basically, all over the United States).
works flawlessly with government-supported loan programs that entail mobile homes and more difficult renovation and construction programs.
It also provides a range of loan programs with highly competitive fixed rates as well as low- and no-cash-down programs.
Benefits
Buyers struggling with less-than-perfect or subpar credit are eligible
Buyers with a high debt-to-income ratio are eligible
Open 7 days a week
15-year and 30-year loan terms
You can take a one-time construction loan for mobile homes and land
Drawbacks
Low credit scores sometimes will translate into high rates
Government-backed programs tend to come with distinct purchasing limits which may vary based on your location
Your mobile home must have a fixed foundation on your own land
Does not support properties in a manufactured home park or those sitting on a leased land
Manufactured Nationwide offers loans for single-, double-, and even triple-wide mobile and modular homes.
The lender also doesn't discriminate between used and new homes.
Its government-backed lending programs like FHA, USDA, FNMA, and VA provide competitive and fixed-rate mortgages in this segment.
Better yet, this lender has programs that will lend you as little as $50,000 for your renovations projects and a maximum of$2 million for purchases.
VA loans are only accessible with a credit score of at least 620. FHA program is accessible with a much smaller credit score.
This lender's down payment requirements are friendlier – they range from almost zero for USDA and VA and USDA to little money for their FHA program.
Most loan programs at Manufactured Nationwide allows up to 43 percent debt-to-income ratio and a normal interest rate of 4.0 percent. The duration of the loan is either 15 or 30 yrs.
Depending on the number and gravity of issues that come up during the duration, a loan can remain in the underwriting position anywhere from 2 to 6 weeks, and the whole loan process takes between 30 and 60 days from the time of application to closure.
2. ManufacturedHome.Loan – Great for Good Credit
Contact Details:
URL: https://www.manufacturedhome.loan/
Tel: (800) 332-4313
Mailing Address:
16 Technology Dr. Suite 206
Irvine CA 92618
MLS LIC. #1888652
MHL (ManufacturedHome.Loan) is the best lender for those borrowers who want a manufactured home so bad and have good credit. MHL's insistence on good credit is probably why their mortgage rates are so competitive. They also have a strong and reliable online platform for any highly qualified borrower.
Benefits
Offers strong mortgage deals for applicants that meet income/credit standards
Has robust programs for first-time homebuyers
Can finance homes located in mobile home parks
Can finance mobile being used as vacation homes
Drawbacks
Rates are not published
Customer service seems to ring to just one person
The most efficient route to getting pre-qualified is via an online form
MHL began in Irvine, California, and is licensed to operate countrywide as a mortgage broker. So, as a broker in close association with hundreds of private equity lenders and financial institutions, the company can easily shop around for the best terms and lowest rates for you.
For that reason, MHL is the best firm for any borrower with a good credit score because it will save them a lot of time and do all the shopping on their behalf for the best deals and most competitive rates in the county.
It's mentioning that MHL can happily finance both used and new mobile homes for refinancing and purchase.
While most manufactured home lenders will just lend to a borrower for the borrower's primary residence only, and even then, just the same thing if you also hold the title to the land, even with good credit over 700, MHL can look at it on a case-to-case basis and expand your options.
The borrower could buy a manufactured home located in a park or finance a vacation mobile home.
While MHL is just the right option the borrower with a good credit score over 700 could choose because of the flexibility and variety of options, it also supports government-backed programs which permit credit scores somewhere in the region of 600, such as FHA and VA.
The lowest loan value is normally $75,000 while the highest you could get is $2 million for their jumbo loan plan. The down payment can vary depending on the loan facility as well as your credit score and income. If you qualify for this broker's FHA or VA loan, your down payment might end up to be 3 to 0 percent, respectively.
Pre-qualification for the loan can take about 24 hours. Once you've selected a home, the process of underwriting can take about 2 weeks for a typical loan to 6 weeks for a government-backed program.
;
3. 21st Mortgage Corporation: Best for Bad Credit
Contact Details:
URL: https://www.21stmortgage.com/
Tel: +1 865-292-2120
Mailing Address: 620 Market St, Knoxville, TN 37902, United States
The best thing about 21st Mortgage Corporation is that it can qualify virtually all credit scores required in most states across the country. That's why we listed this company as the best-manufactured home lender for any homebuyer with not-so-good credit scores.
Benefits
Available in most parts of the United States
One of a fistful of lenders in the U.S. to finance used manufactured homes, even though used mobile homes depreciate faster than site-built homes
No prepayment penalties
"Innovative loan programs" (as they claim) allow homebuyers to make their down payments using land equity, cash, or trade
You don't need to meet any minimum credit scores
Closing fees and costs can be financed—also, "zero money down" loans are available for any primary residence
Drawbacks
If you live in AK, MA, HI, and RI, you won't access this lender's services because they don't have a presence in those states
Properties that share a well won't qualify for financing; the well must be situated on the property pledged as collateral
If you are purchasing the home for a third-party owner, the property purchase needs to start with at least a 20 percent down payment.
No pre-approval process for loans
Property not to close to a paved road will require a bigger down payment or a low loan-to-value ratio
Founded in Knoxville, Tennessee, 21st Mortgage Corporation has been in the business since 1995 and now boasts over 800 employees.
It was acquired in 2003 and became Clayton Homes' subsidiary.
It lends to homeowners in 46 states and Washington, D.C.
It is the perfect option for any borrower who wants a manufactured home so bad but they are saddled down by bad credit – the company has no minimum credit score and can finance mobile homes located in a park.
21st Mortgage Corporation gives innovative fixed-rate loans for manufactured homes. Also, it can finance mobile homes on leased land in a community or mobile home park, both on non-permanent and permanent home foundations.
The borrower is allowed to choose from a variety of financing options for both pre-owned and new manufactured homes with $21,980 (minimum loan amount) for individual-to-individual lending and $13,737 on a property purchased via a retailer.
This company requires your debt-to-earnings ratio to be below 43 percent to qualify for any loan facility without having additional documentation or co-signer.
21st Mortgage Corporations interest rates are quite high—between 6 percent and 12 percent, almost twice the national average— that's because its average client has lower credit scores and income levels.
Interestingly, this lender has no minimum credit score. Down payment requirements will range from 0 to 35 percent on all involved property purchases. This means that if your credit score is below 570, that will need a 35 percent down payment, but can be a combo of trade-in, land equity, or cash.
Mortgage loan facilities can be easily accessed, applied for, and finalized online and the entire process can take about 4 to 6 weeks for a home-only loan and 6 to 8 weeks for a loan that involves land.
4. eLEND: Best for Low Down Payment
Contact Details:
Tel: (866) 470-6995 / (800) 634-8616
Mailing Address:
AFR / Loan Care
P.O. Box 60509
City of Industry, CA 91716-0509
There are two major reasons why you should borrow from eLEND: they have 100 percent financing through their VA and USDA loan programs and, secondly, they offer a DPA (Down Payment Assistance) program equal to 2 percent or 3.5 percent of the buying price to a diverse range of borrowers.
Benefits
Low mortgage rates
Low down payment requirements, up to 100 percent financing available
Their online portal is highly convenient
Mortgage insurance is included
Drawbacks
Geographic restrictions may be placed on some programs.
Not-so-encouraging customer service reviews
This lender makes it to our list as the best manufactured home financier for low and affordable down payments largely because of its heavy emphasis on government-backed loans that often come with 0 to 3.5 percent down payments. Also, its DPA program further supplements the burden of down payments for its borrowers.
It's worth mentioning that eLEND operates under American Financial Resources, a company with vast experience in the mortgage industry. It was set up to offer affordable home financing solutions to first-time homebuyers and existing homeowners looking for friendlier mortgage plans.
The lender offers VA, FHA, USDA, adjustable-rate loans, and conventional fixed loans. If the borrower is found to qualify for any of the available government-backed programs, the borrower's down payment will range from 0 to 3.5 percent.
If the borrower qualifies for the DPA program, they can lower the borrower's down payment expense further down. The DPA permits you to use the gifted funds for your down payment.
Better yet, community service professionals, such as military officers, police officers, firefighter, teachers, or EMT, or you are a member of the staff in a medical firm or the U.S. military, and you're buying a home for the first time, you can be eligible for the DPA.
5. Vanderbilt Mortgage & Finance, Inc.
Contact Details:
URL: https://www.vmf.com/
Tel: 1-866-701-0467
Mailing Address:
Attn: Customer Service
Vanderbilt Mortgage and Finance, Inc.
PO Box 9800
Maryville, TN 37802
This lender is in association with Clayton Homes, Inc. one of the leading manufactured home builders in the United States, giving them a huge market share to offer great rates in mobile home financing.
Benefits
40 years of worth of experience in mobile home financing
Bi-weekly and conventional options
Simple and convenient online application process
Drawbacks
Limited information available on their website
Difficult to contact
Vanderbilt Mortgage & Finance, Inc., is part of Berkshire Hathaway Company, one of the leading insurers in the United States. It is also a partner of Clayton Home's financing companies.
This lender's integration and partnership with Clayton Homes makes it our top recommendation to borrowers looking for a financier with a close relationship with some of the industry's renowned brands – Berkshire Hathaway and Clayton Homes.
Vanderbilt places focus on the mobile housing sector, giving loans for both used and new modular homes. The lender has serviced an excess of 200,000 loans in the last 40 years it has been in the industry.
The company offers both adjustable and fixed-rate mortgages in diverse amounts.
Five Alternative Mobile Home Financiers in The U.S.
1. American Mobile Home Finance
Location: Norristown, Pennsylvania, United States
Mailing Address:
1020 Windy Hill Road
Norristown, PA 19403
Tel: (610) 631-1600
Fax: (610) 631-1300
Email: N/A
2. NLC Loans
Location: Columbus, Ohio
Mailing Address:
NLC Loans instead of True Name Nations Lending Corporation
4 Summit Park Drive, Suite 200
Independence, OH 44131
Tel: 977-480-8050 / +1 855-485-7928
Fax: N/A
Email: info@nlcloans.com
3. First National Bank
Location: Pittsburgh, Pennsylvania
Mailing Address:
One North Shore Center – Pittsburgh, PA 15212
URL: https://www.fnb-online.com/
Tel: 1-833-BANK-FNB (1-833-226-5362)/1-800-555-5455
Fax: N/A
Email: N/A
4. CREFCOA – Mobile Home Park Loans
Location: Jacksonville, Florida
Mailing Address:
CREFCOA 841 Prudential Drive
12th Floor #1294
Jacksonville, FL 32207
Tel: 1-844-359-6413 / 1-561-335-1451
Fax: N/A
Email: N/A
5. Riverbank Finance
Location: Grand Rapids, Michigan
Mailing Address:
3205 EAGLECREST DR NE # 206
Grand Rapids, MI 49525
Tel: 800-555-2098
Fax: 888-399-6488
Email: info@riverbankfinance.com
Top 5 Mobile Home Financiers in Canada
1. CUA Bank
Location: Halifax, Nova Scotia, Canada
Mailing Address:
CUA
7105 Chebucto Road, Suite 350
Halifax, NS
B3L 4W8
Tel: 902-492-6500 / 1-800-474-4282
Fax: N/A
Email: info@cua.com
2. RICHARDS MORTGAGE GROUP
Location: Cochrane, Alberta, Canada
Mailing Address:
73 Riverview Circle
Cochrane AB T4C1K3
URL: https://bit.ly/37i8U4M
Tel: 1-888-540-1715 / 587-774-6290
Fax: 587-315-6117
Email: N/A
3. ALTRUA FINANCIAL
Location: Kircherner / Waterloo, Canada
Mailing Address: N/A
Tel: 1-877-248-9210
Fax: N/A
Email: N/A
4. BHM Financial Group
Location: Montreal, Canada
Mailing Address:
1090 Avenue Pratt
Montreal, QC H2V 2V2, Canada
Tel: 1-877-787-1682
Fax: 1-866-591-8252 / 1(800)472-6842
Email: N/A
5. ScotiaBank
Location: Toronto, Ontario, Canada
Mailing Address:
44 King St West
Toronto ON
M5H 1H1
Tel: 1-888-444-9240
Fax: N/A
Email: N/A

Top 5 Mobile Home Financiers in the UK
1. Coventry Building Society
Location: Headington, Oxford, United Kingdom
Mailing Address:
Economic House, PO Box 9
High Street, Coventry CV1 5QN
Tel: 0800 121 8899 / 01865 765747.
Fax: N/A
Email: N/A
2. Nationwide Building Society
Location: Swindon, United Kingdom
Mailing Address:
Nationwide Building Society
Nationwide House
Pipers Way
Swindon SN38 1NW
GPS/Geographical Post Code Only: SN3 1TA
Tel: 0800-0510-154 / 03457 30 20 11
Fax: N/A
Email: N/A
3. LLOYDS BANKS
Location: Gresham Street, London, United Kingdom
Mailing Address:
Lloyds Bank Plc. Registered office
25 Gresham Street, London EC2V 7HN
Tel: 0345 602 1997 / +44 1733 347 007
Fax: N/A
Email: N/A
4. Santander UK
Location: London, United Kingdom
Mailing Address:
Santander UK plc.
Registered Office: 2 Triton Square
Regent's Place, London, NW1 3AN, United Kingdom.
Tel: 0800-9123-123 / 0800-085-1580
Fax: N/A
Email: N/A
5. HALIFAX
Location: Leeds, United Kingdom
Mailing Address:
Halifax, PO Box 548, Leeds, LS1 1WU
Tel: 0345 850 3705
Fax: N/A
Email: N/A