Figures indicate that manufactured homes are the second most popular option for Arizonians  (at 13 percent, 302,575 units of 2.1 million homes). 1-unit style homes are the most popular option (at 56.8 percent, 1.2 million units of 2.1 million homes).
The cost of acquiring a manufactured home in the state is between $65,000 and $70,000.
A significant number of manufactured homes here are located in mobile parks. However, it's not uncommon to come across private compounds with manufactured homes in the suburbs of the Grand Canyon State and Tucson. In fact, Tucson has a larger concentration of manufactured homes than any other part of the state.
There are plenty of other reasons to buy a manufactured home in Arizona besides the fact that they are relatively cheap there. But what are the real advantages of settling in Arizona in a manufactured home than any other type of housing?
The Pros Of Arizona Manufactured Home Living
Explore widely as you wish
Arizona is an exciting place to live with attractions like the Grand Canyon National Park, Sedona Cathedral Rock, the desert spas and golf fields of Phoenix, Monument Valley.
It only makes sense to own a home that you can move from one interesting place to another. Think of buying a manufactured home in Tucson at the start of the year and ending up on a vacation in the Petrified Forest National Park at the turn of another year – that's thrilling.
Custom build for less
We are all familiar with the hot climate of Arizona. Also, we often don't have a lot of ideas about how to handle the cold weather, but we are familiar with tons of ways of switching our homes around during the hot weather. Would you like to add a patio where you'd bask on the sun as long as you wish? Would you like an open-air living room that would take maximum advantage of the heat? You can customize such aspects as floor plan quite easily with a manufactured home.
Enjoy luxury
While $300,000 may buy you a starter site-built home anywhere in Arizona, the same amount of money will get you a luxurious manufactured house. And since the base price is often low, you can add some upgrades to your manufactured home and end up with a better and cheap living space than a traditional home. It is also easier to add such things as a fireplace, a soaking tub, and granite on a manufactured house than a traditional house.
Energy efficiency and safety
Manufactured homes are made in a controlled environment, which means it's easier to ensure quality. In 1976, HUD outlined a set of standards guiding the design, manufacture, construction, and performance of the manufactured house. These strict standards meant manufactured homes would be energy efficient and safe.
Besides, manufactured homes are subjected to continuous inspection before rolling from the assembly line. After leaving the factory, the manufactured homes are made to pass through the same stringent building and safety standards as site-built houses.
Additionally, there are several federal laws that require the home to have such safety features as escape windows, a limit on the amount and type of combustible materials on the house.
Modern manufactured homes are more energy-efficient than their pioneers because of today's requirements on such systems as HVAC, electricals, and plumbing.
One assumption many home buyers make is, because the home is cheap, it's somehow of inferior quality compared to a site-built house – that's not entirely true.
On the contrary, the low cost of manufactured homes has something to do with the time-and-cost-efficient building methods. Still, energy efficiency and safety standards are on-par with traditional homes.
Affordability of the home
Perhaps the most enticing aspect of manufactured homes is their acquisition price. Because they are made by cheap means of production and assembled masses in a factory, they come with an affordable price tag compared to most site-built homes in Arizona.
The cost of an average manufactured home in Arizona is $65-$85per-square-foot – that's about $135,000 for a 1,800 square-foot home.
An average site-built home in the state costs about $320,000. The cost of an average manufactured home in the United States is $225,700.
So, manufactured homes in Arizona are not only affordable within the state but are also cheaper compared to the national average.
Simple living
If you are not a fan of opulent living (even if you can afford it) or you just wish to retire to a quiet neighborhood somewhere in Tucson and lead a simple life, a manufactured home would be the best option for you.
"Less is more" is a relatively common attitude, and has been scientifically proven  to improve the health and mental well-being of folks. Increasing evidence continues to show that people who put environmental sustainability over income and material consumption tend to live happier and longer lives.
And since your manufactured home will be remarkably smaller compared to your old site-built home, you won't need to worry about maintenance cost.
Low maintenance cost
Yes. Your manufactured home is small, meaning you have less space to maintain and care for (we mean less landscaping, indoor maintenance, gardening, etc.)
Furthermore, because it is made almost entirely from factory-made and assembled material, it is easy and cheap to replace a damaged part – it is also faster to do.
What does this mean? Well, you've just saved yourself a lot of time and money that you could use to explore Arizona.
Environmental conservation
If you are hoping to save money on utilities while benefiting the environment at the same time, buying a manufactured home would be a smart investment. Compared to site-built homes, manufactured homes produce about 90% percent waste. Their general impact on the environment is remarkably low as well.
Because the material used to make manufactured homes are produced in the factory and simply assembled at the final site, their transport doesn't harm the environment as much as site-built homes do.
Arizona Manufactured Home Communities
You are more likely to live in a manufactured home community with other mobile homeowners than on an isolated estate. Most mobile homeowners prefer living in mobile home parks to staying on their own private land.
There are plenty of these communities in Arizona, here are a few:
1) Palm Gardens
2929 E Main St
Mesa, AZ 85213
2) Glendale Cascade Manufactured Homes
5747 West Missouri Avenue
Glendale, Arizona 85301
(833)-818-2984
3) Manufactured Housing Communities of Arizona
2158 N Gilbert Rd #116
Mesa, AZ 85203
Phone: (480) 345-4202
4) Sunrise Heights
17801 N 16th St
Phoenix, AZ 85022
(800) 274-7314
5) PARADISE SHADOWS MHP
2701 E. Utopia Road
Phoenix, AZ 85050
602-971-5175
6) Carefree Manor
19602 North 32nd Street
Phoenix, AZ 85050
(855) 594-0078
7) The Highlands at Brentwood
120 North Val Vista Drive
Mesa, AZ 85213
(855) 573-1116
Living in a community is great for social interactions as lend-lease communities provide fitness amenities, caring neighbors, group activities, social clubs, and plenty of other things.
Readymade home (you move in instantly)
The make-up components of your home can be fit together like Jigsaw pieces. As a result, the process of assembling your manufactured home may take about a day or less depending on the dedication of your dealer. Regardless of the kind of dealer, it will take you a shorter time to move in compared to a site-built home.
Less competition and price fluctuation
One of the biggest problems with site-built homes is their erratic prices – it is not uncommon to find yourself living in a home whose rent you can't afford any more in a matter of just a few years. Again, the prices of site-built homes tend to swing quite wildly, especially when there is a sudden influx of high-income buyers into the community.
If you consider the high competition in real estate, it only makes sense to buy a manufactured home as there is less competition in the segment.
Soaring demand for affordable homes
We are in hard economic times – the COVID-19 pandemic just drove over 50 million Americans out of work. This, and the fact that housing costs are always climbing, should mean a lot to you as an investor. How about investing in more manufactured homes to provide people with an affordable space to live?
An average one-bedroom apartment in Tucson costs around $1,050. A manufactured home in the same city costs about $564 (rent).
If you invest in manufactured home communities, you are likely to get hordes of tents. Investing in areas of Arizona where salaries are lower can even be great as well.
Availability of manufactured home financing options
Well, most banks would think twice when asked to provide a mortgage for a mobile home (they look at mobile homes as personal property, not real estate). The good news is that there are other lenders who would be more than willing to help you acquire your dream mobile home.
Even more exciting is the fact that Arizona has plenty of such lenders. Some of these lenders have a presence in other states, meaning you can procure a mobile home in Phoenix from places as far as California & New York. Here is a list of some of the recognizable mobile home lenders in Arizona.
The Cons Of Arizona Manufactured Home Living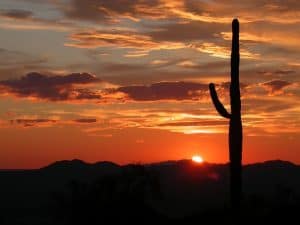 Compete for space
If you choose to have it manufactured in big cities like Phoenix and Tucson, space will be a real challenge. Spacious parks are a bit difficult to find and those that are already available tend to charge quite exorbitantly.
And because these cities, like most other cities, tend to experience an influx of real estate developers trying to speculate on future land values. Also, when the demand for mobile homes increases (as now), space in parks becomes scarce and that could only increase rents.
Depreciation
This must be the biggest flaw of manufactured homes in general regardless of location – unlike site-built homes whose value almost always appreciate, manufactured homes always depreciate. So, if you are hoping to invest in a home and sell later at a high price, a manufactured home isn't particularly an attractive option.
Cheap may not mean Affordable
Purchasing a manufactured home will create the need to buy a place to put it. If you are not into mobile home parks, you will need to purchase a separate land (acquiring land in Phoenix or any other city isn't cheap, you know).
And what would be the point in buying the land and the house separately? Still, it doesn't make sense to own a house and still pay rent in a mobile home park – it just gets costlier in the long run.
The repair rate on site-built houses is low compared to manufactured homes. That's partly because site-built homes are permanent while the latter are assembled and disabled from time to time. In the long run, you may end up spending more money on repairing your manufactured home than you would have had with a site-built property.
Cookie-cutter concerns
While you can make changes to your manufactured home quite easily and even tweak it to fit your finest likings, your choices will be limited. Just because they have been mass-produced doesn't mean you can change the layout or design. However, you will be permitted to choose from more than one-floor plans, but your options end there.
The choice of the floor plan will affect the whole of the interior of your manufactured house because they always come in rectangular sizes. The rectangular size also means everything must fit within the outer dimensions of the home.
Single-wide homes will typically measure 90 ft long and 18 ft wide while double-wide will be 90 ft long and 20 ft wide.
If you want extra space, you'll have to buy a triple-wide home which consists of three separate pieces (sometimes more) that must be assembled together.
Apparently, manufactured homes are the best option for you if you are looking for a fully customized and unique home.
Related: Should You Live Near A Golf Course?
Six Things to consider when buying a manufactured home in Arizona
1. Understand the different options on offer
You will encounter two types of manufactured homes in Arizona:
single-wide houses and
double-wide houses.
A single wide manufactured home typically measures 10-16 feet x 49-90 feet (600 – 1,300 square feet).
Double wides, on another hand, measures about 20-32 feet x 42 – 90 feet (1,00 – 2,000 square feet).
As you can tell from these measurements, a double-wide could be twice the size of a single-wide or slightly more depending on your vendor.
Also, note that a single wide house will be remarkably narrow inside. Instead of having hallways as separations between rooms, you will have your rooms connected by close back-to-back plywood or walls.
Double wides almost always come with wider insides complete with hallways.
2. New or used
It would be great if you bought a new manufactured, but used homes are not in short supply in Tucson – you could save some good money by opting for a used home.
Also, bear in mind that manufactured homes, unlike traditional homes, tend to depreciate in value with time.
While good maintenance may go a long way to keep the value high, it only gets costlier to maintain and less valuable in the long run.
3. Land or without land
The location of the manufactured home will influence its price. There are always two options: mobile home park or private land.
In Arizona, just like any other state, requires owners of manufactured homes in mobile home parks to pay rent. Tons of other charges come knocking as well, like those levied on garbage collection, park amenities, and gardening. Park rent in Arizona is somewhere between $300 and $700. You might be asked to go through credit and background checks.
4. Financing your manufactured home
Lenders treat manufactured homes as personal property, not real estate. Whether you own the land or not can have an influence on the available financing options. If you own the land on which the manufactured home sits, you may qualify for a conventional mortgage. Most conventional lenders in Arizona won't approve you for a mortgage if you don't own the land.
5. Titling your manufactured home
Just like any other state, Arizona requires manufactured homes to be titled via the state's Department of Transportation. And if your home consists of multiple sections, you'll need to title them separately.
However, the state's regulations require you to only file one Affidavit of Affixture within the county of residence if you own the land on which your home sits.
The best part is that, if you choose to buy the home from an approved dealer, you'll be spared from the hassle as the dealer will handle much of the daunting paperwork.
But if you choose to purchase with the assistance of a realtor, he/she and the escrow officer will complete the whole process for you.
6. Buying information
You would collect every bit of information about a certain car before buying it. The same applies to manufactured homes – consider conducting sufficient research before buying one. Arizona's manufactured home industry  runs a special website where you can get almost every kind of detail you need. Are you planning to purchase a used manufactured home? Be sure to stop by the realter  for any help.
Conclusion
Arizona is one of the best places to own a manufactured home: scenic areas to hop between, an array of financing options, and the fact that mobile homes are the second most popular option for residents.
The main pros of manufactured homes are their low acquisition prices, energy efficiency and safety, and simple living. However, they aren't the best investment if you are hoping for long term returns (as you would with proper real estate).