There are several reasons why you may want to leave your dishwasher running overnight or unattended during the day.
During "peak" hours, often from 8 a.m. to about midnight, utility companies in some areas charge more money than during regular off-peak hours.
With that said, by leaving the dishwasher running during the off-peak period, you'll be saving a lot of money over time.
As such, rather than pile up all the dirty utensils into the dishwasher in the morning after breakfast and turn it on almost immediately, it would be a good idea to wait until your local off-peak hours – normally from midnight – to use your dishwasher.
This way, your dishwasher will conveniently wash the dishes while you are in bed and still slash off a few dollars from your utility bills.
This is one of the many reasons why you may want to leave the dishwasher running overnight, but you still can opt to leave it running in the morning on your way to work too so that you can return to clean dishes for dinner.
So, Is It Safe To Leave The Dishwasher On Overnight And Unattended?
Generally, no. But there are a few special situations where it would be perfectly safe to let the dishwasher run unchecked and with nobody around.
Truth is, just like an oven, a dishwasher demands a significant amount of electricity to generate heat used to dry your dishes once they've been cleaned. In this light, a dishwasher doesn't sound like a device you'd leave unattended for a long time unless you are very sure about a few things. There are more risks involved than benefits. Dishwashers do overheat, catch fire, and even start home fires that often end up destroying a lot of property.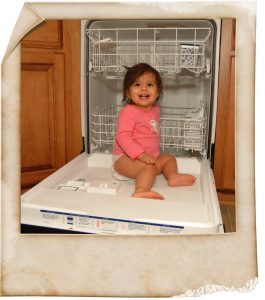 One Reason To NEVER Leave The Dishwasher Unattended, Whether Overnight Or Daytime
Risk of fire
There's always a potential risk when running any appliance while there is no alert/awake member of the household present.
In cases involving a dishwasher, the chances of a fire outbreak are small but existent.
Not long ago, General Electric recalled over a million of their own dishwashers due to fire hazards as the switch was prone to shorting.
Their machines would catch fire after extended periods of operation. Those who left their machines to run unattended for a long time were worse affected by fire accidents.
A few years after the General Electric incident, BOSCH and Whirlpool also recalled some of their models for the same reason. All these incidences just show how easily a dishwasher may set your kitchen on fire.
Dishwashers are perfectly safe appliances.
Most of the time, the main source of problems is the heating element. In the dead of the night when you are asleep or when you are not around, the heating element may overheat beyond control especially if the dishwasher is not equipped with the auto-turnoff feature.
The heating element can get incredibly hot if you didn't get the temperature settings right. Things can get even worse if you have plastic utensils in it.
We all know what happens when you expose plastic to great heat: the dishes will melt and catch fire, spreading the flames to the rest of the appliance.
YES, You Can Leave Your Dishwasher Overnight Or Unattended If It Came With These THREE Features:
1. It came with a functioning Auto-Turn Off feature
Most dishwashers today come with the automatic switch-off feature.
To save energy, your dishwasher will automatically switch off after 1 minute or 120 minutes (in some BOSCH models) after the end of the program. Note that this feature is only present in some specific models even from the same brand.
If your dishwasher has this feature, you have no reason to worry about leaving it unattended for extended periods. You can count on it to turn itself off after the conclusion of the set cycle.
However, the auto-turnoff feature doesn't help abate every other danger the dishwasher may pose. This feature can only eliminate heat and electricity-related dangers.
Other risks such as those pertaining to water leakage will still stand.
But that's a lesser concern because it won't threaten your safety or your property seriously enough compared to a fire outbreak.
If asked to choose between the concerns of waking up to a flooded kitchen caused by a leaky dishwasher and that of waking up to a sink full of dirty utensils from the previous day you'd definitely choose the former.
To reduce the likelihood of flooding your kitchen with water from a malfunctioning dishwasher, just leave the machine in an air-dry option mode.
This mode is perfect for both plastic items and metallic dishes, so you don't need to discriminate between them.
There is also plenty of residual heat in the machine if you choose the hot water setting to dry just anything, and if your utensils are all-metallic go ahead and choose the dry option.
It is going to have a lot of time to do that cleaning and cool off the whole night.
Just as a precaution, start by checking for leaks – you can do this periodically once every several weeks or more frequently depending on the age and health of your dishwasher.
You know you should be able to shut off all water supply pipes and valves so just do it.
2. It can automatically open the door to dry your dishes
A typical dishwasher will embark on drying the dishes at the end of the cleaning cycle.
The drying cycle can occur with the door closed or open.
Most of the older products don't open their doors during this cycle, so you need to be there to open it to ensure the heat doesn't smother your plastic dishes and even end up starting a fire.
Some newer models will automatically open their doors a few inches wide during this drying cycle so that the excess steam can escape and speed up the process.
Related: Can You Run the Dishwasher and Garbage Disposal at The Same Time?
Read the manufacturer's manual to see if your device came with this kind of door.
3. It can stop mid-cycle in case of a major malfunction
Check if your machine can stop mid-cycle in event of an internal issue. Some models are designed to shut down immediately when a malfunction is detected.
It can be a result of a problematic heating element, shorting, a door that won't close or open properly, or a leaky duct.
In other products, a faulty vent fan is all it may take for the dishwasher to terminate all operations mid-cycle.
This feature can be helpful to prevent a problem from getting out of hand when you are not around.
Note that this feature is different from the aforementioned auto-shutoff function which will only shut down the appliance after the completion of the cycle.
Related: Is It Safe to Leave Your Oven On When You're Not Home?
In a nutshell
Is it safe to leave the dishwasher on overnight and unattended?
Most brands discourage users from letting their dishwashers run all by themselves. So, generally, no – only run the machine when you are there to supervise the whole process.
There's always a potential risk when running any appliance while there is no alert/awake member of the household present
In cases involving a dishwasher, the chances of a fire outbreak are small but existent
Often, the main source of problems is the heating element.
In night when you are asleep or when you are not around, the heating element may overheat beyond control especially if the dishwasher is not equipped with the auto-turnoff feature.
The heating element can get incredibly hot if you didn't get the temperature settings right
Things can get even worse if you have plastic utensils in it – the plastic dishes may melt and catch fire, spreading the flames to the rest of the appliance
YES, you can leave your dishwasher overnight or unattended if in certain situations
If your dishwasher came with a functioning Auto-Turn Off feature, you are good to leave it unattended
To save energy, your dishwasher will automatically switch off after 1 minute or 120 minutes (in some BOSCH models) after the end of the program
However, the auto-turnoff feature doesn't help abate every other danger the dishwasher may pose
The auto-turnoff feature can only eliminate heat and electricity-related dangers. Other risks such as those pertaining to water leakage will still stand
To reduce the likelihood of flooding your kitchen with water from a malfunctioning dishwasher, just leave the machine in an air-dry option mode
This mode is perfect for both plastic items and metallic dishes, so you don't need to discriminate between them
If the dishwasher can automatically open the door to dry your dishes, then maybe it can be left to run without your supervision
Some newer models will automatically open their doors a few inches wide during this drying cycle so that the excess steam can escape and speed up the process
Read the manufacturer's manual to see if your device came with this kind of door
If the dishwasher can stop mid-cycle in case of a major malfunction, it can be left to run on its own in your absence
Some models are designed to shut down immediately a malfunction is detected, and this can help prevent accidents when you are not