Many mobile homeowners opt for mobile home parks instead of owning land.
These establishments are more affordable and give you access to amenities (swimming pools, entertainment centers, etc.) that could have been otherwise inaccessible.
Of course, you will live close to so many other mobile owners and this can be a drawback for some people.
So, What Are the Pros and Cons of Living in A Manufactured Home Community?
There are many. Firstly, these parks are normally built to offer a controlled living environment. This makes it easy for the proprietors to uphold certain standards for the occupants. Also, most of these communities are family-oriented and can be the right place to take your family to live if you don't have another option. On the flip side, they aren't the most private establishments you'd want to live in.
Let's dig deeper:
The Twelve Pros of Living in A Manufactured Home Community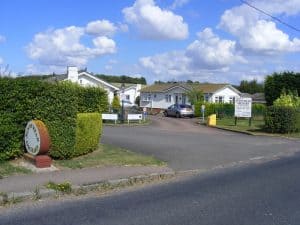 1. Affordability – it'll certainly save you some money
The tenant in the mobile home park gets to enjoy the benefits that come with the community without the need to pay property tax, paying for utilities, or maintaining the land.
While price varies widely based on the location, purchasing a mobile home can take anything between $30,000 and $70,000 – and that's for standard selections.
Lot rent can be about $200 – $300 a month in most parts of the U.S. Most mid-range tiny houses come with an average price tag of $20,000 – $40,000.
If you are a newlywed couple just getting started, a young professional investing in your career, a retiree, or anyone looking to downsize their lifestyle, the savings that come with mobile home park living are too good to ignore.
2. Serene and peaceful living environment
A big part of mobile home communities restricts certain age groups.
Some of them won't admit anyone below 55 years.
If you are a retiree and would like a peaceful place to stay, a mobile home park can be the best option for you as age restrictions reduce disturbances.
Also, you get to interact mostly with your age mates.
3. Family-friendly living environment
Some of these parks were designed with family in mind.
They feature family-oriented amenities especially those aimed at ensuring that children have enough space and a hazard-free playing environment.
Another benefit is that your son's or daughter's friend is more likely to be just a door or two next to your home.
Childhood memories made here can last a lifetime.
Well-run parks ensure safety for families by establishing safety protocols and proper background checks.
4. Low cost of living
The park's management will shoulder all the costs related to the daily running of the community in exchange for a reasonable rent. T
hey will pay for water, sewage, and garbage disposal all of which reduces the cost of living for families.
5. Neighbors are never too close
Compared to living in an apartment where your neighbor can be as close as the ceiling, homes in these are placed a healthy distance apart.
This way, you don't have to put with noise and other annoyances from the neighbors.
6. Small Yards
Every home is normally allocated a yard either in front or at the back of the home.
These yards are small, easy to maintain and still offer endless potential.
7. Convenient location
Mobile home parks are seldom built in the middle of nowhere.
Often, they are conveniently situated, sometimes close to a town, major sporting facilities, and sometimes providing a view of a scenic mountain range, lake, or pond filled with jovial ducks.
Buying land close to such items can be costly.
8. Pets are allowed (most of the time)
Most mobile home parks allow tenants to keep many types of pets albeit with a few rules to observe.
9. Homeownership perks
Unlike living in an apartment, you are free to upgrade, paint, and even remodel your home any time you please.
The management of these parks normally doesn't pay a lot of attention to how your home is run – you just need to keep high sanitary standards.
10. Population restrictions
Besides age restrictions, most parks will only permit a certain number of tenants. The management would never allow overcrowding to a point of straining the community amenities.
11. Access to all perks of community living including social amenities
It is standard for mobile home communities to provide such things as pools, regularly scheduled events, and fitness centers.
12. Minimal living
Mobile homes themselves allow the owner to lead minimal lives.
Mobile home parks boost this by ensuring you have your home occupies just a tiny part of the community.
This is better than owning land and placing your home on it.
So, whether you are planning to downsize from a large homestead to a small space, the slightly condensed living compound that mobile home parks offer is key.
The Four Cons of Manufactured Home Communities
Perhaps the most depressing about mobile home communities is the stereotype that comes with them.
However, if you know the truth and recognize the benefits of living in them, the stereotype becomes less of a bother.
1. Poor home appreciation
Mobile homes outside these parks are known to appreciate a bit with time.
Those in these parks, however, rarely increase in price.
2. Mobile homes located here are a hard sell
Besides the risk of never appreciating, homes situated in mobile home parks are harder to sell compared to traditional site-built homes.
3. Park owners can be unpredictable
You can't be sure of the amount of time you will stay in the community – it can be forever or a few weeks depending on what the owners decide to do with it.
It is not uncommon for the owner of a park to sell their property with very little or no notice.
However, you can opt for co-op parks which are starting to be commonplace. They are meant to get rid of this problem.
4. Home transportation can be tricky
If your home is too old, it may make transportation hard especially in situations that require movements between parks.
The cost of moving such homes can be high as well. Therefore, it may not be in your best interests to live in a mobile home park.
Bonus question: What Are The Factors To Consider When Moving To A Mobile Home Park?
Here is what to keep in mind:
1. Review the community rules
Every community has different rules.
The management will also charge tenants different fees for breaking park rules.
Therefore, the first thing in your mind should be to know what the new mobile home park does and doesn't permit.
Ask these questions before moving in:
If you are hiring a moving firm:
Does the management require you to provide the information regarding the movement as well as about the moving company?
Is there size or weight restrictions?
Does the management require you to be in the home at all times?
Up to what time do they allow you to be outside the community?
If friends are helping:
Must they sign in?
Is it OK to bring several unregistered vehicles?
How big is the parking space?
2. Get to know the park and your neighbors
It is wise to visit the park before moving in.
Take your time and inspect the community to find out whether meets your needs.
Also, go around visiting your potential neighbors and introduce yourself – you can bring gifts with you.
Once are familiar with the place and have noted the benefits and possible problems in the park, you can bring your home.
Conclusion
So what are the pros and cons of living in a manufactured home community?
Firstly, these parks are normally built to offer a controlled living environment.
While owning a mobile home permits minimal living, mobile home communities further cut your space by reducing the size of the "homestead."
However, not everyone would be glad to live close to others.
Related: Do You Need a Permit to Tear Down a Manufactured Home?